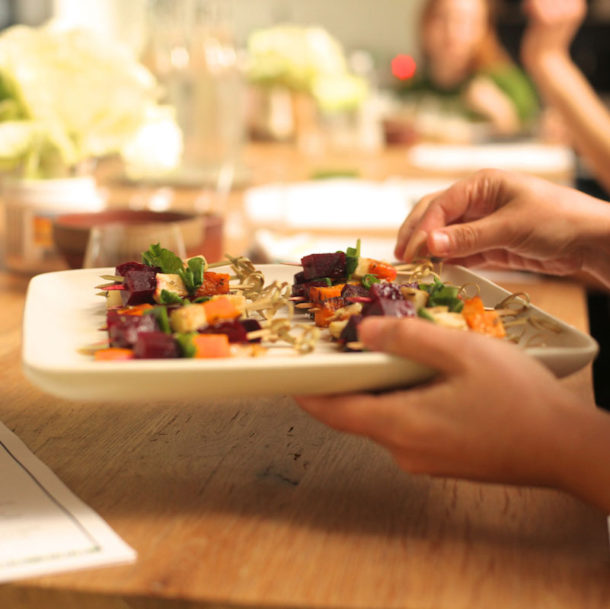 I used to struggle coming up with an hors d'oeuvre that was tasty, fresh and didn't contain tons of dairy.  Have you ever noticed the popular hors d'oeuvres that show up at every cocktail or dinner party – there's the baked wedge of brie, the spinach and artichoke dip bubbling over with three cheeses AND sour cream, the cheese platter, the mini grilled cheeses and of course, the most sophisticated of all, The Caprese Skewer.  Believe me, I've made more than my share of boconcini, basil and grape tomatoes on a toothpick, but people, it is no longer 1999!  We have got to move on!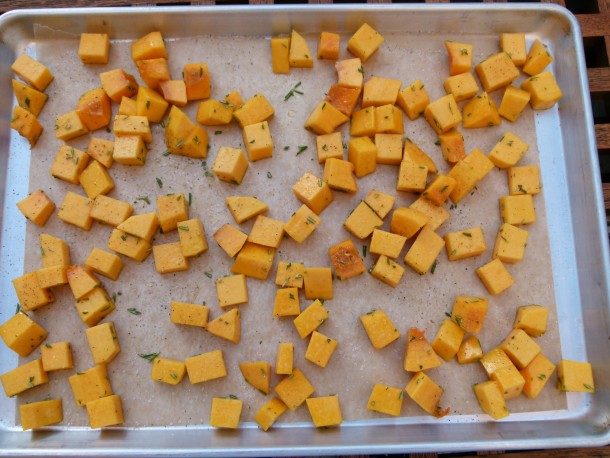 So I began thinking about why the Caprese Skewer is so ubiquitous.  The Caprese salad is simple and delicious when showcasing perfect tomatoes, aromatic basil and fresh, creamy mozzarella.  What could be better than having each of those flavors in one delightful bite?  So why not extend the salad-as-skewer idea?  What about a Greek Salad Skewer?  Grape tomato, spinach or mint-wrapped feta, cucumber, and a pitted kalamata olive sprinkled with dried oregano and drizzled with lemon juice and olive oil.  Hmmmm, I like it, but very summery.
It's Fall, so I roasted butternut squash and apples with rosemary and skewered them together with red beets.  Needs a little green.  Take a piece of arugula or spinach and turn it around a piece of feta so that the feta doesn't crumble when you skewer it.  Then drizzle it all with a little balsamic and oil.  Who wouldn't want to eat that??  Don't answer that.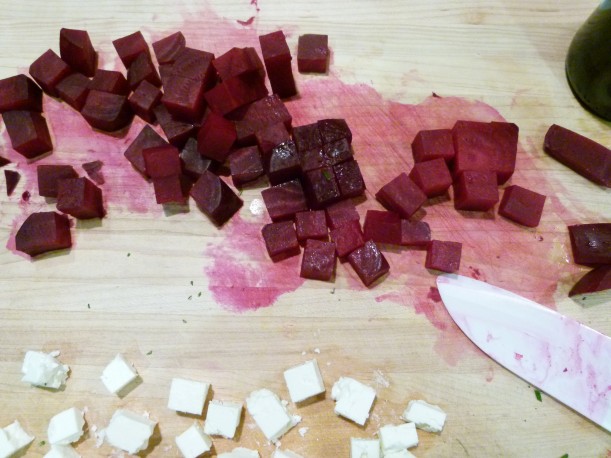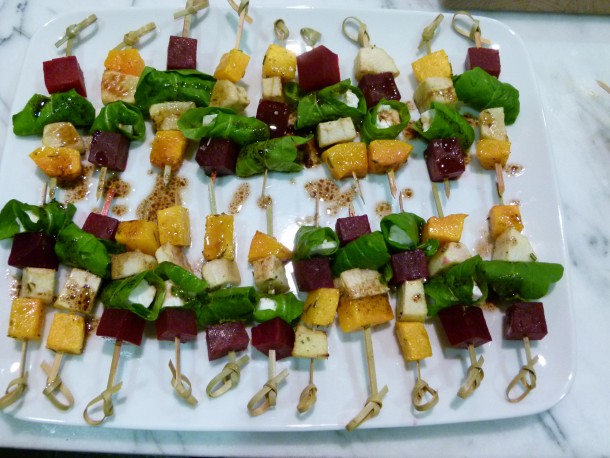 I will forewarn you, there is a bit of prep involved.  There's chopping and roasting and skewering.   Ah, I am seeing the lure of the ease of the old standby skewer, but these are so worth it.  The colors alone will make your hors d'oeuvre stand out in a sea of cream and you will be a star!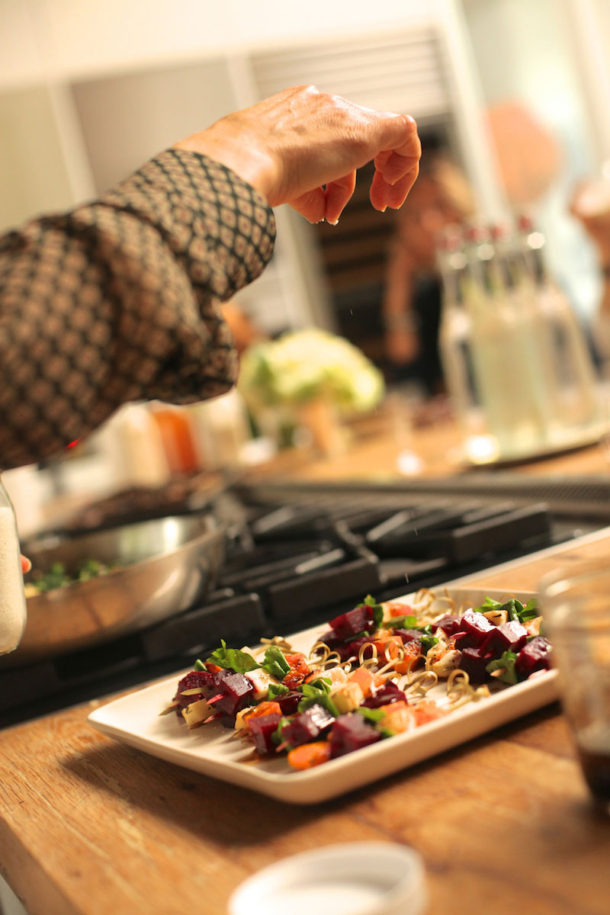 butternut squash, beet and apple skewers recipe
Ingredients
½ medium butternut squash *, peeled, seeded, and cut into ½ –inch cubes
2 large apples, peeled, cored, and cut into ½ –inch cubes
Fine sea salt and freshly ground black pepper
2 teaspoons finely chopped fresh rosemary
3 medium beets, roasted, peeled and cut into ½ -inch cubes
4 ounces arugula or baby spinach leaves, washed and dried
1 package feta, cut carefully into ½ –inch cubes(optional)
1 Tablespoon good quality balsamic vinegar
3 Tablespoons unrefined, cold-pressed, extra- virgin olive oil
Instructions
Preheat oven to 400 degrees. Line 2 baking sheets with parchment paper.
Place the butternut squash cubes in a large bowl and drizzle with olive oil to coat. Transfer to prepared sheet pan and spread out in one layer. Season with sea salt, pepper, and half the rosemary.
Place the apple cubes in the same bowl and drizzle with olive oil to coat. Repeat the same procedure as the squash
Place the sheet pans in the oven and roast squash for about 30 minutes, turning halfway, until tender and slightly caramelized. Roast apples until just tender, about 20 minutes. Remove from the oven and allow to cool slightly.
Whisk together the balsamic vinegar and olive oil.
Thread the squash, apple, beet and arugula or spinach on a small skewer or toothpick. If you decide to use feta, wrap the cube of feta with a leaf of arugula/spinach and skewer. Arrange on a serving plate and drizzle with the vinegar and oil.
Notes
*other ideas include parsnips, carrots, sweet potatoes.