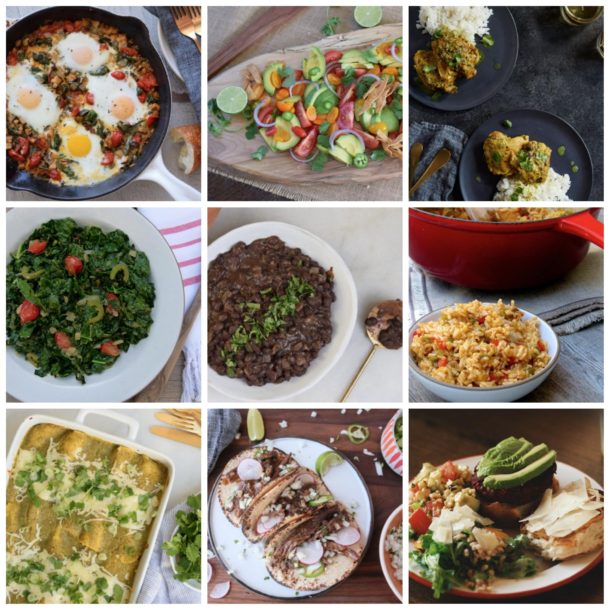 I don't really care about any other day except Friday this week because I love Mexican food and I am going all out for Cinco de Mayo this year!  I suggest you invite over a bunch of friends for a pot luck and have a fiesta yourself.  Images above are in no particular order, I'm afraid.  It's just been that kind of week!
Monday: Black bean and beet veggie burgers, sweet potato fries
Tuesday: Goop's slow-cooker Thai chicken thighs, brown rice or cauliflower-rice, honey-ginger glazed carrots
Wednesday: Spice-rubbed salmon, smoky braised lentils (without sausage), roasted asparagus
Thursday: Shakshuka, toast (I like the gluten-free seeded bread from Le Pain), simple green salad with a vinaigrette
Friday (Cinco De Mayo!): I have lots of ideas for you!
Tacos: Slow-cooker barbacoa-style beef tacos, slow-cooker chicken tacos, ground turkey tacos (use tempeh for vegetarian), grilled fish tacos, sweet potato and black bean tacos
Salads: Creamy cabbage slaw, Mexican chopped salad, cilantro-lime slaw, fiesta salad with salsa vinaigrette, avocado, jicama, and mango salad, deconstructed guacamole salad 
Enchiladas: Chicken enchilada rojas (swap roasted veggies and beans for the chicken to make vegetarian), roasted vegetable enchiladas verdes (swap the veggies and beans for already cooked, shredded chicken if you want this with animal protein)
Beans: Mexican black beans, drunken pinto beans
Rice: Restaurant-style Mexican rice, cilantro-lime cauliflower-rice, green rice (arroz verde)
Veggie Sides: Mexican sautéed greens, grilled Mexican corn, chipotle sweet potato fries, homemade guacamole
Saturday lunch: Repurpose your Cinco De Mayo leftovers!
-If you made tacos, re-use the meat to make quesadillas.
-If you have leftover corn tortillas, make tortilla soup.
-If you have leftover enchiladas, add to a pot with stock and puree partially to make enchilada soup.
-If you have leftover rice and beans, reheat to make a grain bowl and top with leftover veggies, salsa, and guacamole OR layer with scrambled eggs in a tortilla for a breakfast burrito.
Sunday: Pasta with sautéed shrimp and kale pesto, grilled artichokes (Use this method, with or without the sauce)
Do ahead (not including Cinco De Mayo):
Sunday
Cook black beans for burgers
Cook rice for burgers
Roast beets for burgers
Make veggie burger patties and refrigerate up to 2 days in advance
Make spice mix for sweet potato fries
Make spice-mix for salmon
Monday
Make marinade for slow-cooker Thai chicken
Tuesday
Saute veggies for shakshuka and refrigerate
Make vinaigrette for salad
Make kale pesto
Saturday
Steam and refrigerate artichokes for grilling
Click here for a link to all my previous dinner planners.
My new cookbook "Kitchen Matters" is available for pre-order!  Click here to order from amazon and here to order a signed copy from my local bookstore, Pages!