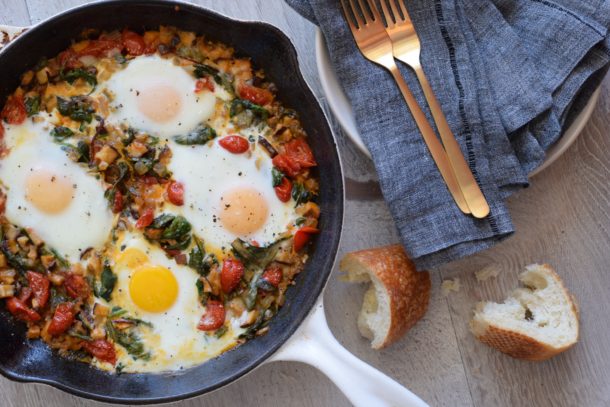 Now that we are down to a family of three, I have noticed our breakfasts have become a little lazy.  I think it's much more fun cooking for a larger crew, especially when it includes my teenage daughters who are amazing eaters.  At the moment I am left with Mr. Picky and the man who co-created Mr. Picky, if you get my drift. Sooooo, we're eating a lot of smoothie bowls and toast concoctions.  It's all good for now since I am in the throes of bar mitzvahville and "the Bar Mitzvah Diet."  But 8 days from now, I'll be ready to get back to some real breakfasts.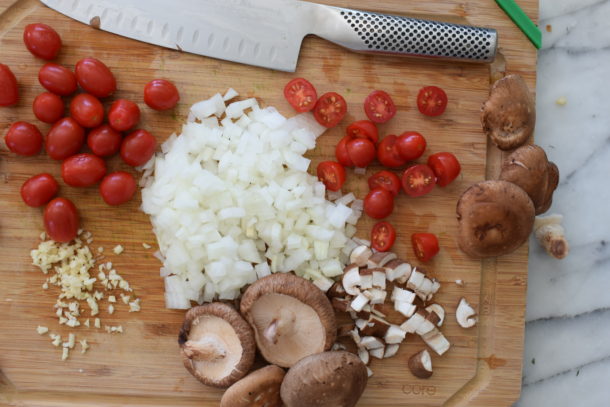 Eggs and veggies are a favorite of mine and my husband.  Usually they take the form of an omelet or a frittata.  But after my first taste of shakshuka, a Middle Eastern breakfast of eggs poached in a spicy tomato sauce, I found a new obsession.  I've ordered shakshuka in many restaurants and it's always a little different, but I always seem to be dunking bread into the skillet to sop up the tomato sauce, always thinking that more veggies would be great in this dish.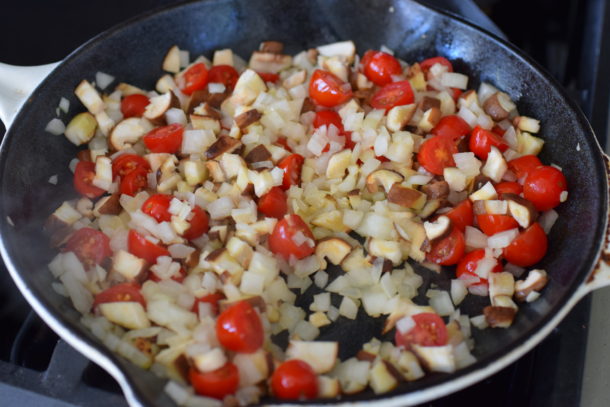 So I put a different spin on shakshuka by adding lots of veggies and less of a tomato sauce.  And instead of poaching the eggs, I bake the whole thing in the oven.  It is so delicious and satisfying.  I personally like it a little spicy, but you can always keep it mild and pass some hot sauce at the table.  The one thing that we  all agree on in our house is No Soft Yolks.  We are probably the last people on earth that haven't joined Team Runny Yolk, but that's just the way it's going to be.  So I bake our shakshuka until the yolks are nice and cooked through.  You can obviously go for whatever doneness you prefer.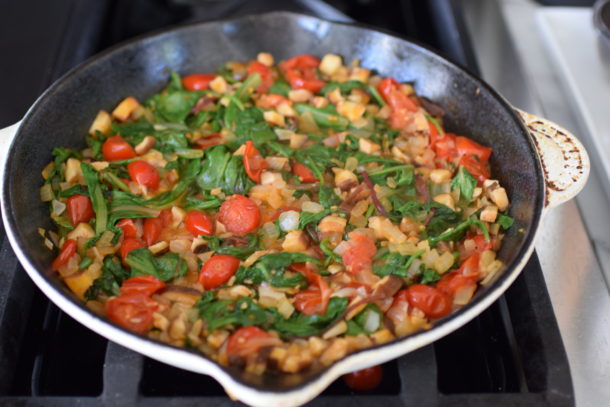 The way I  like to do this is to have all the veggies done the day before and then in the morning, all I have to do is crack a few eggs and bake.  After I taught this in my classes last spring, many people told me they made this for dinner.  Awesome. You've got your protein, good fat and lots of vegetables. I would east this over some creamy polenta, warm grains, or toast or with a fresh salad.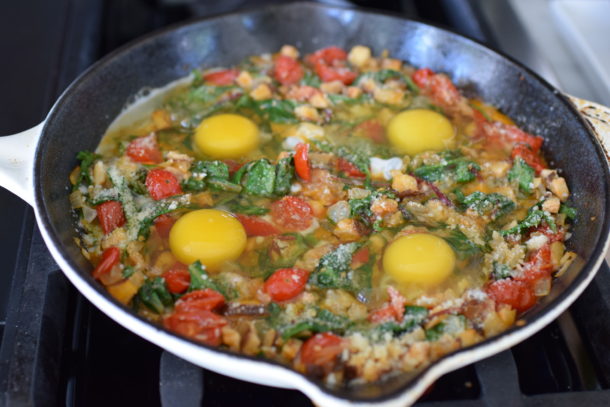 My daughters are coming home in a week and I am so excited.  They're only staying for 2 days and I don't have too many opportunities to cook at home that weekend, but this may be on the menu.  If you trying making this when tomatoes are no longer in season, you can for sure use an equal amount of diced jarred tomatoes.  I have used many different greens here from Swiss chard to kale to spinach.  Or go with half the veggies and some marinara sauce plus a dusting of Pecorino for an Italian version.  Use leftover vegetables from last night's dinner + tomato sauce and if I throw in some ground beef or turkey, my picky duo might even eat this.  And if not, you know what I always say to my son?  "No problemo.  More for me!"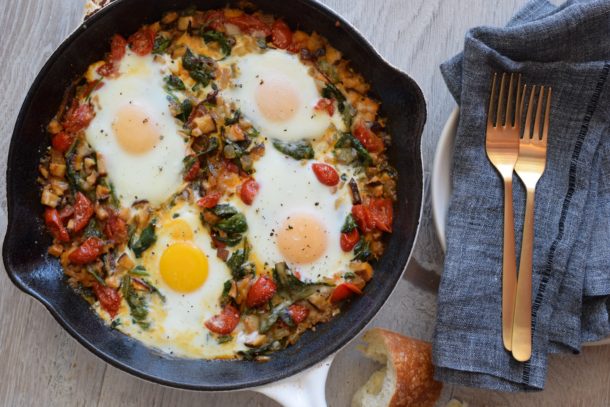 Baked Eggs and Greens (Green Shakshuka) Recipe
Ingredients
2 Tablespoons unrefined, cold-pressed extra-virgin olive oil
1 small onion, finely diced
3 garlic cloves, minced
1 cup cherry tomatoes, halved or quartered if large
3.5oz shiitake mushrooms, chopped
8 cups mixed dark leafy greens such as spinach, swiss chard, kale, beet greens etc., coarsely chopped if large, left whole if small
½ teaspoon sea salt
freshly ground black pepper, to taste
½ teaspoon smoked paprika or more to taste
¼ cup crumbled feta or grated pecorino-romano cheese (optional)*
4 large eggs
Instructions
Preheat oven to 300 degrees.
In a 9-inch cast iron skillet, warm the olive oil over medium heat. Add the onion, garlic, tomatoes and mushrooms. Sauté until the onions are tender and translucent. Add the greens and cook until wilted. Season with salt, pepper and smoked paprika.
Scrape down the sides of the pan and even out the mixture. Sprinkle with cheese, if desired.
Using your spoon, create four small wells in the mixture. One at a time, crack the eggs in a small bowl and carefully transfer to the wells created in the pan.
Transfer the skillet to the oven and bake for 10-15 minutes depending on how you like your eggs. You can also finish the eggs on the stovetop with the pan covered, but take care not to dry out the vegetables. Cook 10-15 minutes. It happens very often that the eggs in the same pan cook differently. You might have one egg cooked through and the rest runny. You have to wing it a little.
Notes
* if you don't add cheese, feel free to add an extra pinch of salt.
You can make this spicy by sauteing crushed red pepper with the onions and garlic.