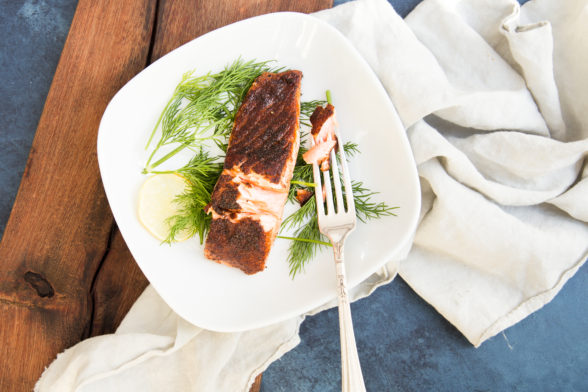 Although the best descriptor for this recipe is "Spice-Rubbed Wild Salmon," I could just as easily call it what it better represents to me, which is "7-minute Salmon."  Or "Plan B Salmon."  Or my favorite "I-Cannot-Believe-This-Game-Is-Going-Into-Extra-Innings Salmon."  Of course, you can replace most of that phrase with "Orthodontist Is So Late Today" (Salmon)  or "How Long Have You Known You Needed The Posterboard?" (Salmon.)  My point is that sometimes no matter how organized I am about meal planning and how good my intentions are, life can get in the way.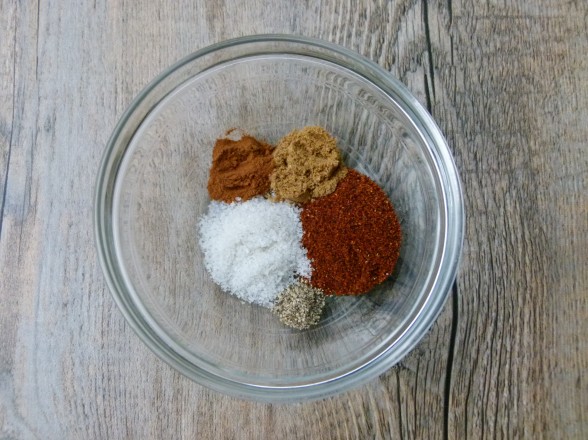 But in this case, desperate times do not call for desperate measures, nor do they call for take-out.  They call for Plan B recipes!  The other night I had every intention of making salmon in parchment, which isn't brain surgery, but takes a few minutes.  Things were not going my way — a conference call rescheduled for later in the day; a canceled carpool forcing me to do an extra pick-up; and hitting every single red light possible on the way home.  I would normally just make everyone eat a little later, but Daughter #2 was starting a music class and she had somewhere to be pronto.  Parchment was not happening, but I always have time to rub a few spices mixed with salt and pepper on some fish and cook it for 7 minutes.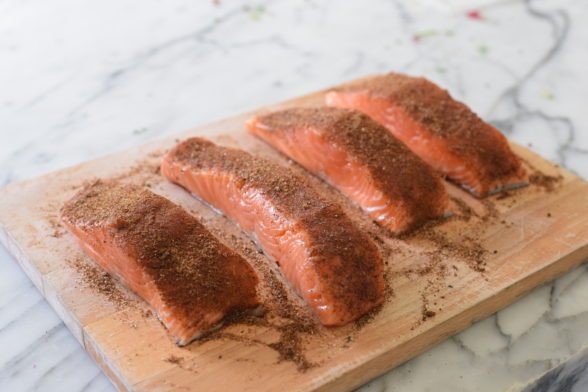 The combination of the earthy cumin, sweet cinnamon and slightly spicy chili powder is really tasty and not one flavor dominates, so do not fear that the chili powder will make it spicy.  Mr. Picky does not like spicy at all and he does like this salmon, as does Daughter #1.  Hubby is still "allergic" to salmon, so I made him a piece of spice-rubbed halibut instead.  What's nice about these spices is that they don't confine you to one particular cuisine.  I have served this with cauliflower and pomegranate salad, roasted root vegetables, a dozen different rice pilafs, tortilla soup and so on.  What's nice is that you feel like you're eating something more special than just a plain piece of fish.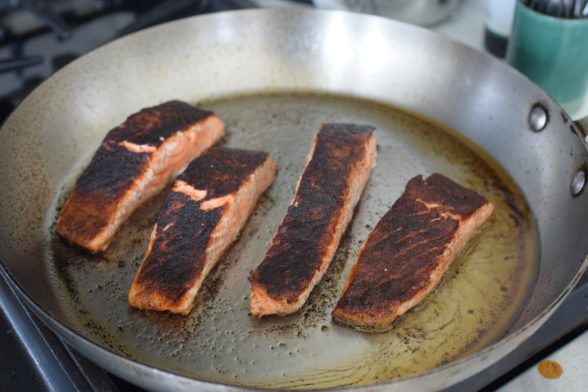 Speaking of fish, I am rather particular about salmon.  In my opinion, wild is really the only way to go.  I am hooked (pun not intentional) on Vital Choice wild salmon, which we eat about 3-4 times a month.  I believe the data that most Americans are lacking in Omega-3 fatty acids, or at least have a whacked out balance of Omega-6s and Omega-3s.  Wild salmon is one of the best and most realistic (my kids aren't going for herring anytime soon) sources of Omega-3s, which are anti-inflammatory and super critical for brain and cardiovascular health.  Kind of sounding like anything with salmon should be called "Plan A."

Spice-Rubbed Wild Salmon
Serves:
4-6 (depending on how large your salmon fillets are)
Ingredients
1 teaspoon chili powder
¼ teaspoon ground cumin
⅛ teaspoon ground cinnamon
½ teaspoon fine grain sea salt
a few grinds of black pepper
24-ounce side of wild salmon or equivalent amount of fillets
2 Tablespoons ghee or unrefined coconut oil (or olive oil, but doesn't hold up to heat as well)
Instructions
In a very small bowl, stir together the chili powder, cumin, cinnamon, salt and pepper. Place the side of salmon on a cutting board, skin side down. Pat fish dry with a paper towel. Rub the spice mixture evenly over the top of the fish. Cut into 4 or 5 (or 6) individual servings (if using 24-ounce side). If you have time, allow the fish to sit coated with the spices for 15 minutes at room temperature.
Heat a large skillet over medium-high heat. Add the ghee or coconut oil. When the oil is hot, but not smoking, place the salmon spice-side down in the skillet. Sear for 3 minutes.
Turn all the pieces over and cook for an additional 3-4 minutes. Do not overcook! Serve immediately.
Notes
If you are using a salmon that is thicker than wild sockeye, you may need to finish it off in a 350 oven for about 6 minutes. You want the fish to get to the point where it starts to flake with a fork, but is still slightly rare in the center – it will keep cooking off the heat.