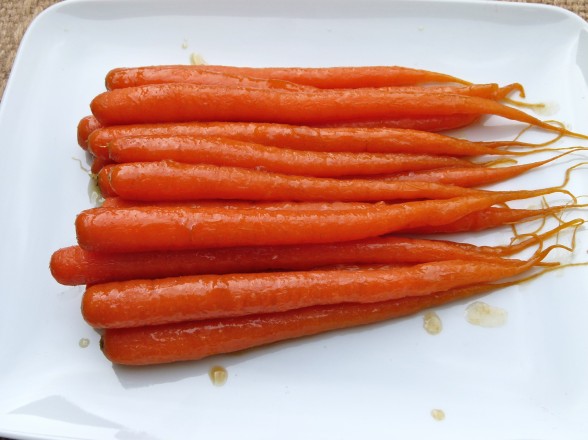 This is always the time of year that I appreciate living in California.  Whereas the ground in my parents' New York garden is still frozen, I am pulling carrots out of mine.  Joy!  I planted a new variety this year called Purple Dragon and they are really something special.  Purple skins with an orange interior — what kid wouldn't think that's cool?  I always ask Mr. Picky to help me in the garden since that is supposed to be a strategy to help encourage your little ones to try new foods.  Not sure it's working on my son, but my daughters both eventually became excellent eaters, so we'll keep planting.
I have always felt that carrots are underrated.  They are quite nutrient-dense, especially in beta-carotene, a powerful antioxidant and anti-cancer compound which the body converts to Vitamin A.  Carrots are known for building healthy eyes and skin.  In fact, the beta-carotene in carrots can help protect your skin against sun damage.  But don't forget to eat your carrots with a little high-quality fat to help you absorb all that valuable (and fat-soluble) beta-carotene.  So if you're going to eat raw carrots as a snack, dip them into some hummus or a homemade vinaigrette.  Yum!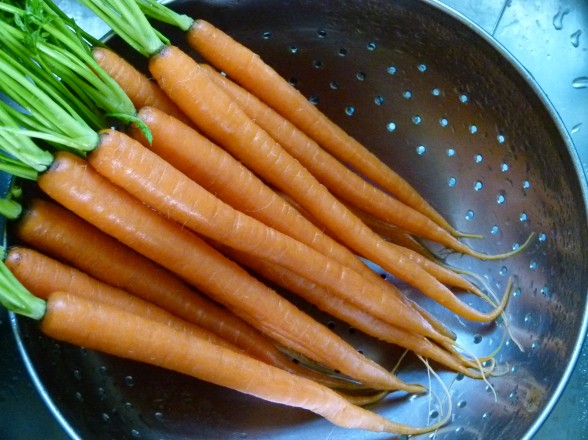 I've mentioned before that grated carrot salad is my absolute favorite way to eat carrots, but Ginger and Honey-Glazed Carrots is a close second.  Braising the carrots with honey, ginger, butter (or coconut oil) and a touch of water brings out this amazing caramel-y sweetness that you never knew existed.  I know how much we all love to roast vegetables with olive oil, but heating olive oil over 350 degrees for such a lengthy period of time oxidizes the oil and creates free radicals.  Not a big deal every now and then, but it's nice to have some other tried and true methods to prep your vegetables that won't damage your oil.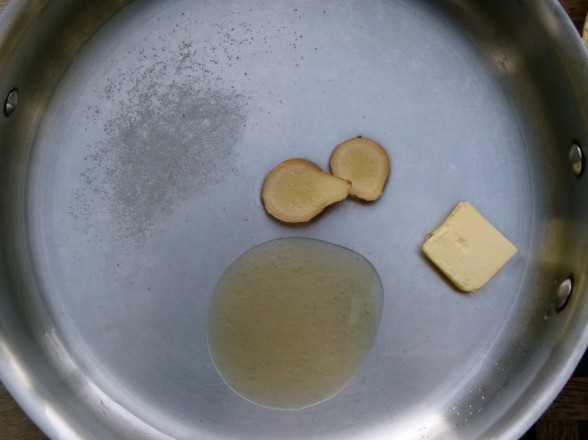 You definitely don't have to use purple carrots in this recipe.   I've been making and loving Ginger and Honey-Glazed Carrots for years with the more familiar orange variety, as shown in most of the photos here.  Sometimes I buy thin carrots (see the 1st, 3rd and 5th photos) and cook them whole, which I think is so pretty.  But otherwise the larger carrots do just fine if I slice them thickly on the diagonal.  Heirloom carrots come in several fun colors besides purple.  I've seen yellow and white, as well.  But don't peel the purple ones since the inside is orange (snore.)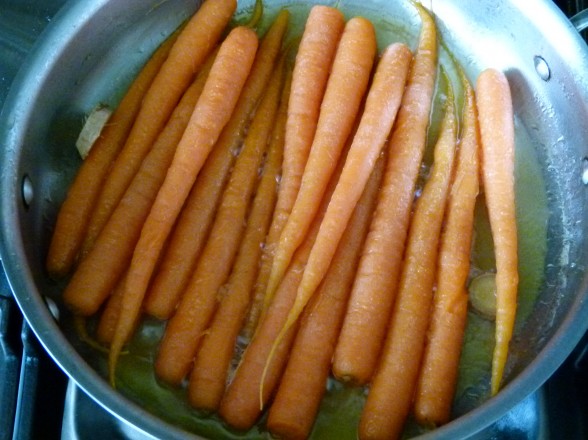 Several of you have asked me for menu ideas when I post a recipe.  I'll try to remember to offer a few suggestions going forward.  I've made these carrots twice in the past two weeks and everyone devoured them.  Once I served them with Spice-Rubbed Salmon and Coconut Basmati Rice (recipe coming soon), and the next time with Roasted Chicken, Potatoes and Fennel.  These carrots are really versatile and can go with many different entrees and side dishes, but I don't normally serve them with another sweet dish.  Or you can just stand over the stove like I did with my daughter and eat them straight out of the pan with sweet honey carrot deliciousness dripping down our chins.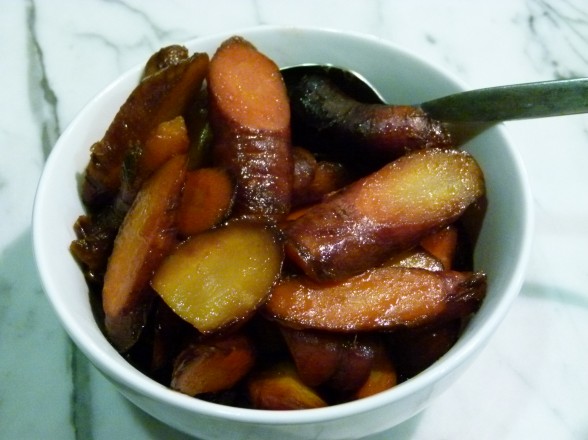 Ginger and Honey-Glazed Carrots
Ingredients
1 ½ pounds carrots, tops removed and peeled if necessary (or 1 ¼ lbs. without tops)
1-2 Tablespoons unsalted butter or unrefined coconut oil (or more if you like it very glazy like I do)
½ cup water
2 ¼-inch slices of ginger
1 Tablespoon raw honey (vegans can use Grade A maple syrup)
½ teaspoon sea salt
Instructions
If the carrots are very small and thin, leave them whole. Otherwise, cut the carrots on the diagonal into approximately 1 ½-inch slices.
In a 10-inch skillet with a lid, such as a straight-sided skillet or braising pan, add the butter, water, ginger, honey and salt. Turn the heat to high and stir to combine. When the mixture comes to a boil, add the carrots and turn heat to low. Cover and simmer for 5-10 minutes (5 minutes for thin carrots, 10 minutes for thick wedges)
Remove the lid and simmer until all the liquid has reduced to a glaze and carrots are tender, approximately 10 more minutes. Remove ginger and serve warm or at room temperature.