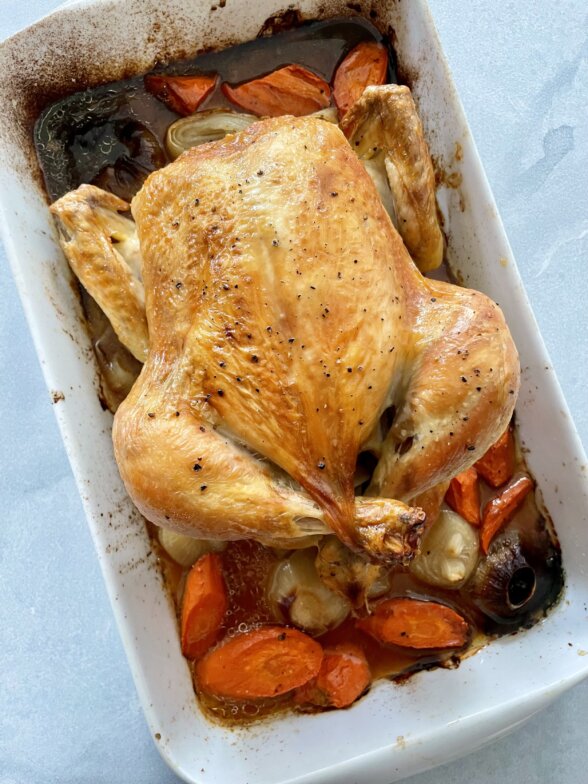 If you eat chicken, you absolutely must learn how to roast one whole.  It is beyond easy to do, never fails me, everyone loves it and is arguably the most delicious way to eat chicken.  WHAT MORE CAN YOU ASK FOR?!  The busier I get, the more often I make roast chicken and no one seems to tire of it.  But the first time I attempted to cook a whole bird, I had so much anxiety, so I completely understand if you think doing this is intimidating.  Now get over it!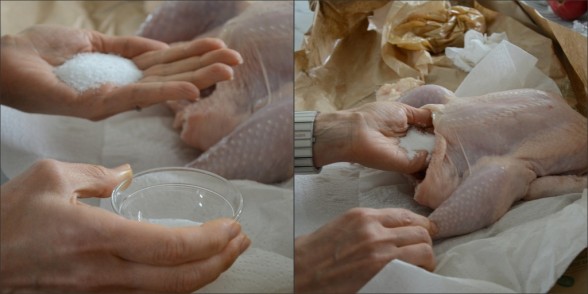 First, let's talk chicken.  There is some terminology you need to interpret when you are shopping for a chicken.
NATURAL:  This means absolutely nothing except that you are buying a chicken and not playdough.  It does not mean it was a healthy bird or that it ate a "natural diet" or lived in conditions that are "natural" for a chicken.  It just means it's a chicken.
FREE-RANGE:   Free range means the chickens have access to the outdoors. Read between the lines here.  "Access" means the chickens are permitted to leave the barn if they want to or if they are able to, but it doesn't mean they will.  "Outdoors" can also be interpreted in more than one way.  It can mean a window and that is a-ok with the USDA.  The term free-range has nothing to do with being organic. I know most people think that all free-range chickens run around in wide open areas eating bugs and worms the way they're supposed to, but I hate to burst your bubble and say that is likely not the case.  Usually only small local farmers will have truly free-range birds.
ORGANIC:  This means the chicken has eaten organic feed (not treated with pesticides and herbicides) and has not been treated with antibiotics.  You might never take antibiotics yourself, but if you eat conventionally raised poultry, you're ingesting antibiotics through the meat.  You may see the claim that a chicken has not been given hormones, but that is a practice that has been banned in this country, so all chickens should be hormone-free.  Organic chickens should also have been raised under humane conditions.
JIDORI:  I've seen this on quite a few restaurant menus recently.  Jidori is a type of free-range bird common in Japan but until recently almost unheard of in American restaurants.  The chickens are fed all-vegetarian diets, without antibiotics, but what they are really known for is their freshness.  Jidori chickens are killed within 24 hours of being sold.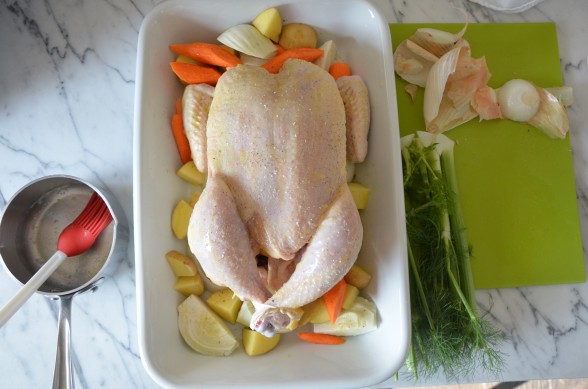 Here's what you do:
pick a night of the week that you only have 15 minutes to prepare dinner.
buy your chicken up to two days before and salt it on the inside as soon as you get it home from the market.  This will season the meat really well and keep it juicy.  Refrigerate it until the day you make it.
work backwards from what time you want to eat.  6:00 dinner?  Go back 10 minutes for carving, 20 minutes for resting, 90 minutes for roasting, 30-60 minutes for bringing to quasi-room temperature.  Take the chicken out the fridge at 3:00/3:30 to get prepped.  Into the oven at 4:00.  Not home?  Have a babysitter or older child put it in the oven since there's nothing else to do.
Add whatever random vegetables or potatoes you have to the baking dish and you have the perfect dinner for minimal effort.
While you're at it, make two at once and use the second for tomorrow's lunch or dinner.
Click here to watch a video of me prepping and roasting a whole chicken.
Addendum:  here's a series of photos for how to carve the chicken.
1.  Untie the legs.
2.  Cut the skin around the leg and cut between the joints connecting leg and thigh.  Remove both legs and put on platter, covered to keep warm.
3.  Cut thighs off, again cutting between the joints and keep warm on a platter.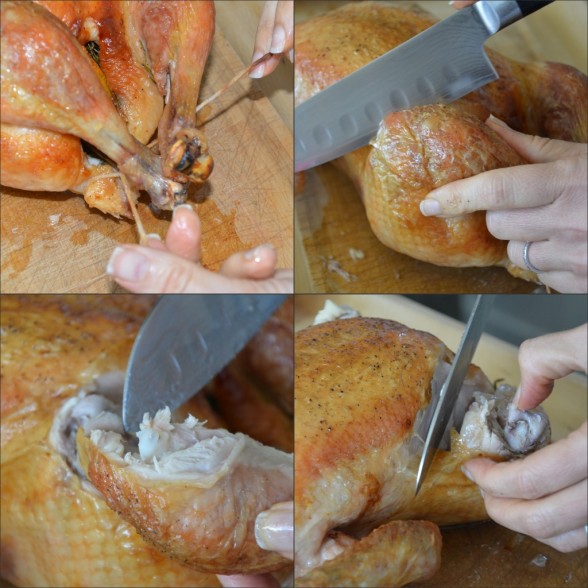 4.  Remove wings and transfer to platter.
5.  Cut alongside the breastbone all the way down and cut around the breast, completely taking it off.  I like to slice the breasts on a cutting board as shown.  Take the drippings and pour over the chicken.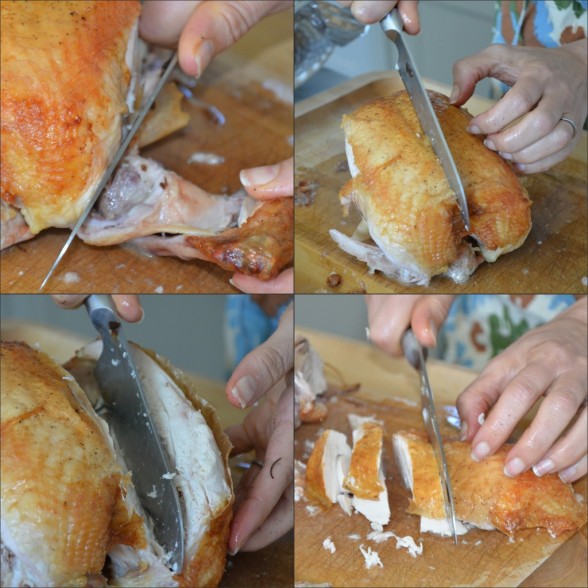 6.  Pull everything out of the cavity and save the carcass to make the best
stock
ever.  Make stock within the next two days or wrap the carcass well and freeze it until you can make stock.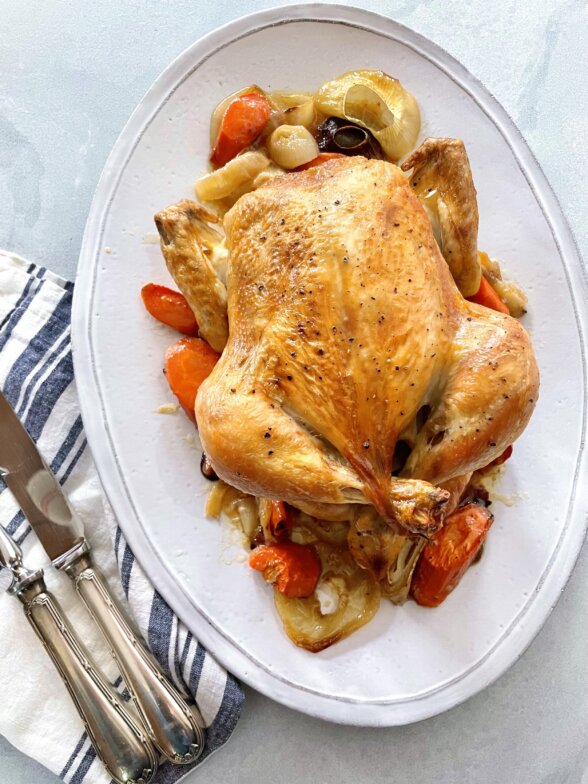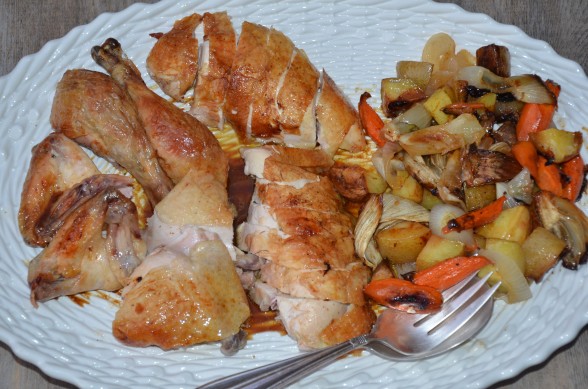 Easy No-Fail Roast Chicken
Serves:
4-6, assuming not everyone wants the breast meat
Ingredients
1 4-5 pound roasting chicken, preferably free-range, organic from a small local farm
Kosher Salt (such as Diamond Crystal)
Freshly ground black pepper
1 lemon, halved
½ bunch fresh thyme or 4 6-inch sprigs of fresh rosemary
4-5 large cloves of garlic smashed
2 Tablespoons unsalted butter, melted or olive oil + more for drizzling vegetables
1 large onion, peeled and thickly sliced
kitchen twine for trussing
assorted chopped vegetables such as potatoes, winter squash, carrots, fennel
Instructions
When you return home from the market, unwrap the chicken and remove the giblets from the cavity. Rinse the chicken inside and out and dry very well with paper towels. Remove piece of fat from the outside of the cavity. Take a heaping tablespoon of salt and a few grinds of pepper and rub it inside the cavity. If there's any more salt left on your hands, rub it in between the skin and the breast meat. Rewrap the chicken and refrigerate until ready to cook.
Remove chicken from the refrigerator 30-60 minutes before cooking. Preheat the oven to 425 degrees.
Stuff the cavity with the lemon, thyme or rosemary and garlic.
Spread the onion slices on the bottom of a shallow roasting pan. Place the chicken on top of the onions and tie the drumsticks with kitchen twine. Brush all over with the melted butter or oil.
Scatter chopped vegetables around chicken and drizzle vegetables with oil. Sprinkle chicken and vegetables with a little salt and pepper.
Roast the chicken for 1 hour 10 minutes - 1 ½ hours or until a instant read thermometer inserted in the breast reads 160-165 degrees. Transfer to a platter or a cutting board and allow to rest about 10-20 minutes, tented with foil.
Carve and serve immediately.