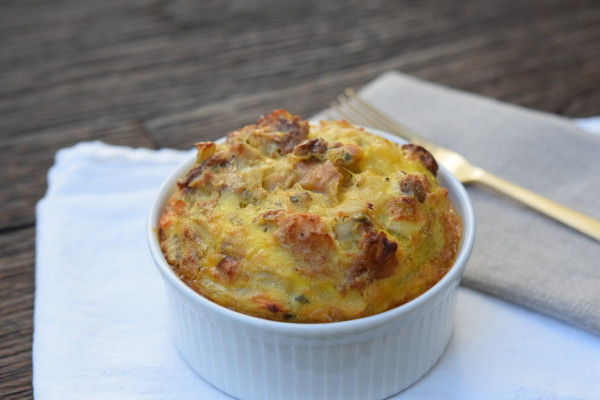 Friends, I hope you all had a lovely Thanksgiving and that it was everything you hoped it would be.  I feel very grateful that we had a house full of family and friends, many of which spent the whole day with us watching the parade, football, and popping in and out of the kitchen to chat with me.  That's what it's all about in my opinion.  It's also nice to have the meal go smoothly and taste good, for sure.
Maybe you have some leftovers today!  I was on KTLA Channel 5 in LA this morning at 9:45 am PST offering up some creative and easy ideas for what do with them.  If you're not in LA or you missed it, you can check out the segment below.  I shared two ideas for five classic Thanksgiving foods:  turkey, mashed potatoes, stuffing, cranberry sauce and pumpkin pie.  Here's what I talked about:
Turkey:  turkey quesadillas with cranberry salsa (recipe here) and curried turkey salad in lettuce cups (sub turkey for chicken in this recipe)
Mashed potatoes: mashed potato croquettes (take some grated cheddar cheese and mix it into mashed potatoes, form the mixture into small patties, dip in egg, then panko breadcrumbs and sauté  in olive oil) and shepherd's pie (to an 8 x 8 casserole dish add 2 cups of cubed turkey, 2 cups leftover roasted veggies or frozen veggies, 1 cup gravy mixed with 1 cup of stock, top with mashed potatoes and grated cheese or a little melted butter, bake at 350 until bubbly)
Stuffing:  stuffing stuffed mushrooms (brush olive oil on mushrooms with the stem removed, put a spoonful of stuffing in cavity and bake at 350 for 20-25 minutes) and stuffing egg bake which I am giving the recipe for today.
Cranberry sauce: cranberry-yogurt-granola parfait (recipe here) and oatmeal with cranberry sauce
Pumpkin pie:  pumpkin pie French toast casserole (just sub half the bread with an equal measurement of cubed pumpkin pie — this is to die for!) and leftover pumpkin pie smoothie (just scrape the pumpkin pie filling into a blender — freeze it if you have time — add almond milk to get the desired consistency, a drop of vanilla and a pinch of cinnamon to taste)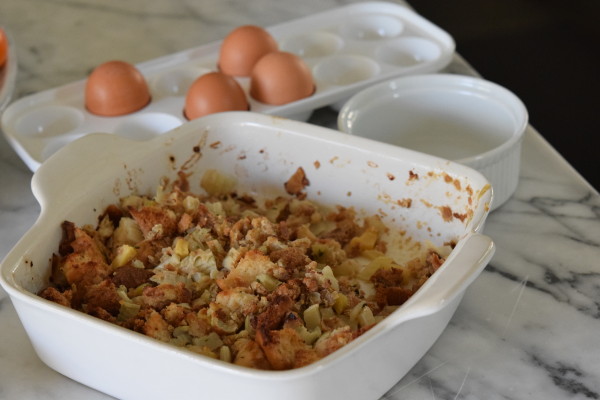 There are really infinite uses for Thanksgiving leftovers, but something I mentioned in the segment was that if you are totally over Thanksgiving food, all of the above can be frozen for a rainy day.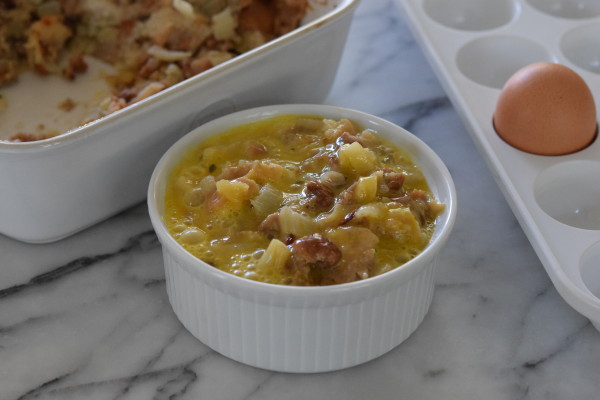 This strata was a huge hit after the show when the crew descended upon the table.  And I couldn't blame them.  This egg bake is essentially like a strata or a frittata with bread and veggies.  Although it's easier than both of those since you just stir a cup of stuffing into 3 beaten eggs and bake!  I think most stuffings would work for this recipe.  I tried it with my mushroom and leek stuffing as well as a cornbread, fennel, chicken sausage and apple stuffing and they were both delicious!  Have friends over for brunch tomorrow or make for dinner with a green salad tonight and give yourself a break.  On that note, after 29 people for dinner last night and an early wake-up call this morning, I am calling quits for the rest of the weekend.  See you all next week!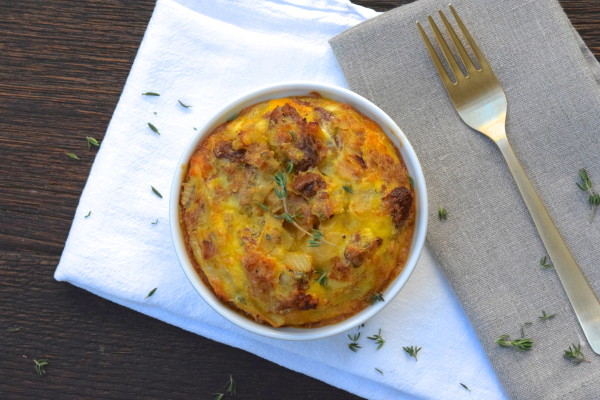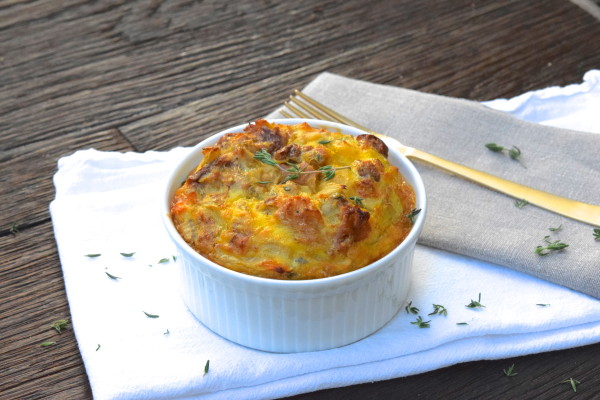 Leftover Stuffing and Egg Bake
Ingredients
Unrefined, cold pressed, extra virgin olive oil, for greasing the ramekins
2 cups leftover Thanksgiving stuffing
6 large eggs
Instructions
Preheat your oven to 375 degrees and lightly grease 2 4-inch ramekins* with olive oil.
In a medium bowl, whisk the eggs. Add the stuffing and mix to combine.
Pour the egg and stuffing mixture into the ramekins and bake until set and lightly golden brown, about 50-60 minutes. Or divide the mixture into 4 ramekins and bake for 25-30 minutes. Pictures on the blog were done in 2 ramekins (thicker.) Egg bakes on the morning news segment were done in 4 (thinner.)
Notes
*You could also use a medium skillet or a loaf pan.