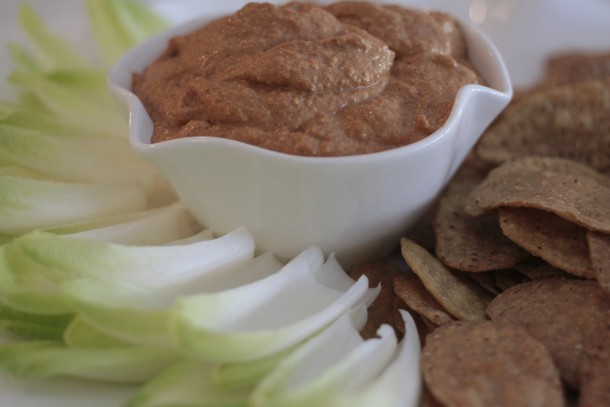 I know those holiday parties are coming up and I thought another hors d'oeuvre post would be helpful.  My good friend Cheryl gave me this recipe.  She is an outstanding cook and everything she makes is a home run.  I love the fact that this dip is mostly roasted red bell peppers and walnuts and it is easy-peasy to put together.  A bonus is that it tastes better if you make it ahead and we all know how much I like to prep in advance.   You can certainly use jarred roasted peppers or the ones that you can find in some deli cases, but I find (no surprise, I'm sure) that the ones you make at home taste so much better.  Maybe it's all that love that goes into them!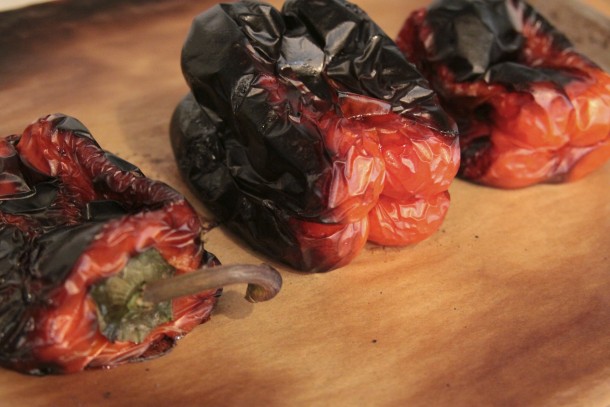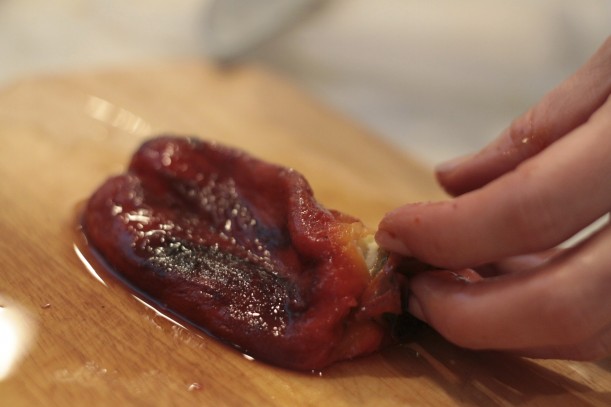 A note about the pomegranate molasses:  I try not to use ingredient that are expensive, hard-to-find or that have a short shelf-life.  I found pomegranate molasses easily at my local Whole Foods and it cost only about $4.  Also, it lasts for a long time, so I didn't hesitate to keep it on the ingredient list.  However, if you can't find any and you don't live close enough to me to borrow it, you can add a drop of raw honey and some extra lemon juice to mimic the tart-sweetness that pomegranate molasses brings to the dish.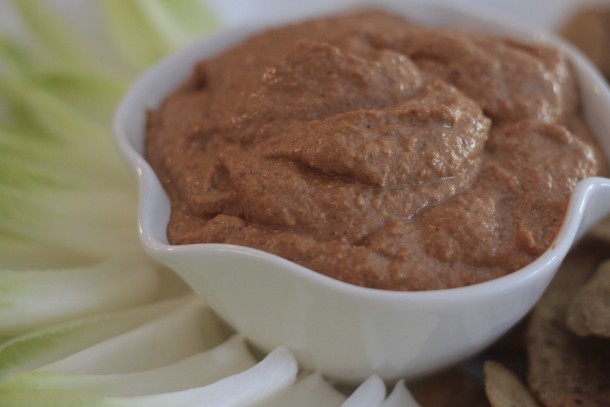 Here I am serving it with endive leaves and gluten-free sweet potato chips, but feel free to go with the traditional pita or other raw vegetables.

muhammara recipe (turkish red bell pepper and walnut dip)
Ingredients
1 ½ cups raw walnuts
½ cup fresh bread crumbs
3 red bell peppers, roasted, peeled, seeded and chopped, about 1 ½ cups or 1 12-ounce jar
¼ cup unrefined, cold-pressed extra-virgin olive oil, plus more to taste
2 Tablespoons pomegranate molasses plus more to taste
1 Tablespoon fresh lemon juice
A few shots of hot sauce or ¼ teaspoon ground red chiles, or to taste
1 teaspoon sea salt
1 teaspoon ground cumin
Toasted pita, your favorite chips or endive leaves
Instructions
In the bowl of a food processor fitted with the metal blade, add the walnuts and bread crumbs. Process until finely chopped.
Add the roasted peppers and olive oil. Process until smooth. Add the remaining ingredients (except the pita) and blend.
Taste and adjust with more oil, molasses and/or salt.
Refrigerate, covered until ready to serve. The flavors will come together as the dip sits. Serve with pita, chips or endive leaves.