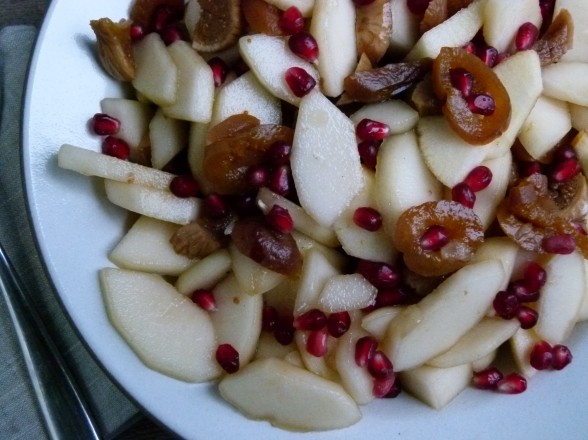 Although I'm not 100% strict about it, I do try my best to eat seasonally as well as locally.  This helps to keep our bodies in harmony with nature, and is more healthful for us as well as the planet.  I know, easy for me since I live in Southern California.  It's true we do have access to such a bounty of wonderful fresh produce all year.  But not even in sunny Southern California do I find locally grown melons and stone fruits in the dead of winter.  You might find a few vendors at local farmer's markets who sell berries grown in hot houses all year long.  But I haven't seen any farms with cantaloupes and watermelons in their fields in December.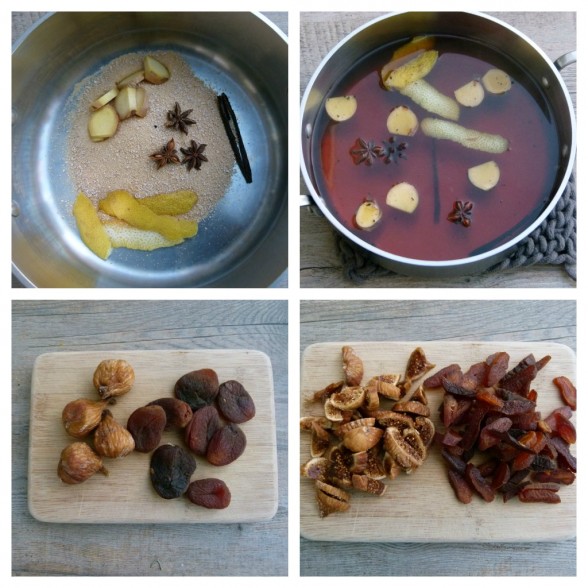 Yet people love a good fruit salad for brunch or after dinner and for some reason I don't see too many fruit salads without watermelon, honeydew, cantaloupe and strawberries even at this time of year.  Sure these fruits look lovely together and are easy to cut up, but when was the last time you tasted a fabulous piece of watermelon on Christmas?  It's time to think outside the fruit salad box and try a combination that is a more natural complement to gingerbread and pumpkin and everything else you're serving for your holiday brunches.  I've been making this delicious fruit salad for several years and I am still obsessed with it. I use pears, apples, pomegranate seeds and dried fruit, but it's the spiced-infused steeping liquid that takes it over the top.  If you've never used star anise, it is amazing.  It imparts a beautiful, floral, licorice flavor to the syrup.  If you can't find it, just sub a cinnamon stick.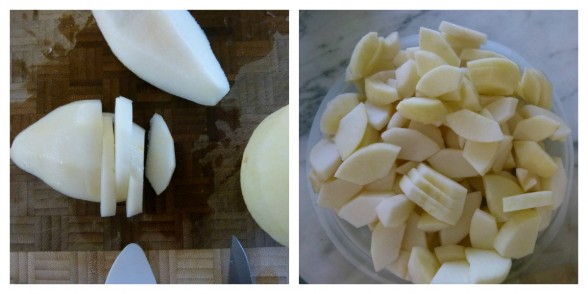 Technically I think this would be considered a fruit compote, but we don't worry about semantics here.   Whatever you call it it's easy peasy, and the best part — you guessed it — do ahead!   Which is why this fruit salad is really SO perfect for Christmas morning or any of your holiday brunches.  I have also made it for a more healthful after-dinner dessert option which is always so welcome during a season of cookies and pies and cookies and chocolate and… cookies.  But actually my favorite way to eat it is with yogurt and some sliced almonds — what a scrumptious breakfast or snack that is!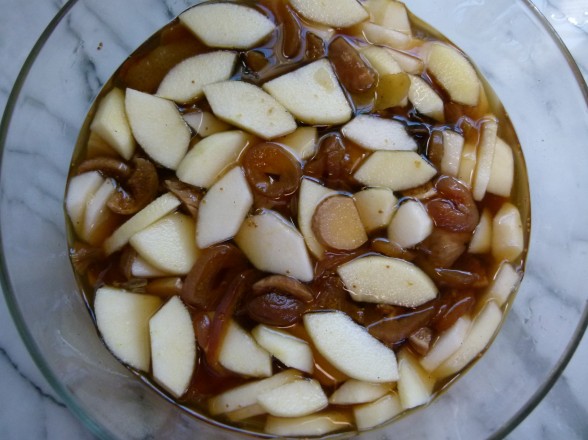 Here's hoping your Christmas is merry and bright and that you can spend it with the ones you love!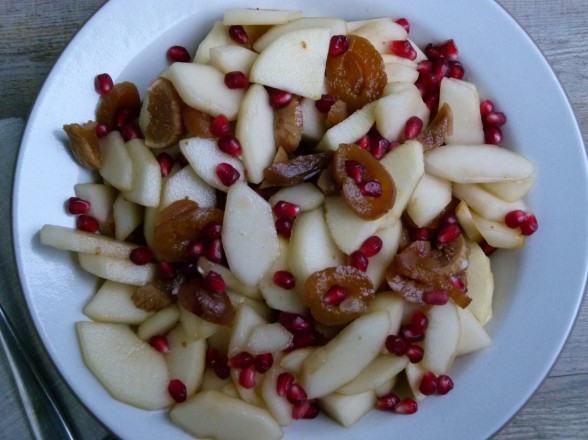 Winter Fruit Salad
Author:
Pamela, adapted from The New York Times via Smitten Kitchen
Ingredients
¾ cup maple sugar or cane sugar (I used maple sugar in these photos.)
3 star anise or 1 cinnamon stick
1 2-inch piece of ginger, cut into slices
½ of a vanilla bean, split in half lengthwise
4 2-inch long pieces of lemon rind (use a vegetable peeler)
8 dried unsulphured apricots, thinly sliced
4 dried unsulphured figs, thinly sliced
Juice of the zested lemon
3 firm Bosc pears or Asian pears
1 firm tart apple
Seeds from half a pomegranate
Instructions
Fill a medium saucepan with 4 cups water. Add the sugar, star anise, ginger, vanilla bean and lemon rind. Bring to a boil, and simmer until all the sugar is dissolved. Let it cool for just a few minutes, but still hot and then add the dried figs and apricots. Set aside to cool completely.
Peel and core the pears and apple, if desired. Slice thinly crosswise (1/4-inch slices) and place in a large bowl. Sprinkle with the lemon juice and toss to coat.
Once the syrup with dried fruit has cooled, pour it over the apples and pears. Cover the bowl and refrigerate overnight.
The next morning, remove the fruit with a slotted spoon and transfer it into a serving bowl. You can remove or leave the ginger, vanilla beans, star anise and lemon zest. Sprinkle with the pomegranate seeds and serve.
Notes
Syrup can be made up to two days in advance and kept refrigerated. Salad can be fully prepared and kept refrigerated up to two days. Other dried fruit that works well – dried cherries, raisins, peaches, persimmons