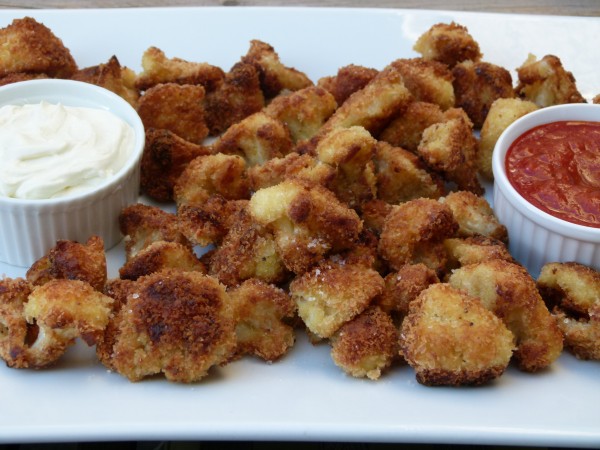 I have been really surprised by how many people have asked about this cauliflower recipe after seeing it on my Thanksgiving menu.  I'm only surprised because it's not fancy or interesting or all that different.  And it's not the most super healthful thing I've ever mentioned.  True, my husband and my kids are crazy for it, but I'm always like "Really?  That's the recipe you've been searching for?"  Ask and you shall receive!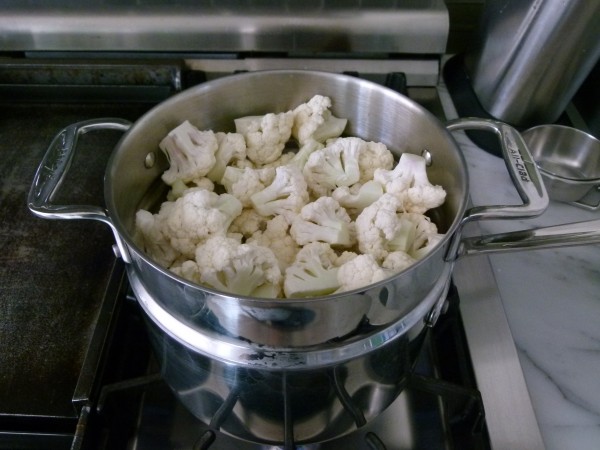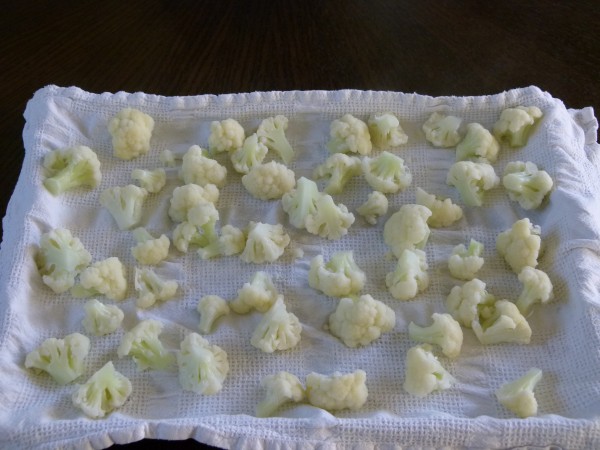 My mom has always made this cauliflower for Thanksgiving and it was one of the recipes I incorporated into my Thanksgiving dinner after I was married.  It's basically like making parmesan chicken cutlets, but with steamed cauliflower.  Admittedly, these take a little longer to assemble than chicken since you must dip or roll each cauliflower floret in beaten egg and then a breadcrumb mixture and then fry in oil.  But, like my mom taught me, all the prep is done the day before, i.e. steaming and breading, and then the frying is done the next day right before dinner.  When I was a kid, I didn't love these (sorry Mom!) because they were served room temp as opposed to hot out of the pan, and they're nothing to write home about when they're not warm, in my opinion.  Of course it is kind of absurd to think that anyone could fry all these cauliflower florets to serve hot for Thanksgiving dinner when gravy needs to be made, casseroles reheated, candles lit, the buffet set and turkey(s) carved.  That's when I decided to serve these as an hors d'oeuvre and it worked out beautifully.  Too beautifully, I might add.  Now I'm making three heads of cauliflower every Thanksgiving!!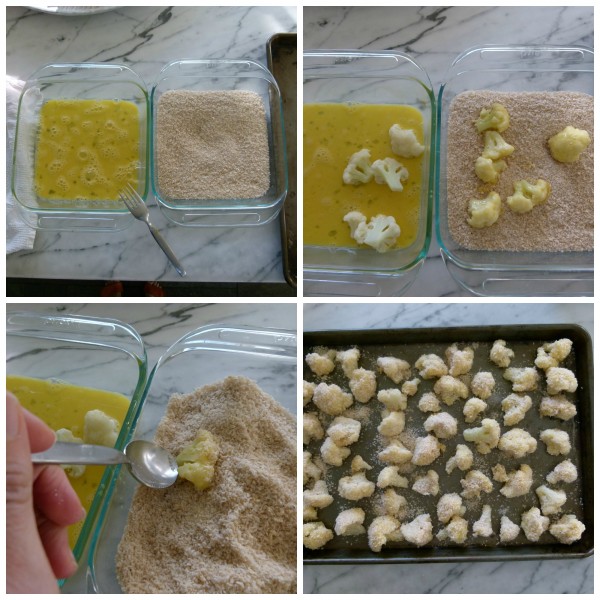 But what is nice about this recipe is that it's not a Thanksgiving "one-hit wonder" like sweet potato casserole.  I actually make this during the year as well for weeknight family dinners.  On Thanksgiving I like to keep it simple by sprinkling all the florets with flaky sea salt.  Although my husband prefers to dunk his cauliflower into hot tomato sauce.  Spicy mustard and homemade ranch dressing (I'll share that recipe one day!) are also popular with the kids.  Speaking of dips, my friends at GROW  shared a really interesting recipe from epicurious.com for a head of roasted cauliflower with whipped goat cheese.  I skipped the head of roasted cauliflower for now and made the whipped goat cheese, which was a very tasty dip for hot crunchy cauliflower florets.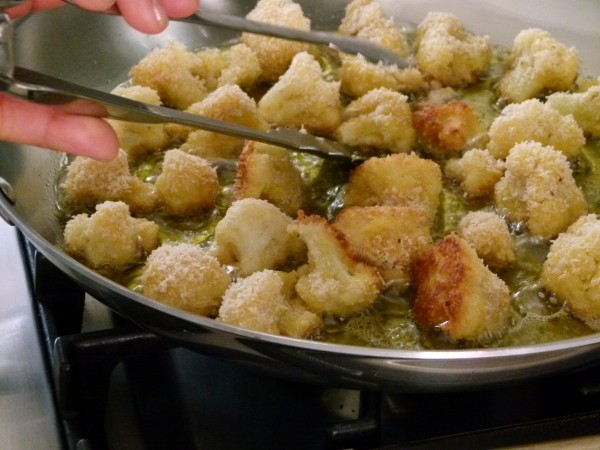 Even though I have a feeling most of you planners have your Thanksgiving menus all squared away, I am thinking I'll share a few more recipes this week just in case!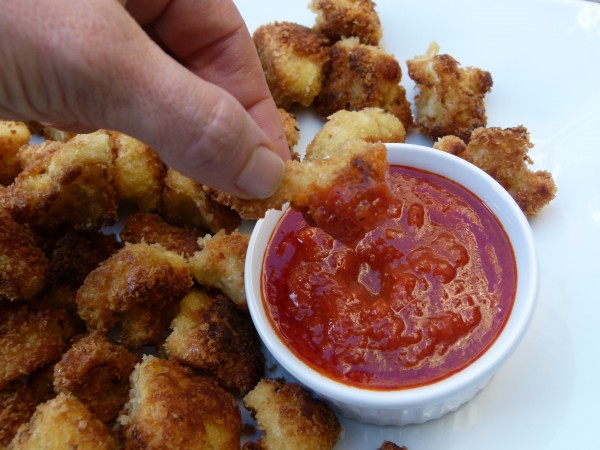 Crunchy Cauliflower
Ingredients
1 large head cauliflower, cut into florets (about 1 ½ inch pieces)
2 large eggs
1 ¼ cups dried bread crumbs or Panko crumbs
a sprinkle of sea salt and freshly ground black pepper
Handful of freshly grated Pecorino-Romano or Parmiggiano-Reggiano cheese (optional)
Olive oil for frying or olive oil spray
Suggestions for accompaniments: warm tomato sauce, whipped goat cheese (recipe follows), ranch dressing, mustard, flaky sea salt
Instructions
Steam cauliflower until just tender, about 5 minutes and rinse with cold water to stop the cooking process or drain and immediately spread out over a clean kitchen towel to cool. Set aside to dry.
Beat eggs in a small bowl. Place bread crumbs in another small bowl and season with salt and pepper. Mix in cheese with breadcrumbs, if desired.
Dip a floret in egg (I use a fork to transfer to the next bowl) and then in the breadcrumb mixture. Roll around to coat evenly and transfer to a baking sheet until ready to fry. This can all be done the day before. Cover with foil or plastic wrap and refrigerate.
Heat olive oil in a large skillet. Place the florets in an even layer in the skillet and fry until golden brown on all sides. Sprinkle with flaky sea salt (or any salt) and serve immediately.
OR if you don't want to fry them, preheat the oven to 400 degrees. Place the breaded cauliflower on a baking rack set on top of a baking sheet. Spray with olive oil spray and bake until golden brown, about 20 minutes. Serve immediately.
Notes
WHIPPED GOAT CHEESE:

4 ounces fresh goat cheese
3 ounces cream cheese
3 ounces feta
1/3 cup heavy cream
2 tablespoons olive oil plus more for serving
Coarse sea salt (for serving)

Blend goat cheese, cream cheese, feta, cream, and 2 tablespoons oil in a food processor until smooth; season with sea salt. Transfer whipped goat cheese to a serving bowl and drizzle with oil.