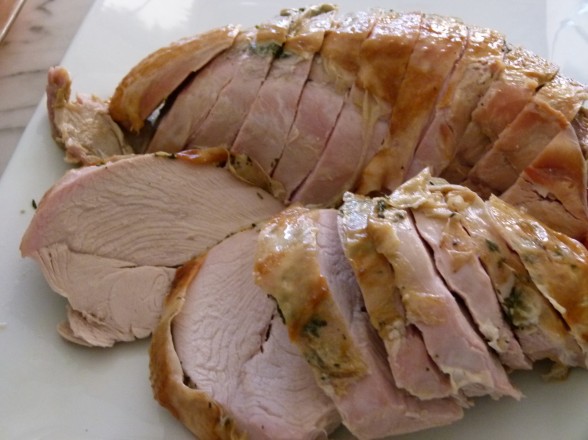 This is it, friends!  We're in the home stretch and I've got one last recipe to share before the big day.  By now you know I get most excited about the side dishes, but in my classes I spend more time answering questions about turkey.  What size should I order?  What kind of turkey should I buy?  Why does my turkey always turn out dry?  How do I know when it's done?  What do you think about deep frying a turkey?  (I don't.)  And so on.  Even though I've been around this block quite a few times, and I'll admit that I can get a little unnerved when it's time to make the turkey.  With so many factors at play here, e.g. size, temperature of the bird, variance in oven temperatures, and so many methods, e.g. dry brine, wet brine, kosher, breast side down, basting every 20 minutes, etc., it can be a little tricky knowing how to achieve the best result.  I think most of my turkeys have turned out great.  But I've had my mishaps and I have learned there's always a solution, even when I forgot to close the door to my garage refrigerator and my turkeys were about 80 degrees the next morning.  Total rookie move, and that was three years ago. (I didn't cook them, by the way.  I went to Whole Foods at 7:00 am and bought 2 brined turkeys.  Problem solved!)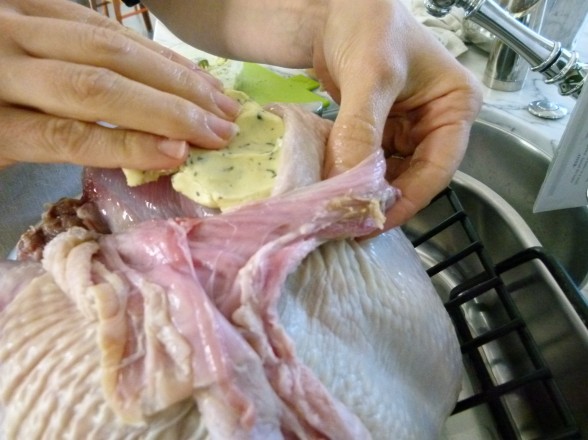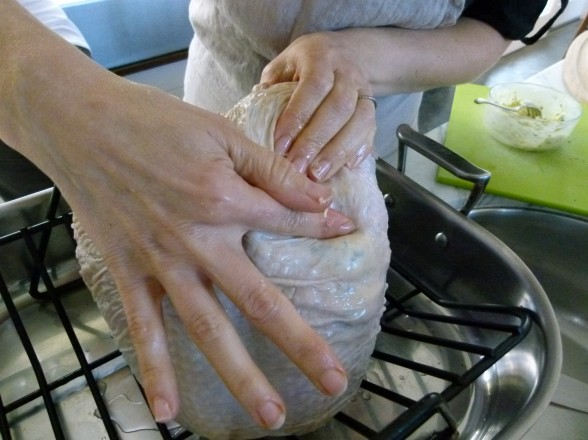 I've really only cooked two different versions of turkey, a whole roasted bird and a whole roasted breast.  Like I said, I get more excited and have more fun with the side dishes!  But traditionally since the turkey is the star of the show, I like to put my best foot forward and prepare a delicious bird.  Normally I roast two whole turkeys on Thanksgiving, but a whole roasted breast can come in handy for a smaller crowd or to supplement a whole turkey if most of your guests prefer white meat.  I've tested many methods for cooking a breast and this is hands-down my favorite.  It is also a little different from how I cook a whole turkey.  Whereas I prefer dry brining a whole turkey, I'll go for the wet brine with a turkey breast which is much more easy to maneuver in a ziptop bag full of brining liquid. (Unlike the time in 2001 when my bag o'brine surrounding my 20-pound turkey exploded all over my kitchen floor.  Cleaning that mess was definitely NOT on the schedule.)  Either way, it is key to get that meat pre-seasoned with salt so it's tasty and stays moist.  It makes a huge difference!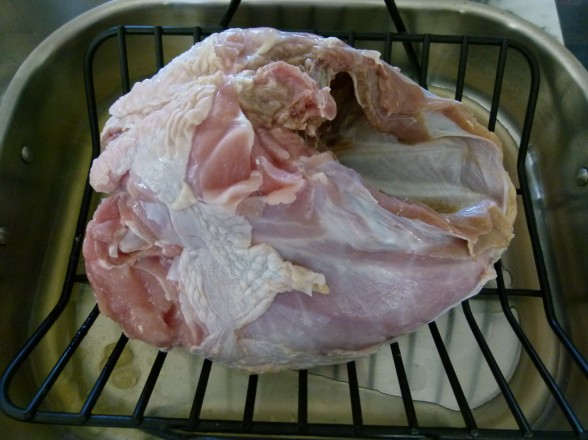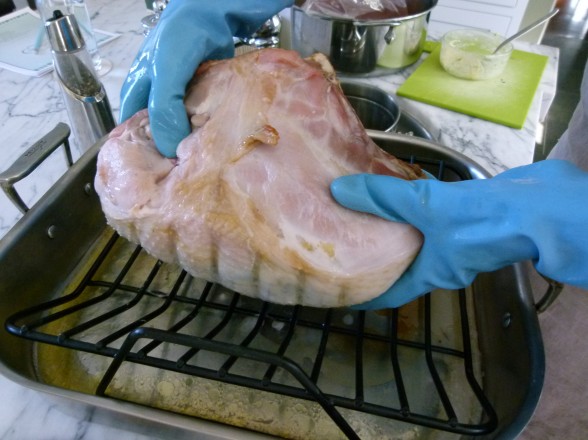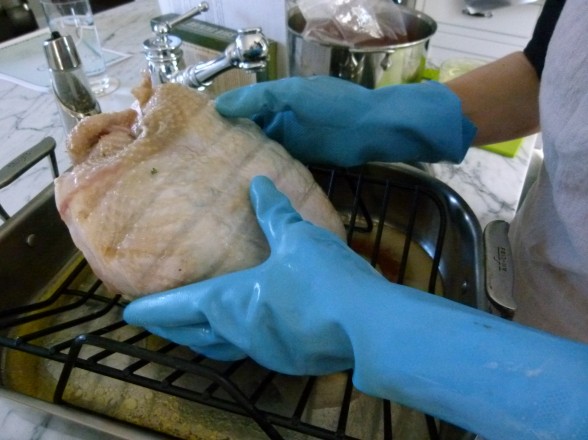 I've made a dozen of these whole breasts over the last couple weeks and each one has turned out moist and flavorful.  The best part is that with this straightforward method, there's no constant basting and no worrying about wether or not the thigh meat will cook at the same rate as the breast.  Funny, the question I received the most after classes this month was "why do we only make turkey on Thanksgiving?"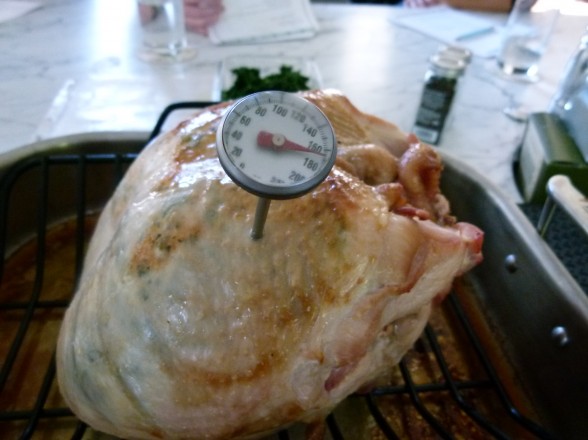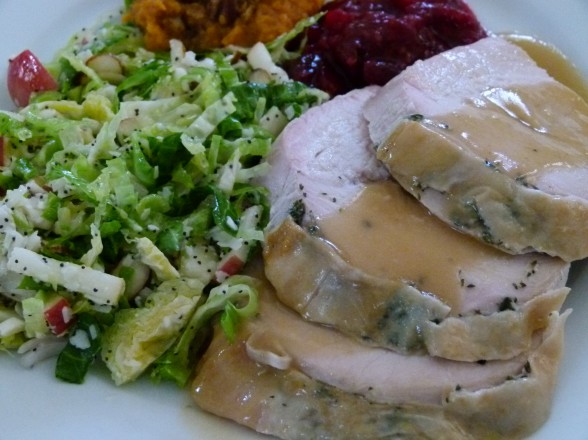 Roasted Whole Bone-In Turkey Breast
Ingredients
For the brine: (do not brine a kosher turkey)
1⅓ cups Kosher salt (such as Diamond Crystal)
¼ cup light brown sugar
1 ½ teaspoons whole peppercorns
1 quart water
4 quarts ice water
1 brining bag or heavy duty gigantic Ziploc bag
For the turkey:
1 , 6-7 pound whole bone-in, skin-on turkey breast
2 Tablespoons fresh thyme leaves, chopped
2 teaspoons freshly ground black pepper
6 Tablespoons softened unsalted butter or unrefined, cold pressed, extra virgin olive oil
1 cup chicken or turkey stock or water (stock will allow you to make gravy)
Gravy
¼ cup white wine
5 Tablespoons all-purpose flour (or a gluten-free flour blend, such as King Arthur's Multi-purpose)
3- 3 ½ cups chicken or turkey stock, preferably homemade
Sea salt and freshly ground black pepper to taste
Instructions
Make the brine: In a medium saucepan over high heat, combine the salt, brown sugar, peppercorns and 1 quart water. Bring to a boil and continue boiling, stirring until the salt and sugar are dissolved, about 3 minutes. Remove from the heat and transfer to a large bowl. Stir the ice water into the brine and make sure this mixture is cool before proceeding, otherwise add more ice.
Place the brining bag in a large bowl or pot and transfer the turkey to the bag. Pour in the brine into the bag with additional ice, if needed. Seal the bag securely! Refrigerate the turkey for 12 to 18 hours.
About an hour before cooking, remove the turkey from the brine, rinse thoroughly with cold water and pat dry with paper towels.
Preheat the oven to 425 degrees. Combine the thyme, black pepper and butter in a small bowl. Loosen the skin from the breast and open it to make a pocket. Spread the butter mixture directly on the meat. Rub a little all over the skin. Place the turkey breast-side down in a v-shaped rack in a roasting pan. Add the stock. Roast the turkey for 30 minutes.
Reduce oven temperature to 325 degrees. Turn turkey breast-side up (I wear rubber gloves to flip) and tent with foil. Continue to roast until an instant read thermometer registers 160-165 degrees when inserted into the thickest part of the breast, about an additional 1 ½ to 2 hours, depending on the size of the turkey. The temperature of the meat is more important than how long the turkey is in the oven!
Remove from oven and keep covered with foil and allow to rest at room temperature at least 30 minutes. Carve and serve with pan juices or prepare gravy. Don't forget to save the carcass for making stock!
To make gravy: remove the turkey from the roasting pan, pour the pan drippings into a fat separator.
Pour the wine and the pan juices (that have been separated from the fat) back into the roasting pan, and place over medium heat. Bring to a boil and boil for 2-3 minutes, scraping the bottom of the pan with a wooden spoon to dislodge any brown bits. Strain into a bowl and set aside.
In a saucepan over medium heat, warm the reserved fat until it is bubbly. If you don't get 3-4 Tablespoons of fat from the drippings, add some olive oil. Add the flour and whisk rapidly to cook the flour.
Strain the mixture from the roasting pan into the saucepan and 2 cups of stock. Cook, while rapidly stirring, until smooth and thickened, 1-2 minutes. Add the remaining stock as needed to achieve desired consistency. Season to taste with salt and pepper.
Notes
Check out my video on how to make gravy and carve the breast at the bottom of this post!