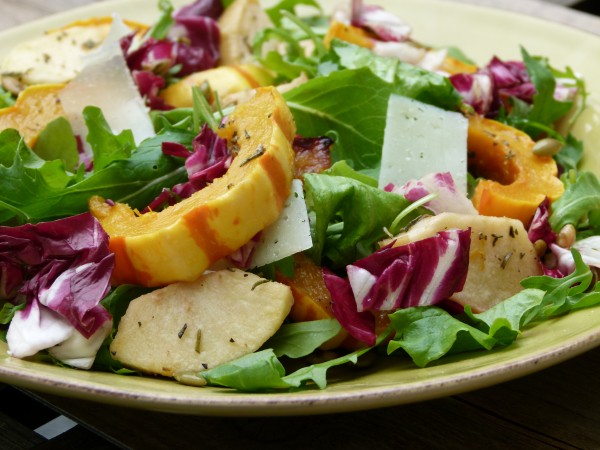 Oh, I know your Thanksgiving menu is probably planned and I think that is great!  I actually had no intention of trying to convince you today, this late in the game, that you absolutely must include such and such recipe on your holiday table.  I know you're committed and that's that.  But for the rest of you slackers, it's your lucky day!  This is your Thanksgiving salad.  Period.  I have taught it umpteen times already this month, with another class to go and I am more obsessed with it than ever.  I think this salad actually makes turkey taste better!! Make some room on that menu!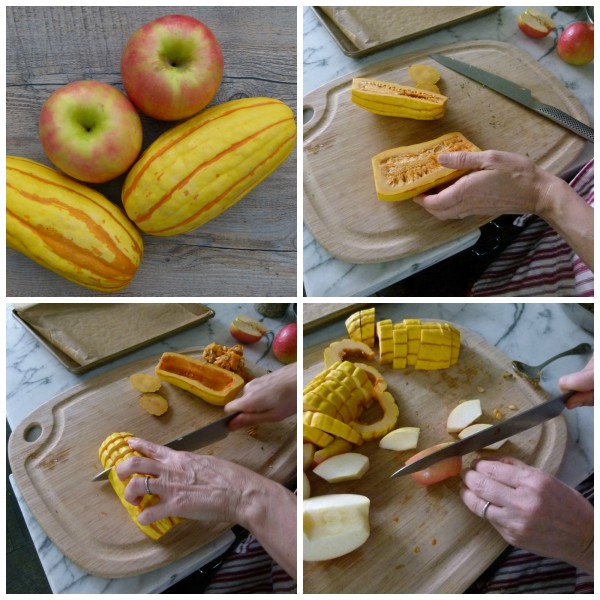 Delicata squash should be nicknamed "THE Thanksgiving squash" because it's seasonal, adorable, and minimal work.  You don't peel it!  You eat the skin!  It tastes amazing! How much do you love me right now?  Forget butternut squash this year.  Give yourself a break and go with delicata.  I have no idea if you can find it where you live, but in Southern California it's all over the place at every supermarket, farmers market and Trader Joe's.  Sometimes it's off-white with yellow stripes, sometimes pale yellow with orange and lots of in-betweens.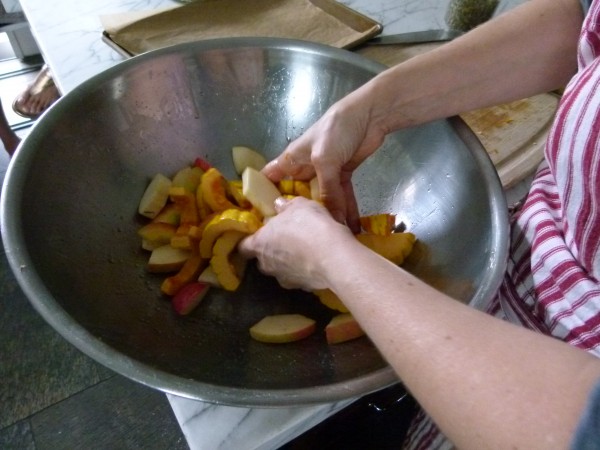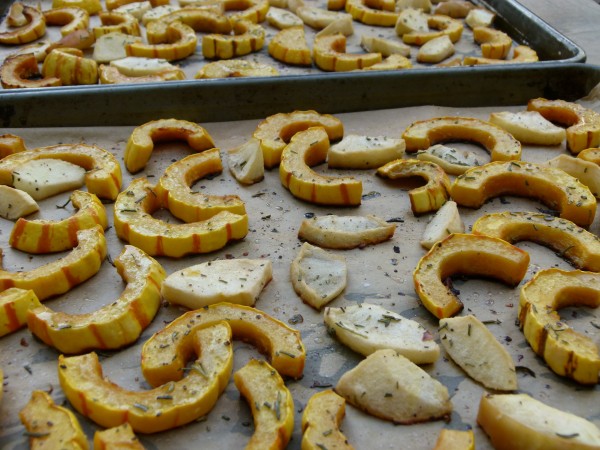 As much as I love delicata squash, my favorite part of this salad just might be the big wedges of roasted apples.  Pink Ladies are my favorite and I think are perfect here, but Honeycrisp, Fuji, Jonagold are all great, too.  Granny Smith is a little too tart in my opinion.  Leave the peel on to not only make your life easier, but I think the apples look prettier that way and hold their shape better.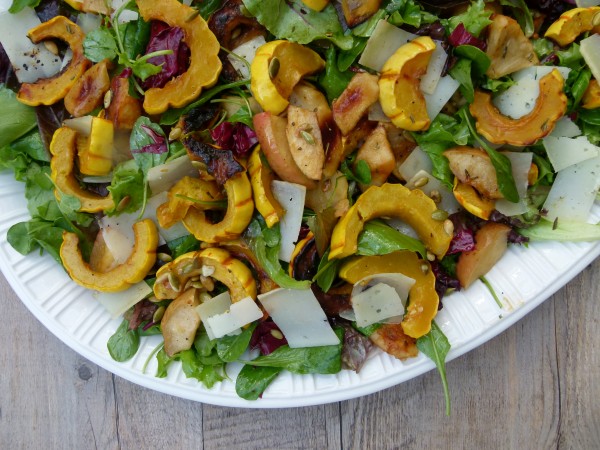 Here's your game plan for this salad:
make the dressing this weekend and store in a glass jar with a lid in the refrigerator
wash and dry your salad greens on Tuesday and store in the refrigerator
if you are using nuts or pumpkin seeds, toast them Tuesday and store at room temperature
wash, seed and cut delicata squash into slices on Wednesday and store in a container or ziploc in the refrigerator
shave Manchego cheese with a vegetable peeler and store in the refrigerator in a tightly sealed container
Thursday morning you can roast the delicate squash and apples and take the dressing out of the refrigerator to bring to room temp; store cooked squash and apples at room temp until dinnertime
right before carving the turkey, assemble and dress the salad!
Have an amazing Thanksgiving!!!

Roasted Delicata Squash and Apple Salad
Ingredients
2 delicata squash, washed but not peeled, cut in half lengthwise, seeds removed, and cut into ½-inch slices
2 large apples, cored, sliced into ½-inch slices (I cut them crosswise)
3 Tablespoons unrefined coconut oil, melted
1 Tablespoon pure maple syrup
1 teaspoon minced fresh rosemary (optional, but I think it's delicious)
1 teaspoon sea salt
freshly ground black pepper, to taste
10 cups mixed greens including some bitter varieties such as radicchio and/or arugula
Dressing:
2 Tablespoons apple cider vinegar, preferably raw
5 Tablespoons unrefined, cold-pressed extra-virgin olive oil
¾ teaspoon Dijon mustard
½ teaspoon sea salt
freshly ground black pepper, to taste
2 teaspoons pure maple syrup
Toppings: shaved manchego cheese, ½ cup buttered and salted toasted pecans or toasted, salted pumpkin seeds
Instructions
Preheat oven to 400 degrees and line 2 baking sheets with parchment paper.
Place the squash and apples in a large bowl and add the melted coconut oil and 1 Tablespoon maple syrup.  Toss to coat. (You can also add the apples to the salad raw instead of roasted.)
Place the apples and squash in one layer on the baking sheets and sprinkle with rosemary, salt and pepper.  Roast until tender, approximately 20-30 minutes. Remove from the oven and set aside to cool.
For the dressing:  in a small bowl or screw top jar combine apple cider vinegar, olive oil, Dijon, salt, pepper and maple syrup and whisk or shake to combine.  You may have more dressing than you need for this recipe.
Place salad greens on a platter and toss with enough dressing to coat lightly.  Separately drizzle the squash and apples with some dressing and add to the greens.  Sprinkle with any desired toppings. Taste for salt and pepper and serve.