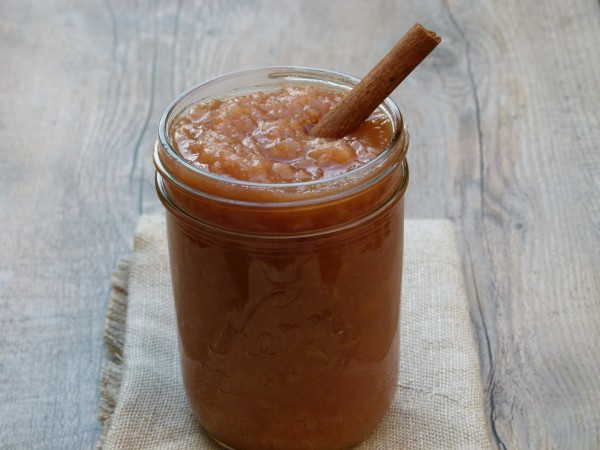 I don't know about you, but we love having both cranberry sauce and applesauce on Thanksgiving and always the homemade kind.  It's my tradition every year on the Sunday before Thanksgiving to make a huge pot of both and my house smells amazing.  When my kids see the huge pile of apple peels on the counter and smell the cinnamon-y sweetness in the kitchen, they start to feel the holiday spirit.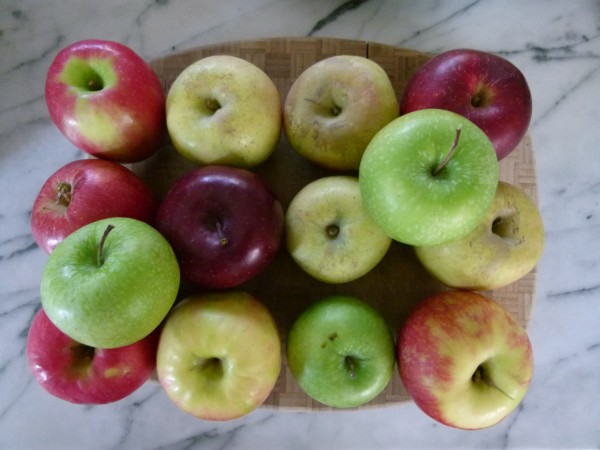 The last two years my friend Caitlin has brought her delicious homemade applesauce for Thanksgiving, so I didn't make any.  But the kids and my husband have missed tasting it fresh and warm out of the pot when I cook it from scratch, so I decided to make some a few weeks ago and boy, did they all go crazy for it.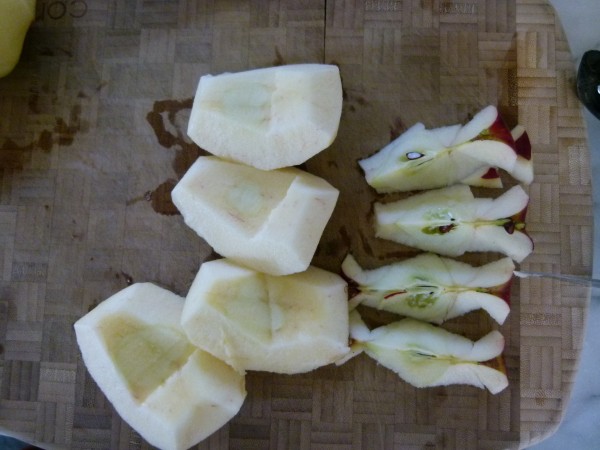 The recipe I love is by everyone's idol, Ina Garten, also known as the Barefoot Contessa.  I have made that applesauce many, many times, and not just for Thanksgiving.  It has a deep, rich apple flavor because the apples are roasted in an enameled pot low and slow in the oven.  Although over the years, as I have become a little more health conscious, I started to make small changes to her recipe, such as eliminating the butter and sugar, and still turned out a most tasty applesauce.  A couple of weeks ago, Mr. Picky asked me to make applesauce and I thought it might be fun to try it in the slow cooker.  Major success!!  I think I will make applesauce in the slow cooker every time, forever and ever and ever.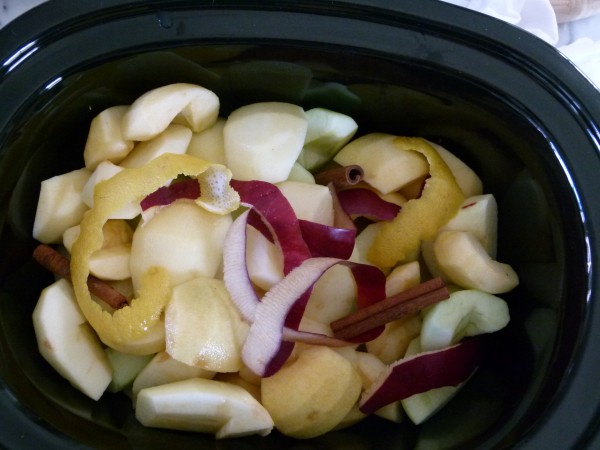 I think the key to making a tasty applesauce is my same secret (not such a secret really) to making the best apple pie is using many varieties of apples.  I also think you can get away with using no added sweeteners if you choose mostly sweet apples, as opposed to tart ones.  If you typically buy unsweetened applesauce at the store, I am sure you will think this recipe is perfectly sweet enough.  I always try to use as little sugar as possible in fruit desserts because I think you taste more of the fruit flavor than just a bland sweetness.  For this particular batch I used Pink Lady (my favorite), Honeycrisp, Red Delicious, Arkansas Black, Fuji, and Granny Smith.  You don't have to use that many different kinds of apples, but make sure you use at least three varieties.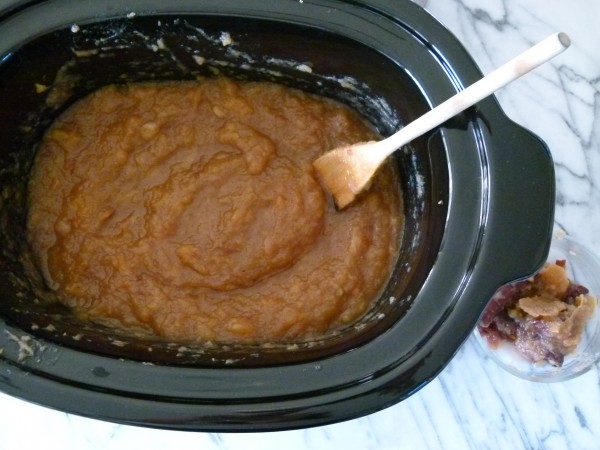 Unless we just met, you know how much I love prepping in advance and thinking ahead, especially when it comes to holiday entertaining.  And even though I always made my applesauce the Sunday before Thanksgiving, guess what?  You can freeze it.  I know!  Amazing.  Today is a great day to go out and buy a ton of apples and make this.  Although it only makes 6 cups and I am very sure there's no way it will last you until the big day because you and your loved ones will want to devour it.  We love it plain, especially warm, but it's also awesome on pancakes and French toast, with yogurt and granola, and on poultry.  Mmmmmm!!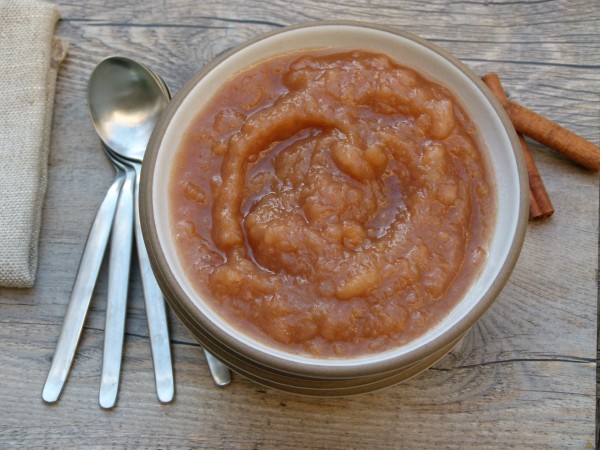 View this post on Instagram

 

 
If you give this recipe a try, snap a pic and tag @pamelasalzman so I can see your beautiful creations. I also really appreciate readers taking the time to leave a rating and review! Subscribe for free to my site for the latest recipes,  updates and things I'm loving lately.  If you enjoy this recipe, I taught it last year in my online class!  Give me an hour a month, and I'll make you a better, healthier cook!

Slow Cooker Applesauce
Ingredients
6 pounds of apples (use several different varieties and try to use more sweet apples than tart)
the peel from a small lemon (use a vegetable peeler to take it off and try to remove in one whole piece so it's easier to find when the applesauce is cooked)
juice of half a lemon (2-3 teaspoons)
3 cinnamon sticks
pinch of allspice
Instructions
Peel, quarter and core all the apples. Save a large piece of peel from a red apple to include in the slow cooker. It will add a beautiful rosy color to the sauce. Place the apples, reserved piece of apple peel, lemon peel, lemon juice, cinnamon sticks and pinch of allspice (if you're using that) in the slow cooker insert. Cover the slow cooker and set it to LOW. Cook for 5-6 hours until apples are super soft.
Before you stir or mash the apples, remove the apple peel, lemon peel and cinnamon sticks. If you like a super smooth applesauce, blend with an immersion blender. I like it more chunky, so I just stir the apples with a wooden spoon or a large whisk.
Store in the refrigerator for up to two weeks or freeze for up to two months.
Notes
To prepare in the oven, place all ingredients in a nonreactive Dutch oven or enameled pot, cover and bake for 1 ½ hours at 350 degrees.  Remove peels and cinnamon sticks before mashing apples.