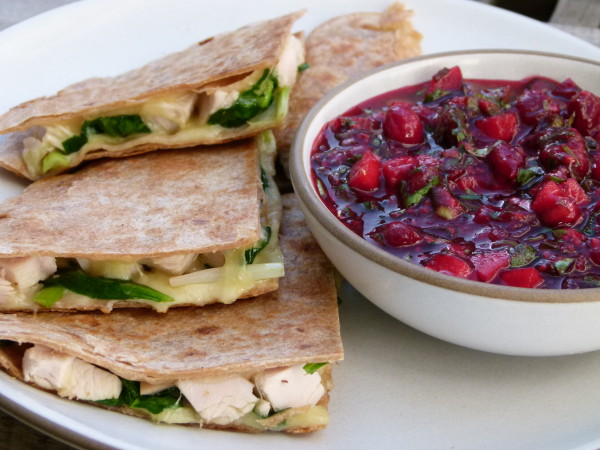 I know you are all in major Thanksgiving prep mode.  But I wanted to post this recipe for the day after if you are planning that far ahead.  And if that is the case, you and I are probably good friends, or should be.  One of the reasons I absolutely love the day after Thanksgiving is because I sit in my pajamas until noon like a lady of leisure and make everyone bring me things like tea and slippers, and fetch me the remote control because I slaved over that meal for days and days and I deserve to sit on that couch for as long as I feel like it.  Ha!  Once a year, it's nice to be queen for the day.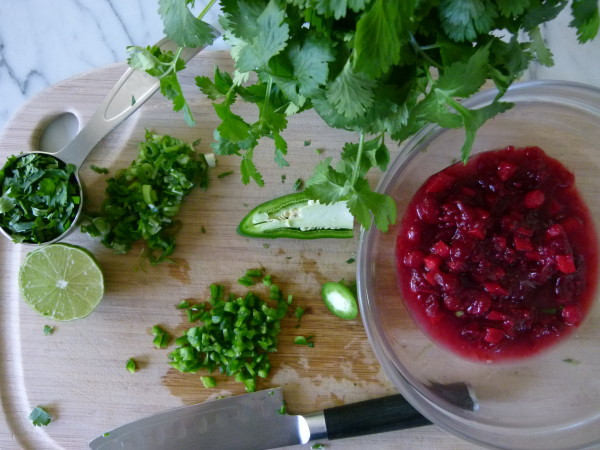 I also love the day after Thanksgiving for the leftovers.  Leftovers mean I don't really have to cook, but I do need to figure out how to repurpose turkey and potatoes and such in a tasty way.  I used to just literally reheat everything and we would have another Thanksgiving dinner the next night with some fresh turkey vegetable soup from simmering the turkey bones all day.  But personally, I have tired of that sameness two days in a row and have begun to look for ways to redo leftovers that don't seem like leftovers.  I have made turkey shepherd's pie and turkey pot pie (use turkey instead of chicken in this recipe), as well as Southwestern turkey and black bean chili and turkey, butternut squash and wild rice soup and so on.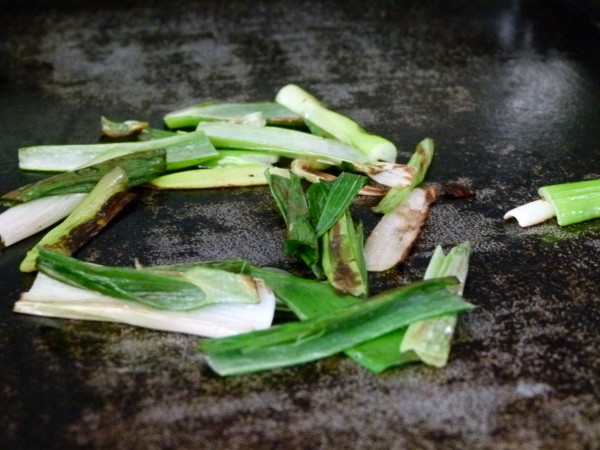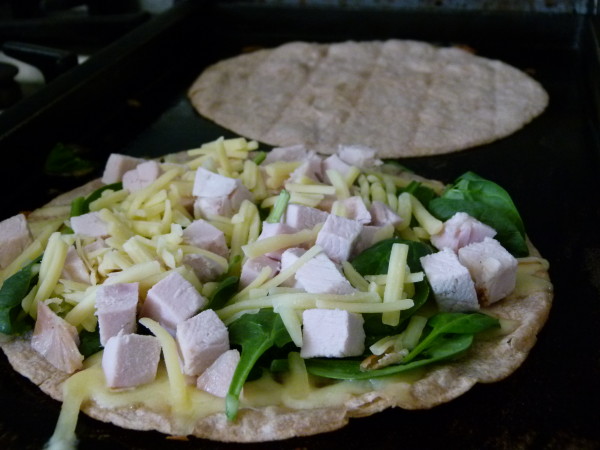 But this year, I am really going off in a different direction with these Turkey and Spinach Quesadillas with Cranberry Salsa. Has this New Yorker been in Los Angeles too long?  By the sound of today's post, you might think so.  Or maybe it's because as I write this, it's 75 degrees and my mind isn't going toward something heavy like turkey stew.  I like this recipe for a variety of reasons, the first of which is that it's tasty.  Another reason is that it's so easy and I don't need multiple pots and pans and cutting boards.  I am kind of not into cooking this Friday.  Lastly, I like the twist of a different, fresh flavor.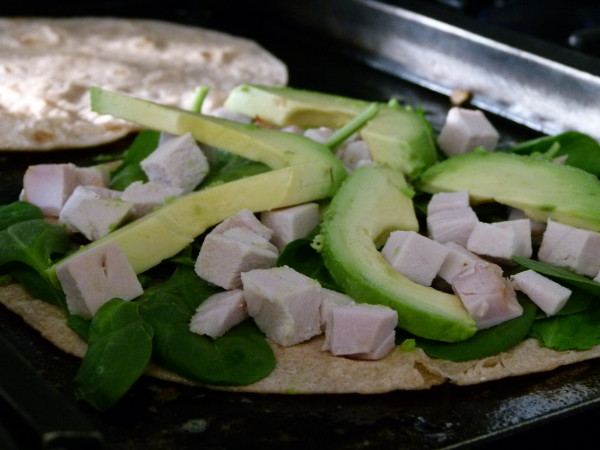 My family all had different opinions about this recipe which is why my life stays interesting.  Mr. Picky still will not eat cheese because he thinks it's the devil and I won't eat it often because it's not great for me, so the two of us tried the turkey quesadilla without cheese and with avocado instead.  Delicious!  The creamy from the avocado was a perfect replacement for the melted cheese, in our opinion.  As for the salsa, my husband likes cilantro 50% of the time and in the cranberry sauce was not one of those times.  One of my daughters put plain cranberry sauce on her quesadilla and liked that just fine and thought that would be a better way to present this recipe since there was no extra work involved there.  True.I also loved the cooked green onions, but there's a good chance you might not have those lying around, so if you could easily sub cooked regular onions if you're motivated.  No judgment from me if you're not, though.
Hope you have an amazing holiday!  We all have so much for which to be grateful!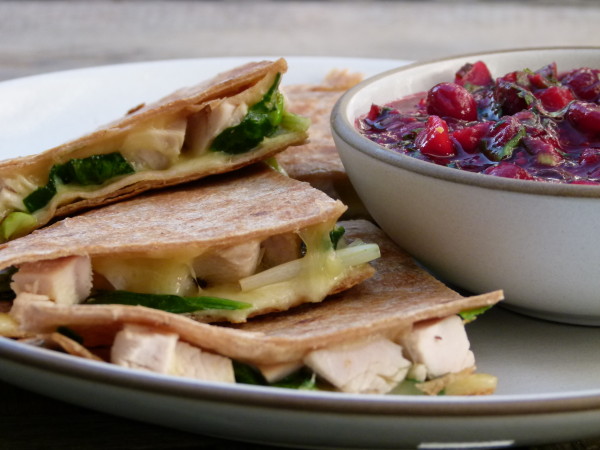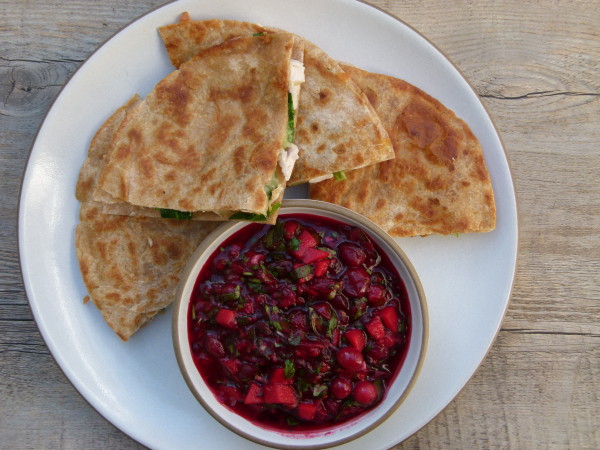 Turkey and Spinach Quesadillas with Cranberry Salsa
Author:
Pamela, adapted from Cooking Light Magazine
Ingredients
Salsa:
1 cup whole-berry cranberry sauce
¼ cup chopped fresh cilantro
2 Tablespoons chopped green onion or finely diced shallot
1 Tablespoon fresh lime juice
¼ teaspoon ground cumin
½ jalapeno, seeded and minced
pinch of sea salt
Quesadillas
1 Tablespoon unrefined, cold-pressed, extra-virgin olive oil
¼ cup 2-inch pieces of green onion
a few teaspoons unsalted butter or more olive oil
8 (8-inch) whole grain tortillas (I like Rudi's whole spelt and Food For Life sprouted grain)
1 cup (4 ounces) shredded Monterey Jack cheese
2 cups chopped cooked turkey
4 handfuls baby spinach leaves
Instructions
Prepare the salsa: combine all ingredients in a bowl.  Cover and refrigerate.
Prepare quesadillas:  heat a large skillet or griddle over medium-high heat.  Warm olive oil and sauté the green onions for a couple of minutes until tender.  Remove the onions and lower the heat to medium.
Add a little butter or oil to the pan, place a tortilla on the pan and sprinkle cheese over the tortilla, Top the cheese with ¼ of the onions, ½ cup turkey and a handful of spinach leaves.  Cover with a tortilla.  Cook until the underside is lightly golden and flip over.  Cook until cheese is melted.
Make remaining three quesadillas in the same way, adding a little extra butter to the pan if necessary to prevent sticking.
Cut each quesadilla into 4 wedges and serve with prepared cranberry salsa or plain cranberry salsa.