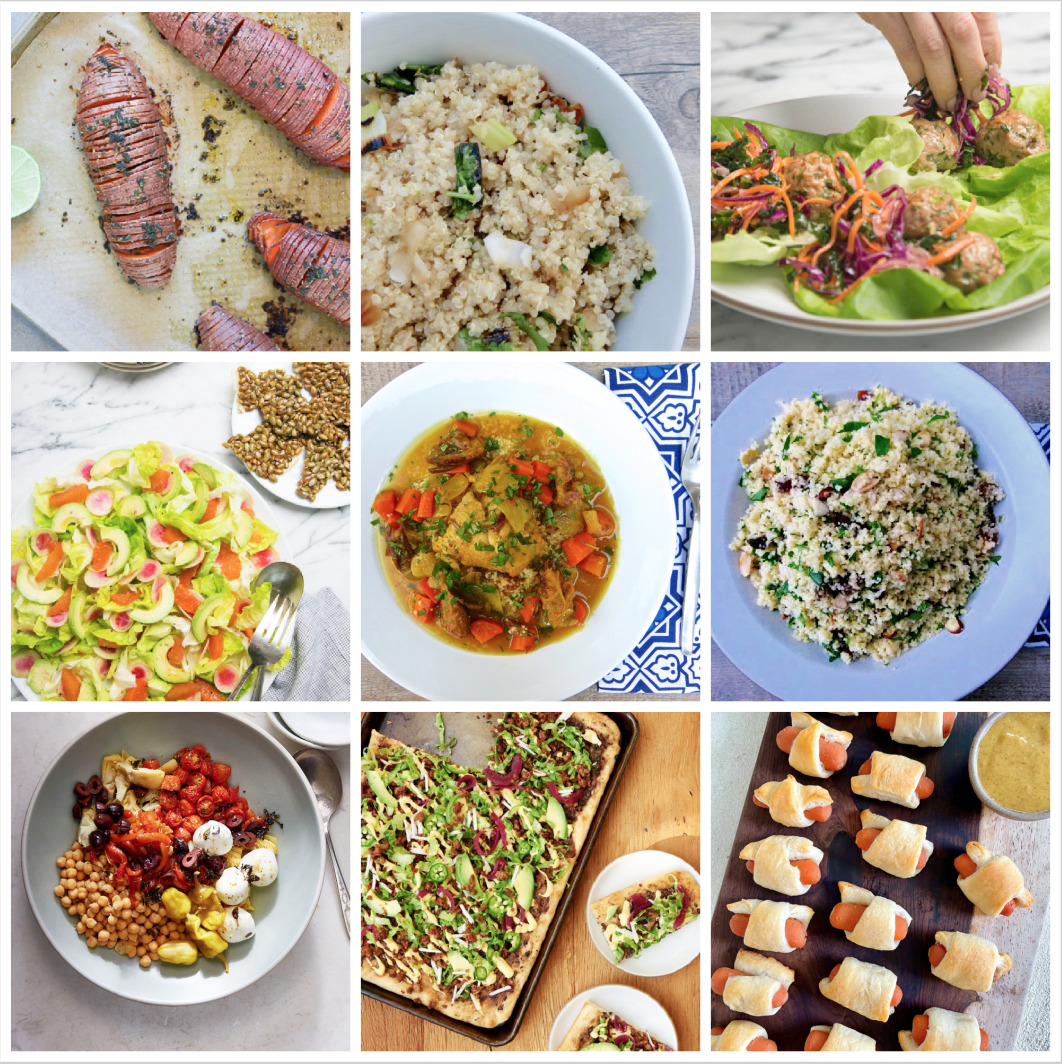 My newest online cooking class has been uploaded and it's fabulous! I have included so many interesting ingredients, great techniques, and favorite product recommendations. If you are not part of my monthly cooking class, I'd love to have you! I promise you will learn so much in each class which you watch on your own and then you can join my live monthly office hours if you like. I am confident you will start cooking more with ease and you will save money and be healthier. It is 100% worth the price!!
For those of you hosting a Super Bowl party and making guacamole, don't forget to buy your hard avocados on Tuesday or Wednesday and refrigerate once they are perfect. Here's your dinner planner for the week:
Meatless Monday: How about an all veggie dinner? Try the Hasselback Sweet Potatoes. While you're roasting the sweet potatoes, on a sheet pan roast sliced red onion, broccoli and kale, tossed in olive oil and sea salt, to roast as well. Let the veggies get crisp in the oven and when ready squeeze some lemon juice and drizzle tahini on top or make this lemon-tahini sauce.
Tuesday: simple slow roasted salmon, method here, Quinoa with Toasted Coconut and Lime served with mixed greens tossed with miso-ginger dressing
Wednesday: Baked Asian Turkey Meatballs, black rice (aka forbidden rice) and Asian slaw.
Thursday: Spring salad with oranges, radish, avocado and pumpkin seed brittle (this could be a full meal if you wanted to add some cooked quinoa and/or feta cheese to the salad), naan pizzas with spinach sauteed in garlic and red pepper flakes and topped with kite hill ricotta cheese
Friday: moroccan chicken with dates, couscous with dried apricots and herbs
Saturday brunch: Olive bar chickpea salad p. 54 from Quicker than Quick
Superbowl Sunday: French Bread Pizzas, Taco pizzas, or Mini carrot dogs in a blanket + Here are some of my other favorite options:
I generally make Guacamole and Baked Tortilla Chips, plus jicama cut into thin "chips," "Vegan Queso" IS A MUST with chips and baked sweet potato rounds, crudités with Hummus. I have also done sliders/mini burgers, Mini Chicken Tostadas, Roasted Baby Potatoes with Broccoli and Cheese, Spinach and Artichoke Dip.
Here's what you can do in advance if it helps you:
Sunday:
Roast hasselback sweet potatoes
Cook quinoa
Make miso-ginger dressing
Wash greens
Monday:
Cook black rice
Tuesday:
Make meatball mixture
Wednesday:
Make pumpkin seed brittle if using for salad
Thursday:
You can make the Moroccan chicken today and reheat tomorrow if it's easier to have it made in advance or use the slow cooker method.
Saturday:
For Super Bowl, you can cook carrots and marinate for carrot dogs, make vegan queso and reheat tomorrow, wash greens, make salad dressings, and/or cook beans for chili if making from scratch.
I have LOVED seeing all your creations of my recipes on Instagram. If you make any of my recipes, please tag me @pamelasalzman #pamelasalzman so I can check them out! I have a free Monday newsletter with my thoughts, new recipes, and things I'm loving lately. Subscribe here!
Order my cookbook, Quicker Than Quick! If you have 1 minute, would you mind leaving a review on amazon? I would be so grateful, thank you! Take a peek at my first cookbook "Kitchen Matters"!