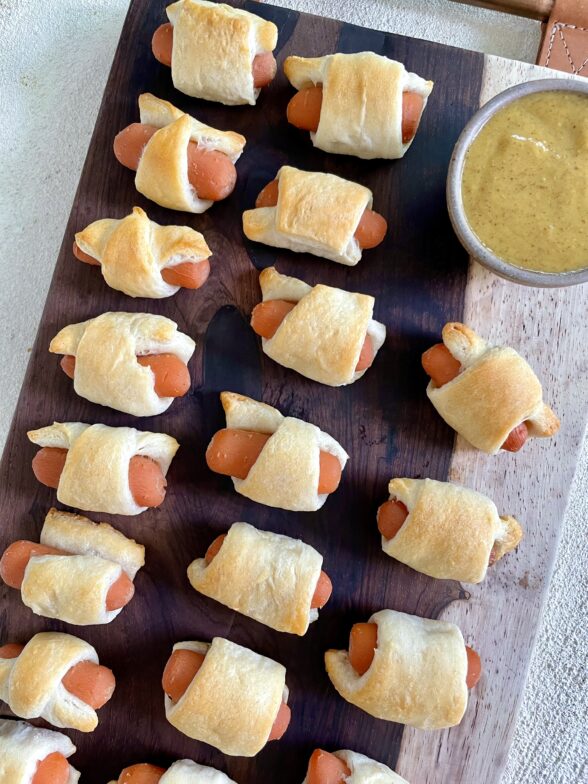 Be prepared to be blown away by this recipe!  It's totally crazy and fun and everyone will go wild for it.  Is it health food?  Eh, not exactly.  I don't think packaged biscuit dough is health food, but baby carrots are a million times better for you than processed hot dogs!  And believe me when I tell you that you will think you are eating a little pig in a blanket.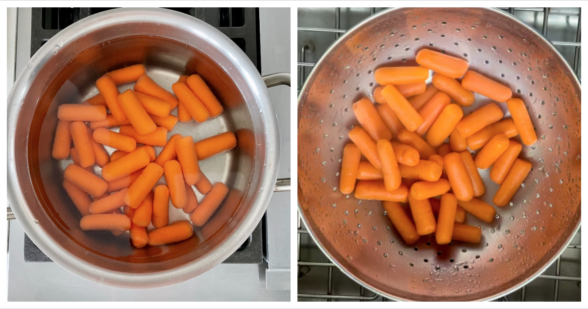 This recipe requires planning, I'm sorry.  The baby carrots are precooked first and then marinated in a few ingredients – not hard at all, but you need to think ahead.  Then you roll them in pieces of crescent roll dough and bake.  All skill levels can handle this recipe, I promise. You might think this recipe makes a lot of mini carrot dogs, but you would be wrong because everyone will go crazy for them and eat as many as you make!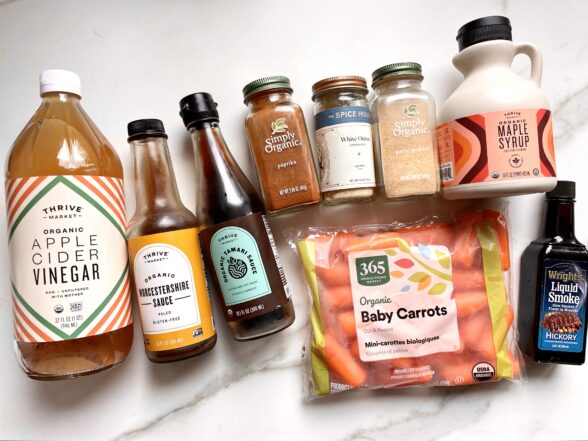 All these ingredients are pretty easy to find except liquid smoke, which I bought at Whole Foods.  You only need a drop and it does give the authentic hot dog flavor.  It's also awesome in baked beans.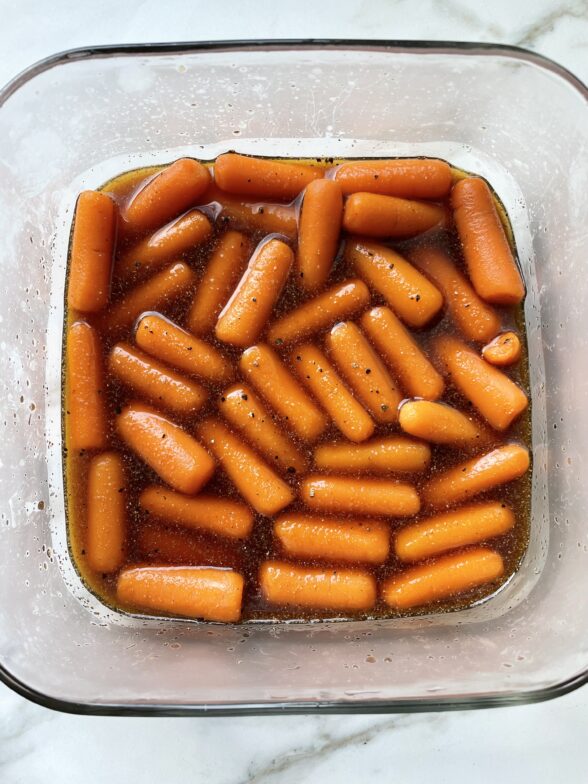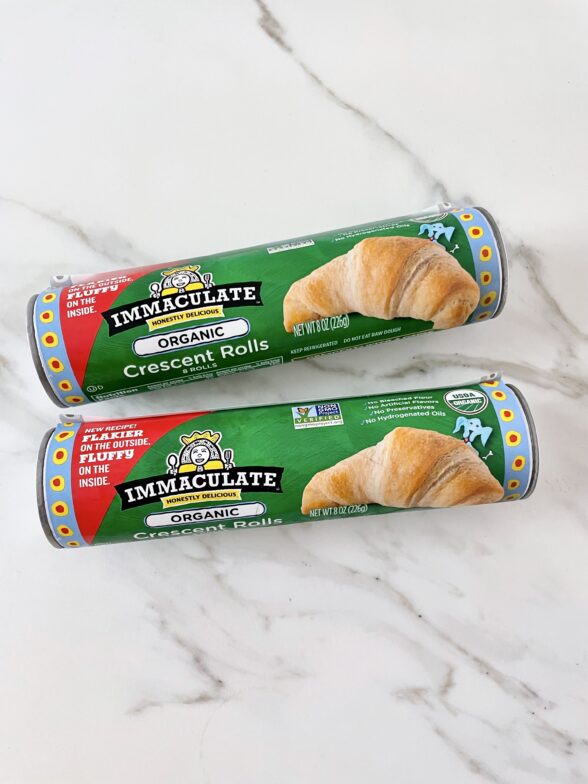 You can easily find organic crescent roll dough, and vegan crescent roll dough, but I am not sure about gluten-free dough. If you can't find any, just make the carrots plain and serve with mustard and condiments.  After marinating, remove from the marinade and steam them until heated through.
I don't like the rolls to be too bready, so I cut each crescent into three pieces.  No big deal that all the shapes are a little different! They're actually really fun to roll up and don't take too much time.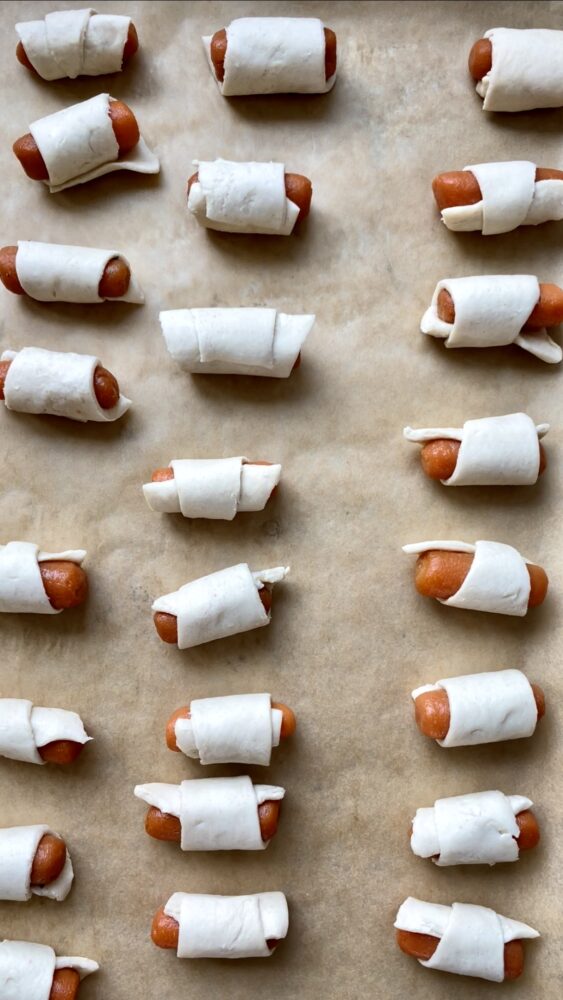 I always serve them with mustard. My son likes a spicy brown mustard, but in this photo is a homemade spicy honey mustard my friend Lydia made for us.  Delish! These would be such a perfect appetizer for a New Year's Eve get together or a game day, or even if you're just home with the kids or grandkids and you want something a little different to serve with a bowl of soup.  There's no protein here, so you should try to serve with some protein if you want this to be a meal.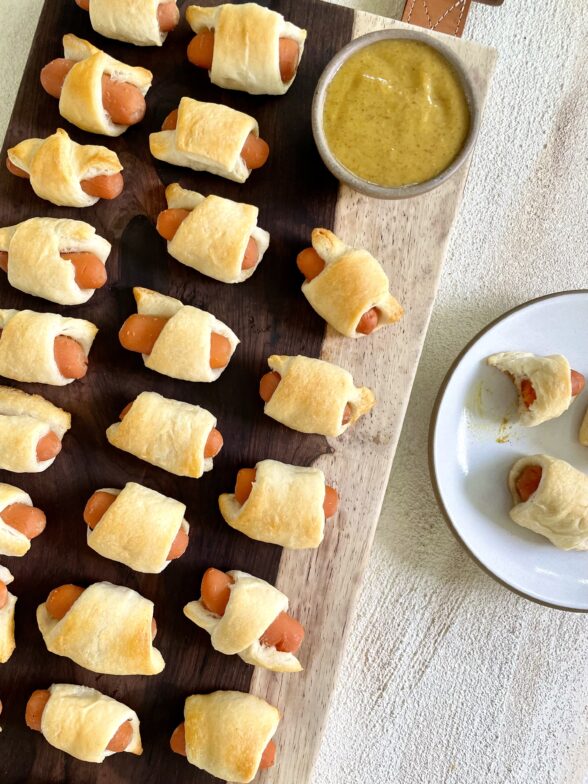 I need you to trust me on this one.  I know you can't imagine how carrots could taste like hot dogs, but I am for real!  Here are some tips:
Try to use the liquid smoke if you can find it.
The key is to cook the carrots until they're just tender.  You don't want them to be crunchy or mushy.
Don't skimp on the marinating time.  8 hours is minimum but I even left them in the fridge for 2 days once and they turned out great.
The crescent dough should not be left out to get warm or sticky.  Pull from fridge just before you want to work with it.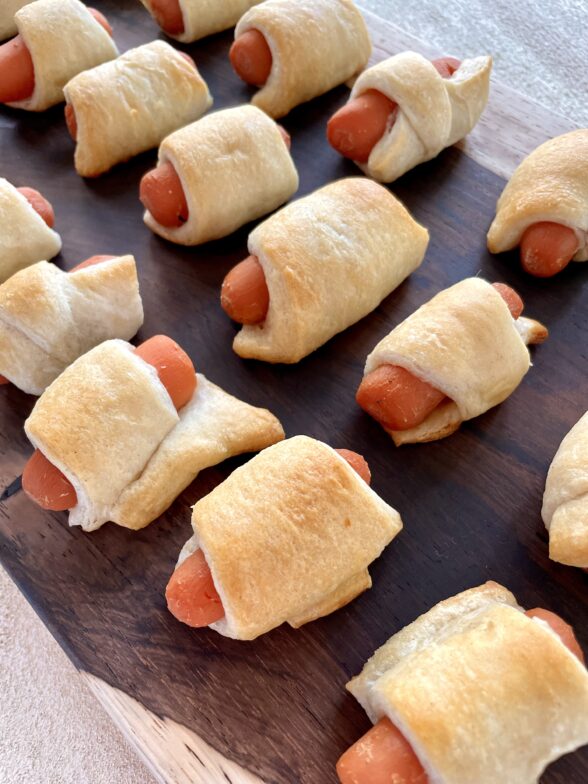 Ok, it's your turn!  I can't wait to see you guys make these.  You know what to do if you do – please tag me @pamelasalzman #pamelasalzman so I can check out your Mini Carrot Dogs!!  Oh, and happy, healthy new year to all of you!  This community means so much to me and I look forward to more cooking with you in 2022!  xxPamela

Mini Carrot Dogs in a Blanket Recipe
Author:
adapted from www.karissasvegankitchen.com
Serves:
48 mini carrot dogs
Ingredients
2 8-ounce cans crescent rolls
1 16-ounce bag baby carrots
Marinade:
1 Tablespoon pure maple syrup
3 Tablespoons apple cider vinegar
1⁄3 cup shoyu, tamari or coconut aminos
1⁄3 cup vegetable stock or water
1 teaspoon garlic powder
1⁄2 teaspoon onion powder
1⁄2 teaspoon freshly ground black pepper
1⁄4 teaspoon paprika
1⁄2 teaspoon Worcestershire sauce (optional)
Splash of liquid smoke (optional)
Instructions
Bring a large pot of water to a boil. Add the carrots and cook uncovered until just tender when pierced with a paring knife, 5-7 minutes. Don't overcook them as they can get mushy. You want slight resistance. Drain and rinse under water until cool enough to handle.
Whisk all marinade ingredients in a medium-large bowl or shallow container or you can do this in a quart size Ziploc bag. Add carrots to the marinade and toss to coat. Cover, and refrigerate for 12 hours or overnight. The longer they marinate, the more flavorful they will be.
Cut the crescent roll triangles into halves or thirds. I like to do this with a pizza cutter. If cutting into thirds, roll the dough out a bit with a rolling pin before cutting so your pieces are big enough to wrap the carrots.
Drain and rinse the carrots from the marinade. Give them a little pat dry with a paper towel, but they don't have to be dry.
Preheat the oven to 375 degrees. Line two baking sheets with unbleached parchment paper.
Roll the carrots up into the dough, one by one and place on the baking sheet, spacing each carrot roll about 2-inches apart. If you have a piece of dough that is larger on one side, place the carrot on the wider side and roll towards the more narrow side. Bake for 11-14 minutes, or until golden brown.