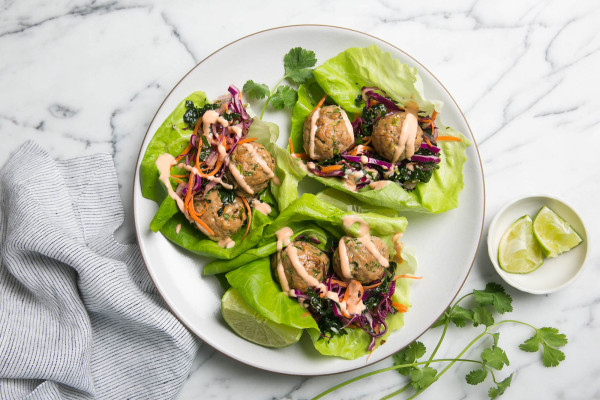 Why is it that I don't like meat, but I can handle meatballs?  Maybe because it doesn't resemble actual meat?  Most people, both kids and adults, like meatballs.  I have made many meatball-related recipes in my classes, and they are always quick favorites.  I grew up thinking a meatball was only something simmered in a marinara (tomato) sauce and served with pasta.  And it usually is, but there are Mexican-flavored meatballs in albondigas soup, sweet and sour meatballs, Swedish meatballs and Greek meatballs, so why can't there be Asian-flavored meatballs?  Indeed there can be.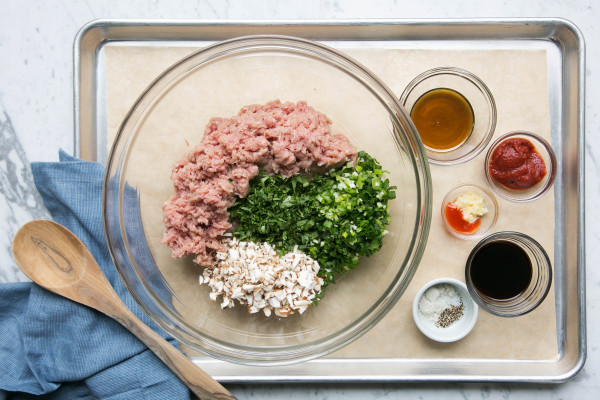 When I came up with this recipe, they didn't go into a soup or in a rice and veggie bowl, although those would be great ways to enjoy the meatballs.  I served them taco-style, in a big lettuce leaf with crunchy cabbage and a spicy sauce.  My family went nuts and the mamas in my classes all ran home to make these for their kiddos.  I received lots of great feedback, so I am confident you will receive rave reviews.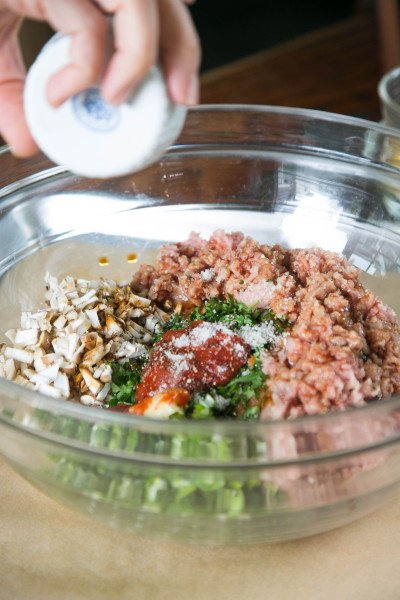 One thing I was sensitive to with this recipe was being able to make a meatball without breadcrumbs.  So many of my students need to cook gluten-free or grain-free at home and I wanted to accommodate their needs.  But it's hard to make a meatball without the bread to lighten it up, especially when using turkey or chicken which has much less fat than beef.  No one likes a tough meatball.  So I used my Tasty Turkey Burger recipe as a guide and used tomato paste for flavor and moisture, as well as shiitake mushrooms which have a lot of water and meaty flavor.  You will not see the mushrooms or taste them, so don't get all worked up before even trying this recipe.  Mr. Picky devours these meatballs and he wouldn't eat a mushroom if I bribed him with a ticket to the Super Bowl.  They just have a little soy-sesame undertone to them and that's all.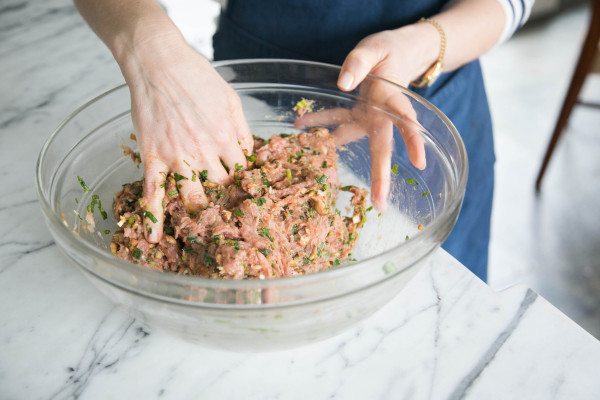 Some kind of sauce is key to making these a little more interesting, although you can certainly serve them on their own.  I am obsessed with sriracha — a spicy, tangy chili sauce which is easy to find in the "International" aisle or Asian section of most supermarkets.  It goes perfectly with anything creamy, like mayo or yogurt.  I blended some into soy-free Vegenaise and wanted to dip everything in my refrigerator into it.  You can adjust the heat in the sauce by using more or less sriracha.  It's just an option.  A drizzle of a soy-based sauce would be a natural way to go as well.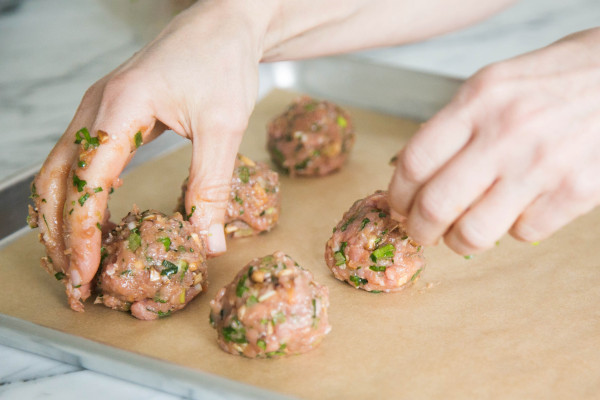 I always bake meatballs.  Who wants to stand over a stove frying each individual meatball?  Baking is healthier, too.  The oven temperature listed int he recipe may seem high, but it's the best way to get these a little brown without drying them out
Here are some ways to serve these Asian Turkey Meatballs: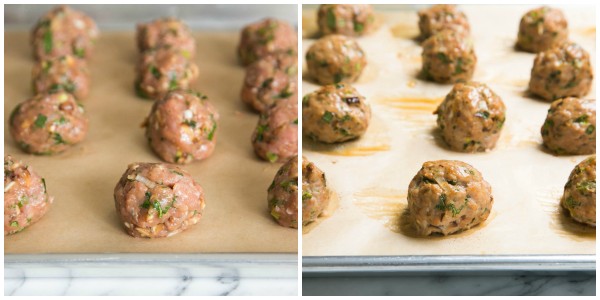 For your do-ahead prep, you can easily make this mixture the day before or the morning of and bake the meatballs later.  I have a feeling the baked meatballs would freeze well.  I've even eaten them cold out of the fridge in a salad and I though they were delicious!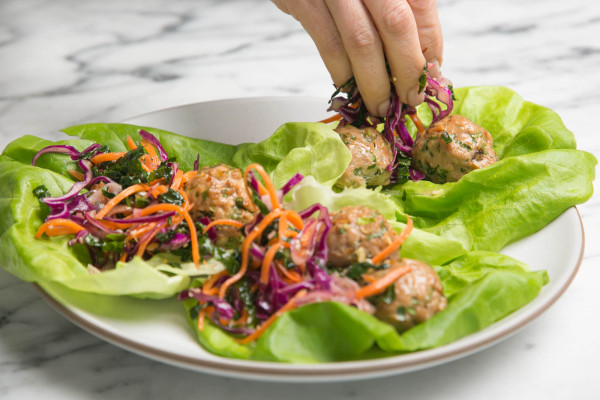 Baked Asian Turkey Meatballs
Serves:
20-24 small meatballs
Ingredients
4 medium shiitake mushrooms, stems removed, caps wiped clean and finely chopped
2 pounds ground turkey, preferably dark meat
8 scallions, finely chopped (you could also grate a shallot instead)
⅓ cup cilantro leaves and tender stems, finely chopped
2 Tablespoons tomato paste
4 teaspoons toasted unrefined sesame oil
2 Tablepoons shoyu or GF tamari (wheat-free) or coconut aminos (soy-free)
2 medium cloves garlic, finely grated (I use a medium Microplane for this)
1 teaspoon sea salt
freshly ground black pepper to taste
couple dashes of hot sauce or sriracha (a couple dashes won't make these spicy, so you'll have to add a bit more if you do want them to be spicy.)
Instructions
Preheat oven to 500 degrees. Line a baking sheet with unbleached parchment paper.
Gently mix all ingredients in a bowl.
Form 2 Tablespoons of the meat mixture into a ball and place on prepared baking sheet. Repeat with remaining mixture.
Bake for 15-16 minutes or until cooked through. (If you're not sure, stick a meat thermometer in the center of a meatball and it should register 165 degrees. Otherwise cut one open and make sure it is no longer pink in the center.)
Serve with lettuce leaves and sriracha aioli* and avocado slices, if desired. Or see my other suggestions at the end of the blogpost.
Notes
*Sriracha aioli: ½ cup Vegenaise + 2 Tablespoons sriracha + a pinch of salt.