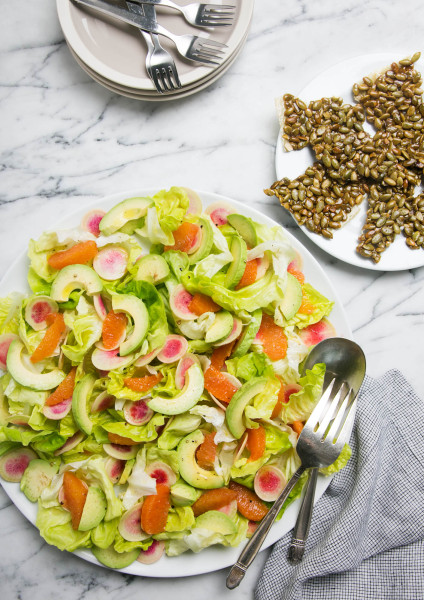 Yesterday my son asked me what my favorite foods were when I was a kid and I quickly responded, "Salad!  I remembered telling someone when I was in the second grade that I wouldn't mind drinking a bottle of olive oil and vinegar."  To which my son scoffed, "That's impossible.  What 7-year-old likes salad that much?"  Honestly, I did.  I loved salad then and I love salad now.  I was always in charge of dressing the salad when I was young.  But we didn't make anything fancy.  I just drizzled good olive oil and vinegar with some salt on our greens and that was that.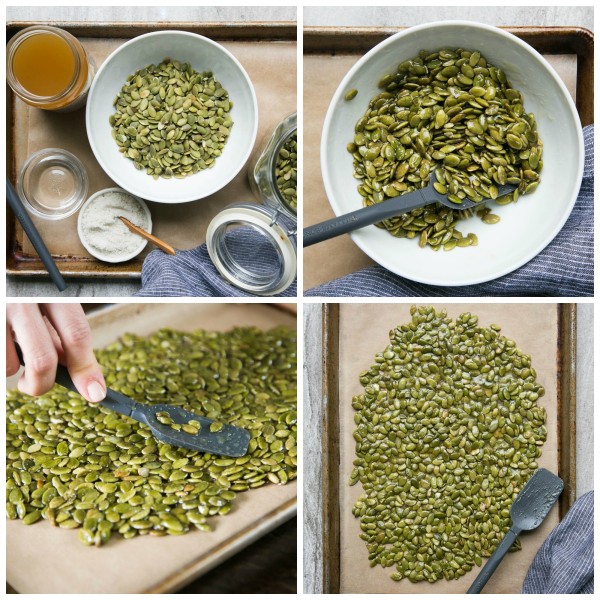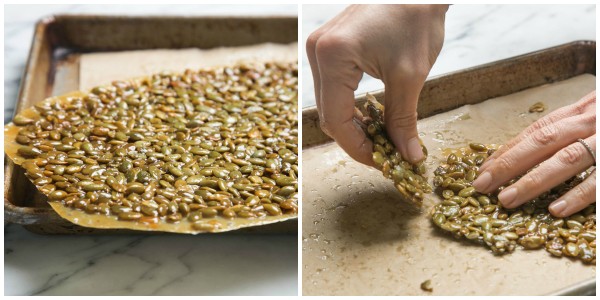 Every time I teach a cooking class, I get very excited when it's time to demonstrate the salad recipe, and there always is one.  Not that I don't want you to hang out with me, but you really don't "need" a salad recipe.  You just need a few good dressings and then you're off to the races.  I hardly ever make a salad the same way twice, always subbing things in and out depending on what I have and what's in season.  This salad originally debuted in a Mexican-themed class with a handful of cilantro leaves scattered on top.  But I photographed it for the blog without cilantro to keep it a little more versatile (and also because cilantro is one of the MOST polarizing foods ever.)  So now you can make this for Easter or Passover (without the brittle which contains brown rice syrup, which may or may not be kosher for Passover.)  You can certainly skip the brittle, although it is ridiculously good.  Or make it another time for a fun "healthy-ish" candy.


I have actually considered eating this salad for breakfast.  And why not?  We have everything I need for a complete breakfast:  protein (pumpkin seeds), good fats (avocado, olive oil and pumpkin seeds), good carbs (oranges) and it's delicious.  It also hits all the textures I crave — soft, crunchy, juicy, crispy.  Since most of you won't be eating this salad for breakfast, you can pair it with poultry, fish or lamb or add some feta and a sprinkle of quinoa for a LOVELY luncheon salad.  I love this salad so much that I used to make so much of it for my classes so I could ensure there would be plenty left over for me.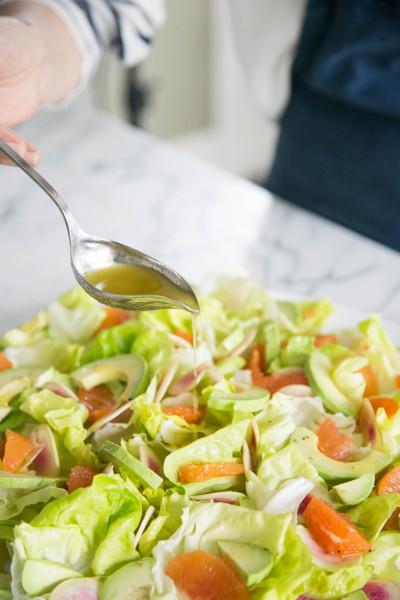 Can you believe something this beautiful and satisfying can also be so good for you?  There's a whole lot of nutrition on this plate, from powerful antioxidants like Vitamin C and E to healthy fats, fiber and detoxifying compounds.  All these ingredients are very much in season right now, so you'll be able to pull off a very delicious salad.  Just remember to buy your avocados hard as rocks several days in advance and allow them to ripen at home on the countertop.  They'll be perfect!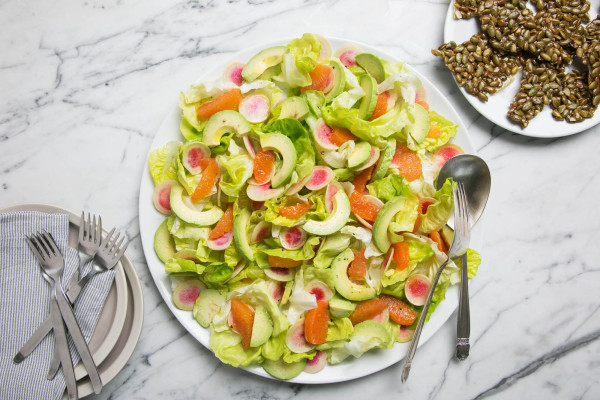 Spring Salad with Oranges, Avocado, Radishes and Pumpkin Seed Brittle
Ingredients
1 cup raw, hulled pumpkin seeds, aka pepitas
½ teaspoon sea salt
¼ cup brown rice syrup
1 Tablespoon unrefined virgin coconut oil, melted*
1 large head of butter lettuce, larger leaves torn, smaller leaves left whole
2 medium oranges (I like using Cara Cara or navel)
2 ripe, but firm avocados, halved, pitted and cut into ¼-inch slices
2 radishes, thinly sliced (preferably the watermelon variety) or jicama
For the Dressing:
½ teaspoon fine grain sea salt + more to finish
freshly ground black pepper to taste
2 Tablespoons white wine vinegar
3 Tablespoons unrefined, cold pressed, extra-virgin olive oil
+some orange juice taken after segmenting oranges (see Step 2)
Instructions
Make the brittle:
Preheat the oven to 325 degrees. Line a small baking sheet with unbleached parchment paper. In a medium bowl, combine pumpkin seeds and sea salt.
In a small mixing bowl, whisk together the brown rice syrup and coconut oil until well combined. Pour over the pumpkin seeds and stir to combine.
Pour mixture onto baking sheet and spread into one even layer using a dampened spatula if necessary. Bake for 15-18 minutes or until golden brown. Allow to cool, break into pieces.
Arrange the lettuce leaves on a large platter.
Slice the stem and bottom ends of the oranges. Stand the oranges on one end, and following the contour of the fruit with a very sharp knife, remove the peel and white pith. Work from top to bottom, rotating the fruit as you go. Then hold each orange over a bowl and carefully slice between the membranes to release the segments in between. Squeeze any juice left in the remaining membrane into a bowl along with any juice from the bowl of the orange segments. You will have approximately 2- 2 ½ Tablespoons.
Make the dressing by adding all of the other dressing ingredients to the orange juice. Whisk to combine or place everything in a jar and shake. Set aside.
Place the lettuce on a platter. Arrange half the orange segments, avocado slices, and radishes throughout and on top of the lettuce. Drizzle with some of the dressing and toss gently.
Place the remaining orange segments, avocado and radishes on top of the salad. Drizzle with remaining dressing and serve with pepita brittle and an additional pinch of sea salt. You'll only need about half the pepita brittle. Save the rest in an airtight container for up to one week.
Notes
*I melt the coconut oil and the brown rice syrup together in a butter warmer.