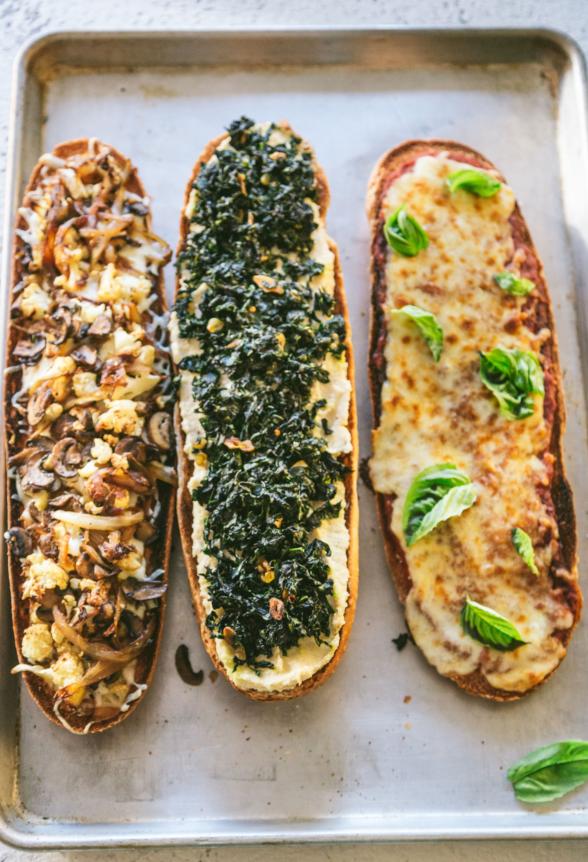 My favorite game day of the year is coming this Sunday and it also the second biggest eating day of the year.  True fact!  My favorite sport + a lot of food = fun times!  I like to come up with crowd-pleasing finger foods and this year I am sharing a major throw-back recipe – the French bread pizza!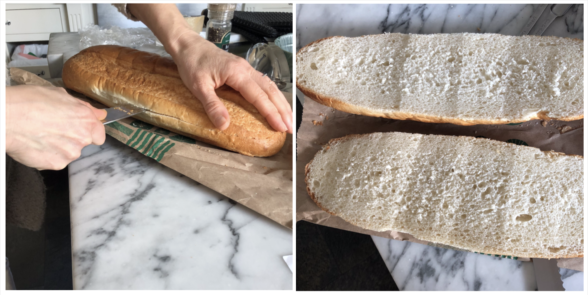 I used to make these all the time when I was a teenager.  It was cheaper than ordering a pizza plus I didn't have to wait for delivery.  There was a brand called Stouffer's (does it still exist?) which had frozen French bread pizzas that were really popular.  I didn't understand why people would need to buy French bread pizza when it was so easy to make at home, but one day I realized not all homes always had crusty bread on hand like we did.  My mom would buy a lot of Italian bread (French bread, Italian bread, whatever) and leave some fresh on the counter and freeze the rest.  She still does that!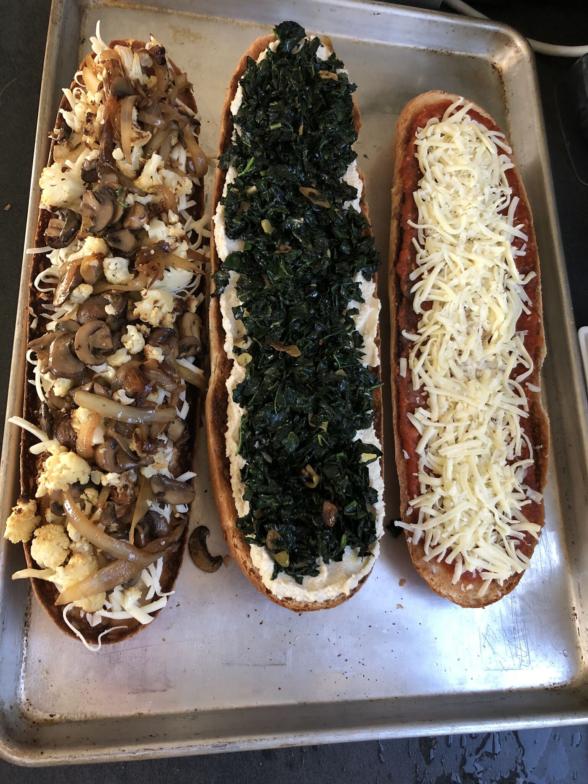 All I would do was toast some bread, smother it with marinara sauce and top it with cheese and stick it in the oven until the cheese melted.  I probably made this every day after tennis practice in high school.  It didn't occur to me back then to add leftover cooked vegetables if there were any.  But that's what I'm doing here – just playing around with French bread pizza ideas to serve the peeps on Super Bowl or for any party.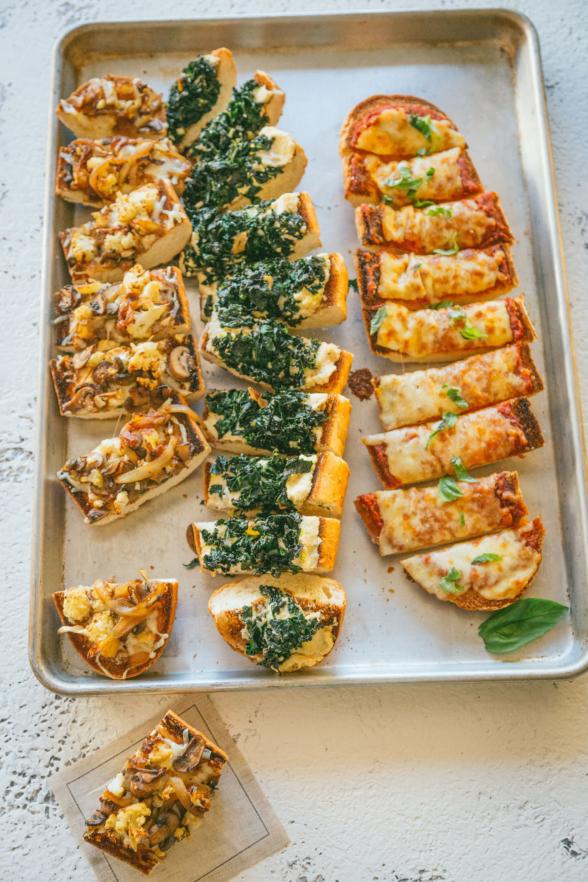 This is the first time I am posting a recipe that's not a recipe. You don't really need amounts.  I made three different versions here, but you can literally take any favorite pizza combo and do it on toasted French bread halves.  Here's what I photographed:
Shredded Fontina cheese (probably about 1 1/2 cups) topped with caramelized onions, roasted cauliflower, and sauteed mushrooms (do all the shredding and cooking of veggies the day before)
Vegan cauliflower-cashew ricotta with sauteed garlicky kale (recipe in my cookbook) (make both components the day before)
Marinara sauce + mozzarella topped just before serving with fresh basil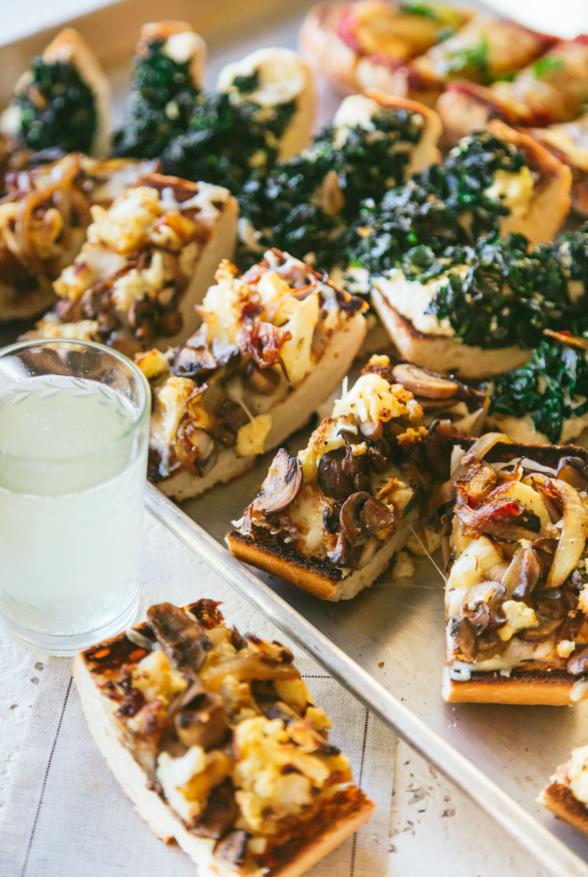 I invited some friends over for some wine and FB pizzas and everyone thought they were fabulous!  If you are gluten-free, check the freezer at Whole Foods and see if there are any GF baguettes.  Mine has at least one brand.  But it's easy to do these vegan.  Some of my favorite vegan "cheeses" are the cauliflower-cashew ricotta from the vegan lasagna on my site, Violife provolone, and Kite Hill ricotta.  I prepped everything the day before, including toasting the bread.  And then I just assembled the breads a little bit before everyone came over.  Then all I had to do was bake until the cheese melted – pretty easy, right?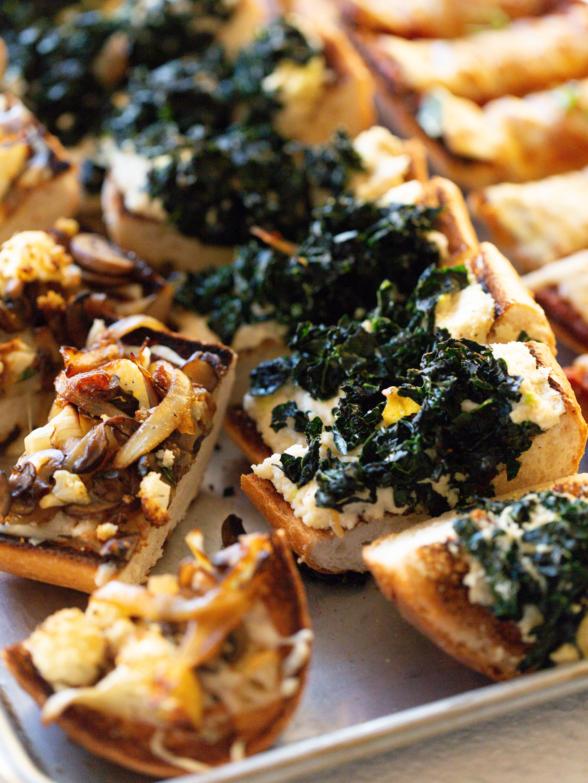 There are obviously a MILLION possible topping combinations.  I would love for you to wing it with this.  Go online and get the menu from your favorite pizza place and get inspired by their toppings.  Then make up your own. The only rules are to toast the bread first and make sure all the toppings (except maybe herbs) are pre-cooked.  One last tip:  Buy your avocados today for the Super Bowl!  Don't wait until Saturday to buy avocados for the next day.  If they're hard, they won't ripen fast enough.  If they're ripe, there's a good chance they'll be brown and mushy in spots.  Buy them hard tomorrow and let them ripen naturally on your countertop!
Tag me on Instagram so I can see all your Super Bowl eats!  @pamelasalzman #pamelasalzman  I try to feature a few a day on my stories!!
You can shop the tools I used for this recipe by clicking on the images below:

French Bread Pizza
Ingredients
1 French bread
1 cup shredded Fontina cheese or Mozzarella cheese or use a vegan soft cheese/ricotta (like the vegan cauliflower-cashew ricotta from the hearty vegetable vegan lasgana recipe on my site)
Caramelized onions + Seared mushrooms + Roasted Cauliflower
Marinara Sauce + Fresh basil
Garlicky kale (would be nice with jarred roasted tomatoes)
Instructions
Set oven rack 6 inches below heat source and set broiler to high.
Slice french bread in half horizontally and place on a baking sheet cut side up. Broil for 30 seconds or until bread is golden brown. Do not leave the oven unattended or the bread might burn!
Reduce oven temperature to 375 degrees.
Arrange desired toppings over each cut-side of bread. Bake until warmed through and/or cheese has melted, about 15 minutes. Cut into slices and serve immediately.