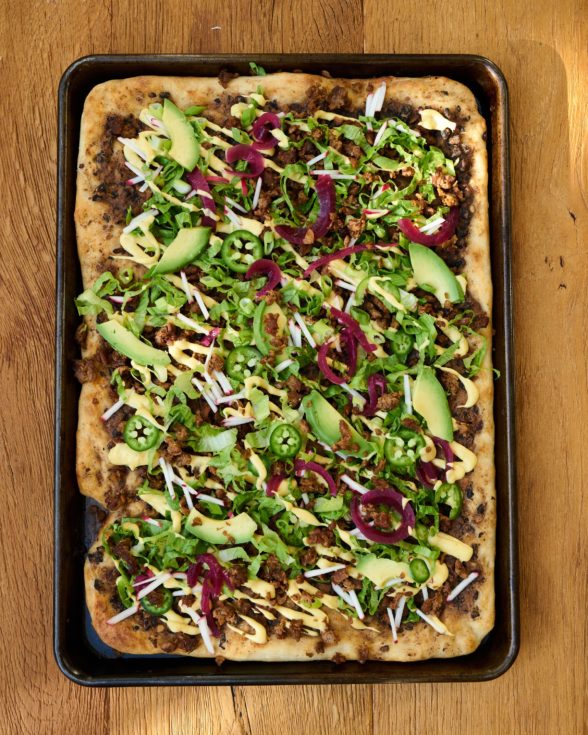 My favorite game day of the year is just over a week away. Yes, the Super Bowl!  Whereas I may not be having a party or even watching with friends this year, Hubs and the kids and I plan on enjoying the game together WITH ALL THE SNACKS.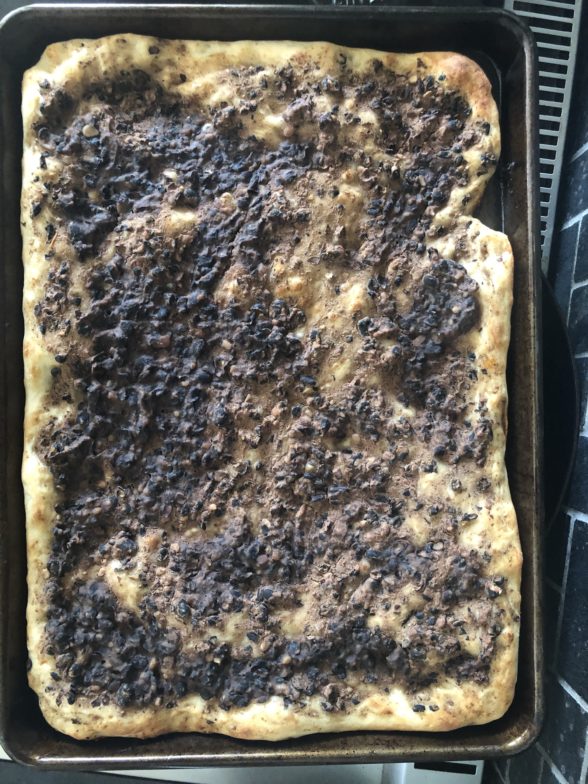 Quarantine is hard enough.  At least let us have our game day snacks!  For sure, I will make a big sheet pan of vegan nachos, guacamole and crudites, probably a pot of vegetable chili or do a baked potato bar.  And this!  I am calling it a taco pizza.  Take your favorite pizza dough or even packaged naan bread (which IMO is a perfect swap for an individual pizza – it's like a prebaked crust), and load it up with all the taco/burrito fixings.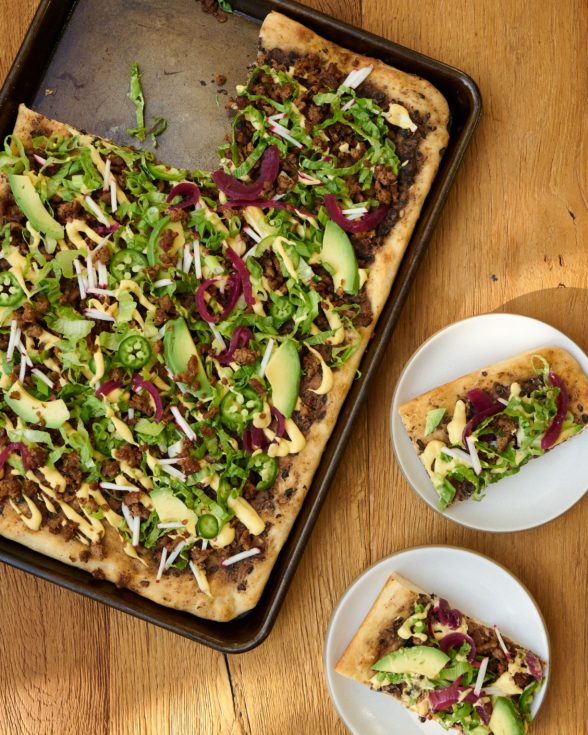 I like to spread a base or refried beans over the crust and bake, and then top with raw toppings like lettuce, pickled onions, jalapenos, tomatoes and avocado.  Of course, everything is better with my vegan cheese sauce.  I also added a little cooked plant-based "meat" to this one.  We don't eat products like Beyond Meat often, but it's fun for a treat and Hubs and my son like it because it really comes close to the actual thing. I just took my homemade taco seasoning from this recipe and cooked the ground Beyond Meat just as if it was ground beef.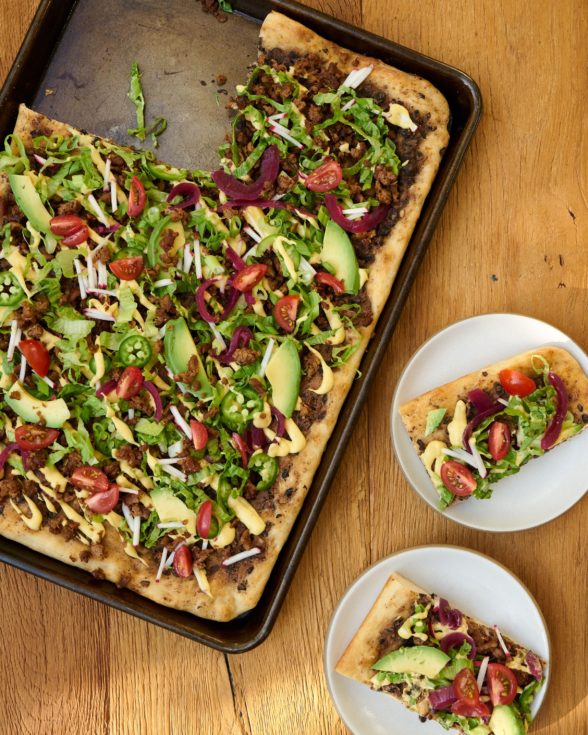 There are so many ways to make this.  In fact, you can give everyone his or her own "section" of the pizza to customize it.  This could be a fun snack during the game or a whole meal since there is plenty of protein and, depending on how you top it, good healthy fiber and fat.  With a big Mexican chopped salad, I say let's get this party started!
I can't wait to see your twist on this Taco Pizza, so please tag me @pamelasalzman #pamelasalzman.  I love checking out all your awesome creations!

Taco Pizza
Ingredients
½ cup salsa
1 cup refried beans, room temp is fine
Unrefined olive oil for greasing pan
1 pound pizza dough, at room temperature*
Cheese (or skip if the queso is enough) - just eyeball the amount
Other options:
Cooked ground meat or plant meat alternative or skip since the beans are enough, seasoned with 1 ½ teaspoons prepared taco seasoning or check out my taco seasoning recipe
shredded lettuce
Avocado, guacamole or avocado crema
Vegan cheese sauce/queso
Cilantro
Tomatoes, if in season
Scallions or pickled onions (there's a great recipe in Kitchen Matters for quick pickled onions)
Instructions
Preheat the oven to 425 degrees.
Combine salsa and refried beans (by combining them, the crust won't get soggy if using the salsa separately.)
Lightly grease a quarter sheet pan with oil. Roll the dough to fit and then stretch it to reach all four corners.
Spread the salsa-bean mixture on top of the crust, spreading it evenly. Top with shredded cheese, if using. Bake pizza for 18-20 minutes or until the crust is crispy and golden brown.
Top with cooked taco meat or meat alternative. Drizzle with vegan queso if using.
Then top with raw ingredients like shredded lettuce, diced tomatoes, cilantro, and or scallions/pickled onions.
Drizzle the top of the whole thing with sour cream or avocado crema or dollops of guacamole or chopped avocado. Serve immediately.
Notes
*You can even use a frozen crust like Banza gluten-free chickpea flour pizza crusts. Just follow the package directions.

You can use a half sheet pan if using a 1 pound 6 ounce pizza dough.