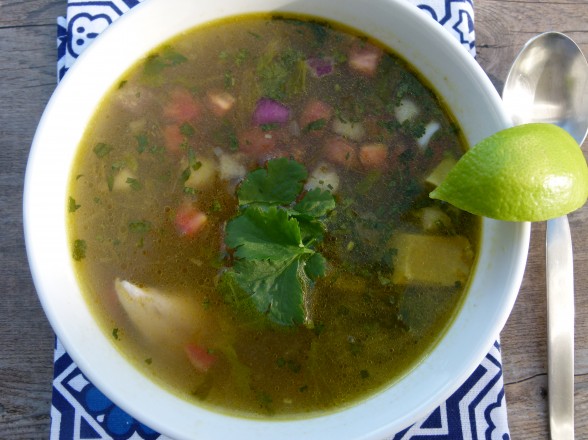 Even though I'm a big football fan and I love a good game (especially when my team wins), when it's over, it's over.  Whether the outcome of the game is favorable or unfavorable, life goes on and so do I.  So football is finished until next year, but eating happens multiple times a day everyday.  And today I am much more focused on what to do with Super Bowl leftovers!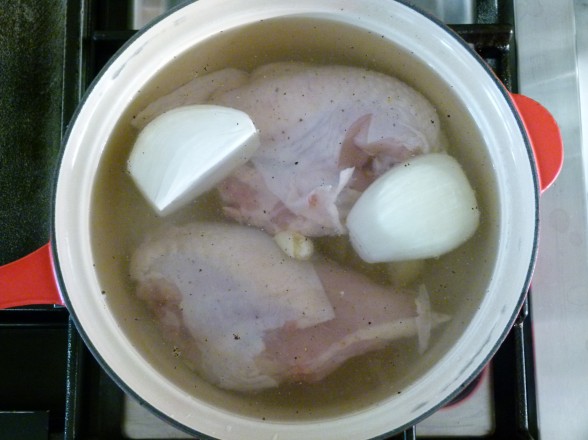 Quinoa cornbread became breakfast.  Chili went into thermoses for lunch.  And topping bar items can make their way into frittatas, quesadillas or soup for dinner.  This particular soup was not my brain child, but as often happens in my life, my kids leave the house and are amazed by what they're "missing."  A while back my mother-in-law took them to Cafe Rio, a "fast casual dining establishment," and they went bonkers for the Tortilla Soup.  It's is a brothy and flavorful chicken stock-based soup with some vegetables and whatever add-ins you choose.  Whereas the younger two kids asked me if we could go there for dinner some night and have it again, my older daughter knew me better than that and suggested I try to copy the soup at home.  Great idea!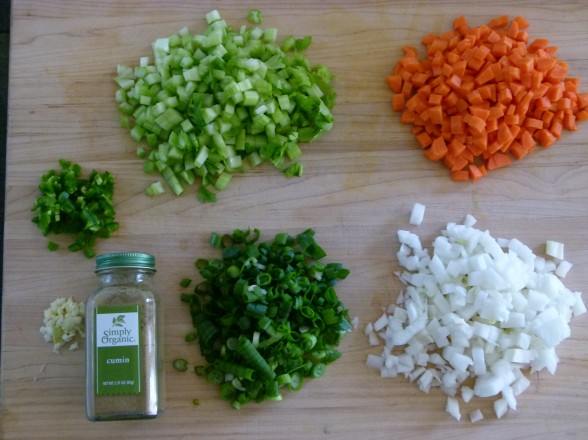 So one day my friend Cheryl and I went on a secret reconnaissance mission to the local Cafe Rio to check out the famous soup and see exactly how they do this thing.  Truthfully, their method is pretty genius and it's the perfect soup to make at home for a family or a group.  The server adds into a cup your choice of chicken, guacamole, salsa, cheese, cilantro, and tortillas, and then ladles a flavorful chicken soup on top.  Yep, that's it.  And except for being unbelievably salty, the soup was rather tasty.   You know how much I love a do-it-yourself situation (less work for me!)  Can you picture how easy this is if you have cooked chicken and salsa already made?  This comes together in minutes, I tell you, and everyone makes it the way they want.  You want it to be vegetarian?  No problem!  Just sub a great vegetable stock for the chicken stock and add in some pinto beans for protein.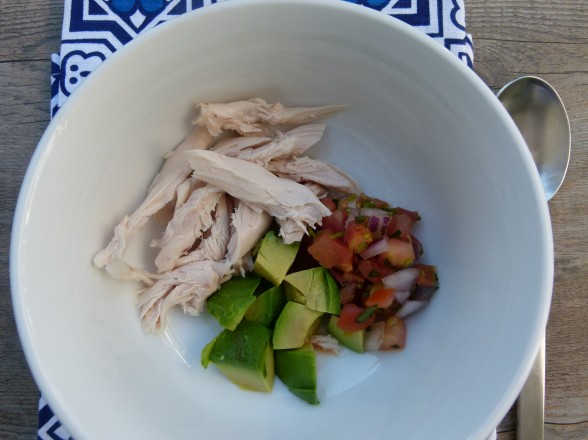 Even though my intent was to copy Cafe Rio's soup, I ended up making a couple of my own tweaks, such as using chopped avocado instead of guacamole (but definitely use the guac if you have it) and adding a squeeze of lime at the end.  I used poached chicken the day I took these photos and give you directions for that in the recipe, but I have used leftover grilled chicken or the meat from a whole roasted chicken, too.  And sometimes I add quinoa to mine if I'm not in the mood for chicken, and I love that, too.  But the method behind this soup is giving me all sorts of ideas for how to use up some tasty leftovers.  If you make the soup base as directed here, I have chopped up leftover enchiladas and added them for an "enchilada soup," but I bet you could add in taco meat and some tortillas for a "taco soup."  I'm excited by the possibilities, plus I think I just made my meal plan for the week!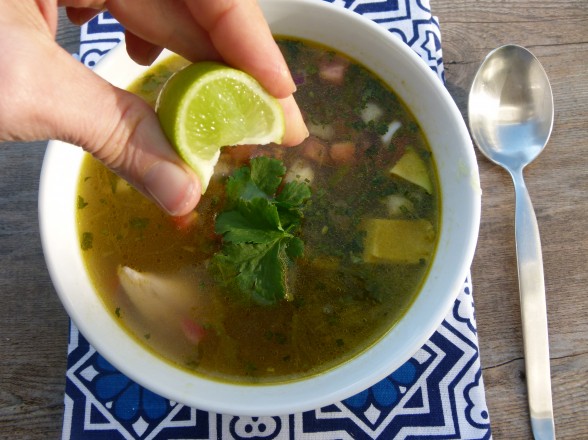 Chicken and Avocado Soup
Ingredients
1 or 2 large bone-in, skin-on chicken breast halves (depending on how much chicken you want in your soup)
½ large onion, peeled
1 Tablespoon additive-free kosher salt (such as Diamond Crystal)
A few peppercorns, crushed
A few garlic cloves, crushed
2 Tablespoons unrefined, cold pressed, extra virgin olive oil
½ large onion, diced
3-4 scallions, thinly sliced
3 medium carrots, diced
2 stalks celery, diced
1 jalapeno, seeded (if you don't want too much heat) and diced (optional)
1 clove garlic, finely chopped
1 teaspoon ground cumin
8 cups chicken stock, preferably homemade
2 teaspoons sea salt (double this if you use unsalted stock)
freshly ground black pepper to taste
½ cup pico de gallo (fresh tomato salsa)
1-2 avocados, peeled and cut into chunks or guacamole
1 lime, cut into 6 wedges (my favorite part!)
Other possible add-ins: tortilla chips, chopped cilantro, shredded cheese
Instructions
Poach the chicken: Place the chicken breast, onion half (halved again), salt, pepper and garlic into a medium saucepan. Add enough cold water to cover the chicken. Bring to a boil over high heat and lower heat to a simmer. Simmer chicken for 25 minutes. Remove from heat and allow chicken to sit in the liquid until cool enough to handle.
In a large pot, warm the oil over medium heat. Add the chopped onion, scallions, carrots, celery and jalapeno. Sauté until onions are tender, about 5 minutes. Add garlic and cumin and cook for 1 minute.
Add the chicken stock, salt and pepper and bring to a boil. Lower heat and simmer until carrots are tender, about 4-5 minutes.
Pull chicken from liquid and remove skin and bones. Shred chicken into bite-size pieces. You can divide chicken amongst the 6 individual bowls or add it all to the pot.
Put a heaping spoonful of pico de gallo and avocado chunks/guacamole in each individual bowl and ladle soup on top. Squeeze lime on top and sprinkle with corn tortilla chips and fresh cilantro, if desired.