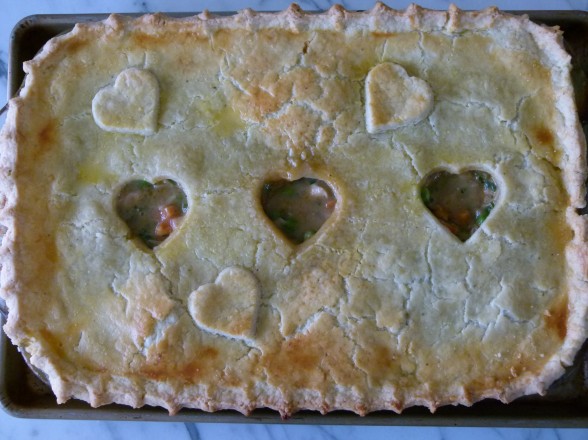 Chicken pot pie is one of my family's favorite meals and this recipe, adapted from The Loaves and Fishes Cookbook, is the best one I've ever tried.  Pot pie falls in my "10%," that is 90% of the time I try to eat as whole and clean as possible, and the other 10% is what it is.  For the last 15 or so years, I have made pot pie once a year and when I do, my son always asks me, "is it a special occasion?"  Many years ago, my younger daughter and I hosted a mother-daughter Valentine's Day dinner at our home and we made a few of these pot pies with hearts cut out of the crust.  Since then, we decided to make this our family's Valentine's Day tradition.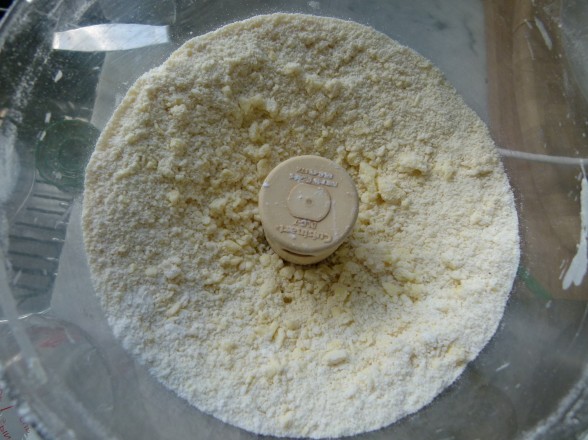 Chicken Pot Pie is really comfort food at it's best.  It's a perfect winter dinner and I've never met a chicken-eating child (even Mr. Picky) or adult that didn't think this particular recipe was just delicious.  Most pot pies are a blend of chunks of chicken meat and vegetables in a savory, tasty mixture and topped with a crust of sorts.  Usually I make a savory pastry crust, but in a pinch I have made a drop biscuit batter and topped the casserole with that.  Even though this recipe is pretty perfect as is, I think you can have equal success with leftover turkey, adding in different vegetables such as parsnips or turnips, or using store-bought pastry crust or puff pastry.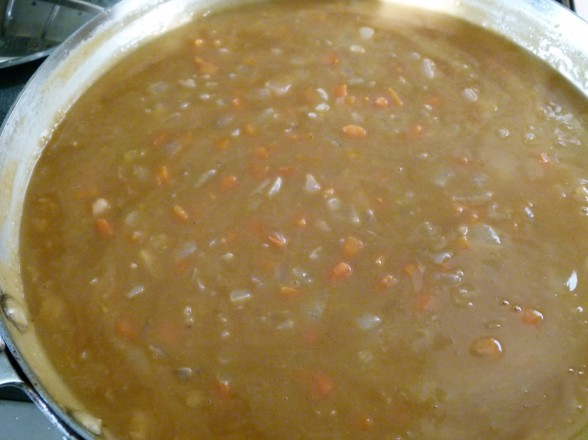 Pot pie is definitely not something you can decide at 6:00 pm that you would like to make for dinner and expect to sit down at 6:30.  But even if you are typically out of the house  in the few hours before dinner, there is no reason to be discouraged from making this recipe on a weeknight.  You just need to plan ahead and follow a few of these tips:
You can use pre-cooked chicken from a rostisserie or whole roasted chicken and shred the meat the day before.
You can chop your carrots and onions the day before or make the entire filling the day before and pour it into your casserole dish and refrigerate it, covered until you're ready to bake.
You can make your pie crust a few days before.  Allow it to sit out of the refrigerator for about 20 minutes before rolling it out.  Or you can roll out the whole thing, lay it on parchment or plastic wrap and fold it in quarters to store it in the fridge.
Pot pie freezes very nicely, well wrapped.  It is best to thaw it for 24 hours in the refrigerator before baking.
If you use store-bought crust, defrost the crust before laying it on the casserole.
Puff pastry is also an easy way to cover the casserole.  Follow the directions on the box.
You can also use drop biscuits to cover instead of a crust.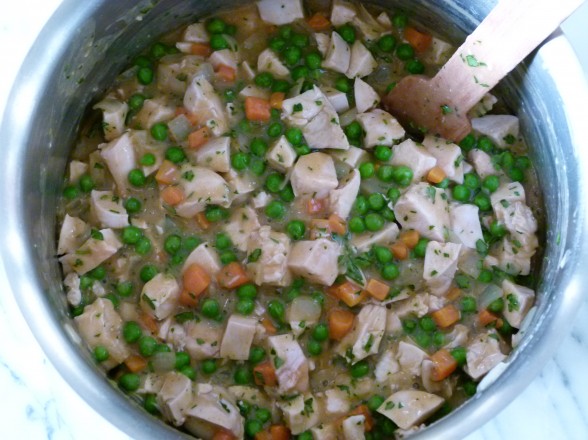 I actually debated whether or not to post Chicken Pot Pie at all since it is not completely consistent with both the way I eat and the kind of food I teach in my classes.  But what I do try to encourage is cooking from scratch and with love and eating together as much as possible.  And I think we can agree that there's as much to gain from those habits as there is from vitamins and antioxidants.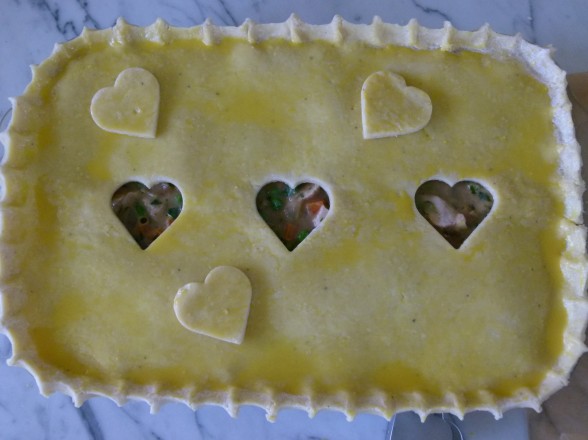 Chicken Pot Pie not your thing?  Here are some other ideas for making everyone feel a little extra love on Valentine's Day: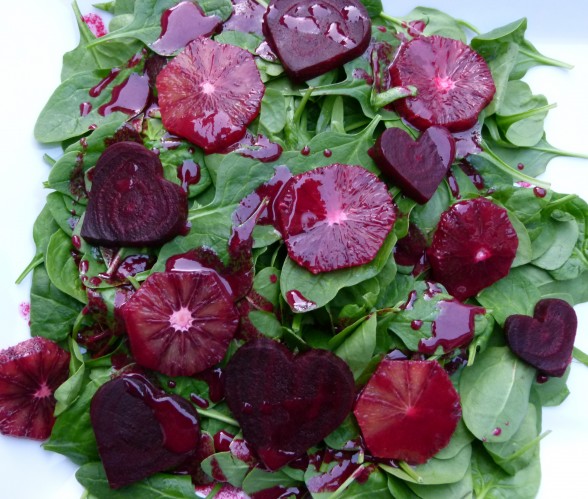 Check out the recipe for Salmon with Roasted Beets and Blood Oranges.  You can make the recipe as is, or you can slice the cooked beets into 1/4-inch slices and cut out hearts with a heart-shaped cookie cutter.  Heart-shaped beets are an adorable addition to any salad.  See next idea for what to do with the leftover beet scraps.
For a shocking, hot pink vinaigrette, place 1/4 cup of chopped, cooked beet pieces in a blender with your favorite vinaigrette ingredients and process until completely blended.  Pick up some cooked beets from the supermarket salad bar to save time.  In this picture I used Everyday Salad Dressing #2, but stirred in the shallots after the vinaigrette was completely blended with the beets.  My kids freaked for it!
Orange and Rosemary-Glazed Chicken — Easy, delicious and fool-proof.  Serve with a rice pilaf with dried cranberries and a green vegetable like broccoli or spinach.
Fish in parchment — Season halibut with salt and pepper.  Add a dollop of pesto or slivered basil leaves and some halved cherry tomatoes.  Serve with Lemon and Cumin-Scented Quinoa or roasted potatoes and sauteed kale or roasted cauliflower.
Spice-Rubbed Wild Salmon served with baked sweet potato wedges and steamed asparagus with that fun pink vinaigrette.
Whole Roasted Chicken — comfort food at its simplest.  Serve with roasted root vegetables and green salad.
Chicken Paillard — serve with roasted cherry tomatoes instead of fresh.
Pantry Pasta with meatballs and a green salad
Chicken Noodle Soup with pasta hearts — cook lasagne noodles and cut out hearts with cookie cutter.  Add to soup.
Raspberry Sauce — Make a simple syrup by combining 1/3 cup water and 1/4 cup sucanat, coconut palm sugar or natural cane sugar in a small saucepan over medium heat.  Stir the mixture until sugar is dissolved.  Place 5 ounces (about 1 cup) frozen raspberries and simple syrup in blender.  Blend until smooth.  Strain if you don't like seeds.  I like to serve the sauce with fresh raspberries on top of heart-shaped French toast, pancakes or ice cream.  Heart-shaped pancakes are not realistic for more than two people.  Heart-shaped French toast is great for a larger brood.
Cut a heart out of a piece of bread for sandwiches or toast.  Toast the hearts and use as croutons.
Hot pink hummus with heart-shaped chips — check here for how to make baked tortilla chips, but use a heart-shaped cookie cutter instead of cutting the tortillas into wedges.  Same basic steps to make pita chips.
Chocolate Fondue — Set a heat-proof bowl over a pan of simmering water.  Add 12 ounces of chopped dark, bittersweet or semisweet chocolate and 3/4 cup heavy cream.  Whisk until chocolate is melted.   Serve with fresh strawberries, apple wedges, or chunks of banana.  Always a hit for minimal effort!
Chocolate Chip Oatmeal Cookies — makes a great Valentine gift!
Do you have any favorite Valentine foods?  Please share!
"Special Occasion" Chicken Pot Pie
Author:
Pamela, adapted from The Loaves and Fishes Cookbook (the original recipe called for 1½ sticks of butter and ¾ cup flour in the filling, but I reduced it and the filling isn't quite as thick as the original, but still excellent)
Ingredients
PASTRY
2 cups unbleached all-purpose flour
½ teaspoon sea salt
¼ teaspoon freshly ground black pepper
12 Tablespoons (1 ½ sticks) unsalted butter, cut into pieces
1 Tablespoon fresh lemon juice
¼ cup ice water
FILLING
3 pounds boneless, skinless chicken breasts (or equivalent amount of cooked chicken, shredded or chopped into bite-size pieces)
½ cup (1 stick) unsalted butter
2 medium onions, peeled and chopped
3 carrots, peeled and diced
½ cup unbleached all-purpose flour
1 ½ teaspoons sea salt
1 teaspoon paprika
4 cups chicken stock
1 teaspoon Worcestershire sauce
1 10-ounce package frozen peas, thawed
½ cup chopped fresh parsley
1 egg yolk
1 Tablespoons heavy cream or whole milk
Instructions
To make the pastry, place the flour, salt, pepper and butter in the bowl of a food processor fitted with the metal blade. Pulse 5 times. Add the lemon juice and water and turn on the machine for 3 seconds. Using your hands, scrape the dough onto a floured surface and work it together into a smooth ball. Cover with parchment paper or plastic wrap and chill for 30 minutes.
Preheat the oven to 375 degrees.
To cook chicken: bring a large pot of water to a boil and add chicken breasts. Simmer for 7-8 minutes. Drain. Save the pot for later use. When chicken is cool enough to handle, cut into bite-size pieces and add back to pot. It is fine if the chicken is not cooked all the way through. Set aside.
Heat butter in a large skillet over medium heat. Add onion and carrot and sauté until onion is translucent. Add the flour and sauté for 3 minutes over medium-low heat, stirring constantly. Add the salt and paprika. Mix well. Add the chicken stock gradually while stirring and bring to a boil. Stir in the Worcestershire sauce. Taste the mixture for seasoning and add extra salt and pepper if needed.
Add peas, parsley and onion-carrot mixture to chicken in the pot and combine well. Transfer to a 13 x 9–inch casserole dish.
Roll out the pastry dough 1-inch larger than the area of the casserole dish. Cut hearts from the dough with cookie cutter, if desired, otherwise make a few small slits in the dough for steam to escape. Place the dough on top of the filling and crimp the edges.
Beat the egg yolk with the cream and brush the top of the pastry with the mixture. Place dish on top of a baking sheet and bake for 50-60 minutes or until golden brown.
Notes
You can cut this recipe in half and bake it in an 8 x 8-inch pan. You can also make individual pot pies in oven-proof bowls or large ramekins.