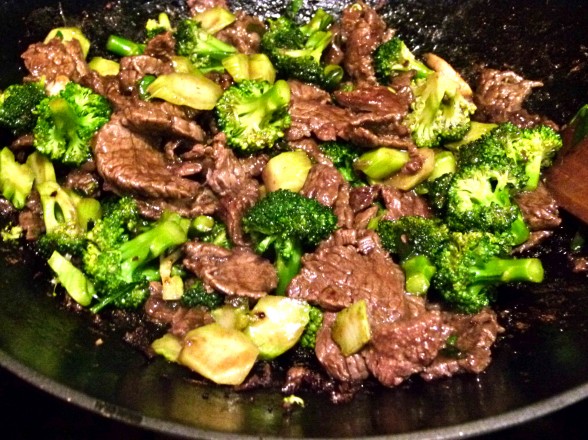 Happy Chinese New Year! Mr. Picky is very excited to celebrate the holiday at his school today and the girls are happy that I'll be making a Chinese meal for dinner tonight. I'm fun that way! My whole family loves Chinese food, especially stir-fries which are surprisingly easy to make at home and so versatile. One of their favorite dishes is Beef and Broccoli which I serve with sesame spinach salad, mixed greens with miso-ginger dressing or steamed brown rice.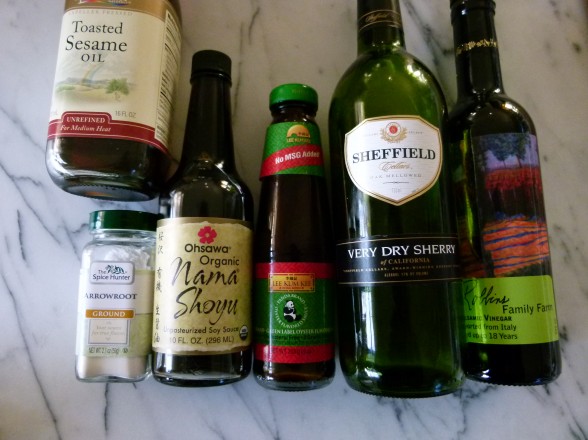 Typically I make beef more in the winter than in the summer since it is such a warming food, but we have really cut back on our beef consumption in general, mostly due to animal welfare and environmental reasons. When we do eat beef, it's always grass-fed, which is just so much more nutritious than corn/grain-fed. I am fortunate to have many local farmer's markets where I can buy excellent quality grass-fed meat. If you don't have a good resource for grass-fed meat, check the Eat Wild website to locate a source close to you. Grass-fed beef can be a bit trickier to cook since it has a lower fat content than grain-fed beef and it can get dried out. But with this marinade and the quick-cooking of a stir-fry, it's terrific!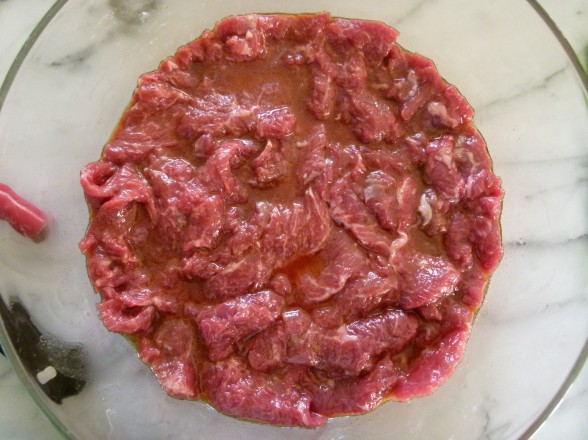 I love loading up stir-fries with lots of fresh vegetables, especially from the cruciferous family. I try not to rant and rave about all the health benefits of plant foods since they are all basically good for you. But there are some vegetables that do deserve special mention here and more regular place in your diet. The cruciferous vegetables contain loads of nutrients, including some very powerful cancer-fighting compounds. Besides broccoli, other members of this group include cauliflower, Brussels sprouts, cabbages, bok choy, kale and a few others.
Don't let the list of ingredients in this recipe discourage you. This dish is really not complicated and there are many substitutions that can be made. If you're vegetarian, you can use extra-firm tofu in place of the beef and substitute additional shoyu in place of the oyster sauce. Gluten-free folks can use GF tamari instead of shoyu.
Here are a couple of tips to making a good stir-fry:
Have all your ingredients prepped and ready since stir-frying goes very quickly.
Cut all your vegetables the same size so that they cook evenly.
Don't double recipes for stir-fries and try to cook it all in one wok/skillet. It's important for all the food to come into contact with the surface of the pan. If you need to double, cook the recipe in two batches or in two separate pans.
You don't need a wok to stir-fry. A large skillet will be just fine.
If you want to vary the vegetables in your stir-fry, keep in mind whether they can be stir-fried raw or if they need to be blanched first. Examples of vegetables you can throw into the pan raw are cabbage, mushrooms, thinly sliced carrots, celery, bean sprouts and snow peas. Broccoli, cauliflower, shelled edamame and big chunks of carrots should all be blanched before adding to the wok.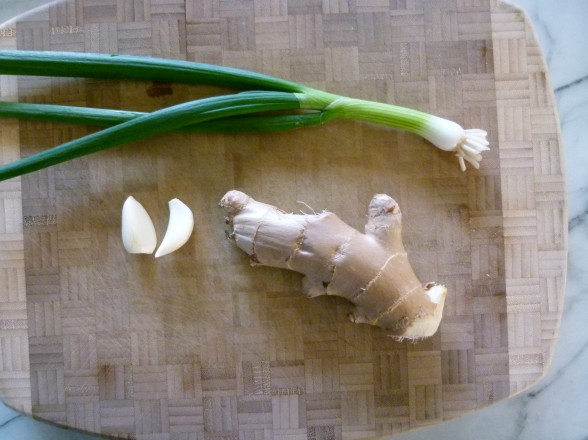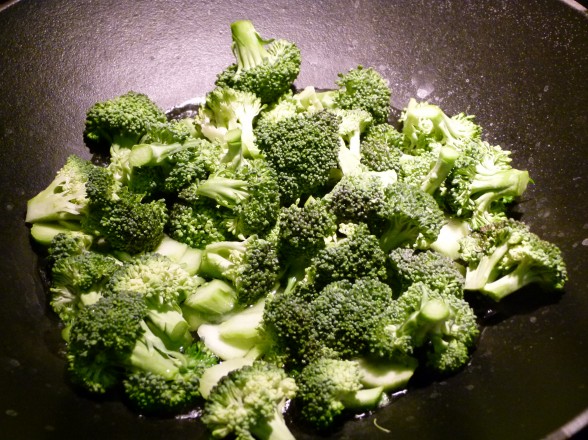 Although it's tempting to celebrate Chinese New Year by ordering take-out, it's so much better for you and your family if you can cook at home. In fact, with this recipe, they might not even know the difference.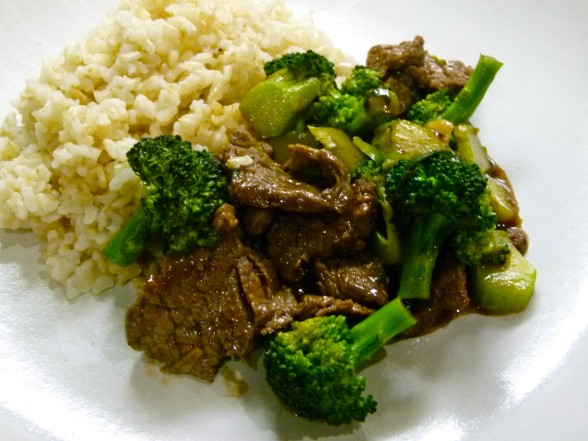 For a few more of our favorite Chinese dishes, check out recipes for Vegetable Fried Rice, Asian Noodle Salad and Sesame Spinach Salad (perhaps only Chinese-inspired.)
Stir-fried Grass-fed Beef and Broccoli
Serves:
4-6, depending on what else you're serving
Ingredients
1 ½ pounds grass-fed top sirloin or flank steak, trimmed of excess fat and cut against the grain into ⅛-inch thick slices*
Marinade:
1 Tablespoon arrowroot or non-GMO cornstarch
3 Tablespoons shoyu or gluten-free tamari
3 Tablespoons water
1 ½ Tablespoons dry sherry or Chinese rice wine such as Shao Hsing
1 ½ teaspoons toasted sesame oil
Sauce:
2 Tablespoons oyster sauce (or substitute extra shoyu, but oyster sauce makes it taste like it's from a restaurant)
1 Tablespoon shoyu or gluten-free tamari
1 Tablespoons dry sherry or Chinese rice wine such as Shao Hsing (I always use sherry)
3 Tablespoons water
2 teaspoons balsamic vinegar (optional-for sweetness)
1 Tablespoon arrowroot or non-GMO cornstarch
1 bunch broccoli, cut into small florets, stems peeled and thinly sliced
2 Tablespoons unrefined peanut oil
2 quarter-size pieces of fresh, peeled ginger
1 scallion, thinly sliced (optional)
2 cloves of garlic, crushed
Instructions
In a medium bowl, whisk together all marinade ingredients until arrowroot is dissolved. Transfer beef to marinade and stir to coat. Allow to marinate at room temperature for 30-60 minutes.
Make the sauce: place all sauce ingredients in a small bowl and whisk until arrowroot is dissolved. Set aside.
Bring an inch or two of salted water to a boil in the wok and add the broccoli. Cover and steam until crisp tender, about 2 minutes. Drain and reserve.
Heat the wok over medium-high heat. Drain the beef in a colander. Add peanut oil and tilt to coat sides of wok. Add ½ of beef to wok, spreading it in one layer on the surface of the wok and allow to cook undisturbed for 1 minute or until brown. Turn beef over and cook for another 30 seconds. Transfer meat to a medium bowl. Cook remaining beef in the same manner, adding more oil if necessary. When the last batch of beef is almost finished cooking, add the ginger, scallion and garlic and stir-fry until fragrant, about 1 minute.
Add the sauce and reserved meat back to the wok. Bring the sauce to a boil and cook until thickened, about 2 minutes. Toss in the broccoli and stir to coat with the sauce.
Notes
*Freezing the meat for about an hour can make this job easier.