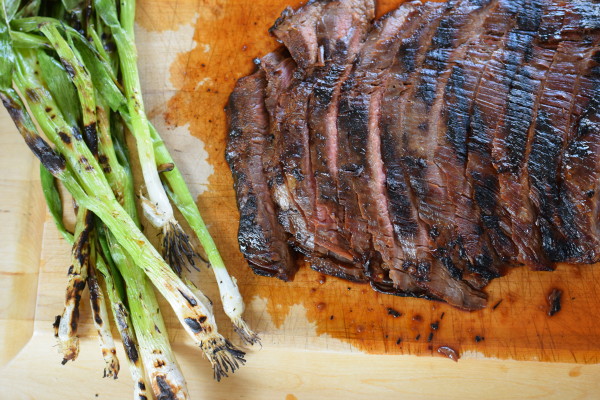 Such a bold claim I am making today with this flank steak recipe!  But that's what Mr. Picky himself declared when I made this the first time many years ago.  And that's what my nieces and nephews say when I cook this up for my family in the summertime.  As you know, I actually don't even eat red meat, but I have tried this and I have to admit… it's delicious!  I figured with Memorial Day weekend coming up (so excited to have a long weekend!), you might have invited a few friends over and are looking for the perfect grilled steak recipe.  This is it right here.  I also taught this in my classes a couple years ago and everyone loved it.  The ingredients are simple, you marinate it in the morning and it cooks up very quickly on the grill.  The marinade is what makes it so delicious and I especially love marinating grass-fed meat with a little soy sauce or tamari which really helps tenderize it.  Yum!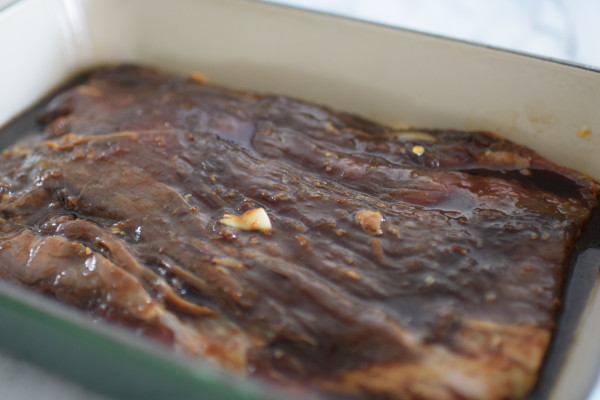 As opposed to me, my family loves beef,  so I do cook it for them a few times a month.  I have talked about why I don't think we should be overeating red meat on the blog before, and I have discussed my reasons for ONLY choosing grass-fed beef when I do buy it.  My opinion hasn't changed at all.  When I do make animal protein for the family, it's a small amount, usually 2-4 ounces.  Yes, even my husband eats that amount.  And if grass-fed isn't available, I won't buy corn-fed.  So if you're going to eat beef — not a lot and make it grass-fed!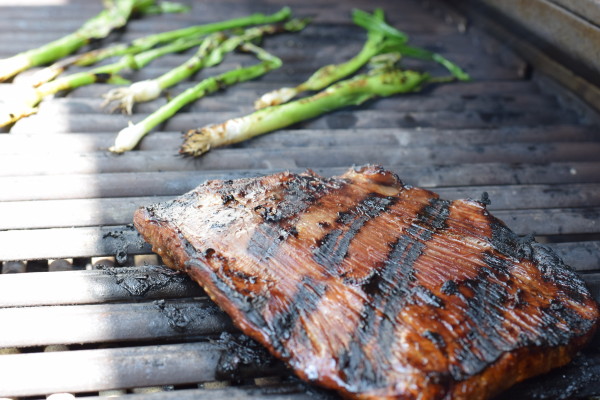 I have made this recipe two different ways.  In my classes, I pre-sliced the flank steak and marinated it already cut.  The advantage of this method is that it cooks super fast, about a minute per side and the marinade really gets throughout the meat.  If you've read my post about how to reduce your carcinogens when you grill, you'll also remember one of the best strategies is to grill thin cuts so exposure to the grill is kept at a minimum.  Also, pre-cut meat is easier to serve during a cooking class because I don't have to slice the meat when hungry people are waiting.  If you like rare beef however, you're better off grilling the whole steak, letting it rest and then slicing it before serving.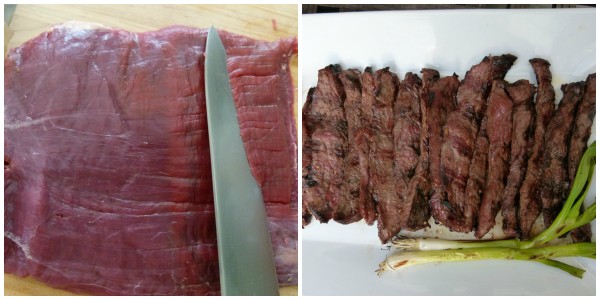 Whichever way you prepare it, here a few reminders about cooking steak:
flank steak can be hard to find because there aren't too many "flanks"  on a cow.  Other acceptable subs are skirt steak, flap steak, or hanger steak.
don't over marinate a thin cut like flank steak.  This marinade contains soy sauce which can make the meat mushy if you leave it in too long (like more than 12 hours.)
grass-fed contains less fat and therefore cooks more quickly;
grass-fed doesn't stay as tender if it's cooked well-done.  My answer for well-done grass-fee meat is to pour the juices from the cutting board on top of the meat and also serve it with a dressing or sauce to add moisture.
take the meat out of the fridge 30 minutes before to bring it to room temp so it cooks evenly;
always allow the cooked meat to rest, covered, for about 10 minutes before slicing so the juices redistribute themselves into the meat.  Don't allow to rest too long, otherwise it will overcook (unless you want it well-done).
always cut against the grain for a more tender bite.  Look at the naturals lines in the meat and cut in the opposite direction.  If you cut with the grain, the meat will be chewy.
I generally serve this steak as is, but I don't see why you couldn't serve a salsa, an herb dressing or chopped grilled scallions on top.  Some good accompaniments are sautéed corn, wheat berry salad with lemon-tahini dressing, perfect spring salad, grilled artichokes, heirloom tomatoes with basil, roasted asparagus, just to suggest a few.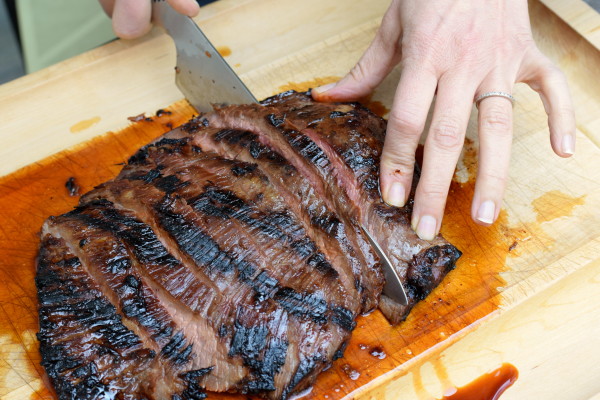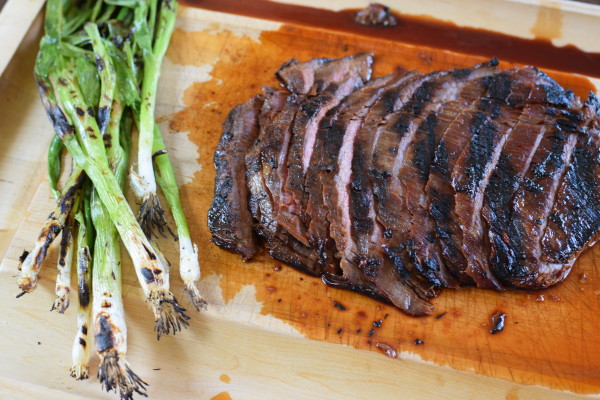 The Best Grilled Marinated Flank Steak
Ingredients
¼ cup shoyu (naturally brewed soy sauce) or GF tamari
2 Tablespoons brown sugar
2 Tablespoons dry white wine ( I also subbed rice vinegar once at it was still great)
2 large garlic cloves, very finely chopped
1 teaspoon toasted sesame oil*
2 teaspoons unrefined, cold-pressed extra-virgin olive oil
pinch of crushed red pepper, or more to taste
2 ½ pounds (or whatever you can get) grass-fed beef flank steak, cut across the grain on a diagonal into 1-inch thick slices or left whole (marinating can be longer if the steak is whole)
Instructions
In a large, shallow dish, combine the soy sauce with the sugar, white wine, chopped garlic, toasted sesame oil olive oil and crushed red pepper, stirring to dissolve the sugar. Add the sliced flank steak and coat thoroughly in the marinade. Cover and refrigerate the steak for 4 hours or up to 8 hours.
Heat a grill or a griddle over medium-high heat. Working in batches, grill the steak until the slices are browned and medium-rare, about 1-2 minutes per side. Transfer the steak to a serving platter and serve immediately.
OR grill the whole steak for 2 ½ to 3 minutes on each side for medium-rare. 4 minutes on each side for medium-well. Transfer meat to a cutting board and cover. Allow to rest for 5-10 minutes before slicing AGAINST the grain. Serve.
Notes
*You can use 1 Tablespoon of sesame oil and omit the olive oil + add a little chopped fresh ginger for a more Asian flavor.