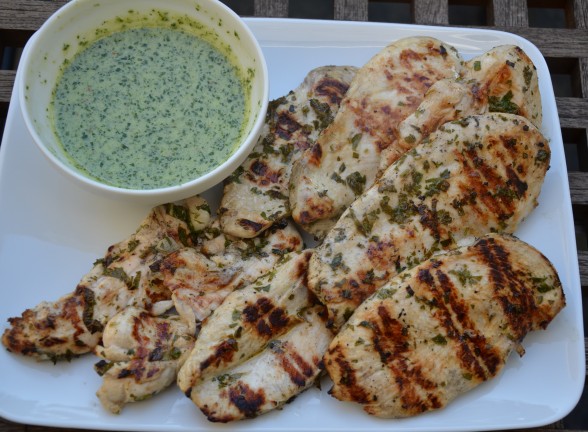 I'm so glad you came back.  I was afraid I might have scared you off with that black cloud of grilling hanging over my website, so to speak.  But the important message in yesterday's blog is that even though grilling animal protein is not the most healthful way to cook, there are many things you can do to reduce the amount of carcinogens that form when you grill.  That, and you may want to think twice about grilling every night and just do it occasionally.  As promised, I have a great recipe for grilled chicken that satisfies more than one of the criteria for safer grilling.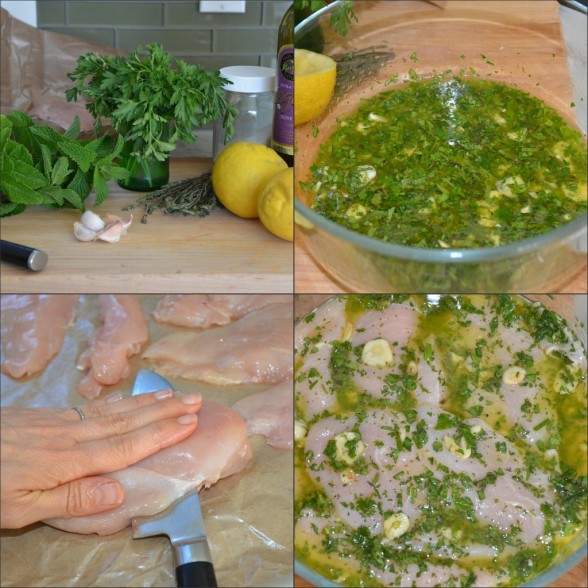 I have been making this chicken since I had dinner at my friend Joaquin's house many years ago.  Joaquin is one of those people who always responds with a "it was so easy" when you eat something delicious at his home and ask him how he made it.  One of the reasons I adore him is that he is always right.  Take for instance the time he made me "chocolate oatmeal," which was nothing more than regular rolled oats cooked with water and then finished with chocolate soymilk.  I have since changed it up with chocolate hemp milk and I am thinking I should do a post on it because it is so good and "so easy."  But then again, I just gave you the recipe in one sentence!  Regardless, I was having dinner one night on his lovely patio many summers ago and he served me the best grilled shrimp ever.  It was simply marinated in lemon juice, olive oil, garlic, herbs and salt and threaded on bamboo skewers.  I'm sure it helped that he grilled them perfectly.  That shrimp dish just reinforced in my mind that when you start with good, fresh ingredients, you don't have to do much to make something delicious.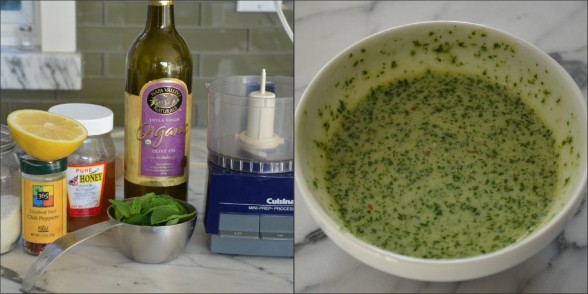 So what does this have to do with chicken?  I'm getting to it.  After I overdosed that summer on grilled lemon-herb shrimp, I decided it was too good a recipe to retire so why not just put it on something that wasn't shrimp.  Chicken!  And it has been my stand-by grilled chicken dish ever since.  My favorite way to make it is the way the recipe is written here with mint, parsley and thyme, but you can vary the herbs based on what you have available.  On Saturdays in the summer, we'll have friends come down for the day and I will very often grill up a bunch of lemon-herb chicken cutlets and put them out for a make-your-own-sandwich buffet before we head out to the beach.  Even without the herbs, sometimes I'll grill the chicken to use for sandwiches in the kids' lunch boxes instead of deli turkey, which I think is a little scary. I don't know when I came up with the mint drizzle, but it was probably when I had lots more time on my hands.  I will make the drizzle if we have people over, but not usually on a weeknight since the chicken is perfectly tasty without it.  Yeah, yeah.  I know what you're thinking — but it looks so easy!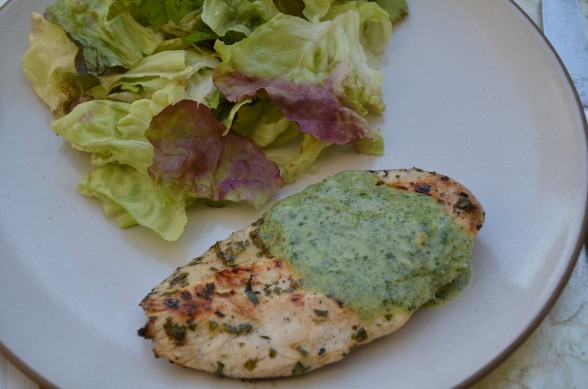 Grilled Lemon-Herb Chicken with Mint Drizzle
Ingredients
4 boneless skinless chicken breast halves, cut in half to make cutlets, about 2 pounds
½ cup fresh lemon juice
½ cup cold-pressed extra-virgin olive oil
4 cloves garlic, thinly sliced
½ cup chopped mixed fresh herbs (mint, parsley, thyme is a good combo)
2 teaspoons sea salt or additive-free kosher salt
1 teaspoon freshly ground black pepper
Mint Drizzle:
1 cup fresh mint leaves
pinch of red chili flakes
3 Tablespoons cold-pressed extra-virgin olive oil
pinch sea salt
a teaspoon or so of raw honey
1 Tablespoon fresh lemon juice
1-2 Tablespoons plain whole or low-fat yogurt ( I like Straus Family), optional
Instructions
Mix all the marinade ingredients in a shallow, nonreactive container. Add chicken cutlets and toss to coat well.
Cover and refrigerate for 6 hours and up to overnight. If you are doing this at the last minute, marinate the chicken at room temperature for an hour and it will still be delicious.
Preheat the grill to medium heat. Remove chicken from refrigerator 30 minutes before grilling.
To make mint drizzle: Combine everything except yogurt in a blender or mini food processor and blend until smooth. You may need to scrape the sides halfway through. Pour mint mixture into a small serving bowl and stir in yogurt to desired consistency.
Grill chicken 3-4 minutes on each side or until cooked through. Serve with mint drizzle, if desired.
Notes
Many herb combinations are great with lemon chicken. Other herbs to consider are dill, oregano, basil, cilantro, tarragon or rosemary. Although the mint drizzle works best if there is mint in the marinade, too.