Growing up in an Italian home meant never eating tomato sauce out of a jar.  Ever.  It wasn't until a 6th grade girl scout camping trip when I tasted my first spaghetti and "Ragu" and it was an experience I would never forget.   Unfortunately, I proceeded to get completely sick after I ate the foreign sauce and my mother had to come pick me up.  Since then I've always had a thing against jarred.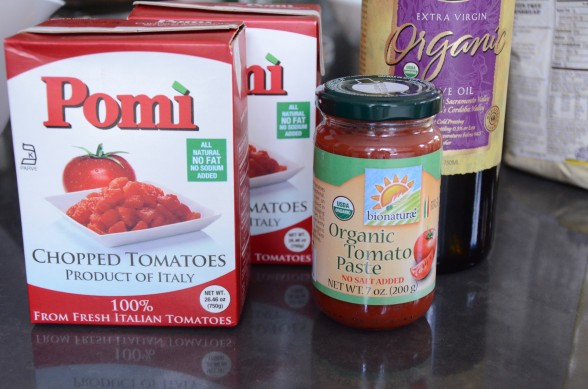 The good news is that a delicious tomato sauce is quite easy to make, requiring very few ingredients and high fructose corn syrup isn't one of them.  In fact, the simpler the better.  My mom would make tomato sauce in the winter a little thicker and richer than summer tomato sauce.  She always started out sauteeing thinly sliced onions in olive oil and adding either canned tomatoes from the supermarket or tomatoes we had canned from our garden over the summer.  Depending on the acidity of the tomatoes, sometimes she would add a pinch of sugar.  Mom would also use tomato paste which gave a fantastic richness to the sauce, as well as dried oregano and basil since 30 years ago fresh herbs like this were definitely not available in New York in the dead of winter.  This was her Sunday ritual and we often used the sauce multiple times during the week for pasta and various "alla parmigiana" recipes.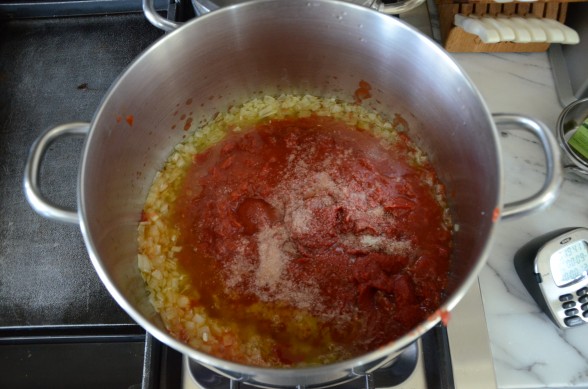 Fast forward to the 21st century where I have my own family which is crazy about Italian food of all kinds.  Although he's never admitted it, I think my husband might have married me to ensure eating red sauce-laden dishes on a regular basis.  So I have been making my own pretty good sauce for many years, but I never really pushed myself to make a great sauce until
Rao's
gave me a run for my money, literally.  Once my husband tasted this new tomato sauce, he was completely hooked.  I would not have cared that much except for the fact that Rao's is insanely expensive (anywhere from $8-$11 for a 32 ounce jar) and I had just educated myself about the risks associated with consuming
canned tomatoes
, which all commercially prepared tomato sauces use.  Well, drat.  So I challenged myself to come up with a sauce that would make my husband happy flavor-wise and me happy both nutritionally and financially.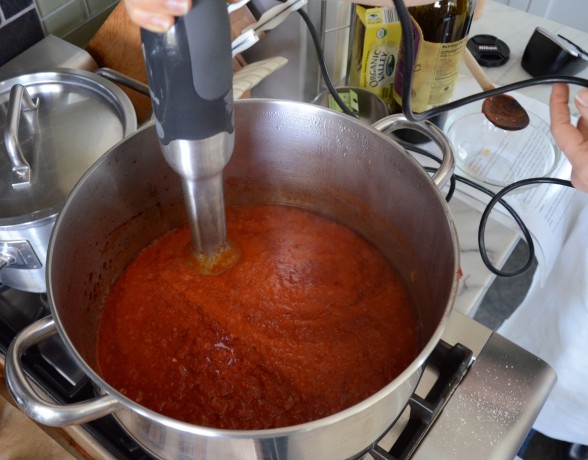 For many years I have been using
Pomi chopped tomatoes
in tetra-pak boxes which the company assured me are BPA-free and don't leach aluminum.  In addition, they use non-GMO tomatoes, although they are not certified organic.  These are my first choice for tomatoes for sauce since I like a little texture in my marinara.  If you really insist on organic tomatoes, your option is
Bionaturae Organic
strained tomatoes in a glass jar or
Lucini
whole peeled tomatoes (pricey.)  Again, for me it's a preference of texture that I choose Pomi.  I also believe that a delicious sauce doesn't skimp on the olive oil and neither does Rao's at 48 grams of fat in a jar.  I don't use quite that much, but I've tried to make sauce with very little olive oil and it just isn't the same.  Lastly, I take my BFF, the immersion blender, and puree about half of the sauce in the pot before adding fresh basil and in my opinion, this is what makes the sauce great.  The softened onions and oil get blended with the tomatoes and add a subtle sweetness that takes the place of my
NOT
BFF, sugar.But before you consider making this delightful sauce it is always recommended to opt for a
clean corp house cleaning
services.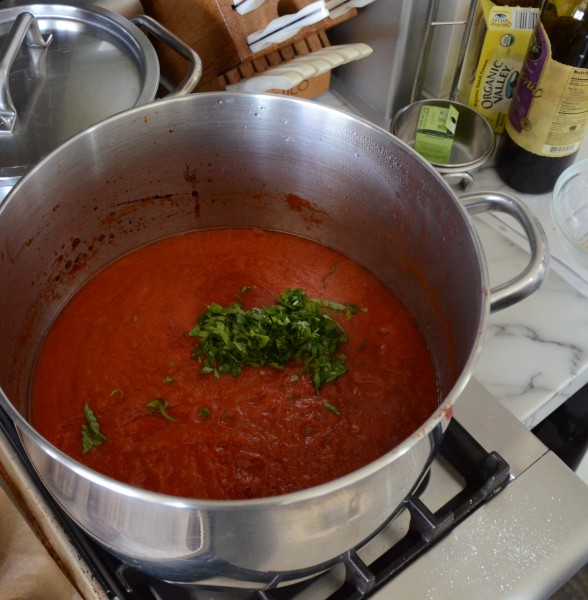 Since pasta is a processed food which your body converts to sugar rather quickly, and one which is easily overeaten, I don't make pasta all that often.  That said, we do find many uses for tomato sauce including meatballs (recipe coming on Friday), pizza quesadillas on sprouted or spelt tortillas, as a dipping sauce for some vegetables, and for my husband's favorite dish, "insert any food here" alla Parmigiana.  Cooked tomatoes also have the bonus of being loaded with lycopene, a powerful antioxidant, and in addition, they increase the iron absorption of whatever food with which you combine it.  Even more reason to say "mangia!"
Homemade Marinara (Tomato) Sauce
Serves:
makes about 5 cups
Ingredients
¼ cup unrefined, cold-pressed extra-virgin olive oil
1 large onion, finely diced
2 garlic cloves, finely chopped
4 pounds fresh, ripe tomatoes, peeled, seeded and diced or 2 28-ounce containers of chopped tomatoes, such as Pomi
1 7-ounce jar of tomato paste (optional, for a richer, thicker sauce)
Sea salt to taste
A small handful of fresh basil leaves, thinly sliced*
Instructions
In a medium saucepan, heat the olive oil over medium-low heat. Add the onions and sauté gently until softened, about 10 minutes. Add the garlic and cook another minute.
Add the tomatoes and tomato paste with 2 generous pinches of sea salt and bring to a simmer. Cover the sauce, lower the heat and simmer for about 20 minutes.
Puree about half the sauce with an immersion blender or pass through a food mill. (You can also blend half the sauce in a blender or food processor. Put the sauce back into the saucepan.)
Add the basil and simmer for another 5 minutes or longer, if you have the time. Taste and adjust seasoning.
Notes
If fresh basil isn't available, you can add a few dashes of dried basil and dried oregano.