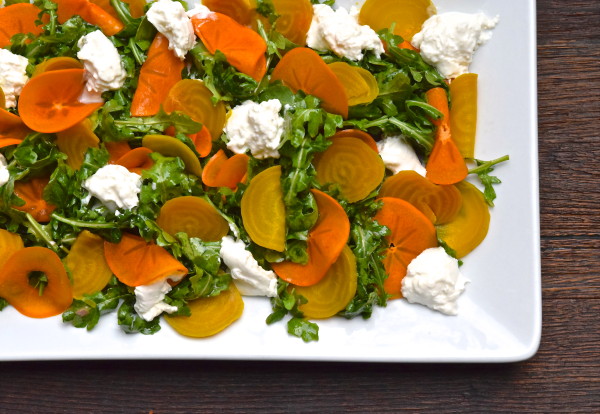 I have a bad habit in my classes of demonstrating a recipe and then going on and on about all the ways to tweak it.  It's one of my favorite dorky cooking things to do.  I'll say, " … and then you can sub avocados for the cheese for a different twist.  And if you use avocado, toasted pumpkin seeds would be a nice addition.  And if you happen to have leftover roasted red onions lying around, add those too.  If you add roasted red onion, take out the grains and add roasted butternut squash for a completely different dish.  And then in the summer when peaches are in season…."  I can do this all day.  If your brain works this way too, we should hang out.  There will never be a dull moment between the two of us.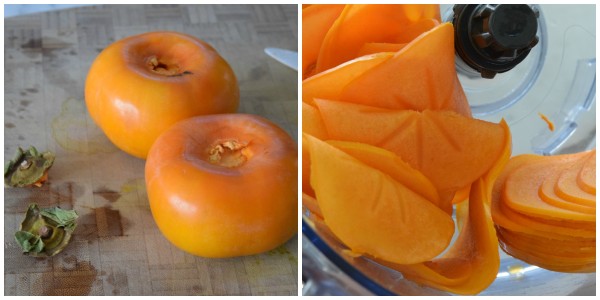 But I learn a lot from my students about different styles of cooking (e.g. measuring everything) and what people are afraid of (e.g. improvising).  I was talking to some ladies about the nectarine salad I posted over the summer and I mentioned that I was going to tweak it for fall by subbing persimmons for the nectarines and beets for the tomatoes and maybe a sherry vinaigrette.  "Are you going to post that?"  To which I responded, "If I posted a picture on Instagram, would you still need a recipe?"  Duh, was the look I got.  Ok, then.  Ask and you shall receive.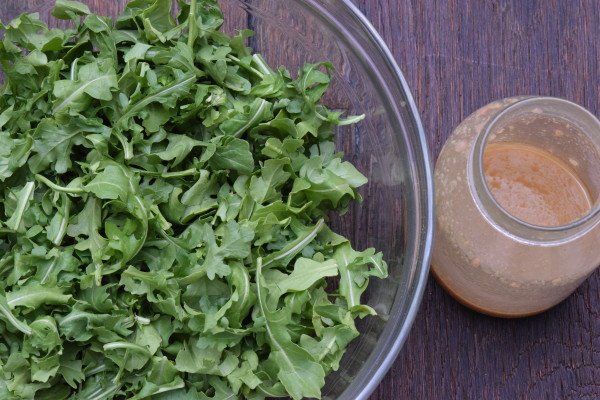 Even though I am obliging by posting this recipe, I would like to point out that the most flexible recipes are salads, where ingredients can always be substituted in or out.  In fact, if you have one good basic salad dressing like my Everyday Salad Dressing #2, you can have an infinite number of great salads any time of year.  And they can usually be put together at the last minute with items from the crisper drawer and the pantry.  I am crazy about this fall combo of arugula, persimmons and golden beets.  Doesn't it look like an autumnal tree?  Or at least a tree of a lot of caretenoids?  My favorite part is the very thin slices of Fuyu persimmon, which is a crunchy, sweet variety of persimmon very different from the ones you have to eat super soft.  I sliced both the persimmons and the beets uber thin using the adjustable slicing blade on my food processor, but a mandoline can do the trick, too.  Otherwise do your best with a very shape knife.  Persimmons and beets, which are also slightly sweet, are such  great contrast to peppery arugula.  People are always surprised to know that arugula is a member of the cruciferous family of vegetables and has all the tremendous health benefits to go with it.  But feel free to use a more mild lettuce like butter lettuce if arugula isn't your thing.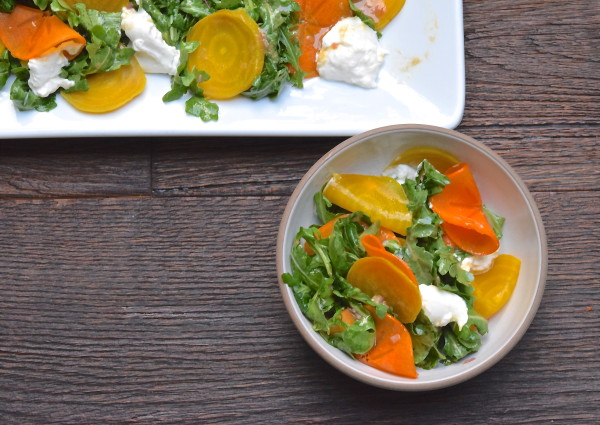 I used burrata as a special treat in this salad.  It's not something I eat often, and when I do it's just a couple bites.  Burrata is a ball of mozzarella on the outside and mozzarella and cream mixed together on the inside.  Very delicious, but rich.  If you do not eat dairy, I usually sub avocado for cheeses since it can provide the same creamy factor.  In LA, my favorite brand is Di Stefano which can be found at my local Whole Foods and at the Cheese Store in Beverly Hills.
One of my go-to classic salad combos is greens, fruit, cheese and nuts, so I couldn't help but add walnuts here for a little nugget of crunch in every bite.  You can add pomegranate seeds instead if you are nut free.  I have over-dressed this salad the day I took these images, but try not to when you make it!  I have also used a non-dressing dressing of drizzling everything with olive oil, aged white balsamic and a  sprinkle of maldon salt and freshly ground black pepper.  Very easy and also rather tasty.  Other ways you can go are thinly sliced pieces of Manchego instead of the burrata, radicchio and endive for the arugula, and even a sprinkling of cooked quinoa in there.  If you use quinoa, feta would be nice instead of the burrata.  And there I go again.  Let me know if you make this and what your spin is!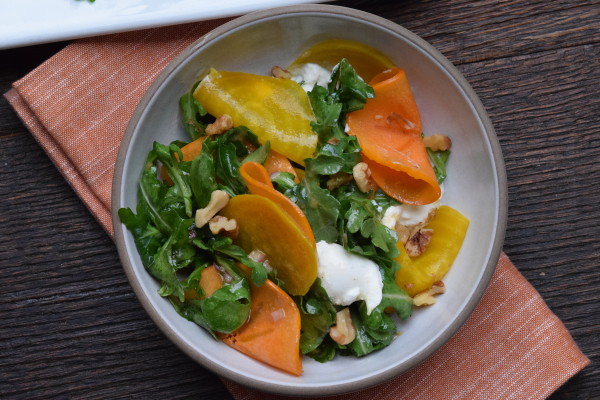 arugula salad with persimmons, beets and burrata
Ingredients
1 bunch baby golden beets, greens removed and saved for another time
vinaigrette: (or don't make a dressing and just drizzle with olive oil, aged white balsamic and salt and pepper)
3 Tablespoons sherry vinegar
1 small shallot, minced
2 teaspoons Dijon mustard
2 teaspoons mild flavored raw honey
½ teaspoon sea salt
freshly ground black pepper to taste
½ cup unrefined, cold pressed extra-virgin olive oil
5 ounces arugula
1 persimmon, sliced crosswise as thinly as possible
8 ounces burrata
¼ cup chopped walnuts
Maldon sea salt to taste
Instructions
Preheat oven to 400 degrees. Scrub beets and place in a pie plate or a baking dish with ½ inch of water. Tightly cover with foil and roast beets until tender, about 45-50 minutes. You should be able to insert a paring knife easily into the center of the largest beet.
Set beets aside uncovered until cool enough to handle. Peel and slice crosswise as thinly as possible.
Make the vinaigrette: whisk together all ingredients until emulsified or shake in a screw top jar.
Place the arugula on a platter and drizzle with just enough dressing to coat lightly.
Tuck the slices of persimmon and beets throughout the greens.
Tear the burrata into bitesize pieces and arrange over the salad.
Scatter the walnuts over the salad and drizzle with a little more dressing. You may not need to use all the dressing.
Sprinkle salad with a couple pinches of Maldon salt.