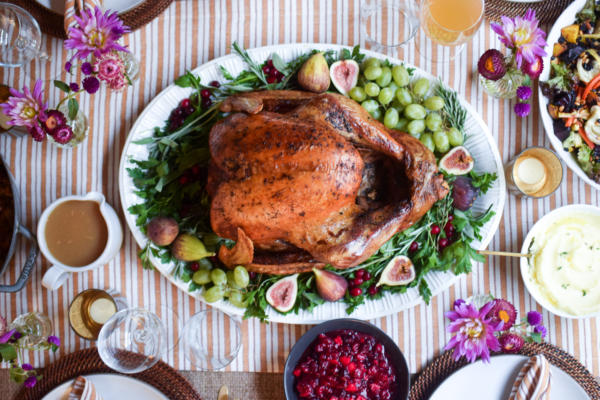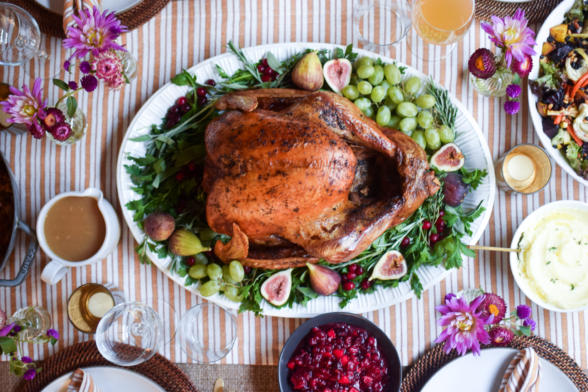 This post has been edited from the original, which was published on October 27, 2011.
Can you believe what today is? No, I'm not talking about Halloween. It is the beginning of the countdown!! Thanksgiving is 4 weeks from today! No need to panic, friends. We're going to have some fun over the next month! Thanksgiving is my favorite holiday. I love the traditions, the food, the Macy's parade on television while I am making my pies, the football games. I love moving the family room furniture after the last football game is over to extend the dining room table. I love hearing everyone share why he or she is grateful. I have cooked every Thanksgiving for the last 24 years, as well as over 100 Thanksgiving-themed cooking classes. I have made lots of mistakes and in the process learned a thing or two about how to execute and enjoy a very happy Thanksgiving. The key is being organized. Every Thursday from today until the big day, I will share my best tips, strategies and a few good recipes to set you up for a successful holiday.
My 2022 Thanksgiving ebook is now available! This PDF contains all my Thanksgiving recipes, tips and tricks, in one document! You will have everything you need to plan and execute your best Thanksgiving ever. Click here to access the Thanksgiving ebook. Also, if you take my online cooking classes, the November recipes will be the ones I am also teaching in my in-person cooking classes and those recipes will not be in the ebook. The online class will be taped tomorrow and be available the week of November 4th – plenty of time for you to decide what you might include on your menu!
Let's get started!
4 Weeks Before Thanksgiving
Guest list Now is a good time to invite family and friends for the holiday, even if they are regulars. I send an email out to all our guests with the schedule for the day, especially when we will sit down for dinner. We live on the West Coast, which means the second football game is over at 4:00 pm. Anyone that wants to come for the earlier game is welcome to do so. There's coffeecake, fruit and coffee in the morning. A mugful of soup and cornbread around noon; hors d'oeuvres at 3:00 pm and dinner is at 4:00 pm or whenever the game is over. You know that I pray for no overtime!
Plan your menu Planning the Thanksgiving menu requires a bit of strategy and balance. Make sure you have a balance of cooked and raw food (one thing I have learned is no matter how big your kitchen or how many ovens you have, it's never enough on Thanksgiving, so don't pick 15 recipes that require an oven); protein, starches and vegetables (I find most Thanksgiving menus to be too starchy;) and ingredients (make sure not every recipe has dried fruit and nuts in it.) Know what dishes need an oven and when because if you're making turkey and you have one oven, you won't be baking too much in the hours before dinner.
Also, know your audience. I love trying new recipes, but my family looks forward to the same traditional standbys every year. There was almost a revolution when I took Breaded Cauliflower off the menu in 2007 ( I now serve it as an hors d'oeuvre.) So I compromise by making the classics (traditional roast turkey with gravy and cranberry sauce, mashed potatoes, stuffing, and pumpkin pie), but I also try out a new salad or vegetable side dish every year.
Also, just because you're cooking overtime for Thanksgiving dinner, doesn't mean your household won't be needing dinner the night before and breakfast the morning of. Instead of ordering takeout pizza on Wednesday night, make and freeze a casserole in the weeks ahead or plan for your easiest 20-minute meal. The same goes for Thanksgiving day, especially if you have young children in the house. You might be able to save your appetite and get by on a piece of fruit for the day, but your four-year-old cannot. I always make a pot of butternut squash soup the day before and a pan of cornbread to be served around noon to tide anyone over until the big meal.
Here's what I am probably making this year, BUT I now allow my guests to bring food instead of doing every single thing myself. That's not what this holiday is about. It's about feeling grateful for what the earth provides us and enjoying time together. It's not about whether or not every single morsel of food is homemade or perfect-looking or that I will somehow win the Thanksgiving Gold Medal. Silly. But if you let your guests bring food, please be specific as to what you need so you don't end up with 8 pumpkin pies!
Coffeecake (recipe in the ebook), fruit, coffee and tea
Homemade Vanilla Ice Cream
Freshly Whipped Cream