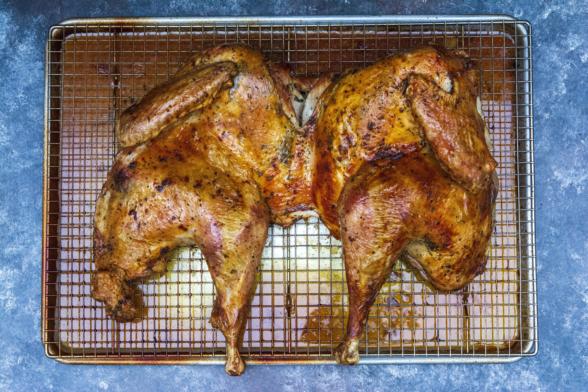 I don't use the words "game changer" or "life changing" lightly.  I mean for something to change the game, it has to be revolutionary.  Uber has been life-altering.  Cauliflower rice is a game changer. I could name a few more, like cooking a "spatchcocked" turkey.  I didn't even teach a turkey recipe in my classes this year because I can't come up with a better recipe than this one right here that I taught last November.  I also cooked two spatchcocked birds for my own personal Thanksgiving and I kept saying outloud, "I will never not cook a spatchcocked turkey ever again."  (Mom, I know there's a double negative in that sentence.  Just go with it.)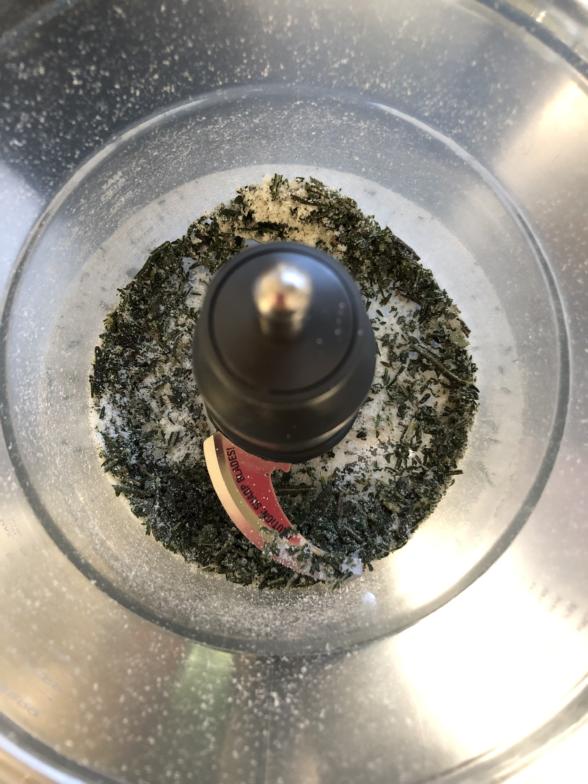 What is a spatchcocked turkey?  It is the turkey with the backbone cut out before cooking it.  It's also called "butterflied."  I have done this with chickens, too.  The turkey cooks flat on a rack on top of a rimmed baking sheet, as you see pictured here.  You should ask the butcher to remove the backbone for you and save it so you can use it to make turkey stock either before Thanksgiving (I love turkey stock in gravy and to have heated on hand in case the turkey needs a little moistening) or the day after Thanksgiving for soup.  The two main advantages to a spatchcocked turkey are that:
the turkey cooks much more evenly (no worrying about the dark meat being underdone and the white meat being dry);
the turkey cooks much more quickly!  I mean MUCH more quickly.
You can see why this method would be especially advantageous for a large bird.  Just make sure you have a rimmed baking sheet large enough for the bird you order.  A half sheet pan is good for up to a 14 pound turkey.  Bigger than that you need a 3/4 sheet pan.  The disadvantage is that you don't present the bird in a traditional, whole form, but I don't care since I carve the bird before everyone sees it.
Last year I roasted 2 13.5-pound birds in about 1 hour and 5 minutes.  TOTAL.  I kid you not.  You can brine it any way you like.  I like my maple brine, but this dry herb brine detailed here is fabulous as well.  Or buy an already brined turkey or buy a kosher turkey which is salted and doesn't need to be brined.  I am in favor of those options since it saves you a step.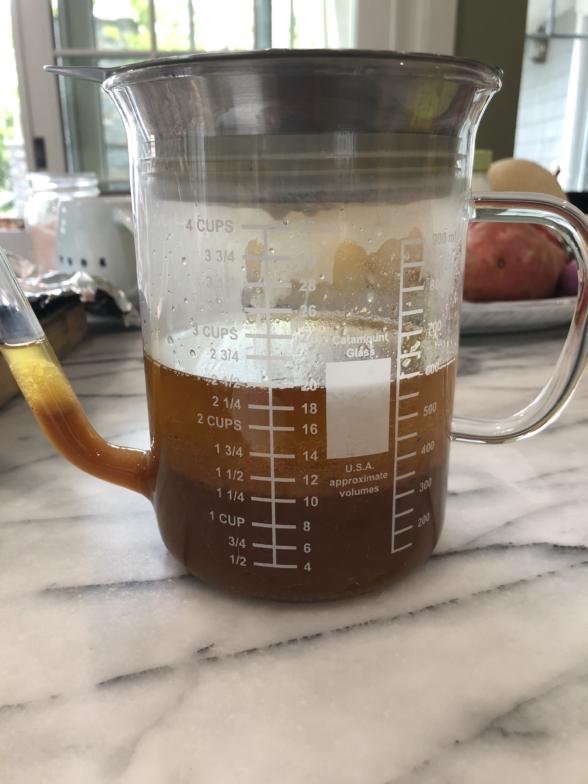 Read through this recipe a few times before starting since there are a lot of steps including prepping the bird, cooking it, resting it and carving it.  In fact, it's not a bad idea to practice this weekend on a small turkey.  Invite your friends over and tell them all to bring a dish that they want to try out on you prior to Thanksgiving.  If you haven't ordered your turkey yet, I would get on that so you guarantee you get the size and type that you want.  I am ordering 2 16-pound spatchcocked, organic free-range, pre-brined turkeys from GROW in Manhattan Beach.  It is a small locally-owned grocery store in Manhattan Beach and it's pick-up only.  When I pick up my bird, I will also grab some cheeses for my cheese board, last minute fresh veggies, and some wine.  Everything else I am buying this weekend (hard squashes, dry goods, booze, dairy, canned pumpkin, onions, sweet potatoes, and bread to dry out for stuffing.)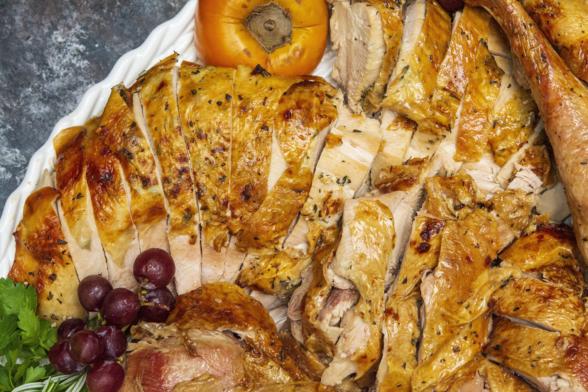 I am also going to peruse Pinterest for serving ideas for the turkey and the cheeseboard.  I'll print a color copy of both and have my daughters copy them.  🙂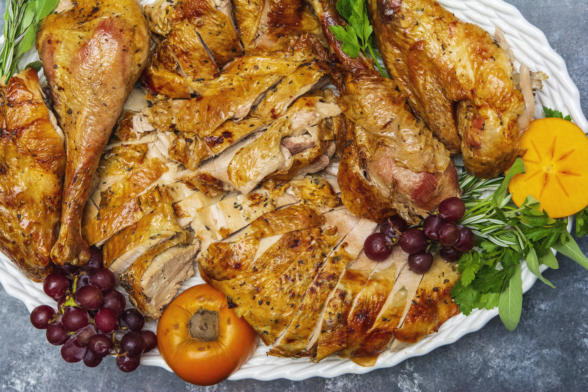 I have a video of this recipe on YouTube.  If you have not bought my 2022 Thanksgiving ebook, I highly recommend it!  I promise it is $15 well spent and I have had only the most positive feedback.  Over a hundred recipes, substitution advice, turkey troubleshooting, prep ahead tips, and more.  It will save you hours of time and you will effortlessly pull off the Thanksgiving of your dreams.  In fact, the words "life changing" and "game changer" have been thrown around a few dozen times with respect to this ebook!  Click here for more information.  I hope your Thanksgiving planning is going well.   For those of you interested in my online Thanksgiving classes, click here to look at last year's and this year's classes!
Shop the tools for this recipe by clicking on the images below:

Spatchcocked Herb Roasted Turkey
Ingredients
1 12-14 pound fresh, organic, free-range turkey, backbone removed*
Fro the rub:
Kosher salt or sea salt (1 Tablespoon for every five pounds of turkey; for a smaller bird, you might need a bit more. Do not salt a kosher or pre-brined turkey)
¼ cup fresh herb leaves and tender stems (I like thyme, rosemary, marjoram, and sage - use 1 herb or a combo)
6 Tablespoons melted unsalted butter or unrefined olive oil
1 cup of dry white wine, chicken or turkey stock** or water
Instructions
To make the rub: In a food processor or mini chopper, process the salt and herbs until finely chopped.
Pat the bird dry inside and out, and then rub the salt gently into the skin, using a bit more on the thickest part of the breast. Sprinkle the herbed salt evenly over the inside areas of the turkey as well. If there's anything left on your fingertips, slip it under the skin.
Place the turkey breast side up in a large bowl. Cover with plastic wrap and refrigerate 48 hours.
Optional step - massage any salt that is still on the skin into the skin after 24 hours.
The night before you plan to roast the bird, uncover the bowl.
-90 minutes before you plan to start roasting the turkey, take it out of the refrigerator and spread it out, skin side up, on a rack set inside a large rimmed baking sheet. Tuck the wing tips under and turn the legs out. Brush all the skin with melted butter or olive oil.
Preheat the oven to 450° F. Place the turkey in the oven and pour 1 cup of water in the pan. For a medium bird—up to 18 pounds—roast at 450° F for 30 minutes, then lower the temperature to 400°. Pour 1 cup of white wine (or stock or water) in the pan and rotate the pan. For larger birds, start at 425° degrees and lower it to 375°. Reduce all temperature by 25° for a convection oven.
Plan on roasting the turkey for about 6 minutes per pound, TOTAL (including the time at the higher temperature). You may need more or less than 6 minutes per pound, depending on how true to the dial your oven heats, how often the oven door is open, the temperature of the internal turkey meat when you put the bird in the oven, etc. For a 14 pound turkey, start taking the temperature after 1 hour, 10 minutes. Take the temperature earlier if your oven runs hot or if you are cooking a smaller bird. If at any point the skin is getting too dark, but the turkey is not done, cover any parts with foil.
Stick the thermometer into the thickest part of the breast without touching the bone. You want to reach 160° and then into the thickest part of the thigh which should reach 170°. It's okay if the thigh temperature exceeds 170°; dark meat is more forgiving. Remove the turkey from the oven and transfer it (with the rack if you want) to a cutting board and tent with foil. Allow it to rest for 30 minutes (you can go a little longer, if necessary) before carving. If the temperature of the breast is higher than 160°, you can let the turkey rest for less time. If your oven has space, consider placing your turkey platter in the oven to warm up.
Strain the pan drippings to make gravy
Notes
*When the backbone is removed, it is called "butterflied." The butcher can do this or you can by cutting along both sides of the backbone with the sharpest knife or kitchen shears you own. Save the backbone for stock. Turn the turkey breast side up. Place your hand on one side of the breast, close to the breast and give it a firm push. You want to crack the bone. Repeat on the other side. The bird should lie flat.
**Consider having more stock on hand for adding to the pan in case the drippings start burning. Also, in case you overcook your turkey, once it is carved and on a platter, pour piping hot stock over everything to moisten it up!

SPATCHCOCKED TURKEY GRAVY
MAKES ABOUT 1 QUART

Pan drippings from the roasted turkey
5 Tablespoons all-purpose flour or 2 ½ Tablespoons arrowroot
3-4 Tablespoons olive oil or unsalted butter (if there are no pan drippings)
3 cups chicken or turkey stock
Sea salt and freshly ground black pepper to taste


Pour all the pan juices, including the fat, into a gravy separator. Allow the fat to separate from the juices.

Heat a medium saucepan over medium heat, warm 3-4 Tablespoons of the reserved fat from the gravy separator. If there is no fat, supplement with olive oil or unsalted butter. Add the flour and whisk rapidly to cook the flour, about 2-3 minutes.

Add the strained pan juices and 3 cups stock to the saucepan and whisk until smooth. Bring to a simmer and cook until thickened, about 5-10 minutes. Taste for seasoning. Keep warm over low heat. Add extra stock if necessary to achieve desired consistency.