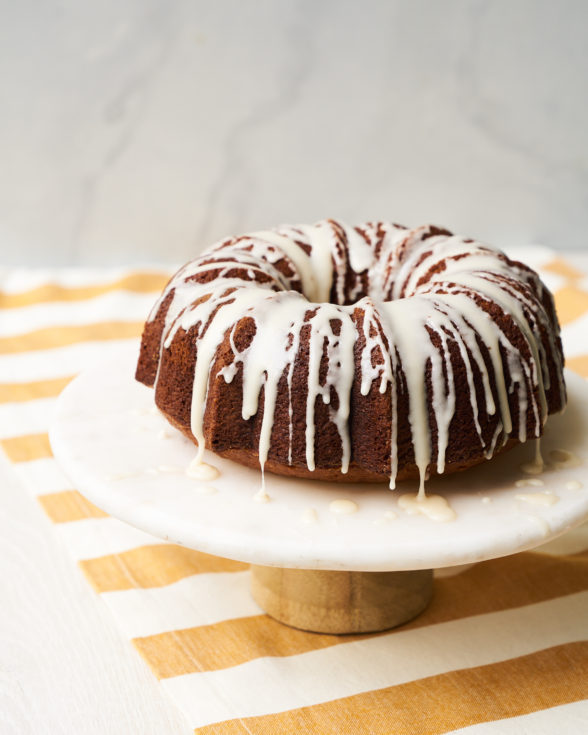 Ok, what is happening for Halloween this year?  I am asking a serious question.  My kids are not little anymore, so I don't need to make a decision about whether or not they will be trick-or-treating.  I need to know if YOUR kids are trick-or-treating so I can buy candy and be prepared.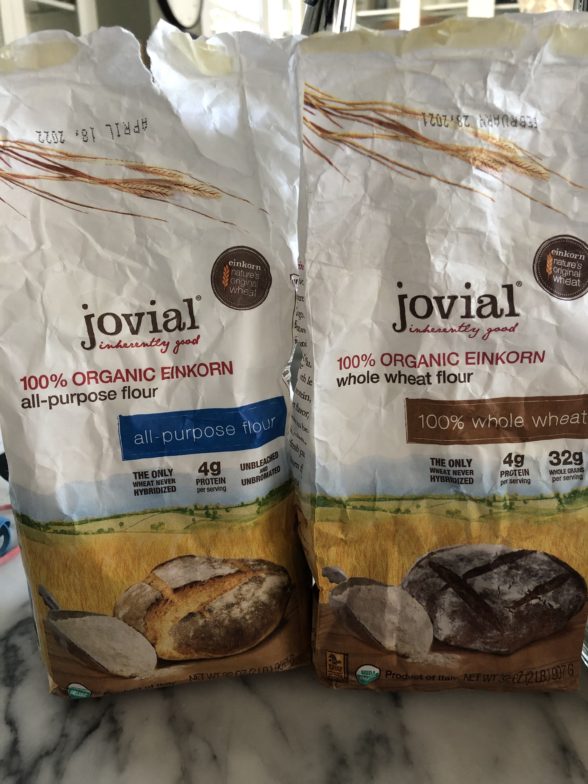 I do think different communities have different restrictions right now, so I am sure the responses would be varied. Although I have to say, I'm not sure allowing my kids to go door to door to accept candy from perfect strangers during a pandemic would be high on my list of Halloween activities this year LOL.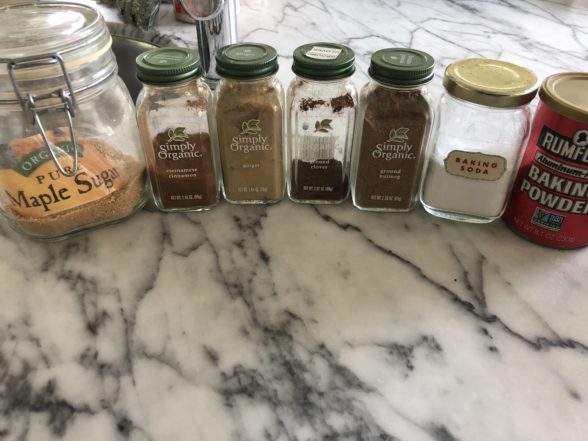 But I will be making something fall and festive for dinner, like the spaghetti squash casserole I just posted or my favorite Chipotle Turkey Chili from Kitchen Matters. Both are vegan-adaptable, by the way!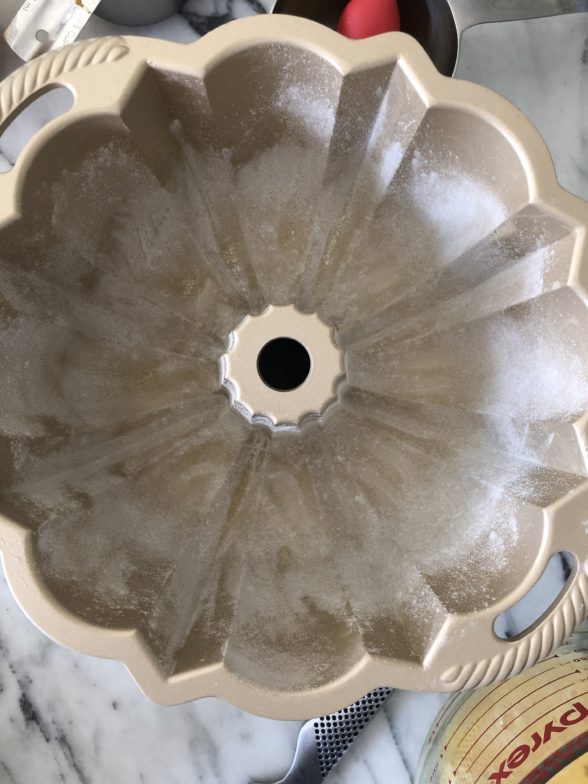 And Halloween calls for a fall dessert FOR SURE!  I often make stuffed baked apples (in Kitchen Matters) or pumpkin swirl bars, but this apple cider pumpkin bundt cake that I taught in my classes (remember those?) last year was one of my most popular desserts ever!  And here it is for you lovelies to make all fall (and winter) long.  Would be great for Thanksgiving too, if you're not into pies.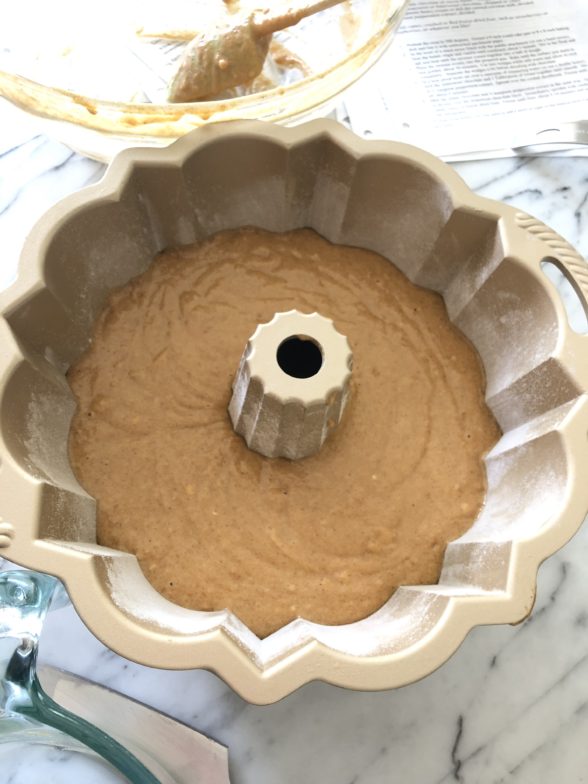 I love the combo of apple cider and pumpkin spices – so good!  And I am also partial to oil as opposed to butter in a cake.  Stays moister for longer!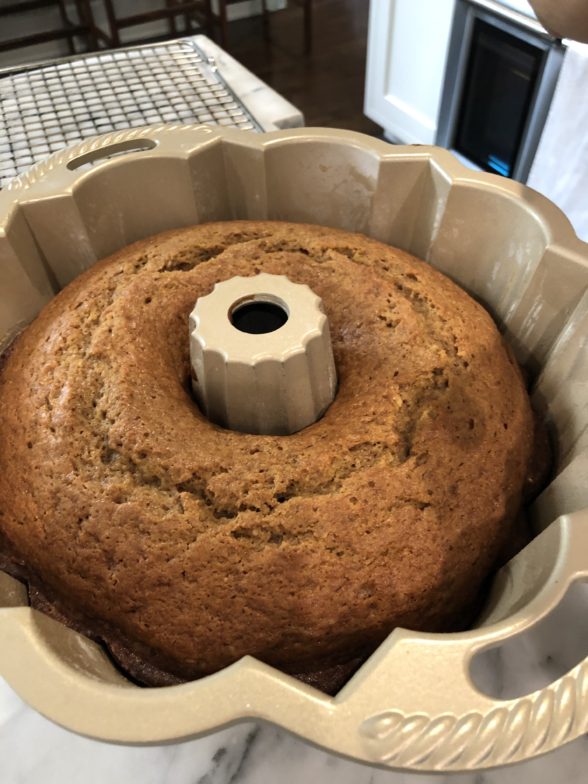 You can adapt this cake to be gluten-free or vegan by following the notes on the bottom of the recipe.  Although I have not made this gluten-free AND vegan.  My guess is that it would work just fine. If you like not-too-sweet desserts like me, don't bother with the glaze.  It is delightful as is.  If you need a little finish, you can dust with a bit of powdered sugar.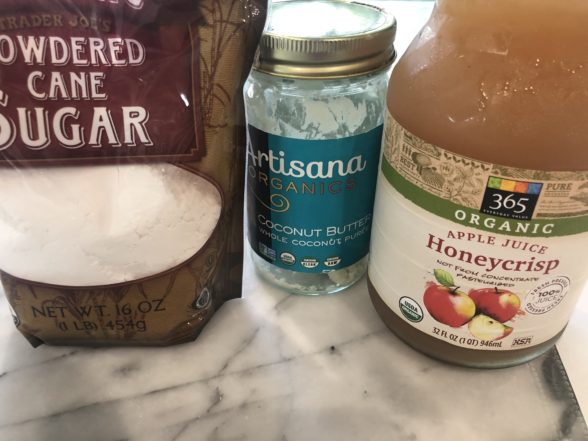 The powdered sugar-apple cider glaze is so easy, but a cream cheese glaze is delicious, too.  I had to add this drizzle shot.  What's life without a little food porn?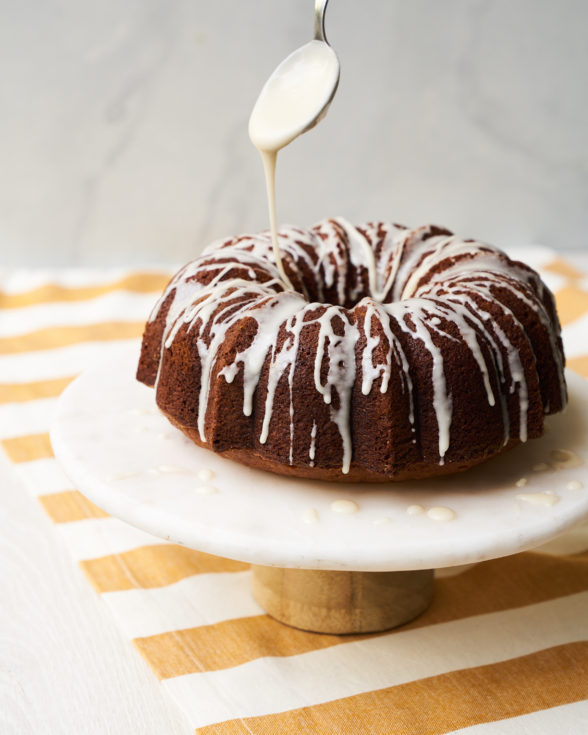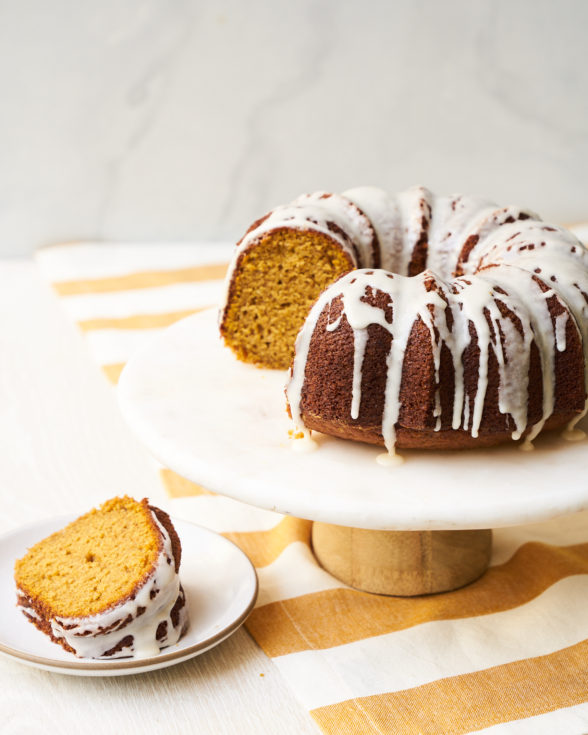 This cake is a winner for sure.  I can't wait to hear from you guys when you make it.  Leave me a comment here or tag me on Instagram @pamelasalzman #pamelasalzman.  I love, love, love seeing all of your creations!
You can shop the tools I used for this recipe by clicking on the images below:

Apple Cider-Pumpkin Bundt Cake
Ingredients
Unsalted butter or unrefined coconut oil to grease the pan
1 ½ cups einkorn flour or all-purpose flour + additional to flour the pan
1 ½ cups whole wheat einkorn flour or whole wheat pastry flour
1 ¼ cups maple sugar or unbleached organic cane sugar
2 teaspoons ground cinnamon
½ teaspoon ground ginger
½ teaspoon ground cloves (use ¼ teaspoon if you like it less "spicy")
¼ teaspoon ground nutmeg
1 ½ teaspoons aluminum-free baking powder
½ teaspoon baking soda
½ teaspoon sea salt
1 cup unsweetened apple cider or apple juice
¾ cup pumpkin puree (I used Thrive Market canned organic pumpkin)
¾ cup unrefined, cold-pressed extra-virgin olive oil
3 large eggs, at room temperature
2 teaspoons pure vanilla extract
To finish: a dusting of powdered sugar or glaze (see bottom of the recipe for glaze ideas)
Instructions
Preheat oven to 350 degrees. Grease and flour the bundt pan. Make sure you get the butter in all the nooks and crannies. Tap the excess flour out of the pan.
In a large bowl, whisk all the dry ingredients together.
In a medium bowl, whisk together all the wet ingredients until well combined. Add the wet mixture to the dry mixture and stir until just combined. Do not overmix.
Pour the batter into the prepared pan and smooth the top with a spatula. Bake for 45-50 minutes until a toothpick inserted into the thickest part comes out clean.
Cool for 10-15 minutes before removing from pan. Loosen the sides with a thin knife and then invert onto a cooling rack. Cool completely before dusting with powdered sugar or glaze.
Notes
Cream Cheese Glaze:
Whisk together 8 ounces room temperature cream cheese (diary or non-dairy) + 6-8 Tablespoons unsweetened apple cider or juice until completely smooth.
Apple Cider Powdered Sugar Glaze:
Whisk together 1 cup powdered sugar (sifted), 1 Tablespoon melted unsalted butter or melted coconut butter, a pinch of salt and 1-2 Tablespoons apple cider or juice until completely smooth.

To make this vegan you need to swap out the eggs. I tried aquafaba and it turned out great - it didn't rise as high, but it was still great. 9 Tbs canned chickpea liquid whipped with ¼ teaspoon cream of tartar until it looks like clouds of meringue. Fold into batter after the wet and dry mixes have been combined. Bake for the same amount of time.

To make this gluten-free, swap in 3 cups of your favorite GF flour blend, such as King Arthur, Jovial or Bob's Red Mill. If the product does not contain xanthan gum, I would add 1 teaspoon.