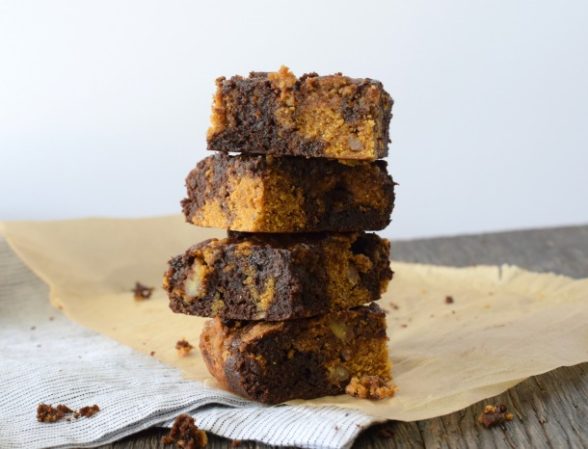 I wasn't sure whether to post this delectable recipe for Halloween or Thanksgiving, because truth be told, I have made these bars for both holidays!  I am really into desserts that can be made small like bars or cookies, as opposed to a pie which is kind of hard to cut into a small 3-bite piece.  I try not to eat too much dessert, especially during the holiday season (which starts on Halloween, in my opinion.)  Desserts are definitely treat foods to be eaten in moderation because they can really spike your blood sugar (even if you're using a higher quality sweetener), pack on the pounds, and promote inflammation in the body.  Moderation.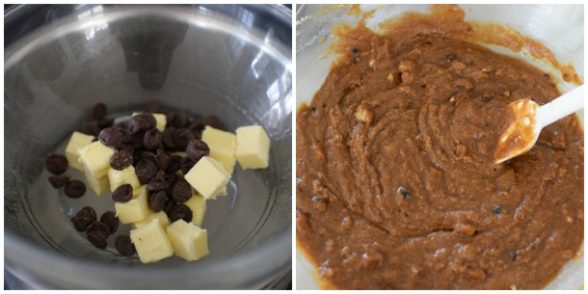 These are my new favorite fall dessert.  I taught them in a class last year and enjoyed terrific feedback from my cooking class students.  I also served them at Thanksgiving last year and they were a surprise hit since my guests tend to favor pies.  What I think is so nice about these bars is that you get a little chocolate and a little pumpkin in every bite.  I was looking at my notes from last year's Thanksgiving and next to this recipe I wrote, "it was nice to have some chocolate on the dessert table this year!"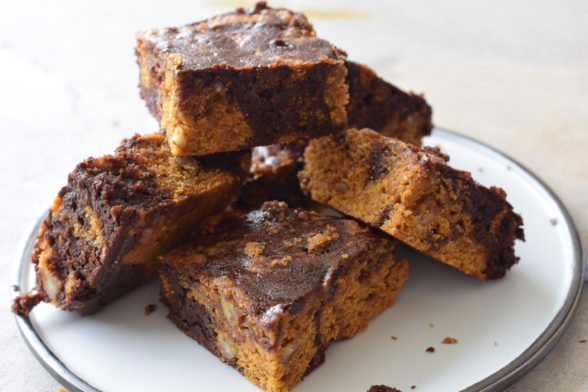 The key here is to underbake them a little so they're a little soft and fudgy.  The inspiration for this recipe came from Melissa Clark, who I think is a great NY Times food writer.  But her gooey pumpkin bars were so sweet, I actually found them to be inedible, sorry to say.  I cleaned up the recipe to my comfort level — delicious, indulgent, but with much better ingredients and MUCH less sugar.
As with most baked goods, these are best the day they are made.  But they will hold up in an airtight container at room temperature overnight. These can easily be made gluten-free by using gluten-free oat flour.  I am assuming you can swap coconut oil for butter without a problem.  As for the egg, you can try a flax egg or aquafaba (chickpea liquid.)  Let me know if you need more guidance with substitutitons.
Stay tuned for lots of good stuff coming this week, including my first "get organized for Thanksgiving" post of the season on Thursday and the perfect quick and healthy dinner to make on Halloween before the kids go trick-or-treating!


Pumpkin Chocolate Swirl Bars Recipe
Author:
Pamela, inspired by a recipe by Melissa Clark
Ingredients
For the pumpkin batter:
6 tablespoons unsalted butter, melted and cooled slightly, plus more for the pan
⅓ cup unsweetened pumpkin puree (not pumpkin pie filling)
1 large egg*
¾ cup muscovado sugar (or brown sugar, light or dark)
½ tablespoon bourbon
½ teaspoon aluminum-free baking powder
½ teaspoon cinnamon
½ teaspoon ground ginger
¼ teaspoon ground nutmeg
¼+1/8 teaspoon fine sea salt
⅞ cup whole wheat pastry flour, white whole wheat flour or GF oat flour (1 cup minus 2 Tbs. - use the other 2 Tbs in the chocolate batter)
¼ cup chopped pecans (omit if you have a nut allergy)
For the chocolate batter:
4 tablespoons unsalted butter, cubed
1.5 ounces (about ¼ cup) semi-sweet chocolate
2 tablespoons unsweetened cocoa powder
¼ cup muscovado sugar (or brown sugar, light or dark)
1 large egg
¾ teaspoon pure vanilla extract
⅛ teaspoon fine sea salt
2 Tablespoons whole wheat pastry flour, white whole wheat flour or GF oat flour
Instructions
Preheat oven to 350 degrees. Grease an 8x8-inch baking dish with butter and line it with unbleached parchment paper (this is so that you can remove the whole cake from the pan easily.)
Prepare the pumpkin batter: Pour the melted butter into a medium mixing bowl.
Whisk the pumpkin puree, egg, sugar, and bourbon into the butter. Whisk in baking powder, cinnamon, ginger, nutmeg, and salt.
Stir in the flour and pecans. Set aside.
Make the chocolate batter: Set a heatproof bowl over a pot of simmering water. Melt the butter and chocolate together and stir well. Whisk in cocoa powder and sugar. Whisk in egg and then vanilla and salt. Gently fold in the flour.
Dollop the pumpkin batter and chocolate batter in the prepared pan by alternating dollops. Start by placing a spoonful of pumpkin batter in each corner and in the center of the pan. Then add the remaining pumpkin batter in random empty spots. Fill in the pan with chocolate batter. Using a skewer or the tip of a knife, swirl the chocolate batter into the pumpkin batter.
Bake for about 22-25 minutes or until just set. Do not overbake. Allow to cool completely on a wire rack before cutting.
Notes
*If you double recipe, do not double egg in the pumpkin batter.