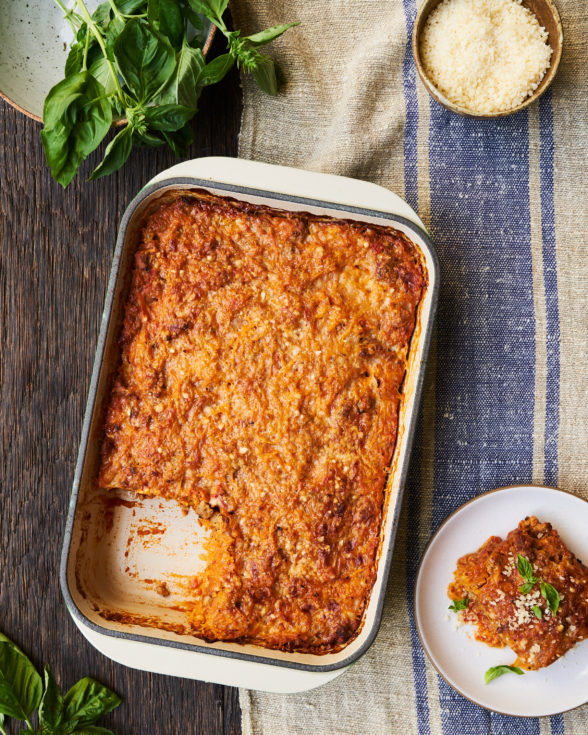 If you have never been able to like spaghetti squash, let's try again.  My husband and son are just not fans, whereas my daughters and I love it.  I think if you go into spaghetti squash expecting a pasta alternative, you're going to be disappointed.  I never feel like I am eating spaghetti when I twirl strands of squash on my fork, whether it's zoodles or spaghetti squash.  But I do like it for what it is.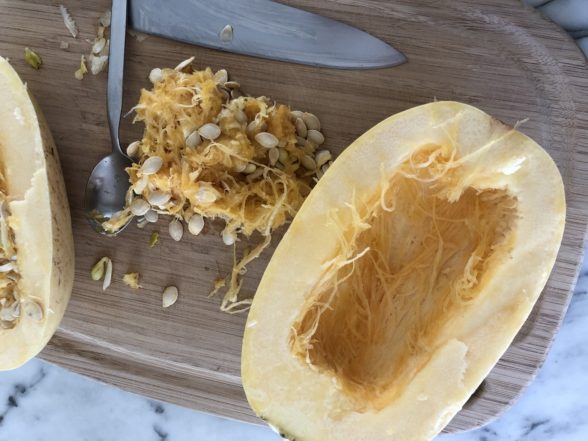 Tomato sauce is a familiar, well-loved food that could help the palatability of spaghetti squash, which tends to be a little bland and sweet. But if I pair tomato sauce (also naturally sweet) with spaghetti squash, I generally like to balance out all that sweetness with spicy (adding crushed red pepper to the sauce), or an umami ingredient like Parmesan, roasted eggplant or mushrooms, or something bitter like kale.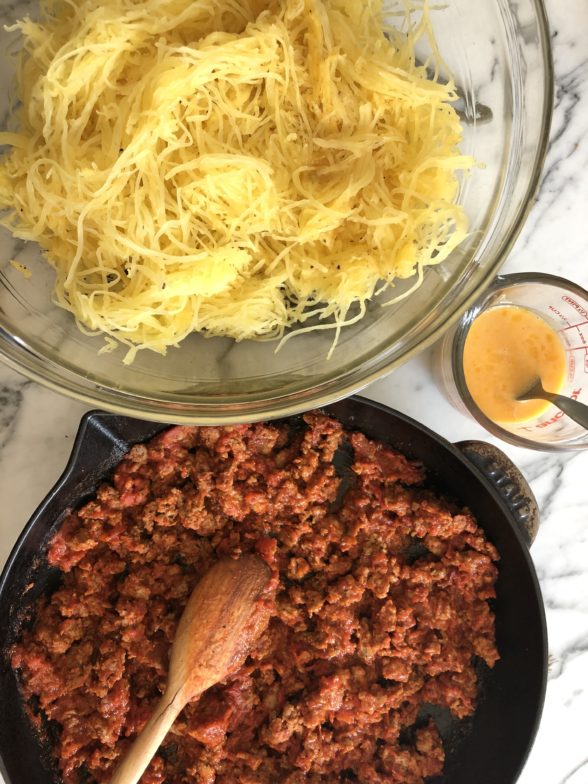 I was thinking about how to make a baked spaghetti squash recipe, kind of lasagne style. Besides a veggie lasagne (I have a roasted veggie lasagne and a vegan lasagne on my site), I love Ina Garten's addition of turkey sausage to her lasagne.  I do not love how much cheese she adds though.  It's way too heavy for me.  So I tried a lightened up turkey sausage spaghetti squash bake and it turned out totally amazing.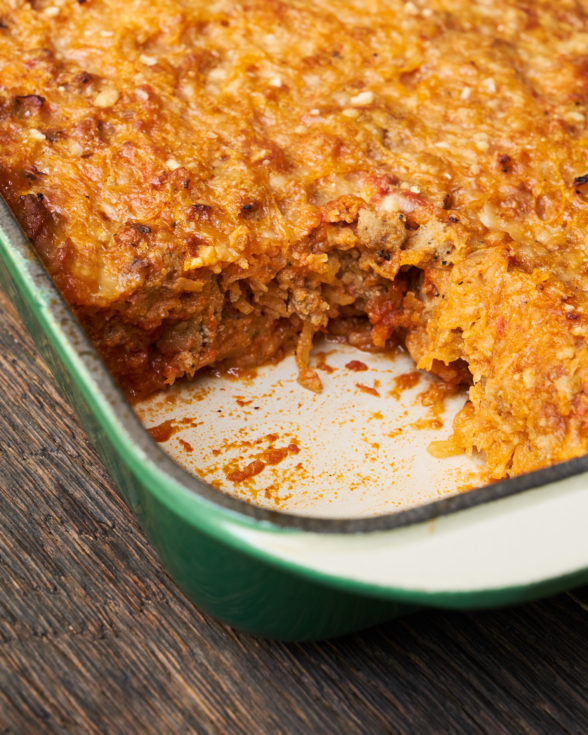 The same way I add eggs to ricotta in a lasagne, I had to add eggs here to bind it all together.  But arrowroot or flax eggs make a good sub.  The key with baked spaghetti squash casseroles is really just to bake them uncovered for a long time to get all that moisture to evaporate, otherwise it's a soupy mess.  The result is a casserole you can cut and serve, and because the spaghetti squash is technically a vegetable, this is a complete meal in my eyes.  See this quick Youtube video for how I like to cut spaghetti squash.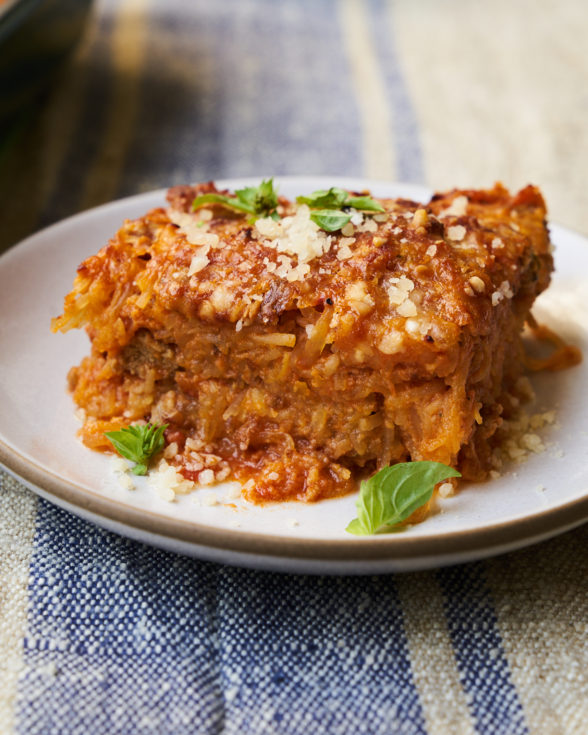 View this post on Instagram

 

 
Since it's officially fall, sweater weather, and PSL season, it's also casserole time!  Yes, my husband and Mr. Picky (my son) approve of this casserole and I am willing to bet it will convert a few people out there.  See the bottom of the recipe for some suggestions on how to swap out the eggs or meat. It's just as good vegan, I swear!  Let me know if you guys make this recipe or any of my recipes by tagging me @pamelasalzman #pamelasalzman.  I just love seeing your creations!!  XO

Turkey Bolognese Spaghetti Squash Casserole Recipe
Ingredients
1 spaghetti squash, about 3 ½ to 4 pounds
Unrefined, cold-pressed extra-virgin olive oil for drizzling squash
Sea salt
Freshly ground black pepper
1 pound fresh (not precooked) mild bulk turkey sausage (out of the casing*) or use ground turkey
2-3 cups prepared marinara sauce, divided
2 large eggs, beaten (preferred) or ¼ cup arrowroot or 2 "flax eggs"**
Grated parmesan or pecorino cheese (optional)
To finish: fresh parsley or fresh basil, chopped (optional)
Instructions
Preheat oven to 375°F. Cut the spaghetti squash in half lengthwise and remove the seeds. Rub the inside of each half with a drizzle of olive oil and season with ½ teaspoon salt and freshly ground black pepper to taste. Arrange cut-side down on a parchment-lined baking sheet and bake for 30 to 45 minutes until tender. DO NOT OVEROOK! Test them by inserting a fork between the flesh and the skin and try to rake the strands. Set aside cut-side up until they are cool enough to handle. Leave oven on if baking casserole immediately and RAISE TEMP TO 400°F.
Spread a few spoonfuls of sauce on the bottom of the baking dish.
Warm a large skillet over medium heat, and add the sausage and sauté, breaking up the meat into small pieces. Sauté until cooked through and browned slightly, about 5-6 minutes. Add the remaining tomato sauce (use less or more depending on your taste) and bring to a simmer.
Using a fork, pull the strands of squash crosswise from the peel so that it resembles spaghetti.
Toss squash strands with the beaten eggs (or arrowroot) and then the turkey sauce and transfer to an 11 x 7 (thicker casserole) or 13 x 9 (thinner casserole) baking dish. Sprinkle with grated cheese if desired. Bake until firm and not mushy or watery, about 45-50 minutes. If you want to brown the top a little, you can broil it for a minute. This is a great make-ahead meal and even freezes well.
Notes
*If you can't find bulk sausage, buy fresh sausage links and squeeze the meat from the casings. I prefer organic chicken or turkey sausage. OR buy ground turkey and season with ¼ cup sausage seasonings.
**To make 2 flax eggs combine 2 Tbs. ground flax meal with 6 Tbs. warm water and let sit 15 minutes before adding to the squash.
You can also omit the meat; or swap in 1 pound of COOKED lentils seasoned to taste with or without sausage seasonings, or 1 pound browned crumbled tempeh, or a high quality plant-based sausage product like No Evil. There are lots of options here.