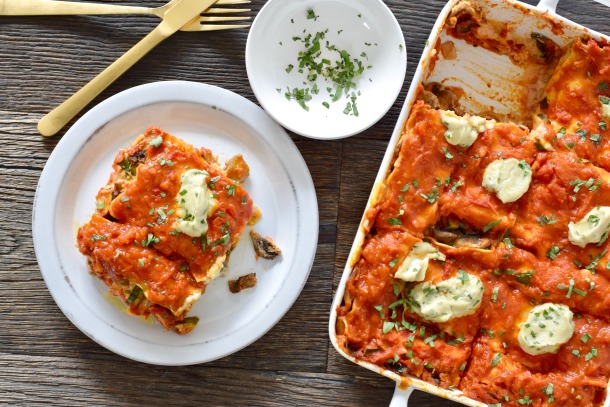 I have been having so much fun lately with a bunch of new cookbooks, like this one from America's Test Kitchen, called "Vegan for Everybody." I was fortunate enough to hear Jack Bishop, ATK's Editor and Chief Creative Officer, present this book at my local bookstore, Pages. I am fascinated by testing recipes and making the subtle tweaks towards perfection. There's no one in this space who does it more rigorously or better than America's Test Kitchen.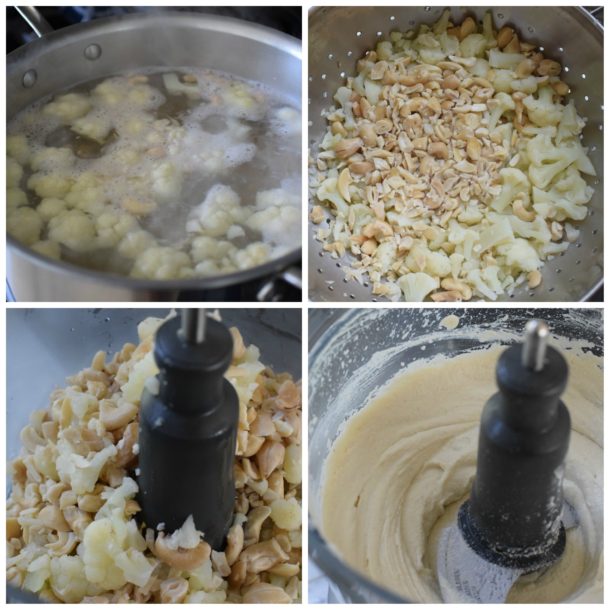 You may have seen me write about their new vegan cookbook on a recent Five Friday Favorites, but I finally found the recipe I want to share with you. This Hearty Vegetable (and vegan) Lasagna is as good, if not better, than any lasagna I've had with meat or cheese for that matter. Lasagna is a favorite comfort food, but it can be very heavy and hard to digest. I personally am not a fan of a super cheesy, meat-filled dish, so I had a feeling I would be smitten with this recipe.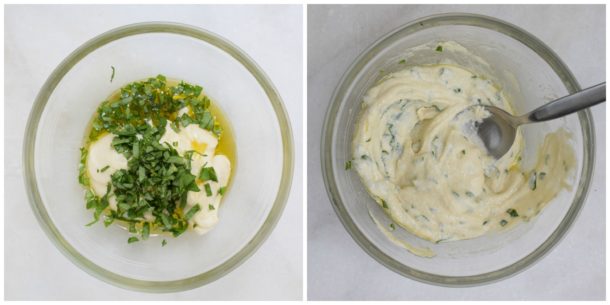 Basically, this what makes this lasagna vegan is the lack of any dairy products. But just because a dish is vegan doesn't necessarily imply nutritious (you could eat a vegan potato chip and Tofutti popsicle diet, for example.) But before you assume that ATK subbed in some pasty, tofu ricotta and a processed non-dairy cheese that doesn't really melt, think again. They actually did the work and came up with a genius puree of boiled raw cashews, cauliflower, olive oil and water. The result is an ethereally light "ricotta" that rivals the real thing. Once again, I ask "is there anything cauliflower cannot do?" A bonus is that this filling contains high quality protein so you don't have to worry about adding any to complete the meal.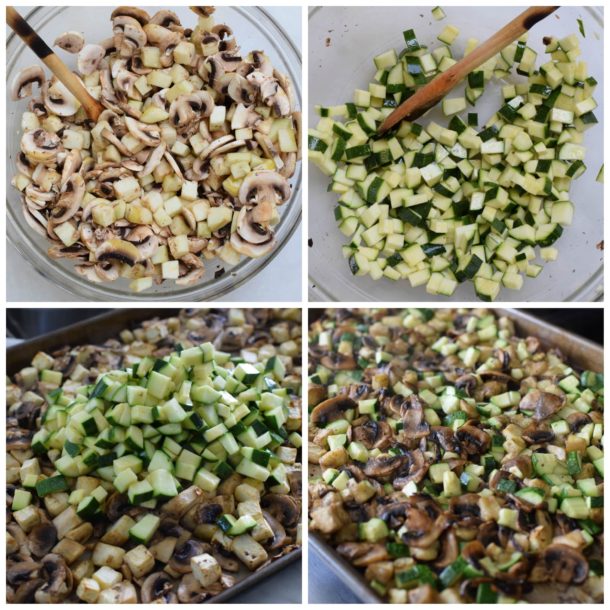 Eggplant, mushrooms and zucchini are included for great flavor and substance. I imagine sautéed dark green leafy vegetables like Swiss chard would also be nice here. And gluten-free lasagna noodles are easy to find, so this can be made gluten-free and vegan.  Is it your lucky day, or what?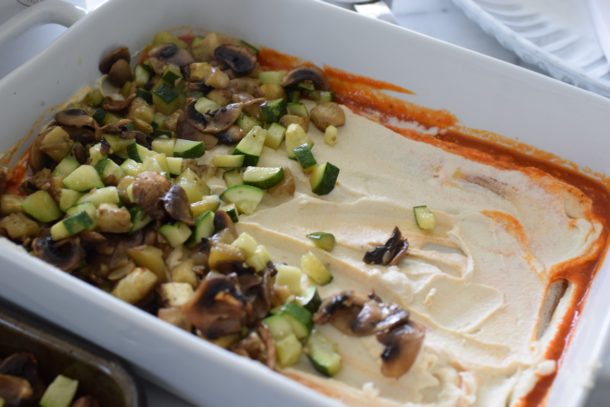 The true test came when I served this lasagna to my family. Mr. Picky actually tried it because he doesn't eat cheese, so this was "safe" and he really liked it. My husband lives for a traditional lasagna, and he apologized for rolling his eyes when I told him this was vegan. He loved it! This lasagna proved that a good vegan recipe can be had with a balance of flavors, textures and substance.  I can't wait to try more recipes from this book.  Stay tuned!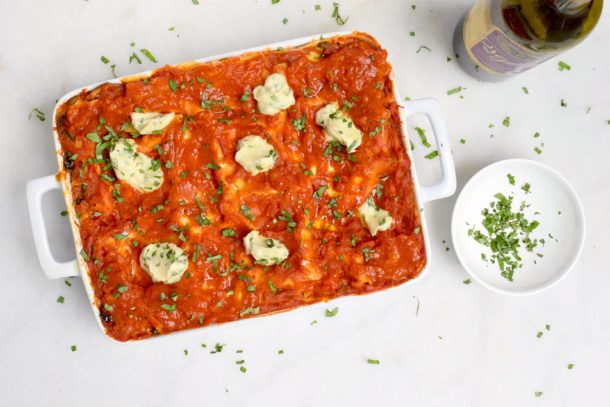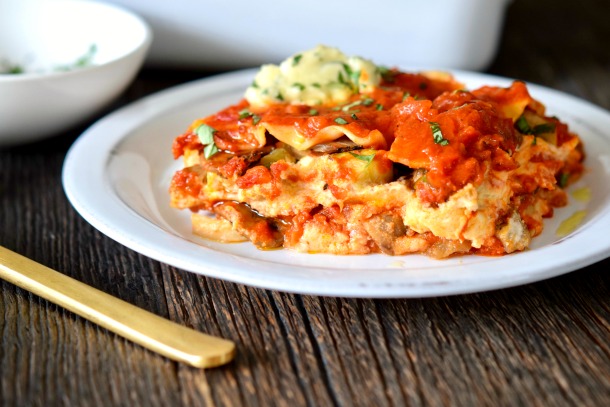 Hearty Vegetable Vegan Lasagna Recipe
Ingredients
For the Tomato Sauce:
1(28-ounce) can crushed tomatoes
1 (14.5-ounce) can diced tomatoes, drained
¼ cup chopped fresh basil
3 Tablespoons extra-virgin olive oil
2 garlic cloves, minced
1 teaspoon organic sugar
½ teaspoon salt
¼ teaspoon red pepper flakes
For the filling:
8 ounces cauliflower florets, cut into ½-inch pieces (21/4 cups)
11/2 cups raw cashews, chopped
Salt and peppers
¼ cup extra-virgin olive oil
1 Tablespoon chopped fresh basil
For the vegetables:
1 pound eggplant, peeled and cut into ½-inch pieces
1 pound white mushrooms, trimmed and sliced thin
3 Tablespoons extra-virgin olive oil
1 garlic clove, minced
salt
1 pound zucchini, cut into ½-inch pieces
For the Lasagne:
12 no-boil lasagne noodles
1 Tablespoon extra-virgin olive oil
1 Tablespoon chopped fresh basil
Instructions
For the tomato sauce: Process tomatoes, basil, oil, garlic, sugar, salt and red pepper flakes in food processor until smooth, scraping down sides of bowl as needed, about 30 seconds. Transfer sauce to a bowl and set aside. (Sauce can be refrigerated for up to 1 day.)
For the filling: Bring 3 quarts water to boil in a large saucepan. Add cauliflower florets, cashews, and 2 teaspoons salt and cook until cauliflower is very soft and falls apart easily when poked with fork, about 20 minutes. Drain cauliflower mixture in colander and let cool slightly, about 5 minutes.
Process cauliflower mixture, 3 Tablespoons oil, and ¼ cup water in clean, dry food processor until smooth, scraping down sides of bowl as needed, about 2 minutes (mixture will be slightly grainy). Season with salt and pepper to taste. Transfer ¼ cup mixture to bowl and stir in remaining 1 Tablespoon oil and basil; set aside for topping. (Mixtures can be refrigerated for up to 3 days.)
For the vegetables: Adjust oven rack to upper-middle position and heat oven to 450 degrees. Toss eggplant and mushrooms with 2 Tablespoons oil, garlic and ½ teaspoon salt in bowl, then spread on rimmed baking sheet. Toss zucchini with remaining 1 Tablespoon oil, and ¼ teaspoon salt in now-empty bowl. Roast eggplant-mushroom mixture until beginning to wilt, about 15 minutes. Remove sheet from oven, stir zucchini into vegetables, and continue to roast, stirring occasionally, until mushrooms are lightly browned, eggplant and zucchini are tender, and most of the juices have evaporated, 15 to 20 minutes. Set aside. (Cooked vegetables can be refrigerated for up to 1 day.)
For the lasagne: Adjust oven rack to middle position and heat oven to 375 degrees. Grease 13 by 9-inch baking dish. Spread 11/3 cups tomato sauce over bottom of dish. Arrange 4 noodles on top. Spread half the cauliflower filling over noodles, followed by half of vegetables. Spread 11/3 cups tomato sauce over vegetables. Repeat layering with 4 noodles, remaining cauliflower filling, and remaining vegetables. Arrange remaining 4 noodles on top, and cover completely with remaining tomato sauce.
Cover dish with aluminum foil and bake until edges are bubbling, 45 to 50 minutes, rotating dish halfway through baking. Dollop lasagne evenly with 8 to 10 spoonfuls of reserves cauliflower topping, and let cool for 25 minutes. Drizzle with oil, sprinkle with remaining 1 Tablespoon basil, and serve.