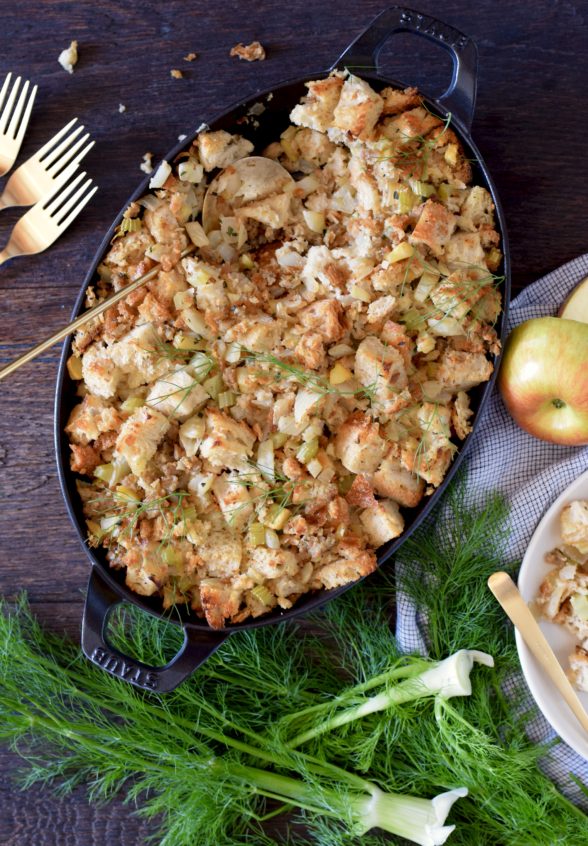 I could do without turkey, stuffing and mashed potatoes on Thanksgiving and just eat veggies and pie.  You didn't think I was going to say just veggies, did you?  C'mon.  I'm more fun than that!  But if you forced me to eat stuffing, if I had to pick one version to eat, here it is.  This one right here is my favorite stuffing of all time, satisfying all my protein and carbohydrate needs on the big day so I can just focus on what I just mentioned, veggies and pie.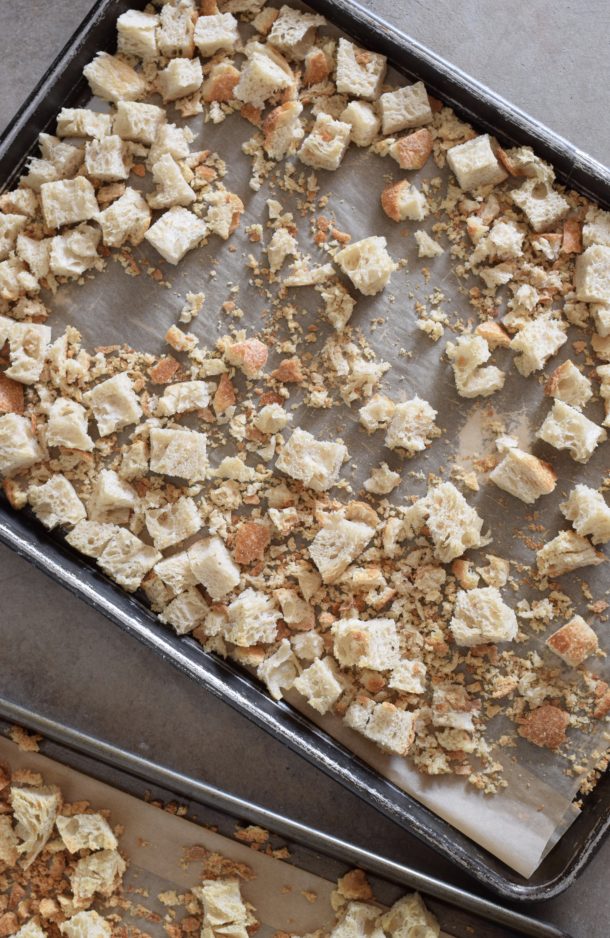 I love this stuffing because every flavor is satisfied – salty, sweet, savory and the texture is soft in the center and crunchy on top.  Plus it tastes great with everything else I'm making, particularly sweet potato casserole.  I actually  make two kinds of stuffing on Thanksgiving because I host a lot of people (31 this year!) and there is the savory camp and the sweet camp.  Gotta make everyone happy, right? This one is a tad sweet from the fennel and apples.  The savory one I do is this or a version but with cornbread.  I just taught it the cornbread one in my classes this month.  Both are very popular in my house and I have been told I am not allowed to take either one off the menu ever.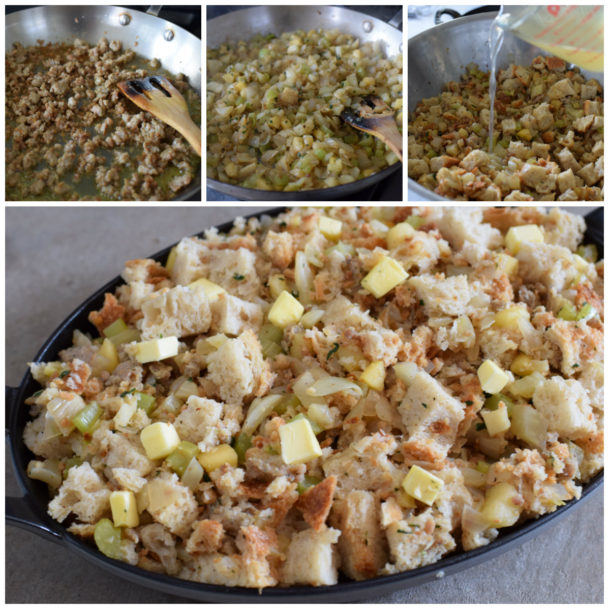 Sometimes I'll mix it up and make this one with cornbread and the other one with sourdough or whole grain bread.  But I will say, stuffing is a great Thanksgiving dish because you can make the whole thing in advance and bake it once the turkey comes out of the oven to rest.  DO NOT BUY PEPPERIDGE FARM STUFFING or any other chemical-laden, over-salted mix.  You can do better than that and everyone will appreciate something made from scratch.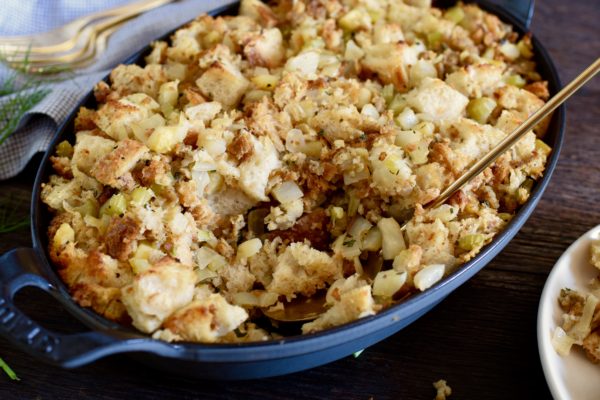 If you want to cheat, buy the dried bread cubes from your local market over the weekend or on Monday or Tuesday.  The rest of this is a snap.   Check out my post from yesterday which shows my timeline and how I break this up into stages.
So friends, that's all I've got for you this year.  This is my last Thanksgiving recipe which means it's time to commit to a menu and get cooking!  So excited!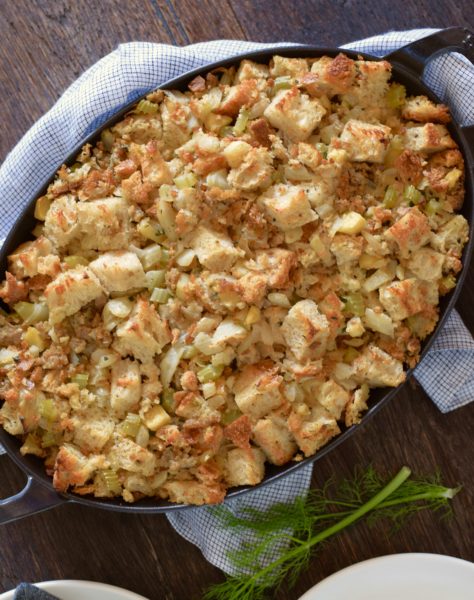 Apple and Fennel Stuffing with Chicken Sausage Recipe
Ingredients
1 ½ pounds rustic whole wheat or white bread, hard crust removed
4 Tablespoons unrefined, cold-pressed extra-virgin olive oil + more for greasing dish
¾ pound bulk chicken breakfast sausage or squeezed out of the casings if in links
3 Tablespoons unsalted butter, divided
2 celery stalks, chopped
2 fennel bulbs, chopped
1 large onion, chopped
2 small apples, peeled cored and chopped
½ cup dry white wine
1 ½ teaspoons fresh thyme, chopped
1 Tablespoon finely chopped fresh sage
1 ½ teaspoons sea salt or 2 ½ teaspoons if using unsalted stock
½ teaspoon black pepper
3-3 ½ cups chicken, turkey or vegetable stock (depending on if you like it wet or dry)
Instructions
Preheat oven to 350 degrees.
Place bread in a food processor and process into large crumbs or cut into ½-inch dice. (I like to do a combination.) You should have 12 cups. Spread bread over 2 large shallow baking pans and bake in upper and lower thirds of oven, stirring occasionally and switching position of pans halfway through baking, until completely dry, about 25 minutes. Transfer bread to a large bowl.
Increase oven temperature to 450 degrees and grease a 13x9-inch baking dish with olive oil.
Heat olive oil in a large skillet over medium heat. Add sausage meat and sauté, breaking up meat into small bits, until browned and cooked through. Remove with a slotted spoon and reserve.
To the same pan melt 1 Tablespoon of butter and add celery, fennel, onion, and apple, and sauté, stirring occasionally until onions are tender and translucent, about 8-10 minutes. Add white wine and deglaze pan by scraping the bottom with a wooden utensil. Cook until wine has evaporated.
Stir in thyme, sage, salt and pepper.
Add vegetable mixture and reserved sausage to bread cubes, tossing to combine.
Pour chicken broth over the bread mixture, tossing to coat evenly.
Spread stuffing in a baking dish, dot with remaining butter and cover tightly with foil. Bake in upper third of oven until heated through, about 20 minutes. Remove foil and bake stuffing until top is browned, 10 – 15 minutes more. Stuffing can also be baked in a well-greased 12-cup muffin tin.
Notes
Bread crumbs can be prepared several days in advance.
Vegetables can be chopped the day before.
Entire casserole can be prepared up to the point of baking the day before and refrigerated or frozen and then thawed and baked according to the directions.