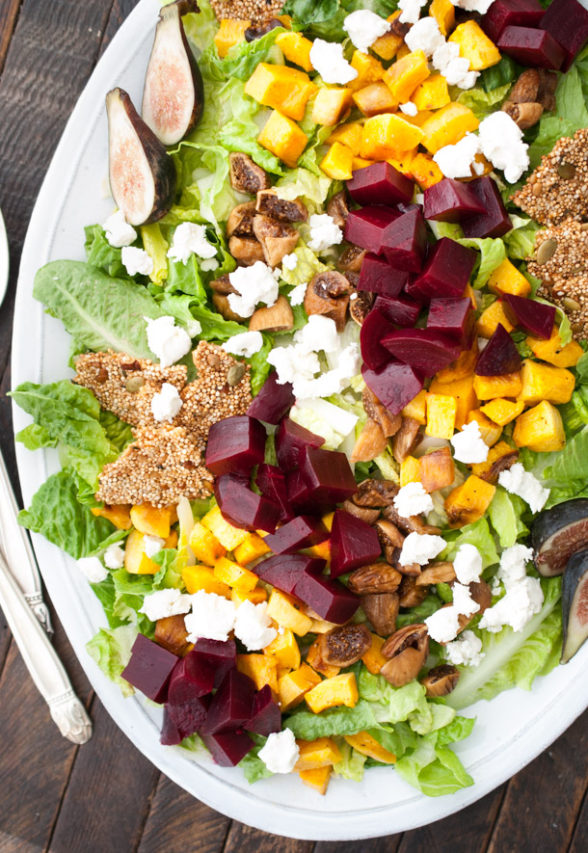 Obsessed with this salad!!!  The end.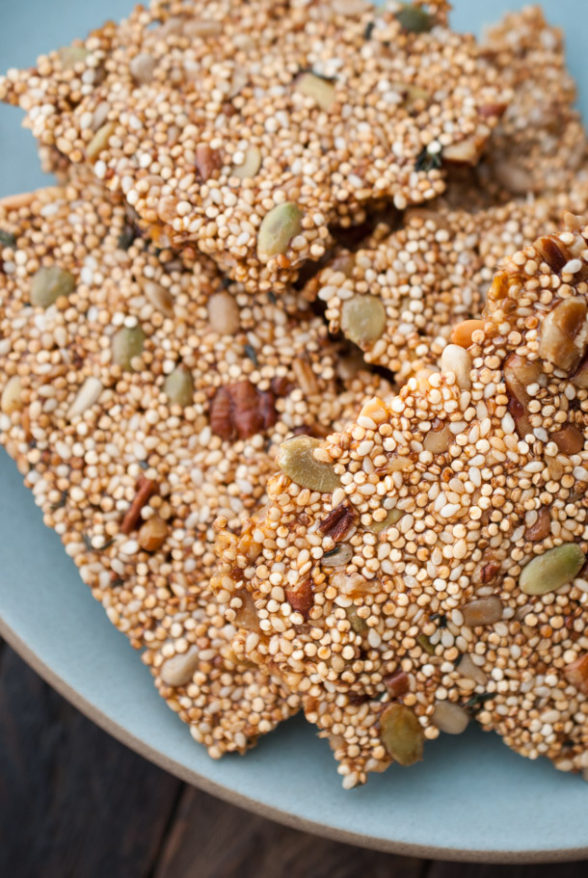 Just kidding.  Not about being obsessed with the salad, just about leaving you hanging.  I taught this last year in my Thanksgiving classes and I couldn't wait for class to be over so I could eat this which I did for three weeks straight.  The combo of the sweet beets and squash and the creamy goat cheese (sub avocado if you don't do cheese) and the crunchy QUINOA BRITTLE.  Oh my stars, the quinoa brittle is everything.  I actually made it for many a cheeseboard after I taught this recipe.  Picture a crunchy, nubby, salty-sweet cracker and that's what this quinoa brittle is.  And it's packed with protein.  Spread a little goat cheese on a piece and you have the perfect snack.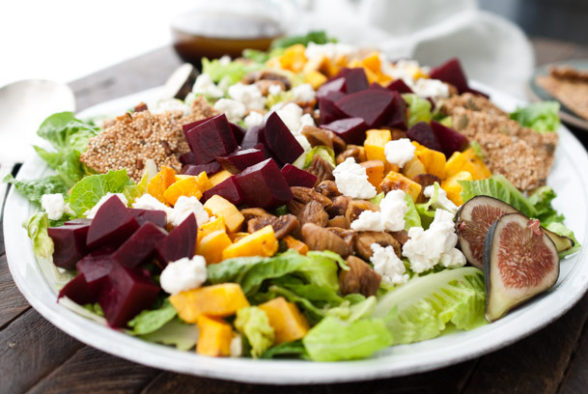 I was talking to a friend of mine today who is from the South and she said, "it would never occur to me to make a salad for Thanksgiving."
Me: "It's not like a salad is the meal.  It just provides a nice balance to everything else that's cooked, rich, and beige."
Friend: "But that's what Thanksgiving is all about.  Excess, richness and beige food."
Sorry, I think that is so boring. Salads save the day!  They don't rely on your hard-working oven.  Salads are colorful.  They are light and fresh.  And they provide acidity to balance the richness.  Most of the time, salad components can be prepped in advance.  Plus, they are flexible.  Don't like butternut squash?  Sub roasted carrots.  Dairy-free?  Swap the cheese for avocado.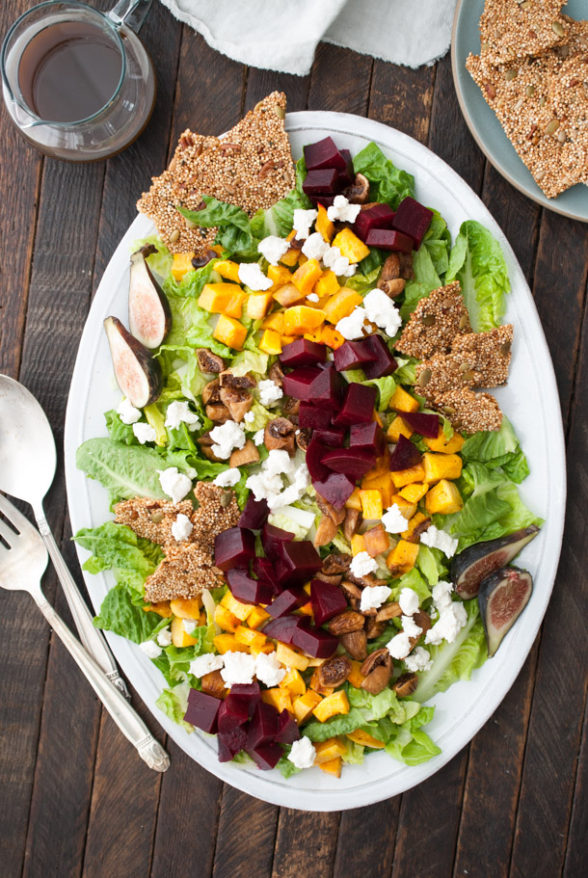 Thanksgiving is less than 3 weeks away, so it's time to get that menu tightened up! Question — do you make non-starchy vegetables and/or salad on Thanksgiving?

Fall Salad with Fig-Balsamic Vinaigrette and Quinoa Brittle Recipe
Ingredients
For the dressing:
⅓ cup unrefined, cold-pressed extra-virgin olive oil
2 Tablespoons balsamic vinegar (not aged)
½ teaspoon sea salt (use more if you omit cheese)
freshly ground black pepper to taste
2 Tablespoons fig preserves (preferably a no sugar-added variety)
2 cups peeled butternut squash, cut into 1-inch cubes
2 Tablespoons unrefined olive oil or coconut oil
sea salt and pepper to taste
3 heads mini Romaine lettuce (or 1 large head), small leaves left whole and large leaves chopped (or use arugula)
2 medium or 1 large beet, roasted, peeled and cubed
12 dried figs (any variety), diced
4 ounces crumbled honey goat cheese or 1 large avocado, sliced
Quinoa brittle:
½ cup uncooked quinoa, preferably sprouted
2 Tablespoons raw pumpkin seeds
2 Tablespoons raw sunflower seeds
2 Tablespoons raw sesame seeds
2 Tablespoons raw chopped pecans
1 teaspoon fresh thyme leaves
½ teaspoon sea salt
¼ cup brown rice syrup
1 Tablespoon unrefined virgin coconut oil, melted*
Instructions
To make the dressing, place all dressing ingredients in a screw-top jar and shake until combined. Set aside.
Heat oven to 400 degrees and arrange the squash on a rimmed baking sheet lined with parchment paper. Toss to coat with oil and sprinkle with salt and pepper. Roast until tender and caramelized, about 20-30 minutes.
Arrange the romaine on a large platter or bowl and toss with enough dressing to lightly coat. Arrange the beets, figs, cheese or avocado on top of the greens and drizzle with more dressing. Top with quinoa brittle or serve on the side.
For the Quinoa brittle: Preheat the oven to 325 degrees. Line a small baking sheet with unbleached parchment paper. In a medium bowl, combine all ingredients except syrup and oil.
In a small mixing bowl, whisk together the brown rice syrup and coconut oil until well combined. Pour over the quinoa mixture and stir to combine.
Pour mixture onto baking sheet and spread into one even ¼-inch layer using a dampened spatula if necessary. Bake for 20 minutes or until golden. Allow to cool, break into pieces.
Notes
*I melt the coconut oil and the brown rice syrup together in a butter warmer.
You can prep all the components of this salad a day in advance and refrigerate them separately. Bring them to room temp the next day and assemble before serving. The quinoa brittle can be made 5 days in advance and stored in an airtight container at room temp.