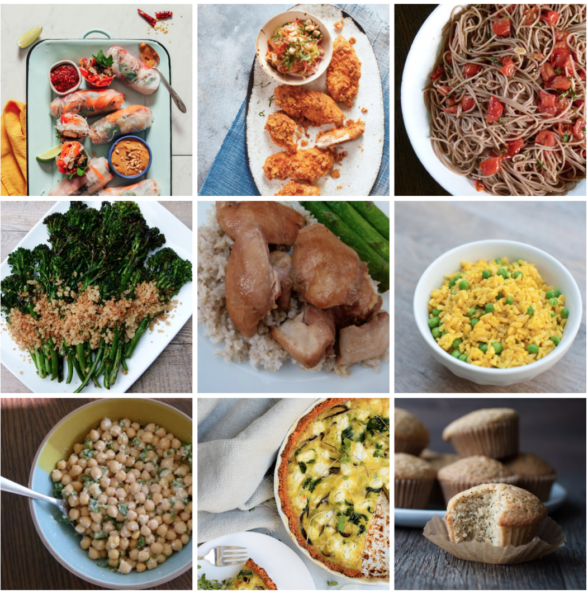 I was so out of it when I was creating last week's dinner planner, that Cinco de Mayo was not on my radar for this Sunday.  Whoops!  As you know, I have soooo many delicious and healthy-ish Mexican recipes, from red and green enchiladas, to this chopped salad and this Mexican Cobb, and Caldo Tlalpeno soup, plus arroz verde and lots of tacos, including slow cooker chicken, beef barbacoa, fish, cauliflower, as well as Mexican beans and drunken beans.   
Lots happening this week.  I am starting a new menu in my cooking classes this week.  I just filmed a class for my online class platform and all I can say is that is one of my best classes yet!  Hubs is celebrating a big birthday this week and we are sneaking away to his favorite place, Palm Springs, for a few days.  We'll be back in time for a bigger birthday celebration and then Mother's Day!  What a week!
Here's your dinner planner for the week:
Meatless Monday: Crispy Shallot Spring Rolls with Seared Tofu from the Minimalist Baker or try this soup if you have Cinco de Mayo leftovers.
Tuesday: Cornflake Oven "Fried" Chicken with Sauerkraut Slaw, roasted potato wedges
Wednesday: Gluten-free pasta with 5-minute cherry tomato sauce and shrimp (add the shrimp the tomatoes just as the tomatoes are done and sautée until the shrimp are cooked through – about 3-4 minutes), grilled broccolini

Thursday:  Broccoli, Celery Root, and Spinach Soup from my book, I'm going to add cooked quinoa and white beans or chickpeas to make this a hearty meal.

Friday: Chicken Adobo(I really need to make this again and re-shoot it for the blog – yikes!), Turmeric Basmati Rice with Peas, fresh green side salad
Saturday Lunch: Chickpea and Deconstructed Pesto Salad. Replace the tomatoes with artichoke hearts, either of the jar or frozen/defrosted and roasted at 400 degrees for 20 minutes with olive oil, salt and pepper.
Sunday (Mother's Day): Mother's Day!  Here are some great options that would be perfect for breakfast-in-bed to all of those deserving moms!:
Yogurt and Granola Parfait (try basic granola, dark chocolate granola, peanut butter granola or the grain-free granola from my cookbook)
Mushroom and leek quiche with sweet potato crust
Chia pudding: try vanilla, chocolate, matcha or lemon-ginger
Grain-free lemon poppyseed muffins
Pancakes: Grain-free sweet potato pancakes, fluffy whole grain lemon poppyseed ricotta pancakes, buttermilk pancakes, multigrain pancakes from my cookbook
Whole grain buttermilk waffles
Here's what you can do ahead of time:
Sunday: 
Wash and prep all veggies (especially for your spring rolls)
Monday: 
Marinate chicken 
Make pasta sauce 
Wednesday: 
Make soup 
Make basmati rice 
Thursday: 
Marinate chicken 
Saturday: 
Make chia pudding, muffins souffle, scones, quiche crust
 Here's a link to my previous dinner planners.
I have LOVED seeing all your creations of my recipes on Instagram. If you make any of my recipes, please tag me @pamelasalzman #pamelasalzman so I can check them out!
Click here to learn more about my online cooking classes!
If you like my recipes, you'll LOVE my cookbook!