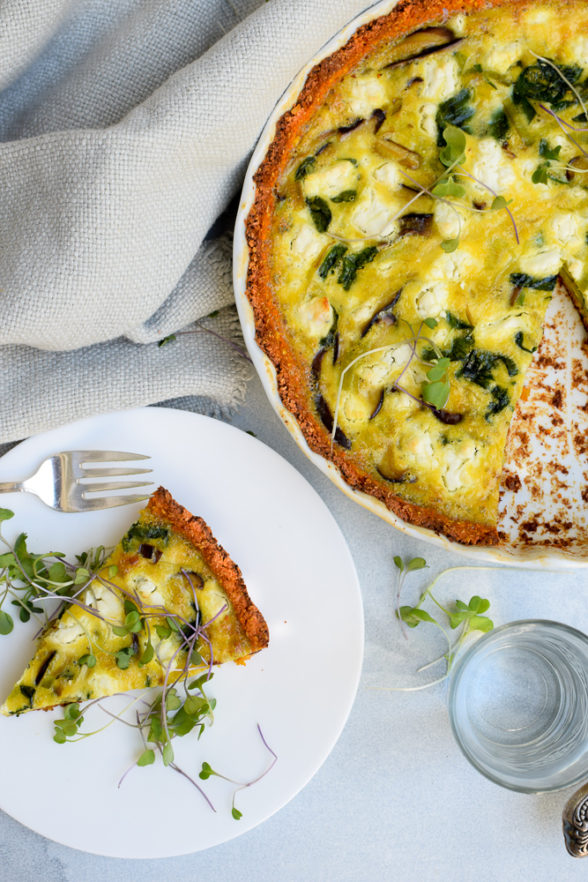 I had a wonderful few days in NY.  It was a perfect balance of fun (spending time with my family) and work, which was also fun!  Thank you to The Feed Feed, the Institute for Integrative Nutrition, Keri Glassman and Nutritious Life, and Real Simple Magazine for the great live collaborations.  Hopefully you guys were able to catch some of the segments, but if not, my goal is to jump on Instagram Live from my kitchen today and/or tomorrow while I am cooking for Passover.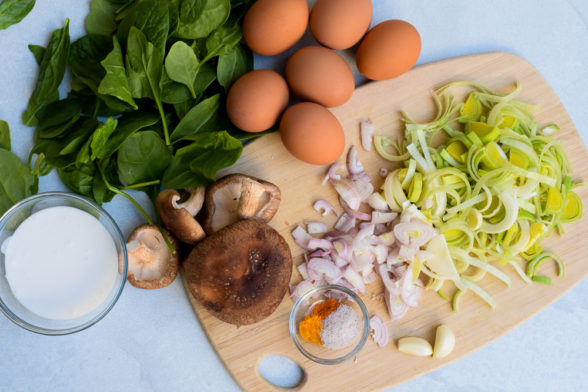 I wanted to sneak a new recipe in before the weekend.  I am fairly sure that your Easter and Passover menus are locked in, but in case they're not, this quiche with a sweet potato crust is perfection!  I taught this last year in my classes and it was a surprise hit.  I say "surprise," because a quiche crust made out of sweet potato is very alternative and not everyone is open-minded about breaking away from traditional recipes and formulas.  As you know, sweet potato is one of my absolute favorite foods.  They are so nutrient-dense, full of fiber and slow burning carbs, and can go both sweet and savory.  It's one of the only foods that can take on the flavor of any fat or oil perfectly.  Just when I thought I exhausted all ways to use a sweet potato, I came up with this crust and not surprisingly, I am obsessed!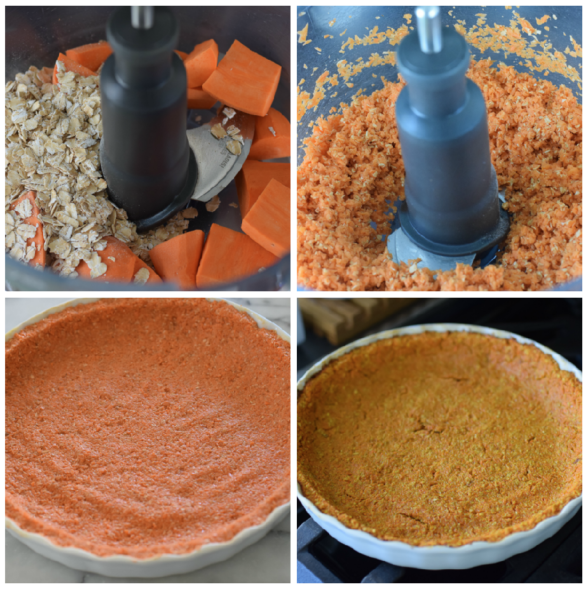 Even if you don't like the filling I am using, you can make the crust and fill it however you like.  I chose some classic combos (leeks/mushrooms/spinach/goat cheese) here so that there was some familiarity with the flavors.  But truthfully, the sweet potato in the crust is not a dominant flavor.  It just provides a base and some texture against the soft, creamy egg filling.  The colors are gorgeous, by the way.  Anyway, I thought it would be perfect for Easter brunch or lunch.  Or for any meal during Passover if you use the quinoa flakes option. Most people that I know who observe Passover think that quinoa is compliant.
Ok, other breaking news — I have FINALLY uploaded my first online cooking class!!  The technical side of all of this was way more challenging than I expected!  I am offering the first class for a heavily discounted trial rate of $7 because I actually want your feedback more than anything and I want to be able to provide you with the knowledge and guidance you are looking for.  I taped my January class and edited it down a bit.  You have access to the video as well as the 5 recipes and I will also be setting up a private Facebook page for anyone who signs up for the class that I can be available to everyone in a communal setting, just like my classes.  We can learn from each other's questions and experiences.  Click here to learn more and for the registration.  I hope to see many of you in class!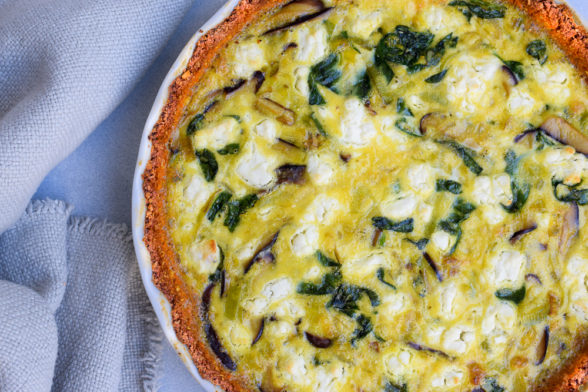 On that note, if you are interested in online classes with me, send me your wishes with what you would love to learn and I will keep it all in mind when I tape my next class session next week.  From Day 1 of this journey that I am on, my mission has been to help people become healthier through better eating.  And my method for that is teaching people how to cook through my cooking classes, and then my blog, and then my cookbook. Wherever you are in that space, whether you have no idea how to boil water, or you are very comfortable in the kitchen, there's always something to learn to make our cooking experiences better and more enjoyable.  I care so much about the health of our communities and especially our children – not just my children, but this whole generation whom we need to lead us and take care of us in a few decades.  🙂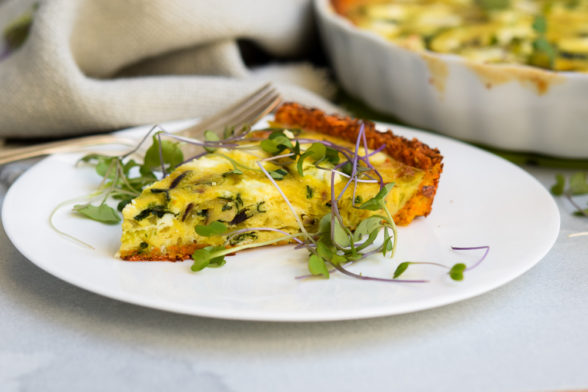 The dinner planner for next week will go live tomorrow night or in your inboxes early Saturday morning if you subscribe to my site (it's free!)  For those of you celebrating Passover and Easter, may you have a blessed holiday and the ability to be present with your loved ones.  xoxo
As always, tag me @pamelasalzman #pamelasalzman if you make anything from my book, my blog, and now, my online classes.  It gives me the greatest joy to see your creations!
You can shop the tools I used for this recipe by clicking on the images below!

Mushroom and Leek Quiche with Sweet Potato Crust Recipe
Ingredients
2 Tablespoons unrefined cold-pressed olive oil + more for greasing the pan
12 ounces sweet potato, peeled or unpeeled and cut into 3" chunks (about 1 medium-large sweet potato)
⅔ cup old-fashioned rolled oats (select GF oats for a GF crust) or quinoa flakes
7 large eggs, divided (I.e. you'll use 1 for the crust and 6 for the filling)
1 ¼ teaspoons sea salt, divided
1 leek, white and light green part washed well and sliced, dark green part can be washed and saved for stock or composted/discarded
1 large shallot, sliced
3 ounces mushrooms, such as shiitake, cremini or maitake, wiped clean with a damp paper towel and sliced (or a 3.5 ounce package from Trader Joe's)
2 cloves garlic, thinly sliced
⅛ teaspoon ground turmeric
pinch of cayenne pepper (optional)
freshly ground black pepper to taste (I use about ½ teaspoon)
1 ½ cups fresh baby spinach leaves
¼ cup full fat coconut milk or heavy cream
2 ounces goat cheese in small pieces (optional)
Instructions
Preheat oven to 400 degrees.
Grease pan 9 or 10-inch quiche pan or pie plate with olive oil.
Place sweet potato chunks and oats into a food processor. Pulse until finely chopped, like the consistency of rice. Add the egg and ½ teaspoon salt and pulse until the mixture is well combined and has a thick consistency.
Spread mixture evenly onto the bottom of the prepared pan, and a little on the sides. Bake for 25-30 minutes until set and a little dry to the touch. Set aside. Reduce oven temperature to 350 degrees.
While crust is baking, prepare the vegetable filling. Warm olive oil in a large skillet over medium heat. Add the sliced leek and shallot. Sauté until tender and translucent, about 5-7 minutes.
Add the mushrooms, garlic, turmeric, cayenne pepper, and ¾ teaspoon salt. Continue to sauté for another 5-6 minutes or until the mushrooms have softened. Stir in spinach and remove from heat.
In a medium bowl, beat together eggs and coconut milk. Add the cooked vegetables to the egg mixture. Pour into the cooked pie crust and dot with goat cheese on top, if using. Bake (reminder: at 350 degrees) for 30-40 minutes or until the center is set and springy. Serve warm or at room temperature.