Do you ever think to yourself, who discovered this food that I am now obsessed with and how did I live without it my whole life?  I do.  All the time.  Let me list a few things I never ate or heard of when I was a youngster:  avocados, hemp seeds, almond butter, almond milk, coconut milk, hemp seeds and pretty much anything that Navitas Organics sells, cauliflower in any form other than as a floret, sweet potatoes except on Thanksgiving, kale, açaí, quinoa, millet, spelt, rice that wasn't white, and chia seeds.  And this is actually just the tip of the iceberg.  I also think, if all this happened in the last couple decades, what's coming?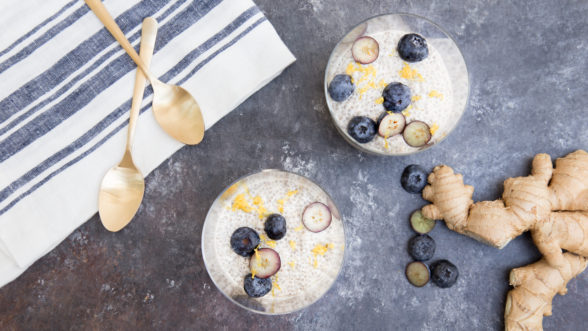 Chia seed pudding isn't even a novelty anymore.  When chia seed pudding shows up in supermarkets (overpriced, of course) and on The Pioneer Woman's blog, you know it's gone mainstream.  Many years ago, I posted basic vanilla and basic cacao chia seed pudding recipes.  I make them all the time, especially the cacao one because it's Mr. Picky's favorite.  And anything healthful that Mr. Picky likes…..  But I wanted to share with you my new favorite flavor combo and one that is perfecto for winter — lemon and ginger!  Lemon and ginger are a great match in tea or even soup, so why not in chia pudding?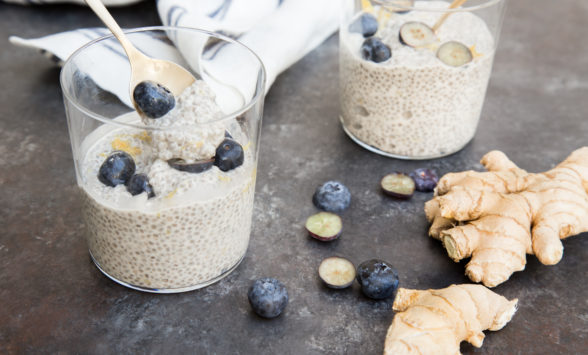 The fact is that this is an absolutely refreshing, zingy and super flavorful pudding.  Adjust the sweetness if you need to, but it's not too sweet the way it is.  I know many of you are still on a January cleanse, so feel free to use a couple of drops of stevia instead of honey if that works for you.  I don't know how much ground ginger you would use if you don't have fresh, but I would start off with much less.  Both ginger and lemon are anti-inflammatory and ginger is especially anti-viral. Chia seeds are LOADED with fiber and protein so chia pudding makes an excellent make-ahead breakfast and snack.  Top it with whipped coconut cream and you've got dessert.  I know blueberries aren't in season, but I needed something with a little contrast for the photo ;).  Oranges or blood oranges would have actually been great, as would pomegranate seeds.
If you make this, I would love to see it!  Please tag me @pamelasalzman #pamelasalzman and I could repost on my stories!  🙂

Lemon-Ginger Chia Seed Pudding Recipe
Ingredients
½ cup chia seeds
⅔ cup (culinary) coconut milk (I use regular full-fat canned coconut milk from ThriveMarket.com or Native Forest)
2 cups unsweetened almond milk, plain or vanilla
3 Tablespoons honey, preferably raw (or maple syrup for a vegan option)
1 Tablespoon pure vanilla extract
1 Tablespoon lemon zest (about 2 lemons)
1 Tablespoon peeled, grated fresh ginger (about a 3-inch piece)
⅛ teaspoon sea salt
Instructions
Place the chia seeds in a medium container or bowl. In a separate medium bowl, whisk together the coconut milk, almond milk, honey, vanilla extract, lemon zest, ginger and salt.
Pour the almond/coconut milk mixture into the container with the chia seeds. Stir immediately to combine otherwise you may end up with blobs of chia seeds. Allow to sit on countertop and stir every 5 minutes. After 15 minutes, it should have thickened somehwat.
Cover and refrigerate for at least an hour. I usually do this the night before. This will stay fresh int he fridge for as long as your almond milk will. Fun to add toppings like fresh fruit, coconut or chopped nuts, or to layer with a thick smoothie.