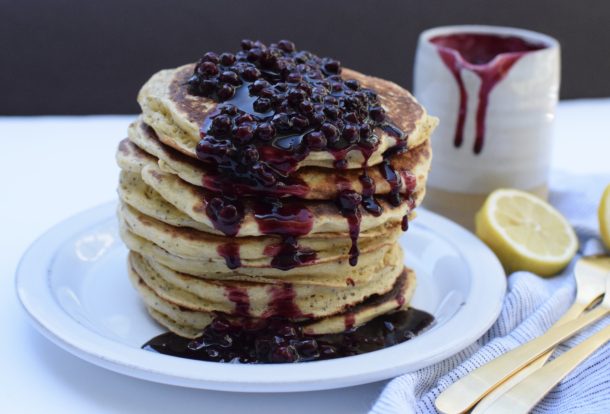 Pancakes are made once or twice a week in my house.  My whole family is crazy for them and I am have even taught my kids how to cook their own.  Many a morning I have to leave early for work, so I'll make pancake batter the night before and pull it out in the morning before I go.  The kids know how to grease the griddle with coconut oil, sprinkle the pancakes with blueberries and flip when ready.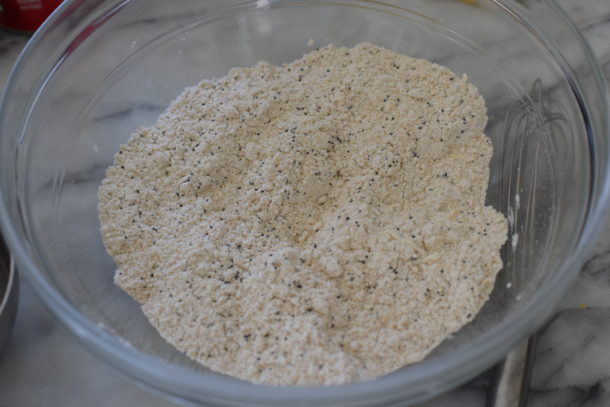 These ricotta pancakes came about when I had extra ricotta after a pizza night.  Being totally honest, I am not a huge fan of pasteurized cow dairy and I do try and limit it with my family.  Dairy is a bit inflammatory, somewhat hard to digest and full of hormones.  So we eat it sparingly.  But I have to admit, ricotta pancakes are delicious.  They're everything I want a pancake to be — light, fluffy, but still hearty.  These are much higher in protein than a "normal" pancake and I love getting protein into the kids in the morning!  Add some lemon zest and poppy seeds for fun and smother them in fresh blueberry sauce and I am in heaven.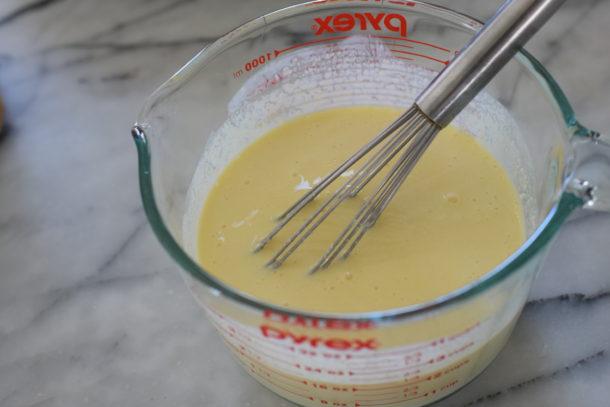 Remove the lemon zest and poppy seeds for a basic ricotta pancake recipe to which you can add endless flavors, such as fresh blueberries, chocolate chips, hemp seeds or even cooked quinoa.  My default flour for pancakes is whole wheat pastry flour, which Mr. Picky calls "the unhealthy flour" because it's light and tender and doesn't make pancakes look crazy (healthy) like buckwheat flour!  But I also love using whole spelt flour, or a mix of gluten-free flours like brown rice, oat and millet or buckwheat.  Pancake batter is very forgiving with respect to gluten, but sometimes it can be sensitive to the amount of flour.  You might need to use a tablespoon less of spelt flour which is more water-soluble than wheat.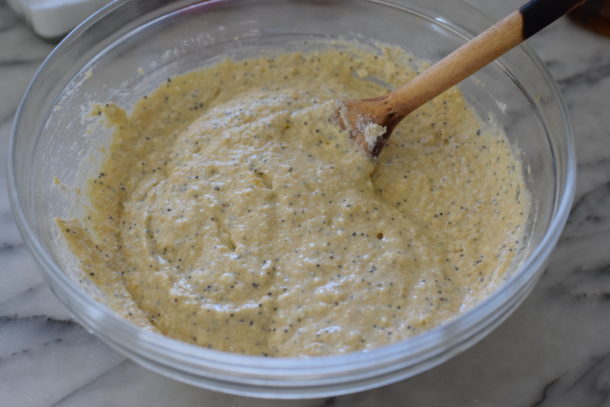 The crazy trick with these pancakes is the addition of unbeaten egg whites at the end.  I despise pancake recipes that force you to whip egg whites separately until soft peaks form. Yes, I know that will lighten up the pancakes, but I don't have time for that on a weekday morning.  I found that separating the eggs but adding the egg whites, unbeaten, to the batter at the end, does the same job of making the lightest and fluffiest pancakes!  It's like magic.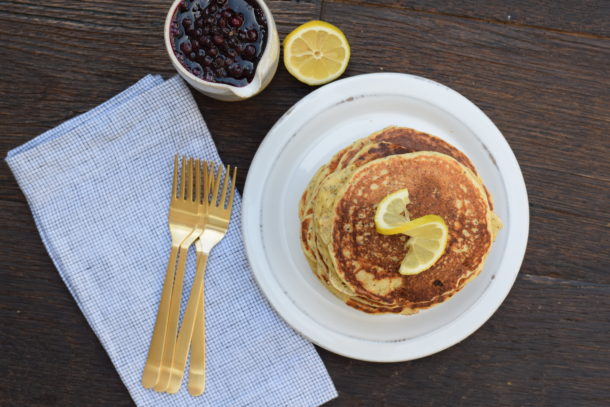 I thought these would be so fun for Father's Day brunch.  I know my husband would LOVE to have these pancakes delivered to him in bed by his kiddos on Father's Day.  If you're cooking for a crowd, heaven help you if you're making pancakes.  It's not my favorite thing to make for a lot of people.  That said, you can cook a batch and keep them warm in a 200 degree oven while you continue making the rest.  I'm not sure what we're doing for Father's Day, but these have been on several brunch menus at my house and they're always a hit with dads and kids alike!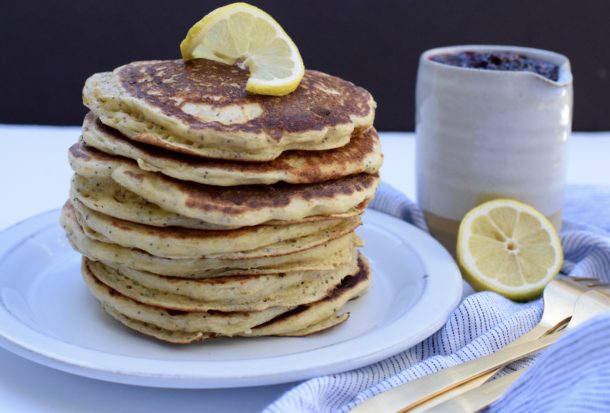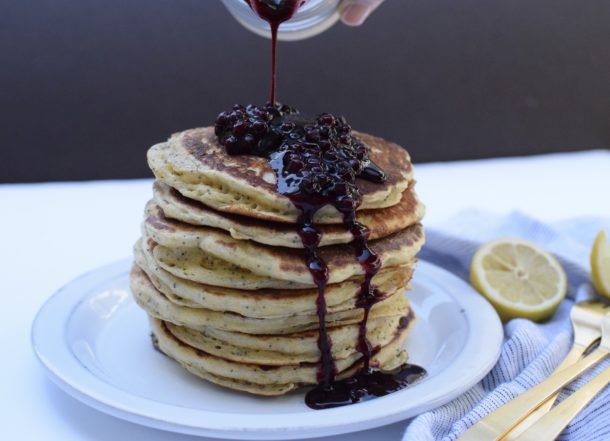 Fluffy Whole Grain Lemon Poppy Seed Ricotta Pancakes Recipe
Serves:
Makes 8 4-5 inch pancakes
Ingredients
1 cup flour (e.g. whole wheat pastry, whole spelt or a blend of GF flours)
¼ teaspoon fine sea salt
½ teaspoon aluminum-free baking powder
½ teaspoon baking soda
zest of 1 medium lemon
1 Tablespoon poppy seeds
1 cup whole milk ricotta
¾ cup buttermilk*
2 large eggs, separated
½ teaspoon pure vanilla extract
1 Tablespoon 100% pure maple syrup, Grade A or Grade B
coconut oil for brushing the griddle
maple syrup or fresh blueberry sauce for serving
Instructions
Preheat a griddle to 375 degrees or medium heat.
Combine the flour, salt, baking powder, baking soda, lemon zest and poppy seeds in a large mixing bowl.
In a medium bowl or 4-6 cup measuring cup, whisk together the ricotta, buttermilk, egg yolks, vanilla, and maple syrup.
Pour the wet mixture into the dry ingredients and stir until just combined.
Stir in the egg whites. They do not need to be beaten.
Brush the griddle with coconut oil and spoon about ¼ cup of batter onto the griddle. Add blueberries to the surface, if desired. When bubbles start to form on the surface of the pancake and the edges become slightly dry, flip it over and cook until done. Maintain the heat on medium-low or 350 degrees.
Serve with maple syrup or fresh blueberry sauce.
Notes
*No buttermilk? Sub half unsweetened yogurt (any kind) and half whole milk or a non-dairy milk; or kefir; or 1 Tbs. lemon juice or apple cider vinegar + ¾ cup any kind of milk.