Don't worry, I have not suddenly gone paleo and eliminated all of the grains from my diet.  I am Italian, after all.  However, I have recently really developed an affinity for grain-free baking!  And not because I have issues with grains, but because a muffin made with almond flour and coconut flour is so much higher in nutrition than a muffin or cookie made with wheat flour, and especially refined white flour. Making a muffin that is made with a base of almond flour and coconut flour means that it is filled with healthy fat, protein, and fiber, amongst other things, which wheat flour couldn't hold a flame to.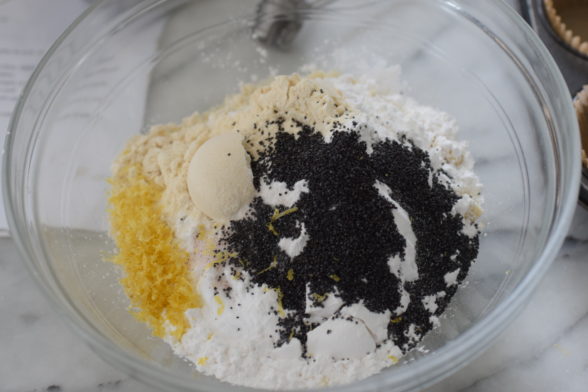 Another major bonus with grain-free baking is that the muffins maintain their taste and texture much longer than a regular muffin.  I have kept these muffins and other grain-free baked goods in the refrigerator for days and they stay perfectly light and fluffy with a nice moist crumb.  And to be honest, when I make regular muffins, no one has too much interest after the first day.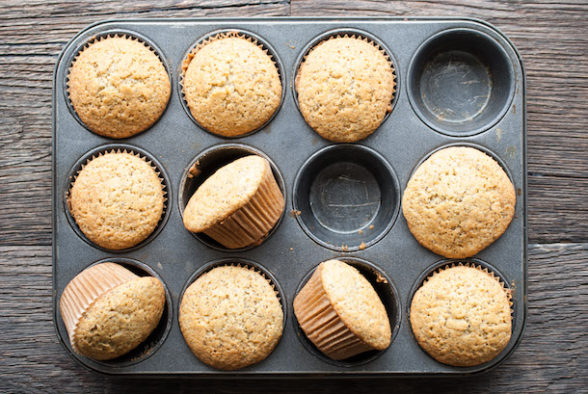 In my classes, I often times will encourage my students to adapt recipes they love- swapping in and out different ingredients and spices to mix it up a bit.  However, I have found myself discouraging them slightly from playing around with swapping out grain-free flours for standard grain flours, because it is not so cut and dry.  For example, if you were to take a basic muffin recipe and swap the white flour for coconut flour, you would end up with a complete disaster.  And that is no good because not only do you have a failed muffin batter on your hands, but grain-free flours are much pricier than others, so I don't want anyone to be wasting expensive ingredients.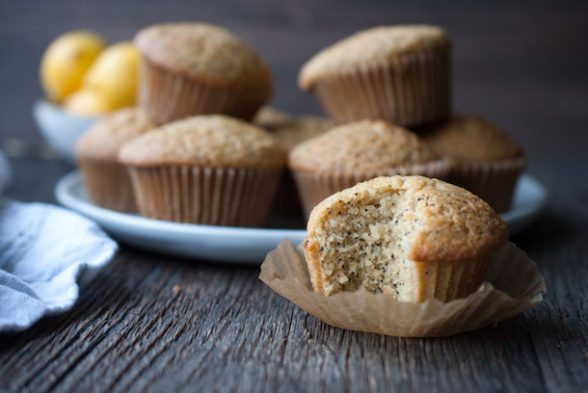 However, this is a great base recipe that you can tweak and add different flavors to come up with all sorts of combinations.  For example, you could add in fresh blueberries for a blueberry lemon muffin.  The poppy seeds here are really just for fun, although I do love the bit of texture that they lend, but if you do not have them on hand or don't want to buy them, the muffins will still be delicious without.  Or, how about omitting the lemon and poppyseed and adding some cinnamon, nutmeg, and diced apple?  Anything really goes here as long as you are keeping the same ratio of flours, eggs, and fat.
I'm going to make these for my nieces and nephews this week while I am on Long Island.  I think they will love them.  My kids and husband did as well and now that it's August (yikes!), I may want to consider a back-to-school plan and make some muffins to freeze for later.  Let's not get too ahead of ourselves though.  I'm just trying to get through this week!

Grain-Free Lemon Poppyseed Muffins Recipe
Serves:
10 standard muffins
Ingredients
1 ½ cups blanched fine almond flour (not almond meal)
¾ cup arrowroot powder (look for Bob's Red Mill which sells this inexpensively in 16 ounce bags)
3 Tablespoons coconut flour
¾ teaspoon baking soda
½ teaspoon sea salt
1 Tablespoon poppy seeds
grated zest of 1 medium lemon
6 large eggs
¾ cup pure maple syrup or honey
6 Tablespoons melted unrefined coconut oil
1 teaspoon pure vanilla extract
Instructions
Preheat oven to 350 degrees. Line a standard muffin tin with 10 unbleached parchment liners.
Place the almond flour, arrowroot powder, coconut flour, baking soda, salt, poppy seeds and lemon zest to a large mixing bowl and whisk to combine. (If you're almond flour is clumpy, I would do this entire recipe with an electric mixer.)
In a medium mixing bowl, whisk together the eggs, maple syrup, coconut oil, and vanilla.
Pour the egg mixture into the large bowl with the dry ingredients and combine well.
Pour the batter into the prepared muffin tin, filling each cup to the top. I like to use a very large glass measuring cup to do this.
Bake until lightly golden and when a toothpick inserted comes out clean, about 26-30 minutes.