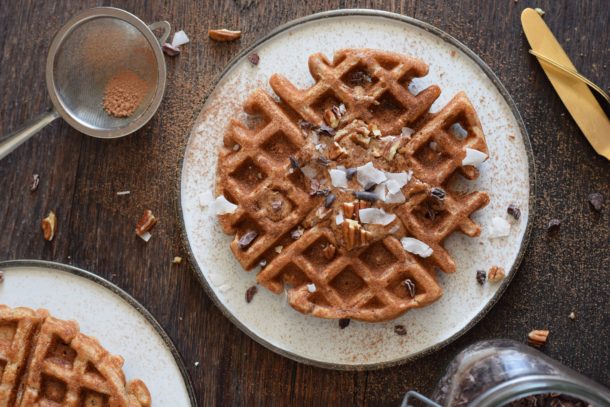 I never posted my waffle recipe on my site because I really didn't know if most people owned a waffle maker.  Plus, I don't want to nudge anyone to buy an expensive appliance that s/he may not get much use out of.  Annnnnd, I had never found a good waffle iron that wasn't lined with Teflon.  But if you saw in my Friday Favorites back in October, I found the waffle maker of my dreams and it's under $40.  No Teflon, easy to use, no PFTE's or PFOA's.  Go check out my link if you are interested in more of the specifics.  Sooooo, since so many of you have asked me for the recipe on Instagram, I am finally happy to oblige.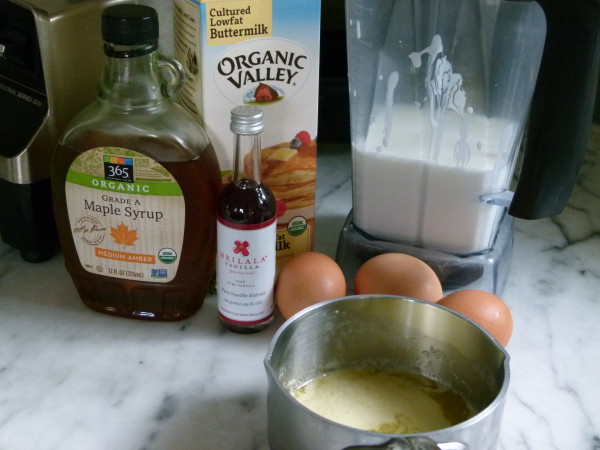 This waffle recipe isn't that much different from my Whole Grain Buttermilk Pancake recipe, but it's designed to have more heft.  These waffles are still light but hearty and subtly sweet.  My kids are so used to whole wheat pastry flour and whole spelt flour that whole grain pancakes and waffles taste "normal" to them.  But if you haven't used whole grain flours yet or your family doesn't like the nuttiness, try going half and half or even using 1/2 cup whole flour and 1 1/2 white flour to start.  I personally enjoy whole grain flours because they actually have some flavor, as well as the fact they don't leave me feeling like I ate a candy bar for breakfast.  I like to see what bits of random flours (e.g., oat, buckwheat, cornmeal) I have in the fridge that I can use up for a truly multigrain waffle.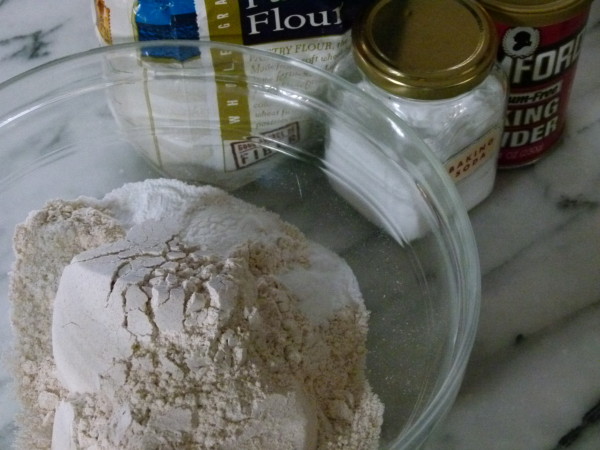 These waffles are the perfect backdrop for tons of different seasonal fruit combos with or without maple syrup or a dollop of yogurt.  Sometimes I let Mr. Picky add some mini chocolate chips for fun.  He doesn't use maple syrup, so I'm ok with the small amount of extra sugar.  I usually like to finish the batter and make all the waffles even if it's too much for all of us, and either save them for the next day or freeze them for another time.  They go right into the toaster oven for a re-crisping.  You might even try using homemade waffles out as sandwich bread for a quick PB&J.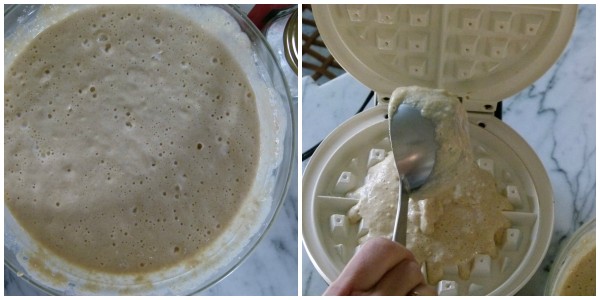 I wish I had posted this yesterday or last week for you all you snow bunnies who have been cooped up with schools closed again.  Waffles are a great breakfast if you're not in a super big rush since you can only make one at a time.  Although my kids are staggered out the door in the morning and I taught them how to use the waffle iron, so it works out pretty well for me on a weekday.  There are a few occasions coming up when it might be a nice treat to make waffles.  February 14th is obviously Valentine's Day and it's on a Saturday this year, so that's a perfect day to make these.  Or if everyone's off from work and school on Monday, February 16th for President's Day, that would also be a good time to try this recipe out.  And since we're celebrating something, why not go all out with some organic whipped cream piled high?  I approve!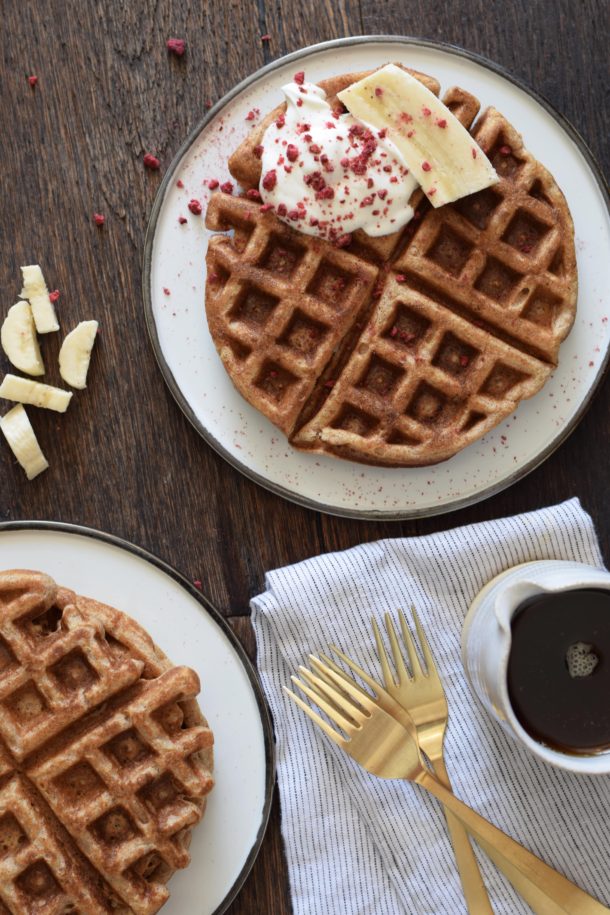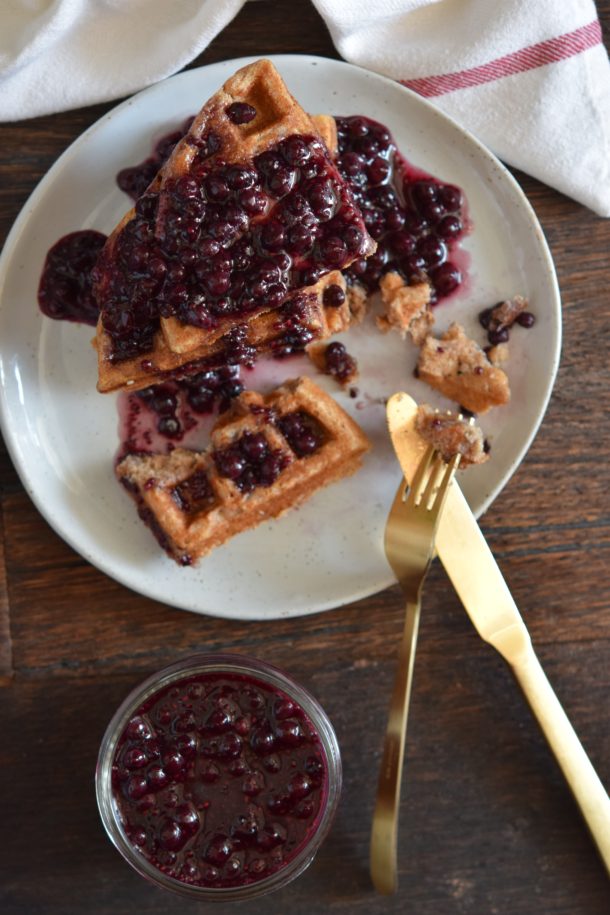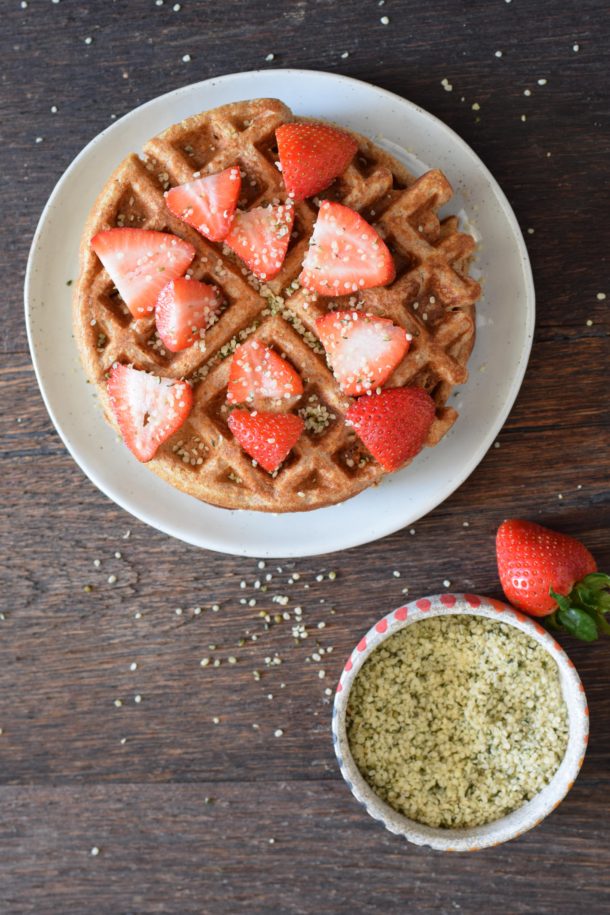 Whole Grain Buttermilk Waffles
Ingredients
2 cups whole wheat pastry flour, white whole wheat flour or whole spelt flour or a blend of these and other whole grain flours*
1 ½ teaspoons aluminum-free baking powder
1 teaspoon baking soda
½ teaspoon fine sea salt
2 cups buttermilk**
3 large eggs
1 teaspoon pure vanilla extract
1 Tablespoon 100% pure maple syrup
6 Tablespoons unsalted butter, melted
Melted, unrefined coconut oil for brushing the waffle iron
Instructions
Preheat waffle iron to desired heat level.
Combine the flour, baking powder, baking soda and salt in a large mixing bowl.
In a medium bowl or 4-6 cup measuring cup, whisk together the buttermilk, eggs, vanilla, maple syrup and melted butter until well blended. (A blender can do this easily, too.)
Pour the wet mixture into the dry ingredients and stir until just combined.
Brush the inside of the waffle iron with coconut oil and spoon about a scant ½ cup of batter onto the middle. Add blueberries, chocolate chips or diced banana to the surface, if desired. Close the waffle iron and follow the manufacturer's directions for cooking the waffles.
Notes
*Or you can use GF flour blend, such as ⅔ cup oat flour, ⅔ cup buckwheat flour and ⅔ cup brown rice flour.  Millet flour can also be use.

**No buttermilk?  Sub half unsweetened yogurt and half whole milk.