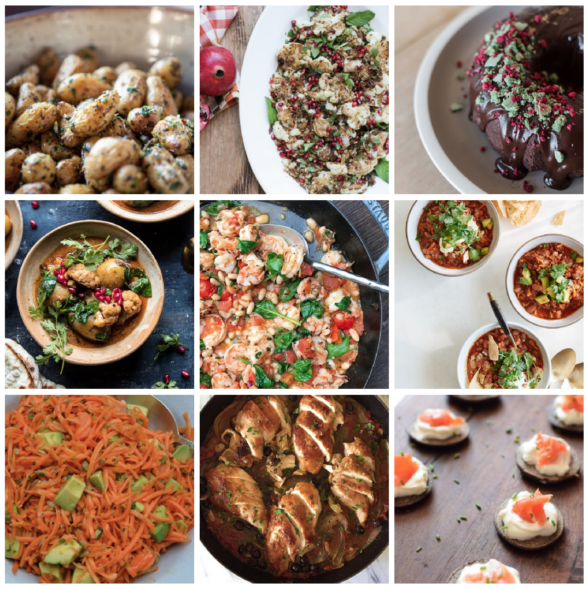 We had a lovely week in Park City despite the lack of snow!  Thank you to FOX 13 for inviting me on the show to make the Banana Walnut French Toast Casserole from my book. And thank you to Dolly's Bookstore for hosting me for a lovely book signing!  We arrived safely in NY and there are dozens of boxes in my bedroom which need wrapping for Christmas Eve and Christmas day.  Plus lots to cook for the holidays!  I hope you and your loved ones have a joyous Christmas together.
Here's your dinner planner for the week:
Christmas Day – My mom hosts Christmas dinner and she always makes chicken soup with tortellini and roast tenderloin of beef.  This year we'll also make cauliflower with pomegranate molasses, a puree of broccoli, roasted potatoes with gremolata, and a green salad with Everyday Salad Dressing #1.  I'm also going to make magic bars, and a chocolate bundt cake with peppermint ganache.  If I have time, my daughters and I will make cuccidati, Sicilian fig cookies!  My aunt brings about 10 different types of cookies, plus my mom serves tangerines, chocolates and nuts, and my sister's father-in-law brings homemade coffeecake.  🙂
Tuesday – slow cooker potato and cauliflower curry from Half Baked Harvest, turmeric rice with peas .  However, if there's leftover tenderloin, I will make my mushroom barley soup and add diced cooked tenderloin at the end.  I did this last year and the kids went nuts for it!
Wednesday – shrimp with tomatoes, white beans and spinach, rice
Thursday – chipotle turkey chili with sweet potatoes from my cookbook, cornbread
Friday – black bean and beet burgers, carrot salad with avocado
Saturday – baked chicken with tomatoes, olives and capers, kale salad with creamy lemon dressing
Sunday – New Years Eve! – here are some appetizers that usually show up for the holidays:
lasagne cupcakes, polenta crostini with spinach and capers, buckwheat blinis with smoked salmon and lemon crème fraiche, mini spanakopita, mini risotto cakes, an upgraded dip, brussels sprout sliders, endive with grapes, hazelnuts and Roquefort, hen of the woods mushroom toasts, spinach and artichoke dip, provencal goat cheese gratin, white bean dip with roasted garlic, butternut squash, beet and apple skewers, or a cheeseboard
Here's what you can do ahead if you need to:
Sunday
Wash greens and herbs
Make salad dressings
Make chicken or vegetable stock
Cook beans from scratch, if not using canned
Seed pomegranates, try using this amazing 60-second pomegranate de-seeder, or this method
All of the Christmas desserts can be made the day ahead
Wednesday
Make cornbread
Prep sweet potatoes
Roast and peel beets
Cook brown rice and refrigerate
Thursday
Burgers can be made up to the point of cooking and stored, covered, in the refrigerator until you're ready to cook them
Make the croutons
Here's alink to my previous dinner planners.
If you like my recipes, you'll LOVE my new cookbook!  If you have cooked from my book and you are enjoying it, it would mean so much to me if you would write a review on amazon.  🙂  If you make anything from the website or the book, please tag me on Instagram @pamelasalzman.  I love seeing all your creations! xoxo