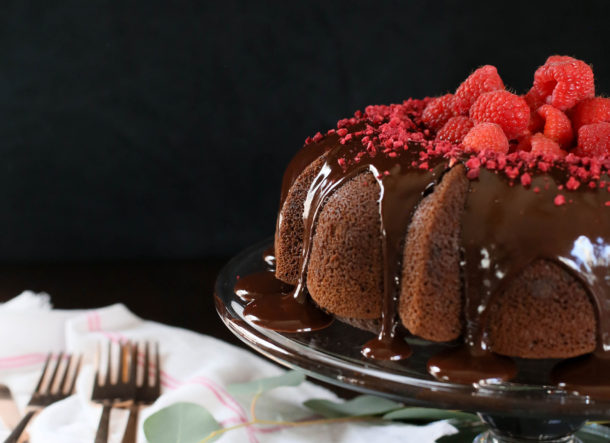 Most days I am a cheerleader for plant foods in their simplest form.  I believe kale's hype and I think too much turmeric is a good thing.  But I warned you that this was coming.  We are going to take a brief break from carrots and millet to celebrate the day of chocolate.  I mean the day of love for chocolate.  I mean the day of love.  Which should include chocolate.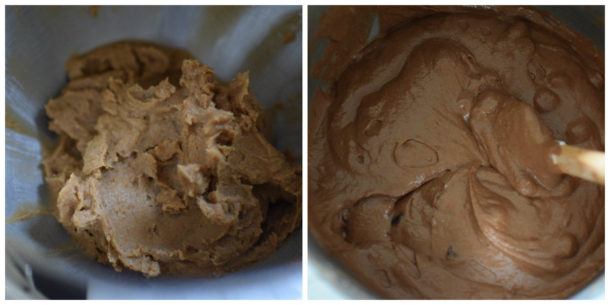 People often ask me if I regularly serve dessert after dinner.  Definitely not.  We never eat dessert on a weekday, and if the kids are hungry for something sweet after dinner they'll grab a piece of fruit.  There are so many occasions for sweets and those times should be special.  Valentine's Day is a special day and my kids know that no matter on what day of the week Valentine's Day falls, there will be a special dessert and it will most definitely involve chocolate.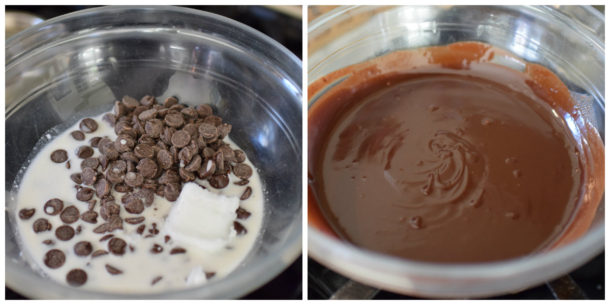 I made these flourless chocolate cakes with raspberry sauce for years and last year I made these chocolate chip "cookie dough" bites.  But this year, I'm going big with this incredible chocolate bundt cake with ganache and raspberries galore.  I actually taught this cake in my December classes and Jenni Kayne already posted it on her website, but you know I like to share my own thoughts about my recipes.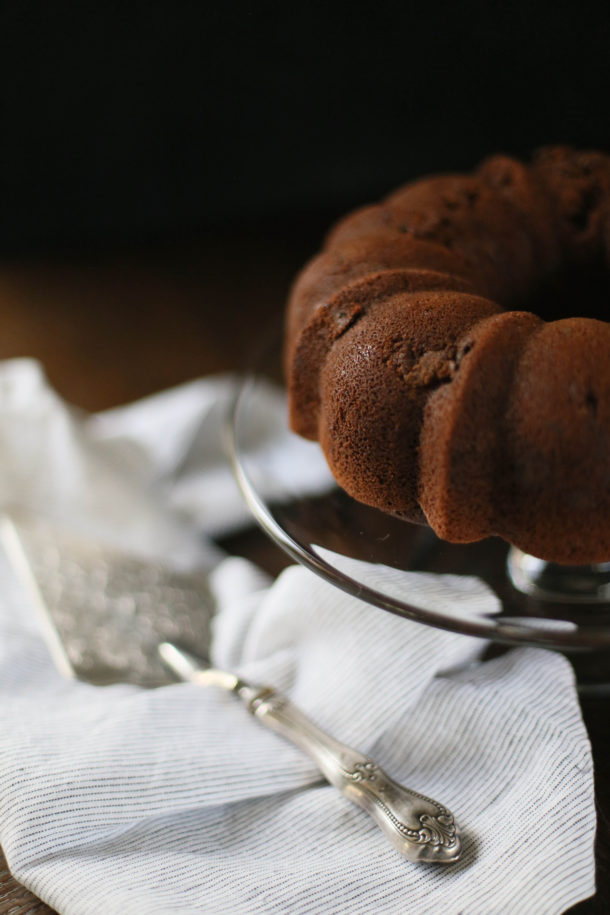 Like most of my desserts, this one uses whole grain flour and arrowroot powder (to keep things light) and unrefined sugar. I have of course tested a gluten-free, dairy-free version.  Believe me when I tell you that you'll love this cake any which way you try it. It is moist and unapologetically chocolaty — chocolate cake with chocolate chips with a rich chocolate ganache.  The I fill the cavity of the cake with loads of fresh raspberries which is a great friend of chocolate.  If you can find freeze-dried raspberries or strawberries, they make the most perfect natural sprinkles!  As my students said in December, this cake is a showstopper! I mean, look at that ganache!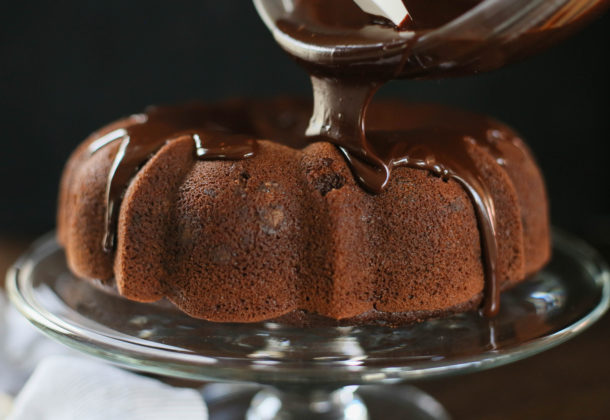 I think you could also make this in mini bundt pans and how cute would that be? I have made this cake the day before serving and it sits perfectly well NOT covered in ganache, but wrapped well in plastic wrap.  The next day, unwrap and drizzle away.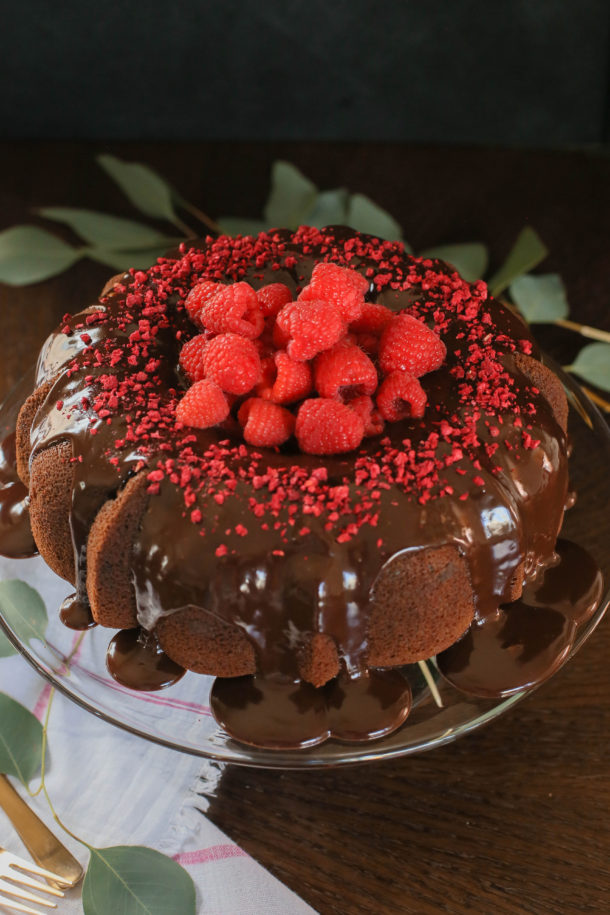 Let's just try to keep this cake to special occasions, though.  Because even though we've got whole grain flour and unrefined sugar happening here, it's still a cake and not a salad so we can't lose our minds.  But we also have to enjoy our lives for goodness sake and I think a slice of this deliciousness will make anyone's Valentine's Day pretty fantastic.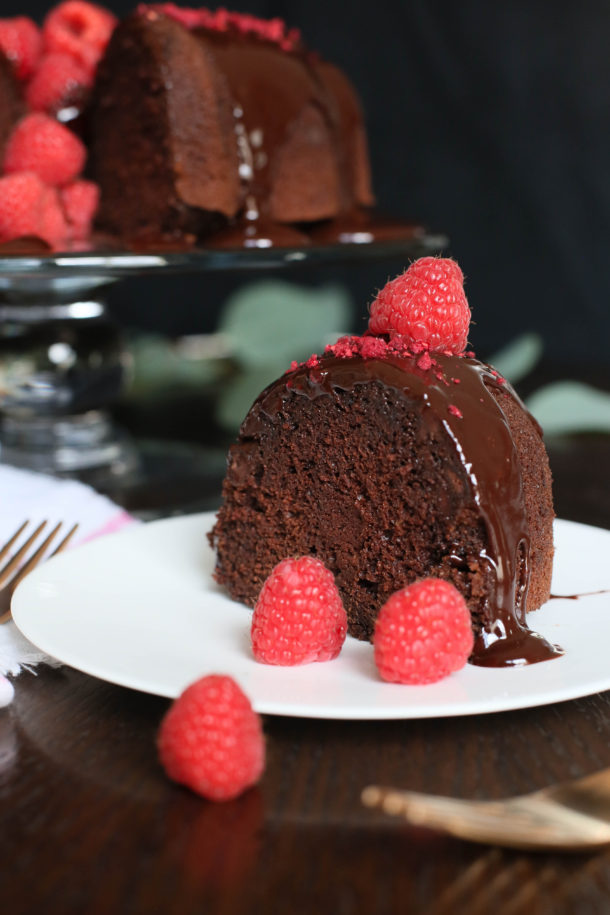 I mean….just look at that!

Whole Grain Chocolate Bundt Cake with Chocolate Ganache
Serves:
YIELDS 1 10-INCH BUNDT CAKE, which should serve 10-12
Ingredients
Cake:
1 cup boiling water
1 cup unsweetened cocoa powder
1 cup (2 sticks) unsalted butter, at room temperature + extra for greasing pan
1 ½ cups muscovado sugar or unbleached cane sugar
1 ½ teaspoons pure vanilla extract
2 large eggs + 1 egg yolk, at room temperature
2 cups + 2 Tablespoons whole wheat pastry flour or all-purpose flour
6 Tablespoons arrowroot powder
2 teaspoons baking soda
½ teaspoon sea salt
1 ½ cups buttermilk, at room temperature
1 cup semi-sweet chocolate chips
Ganache:
8 ounces semisweet chocolate chips (1 ½ cups)
½ cup full-fat coconut milk, well-shaken
1 Tablespoon unrefined virgin coconut oil
pinch of sea salt
Suggested garnishes:
Fresh raspberries, pomegranate seeds, crushed freeze-dried strawberries or raspberries or crushed macaroons
Instructions
Preheat oven to 350 degrees. Grease a 10-inch bundt or tube pan with butter.
In a medium bowl, combine boiling water and cocoa powder. Whisk until the mixture is completely smooth. Set aside to cool and stir frequently to cool down more quickly.
In the bowl of a mixer, beat butter and sugar together until light and fluffy, about 4 minutes. Beat in vanilla and eggs. Stop the mixer and scrape down the bowl.
In a medium bowl, whisk together flour, arrowroot, baking soda and salt.
With the mixer on low speed, add half of flour mixture to the butter-sugar mixture. Then add the cooled cocoa mixture and buttermilk. Then add the remainder of the flour mixture, stirring until just combined. Stir in the chocolate chips.
Pour the batter into the prepared pan.
Bake at 350 degrees for 30 minutes.
Lower temperature to 325 degrees and continue baking until cake is set and a tester comes out clean, about 15-20 more minutes. Check the cake early in case your oven runs hot.
Cool cake for 5-10 minutes before turning out onto a cooling rack. Cool completely before adding ganache.
To make the ganache: in a double boiler or heat-proof bowl set over a pot of simmering water, melt together the chocolate, coconut milk and coconut oil. Whisk until completely smooth.
Drizzle ganache over top of cake, allowing it to drip down the sides. Garnish cake as desired.
Notes
For a gluten-free version: omit the whole wheat pastry flour and arrowroot and sub 2 ½ cups King Arthur Multi-purpose Gluten-free Flour + 2 ½ teaspoons xanthan gum.
For a dairy-free version: omit the butter and sub 1 cup room temperature coconut oil; omit the buttermilk and sub 1 ½ cups plain unsweetened hemp milk + 1 Tablespoon apple cider vinegar. Also look for certified dairy-free chocolate.

To make a chocolate mint ganache, add ⅛ teaspoon of pure peppermint extract to the ganache mixture.