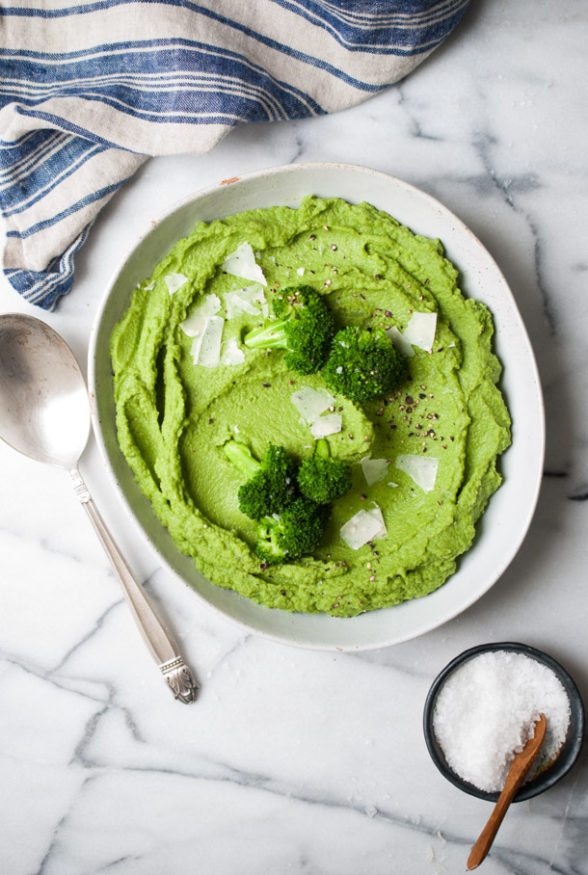 I taught this broccoli puree in a Thanksgiving cooking class in November 2008 and then again last year.  It is my middle daughter's favorite side dish and I served it at many a Thanksgiving dinner.  In the last few years I moved it over to our Christmas Day menu because I needed to stir things up a bit for Thanksgiving and my daughter wouldn't let it go completely.  Broccoli puree is like broccoli mashed potatoes — so creamy and satisfying, and it goes with everything.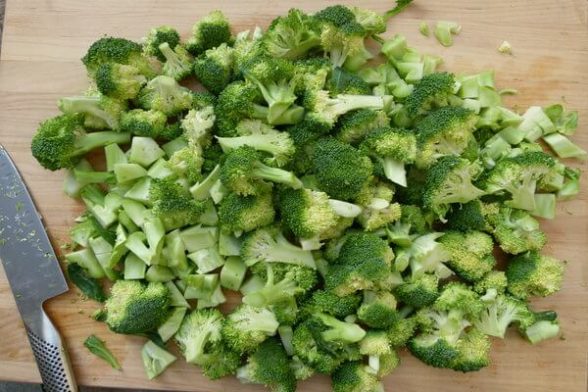 Sometimes I make it during the year as well because it is so super easy.  Boil broccoli, puree in a food processor with butter and salt and you're done!  I don't have trouble with chopping up heads of broccoli, but if you really wanted this to be almost no work, feel free to buy pre-cut broccoli florets.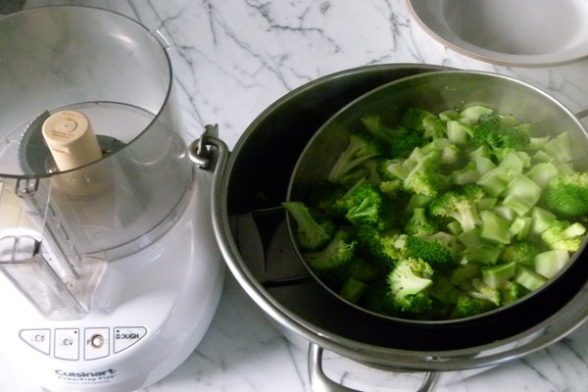 I have always loved this dish for Thanksgiving because it can made entirely the day before and reheated just before serving.  Tip:  anything like a casserole that needs to be cooked or reheated on Thanksgiving should be taken out of the fridge at least an hour beforehand to take some of the chill off. It will reheat or cook more quickly and evenly.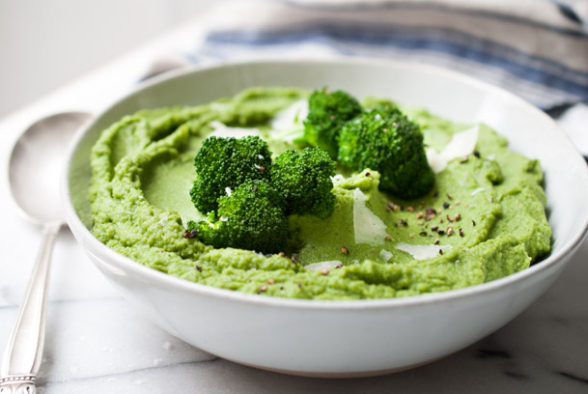 I thought some of you might still be planning for Thanksgiving. If you have no veggies or colorful side dishes, this one's for you. Yes, it has a bit of butter, but it's Thanksgiving, not the day I go on a diet!   I like to garnish it with something, even some chopped chives.  Speaking of which, I told my class today to put fresh parsley and chives on their grocery list for Thanksgiving since most dishes could use a little vibrancy!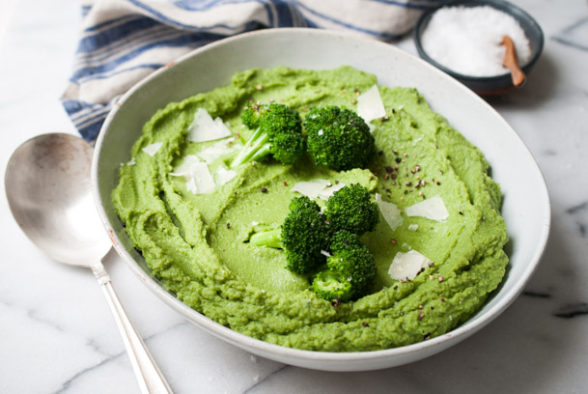 A little update, I did a series of Instagram stories at Trader Joe's over the weekend where I went shopping for some non-perishables for Thanksgiving.  I have permanently posted the whole series on Facebook, so feel free to check it out!

Puree of Broccoli Recipe
Ingredients
2 pounds broccoli crowns, cut into florets, stems thinly sliced
¼ cup unsalted butter (½ stick) or vegan butter (like Miyoko's Kitchen) or more to taste
1 teaspoon sea salt + more to taste if desired
freshly ground black pepper to taste
½ teaspoon lemon zest (optional)
Other optional condiments: freshly grated Parmesan cheese, drizzle of lemon-infused olive oil
Instructions
Grease a 3-quart baking dish or heat-proof bowl with butter or olive oil.
Steam broccoli florets until tender, about 5-8 minutes. This can be done using a steamer basket or by bringing an inch of water to boil in a large pot, adding broccoli and cooking until tender. Do not undercook, otherwise the puree will not be smooth.
Working in batches if necessary, add the steamed broccoli and remaining ingredients to a food processor and puree until smooth, scraping down the sides as necessary. The broccoli must be pureed while it is warm. (Do not cook broccoli, chill and then puree.)
Spoon puree into baking dish, cover, and keep warm in the oven until ready to serve. Top with freshly grated cheese and/or lemon olive oil, if desired.
Notes
Entire mixture can be made the day before and refrigerated. Reheat covered in a 350 degree oven for about 45 minutes.