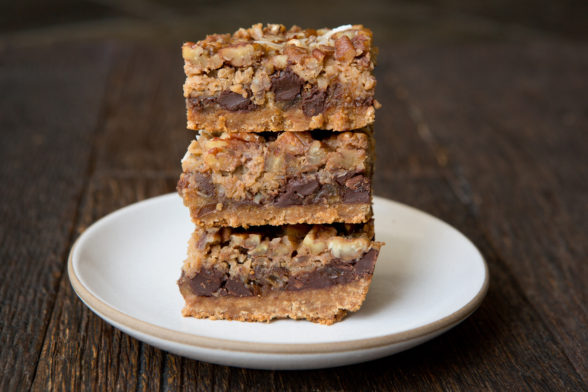 I always make a batch of sweets for Christmas and it's usually something that can be eaten as a mini version, like a cookie or a bar.  My mom always puts out a big bowl of tangerines, some dried fruit and nuts, roasted chestnuts, my Aunt Maria's cookies, my brother-in-law's father's coffee cake and some chocolates.  It's total overkill on the desserts and we don't need another thing, but I love baking something for Christmas.  I am also on vacation and it's always more fun to cook without pressure!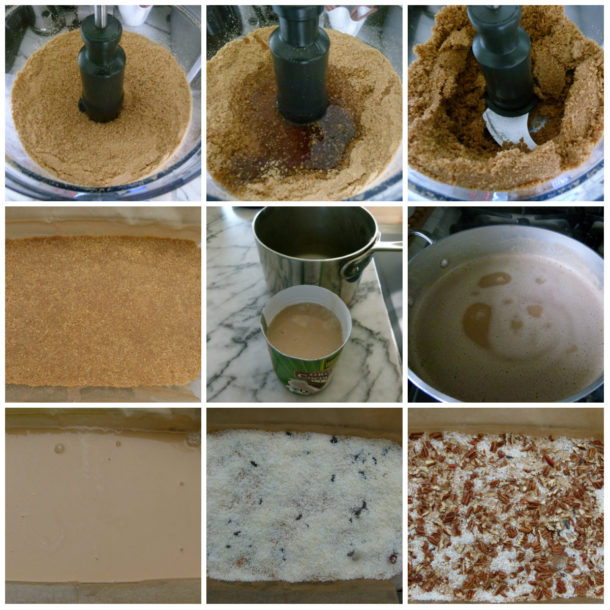 For a few years in a row I made a vegan version of Magic Bars, aka Hello Dolly Bars or Seven Layer Bars.  I will warn you right now — these are rich, decadent and positively addictive.  When you sink your teeth into a bar, you hit several layers of flavors and textures.  How can you go wrong with graham crackers, dates (which taste like caramel in these bars), chocolate chips, coconut and pecans.  They're all bound together with a sweetened condensed coconut milk.  It's heaven.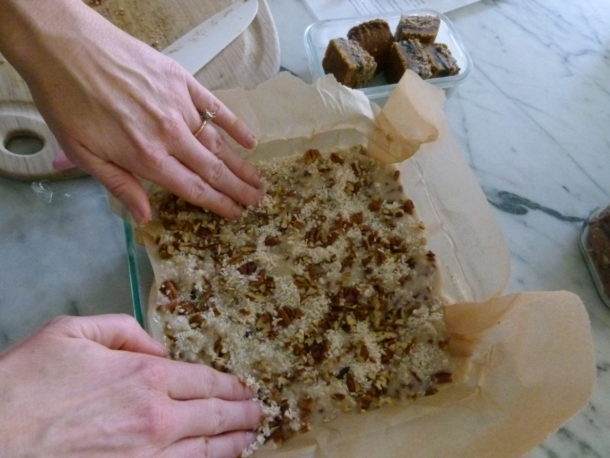 Traditional Magic Bars use sweetened canned condensed milk, not something I would want to use (BPA, white sugar, and the idea of canned milk isn't appealing.)  So we can just cook down coconut milk with some coconut sugar to get the same result.  Some versions of these bars use white chocolate chips, butterscotch chips, and sweetened coconut.  So while I wouldn't say these are health food, they're better than the original.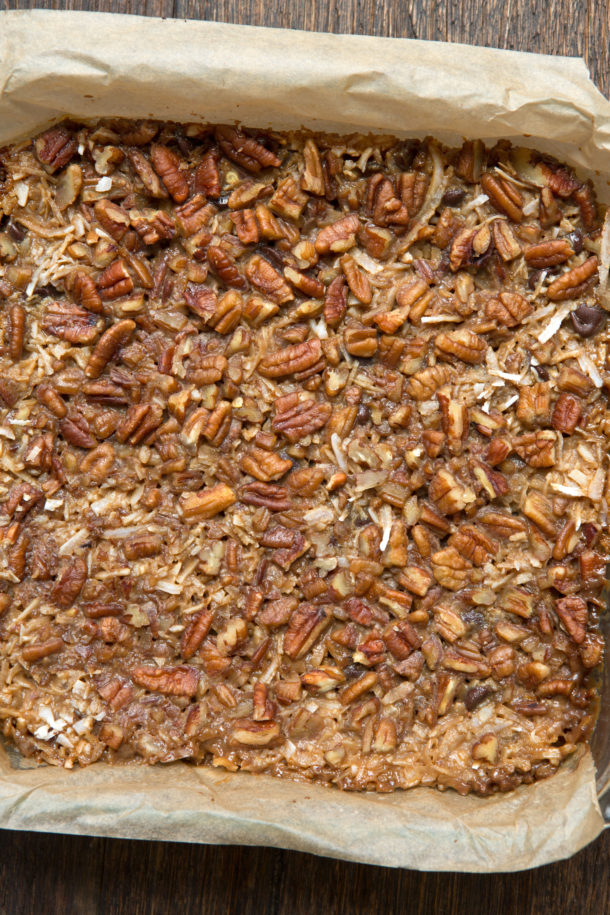 I was so obsessed with these bars that I decided to keep them in the freezer so I wouldn't eat them.  Guess what?  I figured out quickly that they were just as amazing FROZEN!  What's a girl to do?!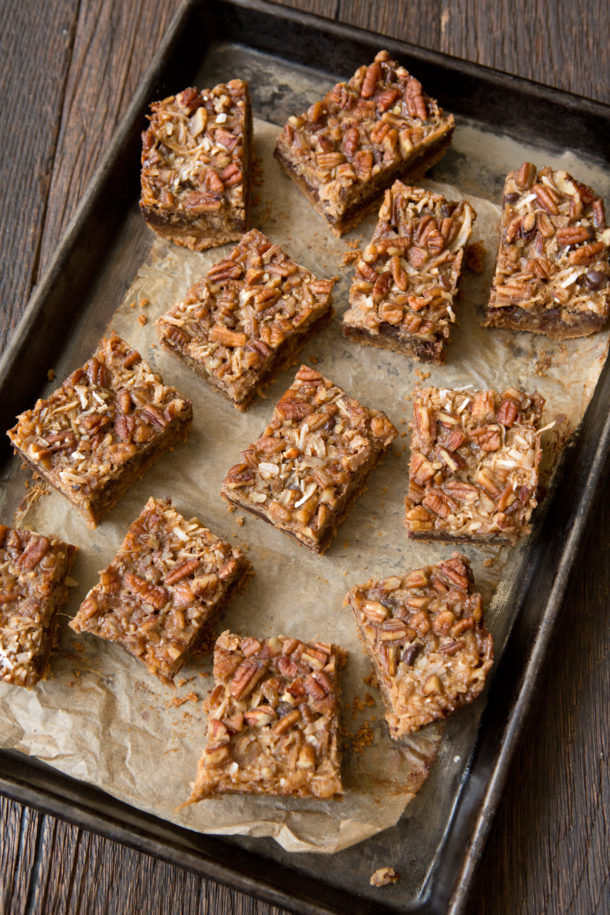 These are perfect for holiday parties since you can make them today and keep them in the fridge (in fact, they taste better the next day and day after) for at least a week or the freezer for a month.  Even though I said they are delicious frozen, do defrost them before serving them to your guests.  They also travel well.  My younger daughter asked me to bring her a batch on my last trip out to visit her.  I pulled the whole batch out of the pan in one piece and wrapped it really well in aluminum foil.  Yes, they were examined more closely in security at the airport, but they made it to her dorm room safely where they were devoured by starving college students.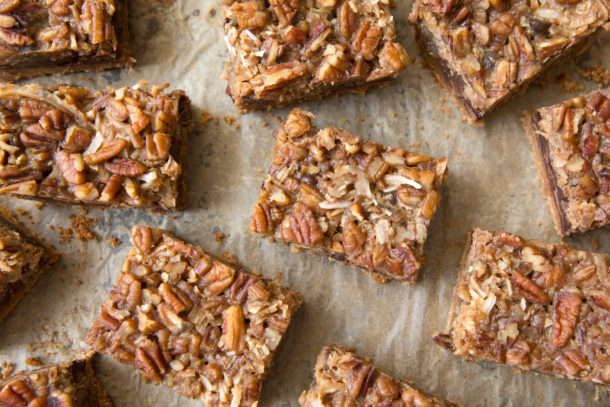 If there's an ingredient in here you don't care for (like what???), just omit it and add more of everything else.  You can also make these GF with GF graham crackers – see the note in the recipe.  These magic bars are really easy – easier than they look.  And you might even have all the ingredients in your pantry.  I know you're going to love them as much as I do.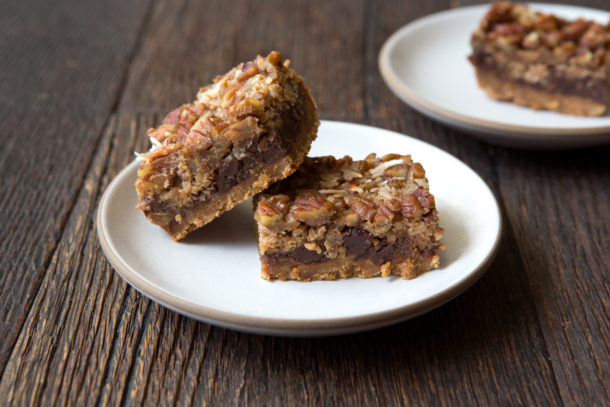 Tomorrow I am off to Utah and I am taking a little break.  I am so excited to spend time with my husband and all three kiddos — literally my favorite thing to do no matter what we actually do.  It just means so much to be together.  And while I am on vacation, I thought I should also squeeze a little work in, too!  😉 I'm excited to be doing a TV segment on the FOX affiliate in Salt Lake City on Monday 12/18 in the 1:00 hour.  I'll be making the banana French toast casserole from my cookbook (which this week MindBodyGreen named one of the top 10 best healthy cookbooks of 2017!!!).  And then I'll be at Dolly's Bookstore on Main Street in Park City on Thursday 12/21 from 6:30 to 8:00 signing books and hanging out.  Come say hi if you're in the area.  I'm bringing Bliss Balls!!!  Lastly, I LOVE when you guys tag me on Instagram and share your pictures of what you're making from the book.  It is an absolute thrill for me to see you cooking up a storm!  Thank you ~~xoxo

Vegan Magic Bars Recipe
Author:
Adapted from Oh She Glows
Ingredients
1 14-ounce can full fat coconut milk
½ cup coconut sugar, maple sugar, cane sugar or brown sugar
2 cups graham cracker crumbs* (about 14 crackers pulverized in a food processor)
6 Tablespoons unrefined coconut oil or unsalted butter, melted
2 Tablespoons pure maple syrup
1 cup dates, pitted and diced (or omit dates and increase sugar to ⅔ cup)
1 cup dark or semi-sweet chocolate chips (check the label for vegan chocolate)
1 cup unsweetened shredded coconut
¾ cup pecans, chopped
Instructions
Preheat oven to 350 degrees. Lightly grease (coconut oil is fine) an 8x8 or 9x9-inch baking dish and line it with unbleached parchment paper.
Prepare condensed coconut milk: pour coconut milk into a medium size saucepan and whisk in coconut sugar. Bring to a boil over medium high heat and lower heat to a simmer. Cook for 12-14 minutes, whisking occasionally, until the mixture thickens slightly and is reduced. I pour it back into the can and look for it to be about an inch below the rim. Remove from heat to cool.
Prepare graham cracker crust: Combine graham cracker crumbs, coconut oil, and maple syrup. Transfer mixture to prepared pan and press down firmly, making an even layer. The crust mixture needs to be pressed as firmly as possible. I use a metal measuring cup to pack it in.
Pour condensed coconut milk mixture over the crust. Sprinkle on the diced dates and then the chocolate chips, followed by the coconut and then the pecans. Press the mixture down lightly with your hands until the coconut milk soaks upward into each layer.
Bake in the oven, uncovered, for 25-35 minutes, until the edges are golden. Remove from pan and place on a cooling rack for approximately 30 minutes. Set bars in the freezer for 2 hours or the refrigerator for 4 hours or overnight. If put in the freezer, bars will need to be defrosted before eating. Store in the refrigerator.
Notes
*Many graham crackers contain honey which is not vegan. Check the ingredients to be sure. You can also use GF graham crackers, but you will need more than 14 since they are usually smaller. Measure 2 cups of crumbs.