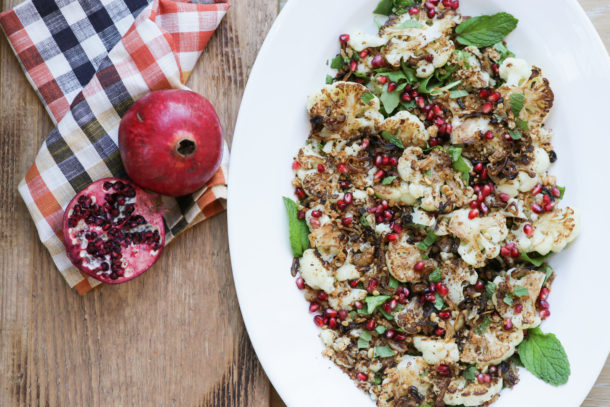 Are you guys sick of cauliflower yet?  Great, me neither!  I seriously never tire of any vegetables, although some are more versatile than others and show up on my dinner planner more than others.  I am kale's biggest fan, but I'm sorry, it doesn't hold a candle to what cauliflower can do.  Cauliflower is in my top 3 favorite vegetables and sometimes we eat it more than once in a week.  Soups, "rice," pizza crusts, roasted, steamed, mashed, steaks, pureed, am I forgetting something?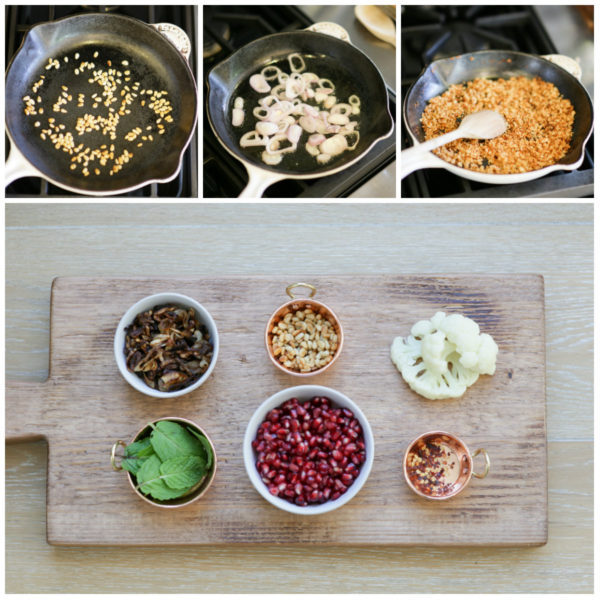 You may have seen this cauliflower dish on my instagram feed while I was teaching it last month or on Molly Sims' blog.  When I first put it on the cooking class schedule, I had it in mind for Thanksgiving, so I taught it in November.  So harvest-y, perfect with turkey and all the traditional fixings, and easy to prep ahead.  Plus I think this can be served at room temp.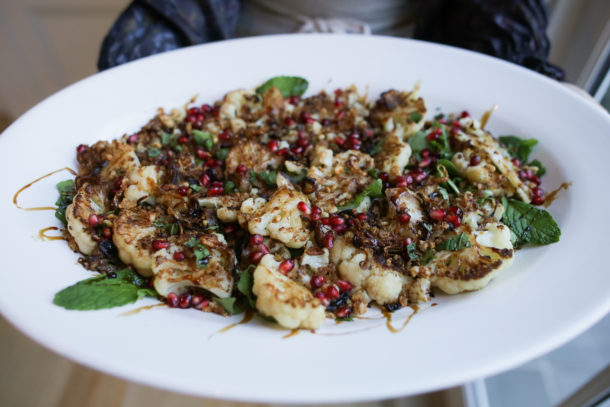 Then, the more I looked at this beautiful cauliflower with all the red and green, I thought how ideal it would be for Christmas!  I am going to make this for my family's Christmas dinner this year at my parents' house.  My mother always makes a tenderloin and I really want to change up the sides this year and I know this will be perfect.  I am determined to keep the sides light and fresh because I know my aunt's famous homemade Christmas cookies will be on the table after dinner.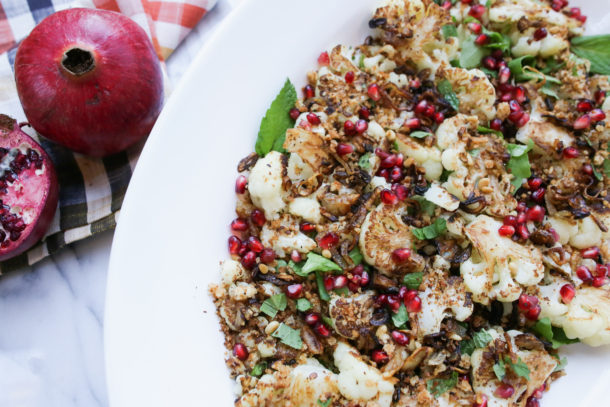 Lucky for me, my whole family (even Mr. Picky) loves cauliflower, especially roasted.  But this technique of steaming or blanching the cauliflower for a couple minutes and then searing it on the stove to caramelize it gives you the same result as roasting but no need for an oven. The idea here is to free up the oven for a turkey, such as on Thanksgiving.  But feel free to roast this cauliflower, especially if you're cooking for a crowd.  Searing a lot of cauliflower is very time-consuming!  Spread it out on a parchment-lined baking sheet drizzled with olive oil or melted coconut oil, sprinkled with salt and pepper and roast at 400 degrees, for 25-30 minutes or until golden brown and tender.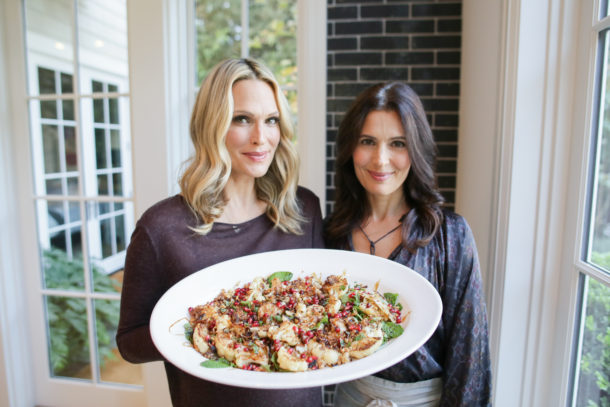 I know this recipe has a lot of different components, but you can leave a few out if it feels overwhelming.  My advice would be to keep the sautéed shallots and the pomegranate seeds, though. The shallots add a nice savory flavor to contrast all the sweet and the pomegranates are essential in at least one holiday dish because they are so festive and delicious!!
But everything can be prepped ahead – toasted bread crumbs, toasted nuts, seeded pomegranates, fresh mint and arugula, sautéed shallots all can be prepped at least several hours in advance, if not days before.  And definitely serve this at room temp if it would make your life easy.  One last note about the pomegranate molasses:  I know it's a really random ingredient that you may not want to buy, and feel free to sub aged balsamic in its place.  But it has a really unique flavor – kind of tart and sweet – and it has a super long shelf life.  Add it to yogurt and granola or pancakes or French toast afterwards!  Or try this delicious Middle Eastern dip called Muhammara which calls for pomegranate molasses.  I buy mine at Whole Foods, but you can find it at Middle Eastern grocery stores or on GourmetFoodWorld.com  Hope you love this as much as my students and I have!
Shop the tools I used for this recipe by clicking on the images below:

Stovetop Cauliflower with Pomegranate Molasses Recipe
Ingredients
1 large head of cauliflower, cut into large florets and sliced in half or in thirds through the core of each floret
Kosher salt
2 Tablespoons unrefined, cold-pressed extra-virgin olive oil
½ cup fresh breadcrumbs (pulse regular or gluten-free bread in a food processor/blender until crumbs form)
¼ teaspoon crushed red pepper flakes
Sea salt
2 Tablespoons pine nuts, toasted in a dry skillet, then add ¼ tsp olive oil and sea salt
2 Tablespoons unrefined virgin coconut oil (or more olive oil)
2 large shallots, peeled and sliced into rings
3 Tablespoons pomegranate seeds
Pomegranate molasses for drizzling
2 handfuls arugula
Handful fresh mint leaves, small ones left whole, large ones torn
Instructions
Bring a large saucepan of water to a boil. Add a heaping Tablespoon of kosher salt and the cauliflower. Cook for 3-4 minutes, until cauliflower is tender.
In the meantime, prepare a kitchen towel on a large rimmed baking sheet. After the cauliflower florets are tender, either drain them in a colander or remove them using a slotted spoon. Transfer them to the towel to drain very well. Set aside.
Heat a medium skillet over medium and add the oil. Add the fresh breadcrumbs, chili flakes, and a pinch of salt and sauté breadcrumbs until toasted, about 5 minutes. Set aside.
Heat a large skillet over medium and add the coconut oil. Add the shallots and a pinch of salt and pepper and sauté until the shallots are lightly golden and caramelized, about 6-8 minutes. Remove shallots using tongs or a slotted spoon and set aside.
If the pan looks dry, add more coconut oil. Raise the heat to medium-high and add the cauliflower with a pinch of salt and pepper and sauté until golden, about 6-7 minutes. Do not crowd the pan. Do this in batches, if necessary.
To assemble your dish, scatter the arugula on a platter and arrange the cauliflower on top. Top with breadcrumbs, shallots, pine nuts, and pomegranate seeds. Drizzle with pomegranate molasses and sprinkle with mint leaves. Serve immediately or at room temperature.
Notes
If you don't have or can't find pomegranate molasses, use aged balsamic vinegar.

If you can't pull together each component of this recipe, just leave out something like the breadcrumbs, pine nuts and/or the arugula.