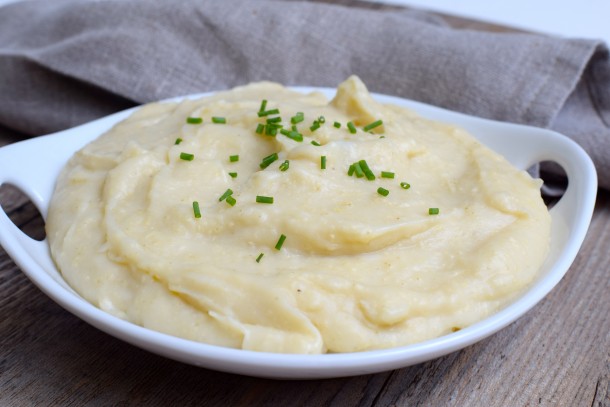 Don't change that dial!  I know what's happening here.  You see the word "millet" and all of a sudden you need to go wash your hair instead of reading the rest of this post.  You think it's bird seed or that you're family will think it's bird seed.  Ok, you're not far off, but this is incredibly tasty birdseed, people!  I know you established some hardcore resolutions last week and I am here to help.  This millet mash is delicious, creamy, comforting, and incredibly nutritious AND alkalizing and gluten-free and dairy-free and vegan and everything else you want to be right now.  Still with me?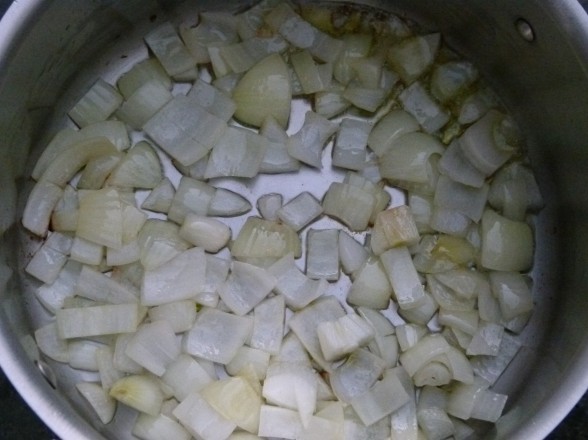 Millet is such an under-appreciated seed.  It's very easy and quick to prepare and has a very mild flavor.  I posted a millet recipe last year and discussed the myriad benefits of millet there.  Do check it out if you're new here!   I also made a scrumptious millet porridge the other day with coconut milk, almond milk and no additional sweeteners.  I think I like it better than my brown rice pudding.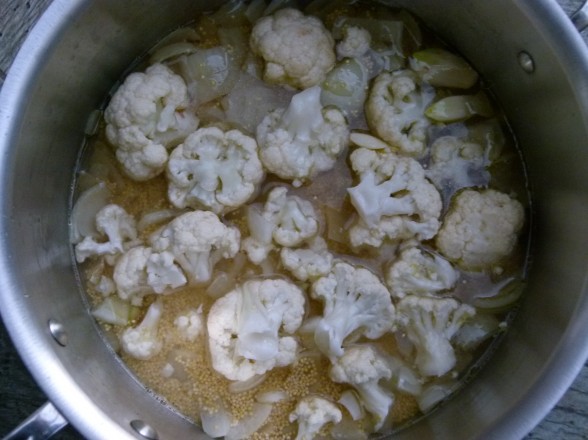 Last year I taught this Millet-Cauliflower Mash with hesitation.  I always have a few risky recipes which make me worried people will think they're too "out there."  But deep down I knew this dish was amazing and it ended up being a huge hit.  Millet-Cauliflower Mash is my mashed potatoes without the potatoes and without the butter and cream.  I actually considered serving this for Thanksgiving, but my husband thought I was getting carried away.  Truthfully, I serve mashed potatoes once a year (on Thanksgiving) and Millet-Cauliflower Mash practically once a month the rest of the year.  I won't lie and tell you it tastes exactly like mashed potatoes.  Millet is slightly nutty and corny tasting and this puree isn't baby-food-smooth like mashed potatoes, but instead feels a little like polenta.  The flavor is definitely very mild and neutral, though.  I love it with anything saucy like Baked Chicken with Artichokes or Orange and Rosemary Glazed Chicken.  You can even serve it with meatballs or a vegetable stew.  If you have leftovers, the mash will firm up in the refrigerator and you'll need to add a bit of water or broth to reheat it.  Alternatively, you can treat it like leftover polenta and slice it up and then bake it or fry it.  Still with me?  Great!  Now go get thee some millet!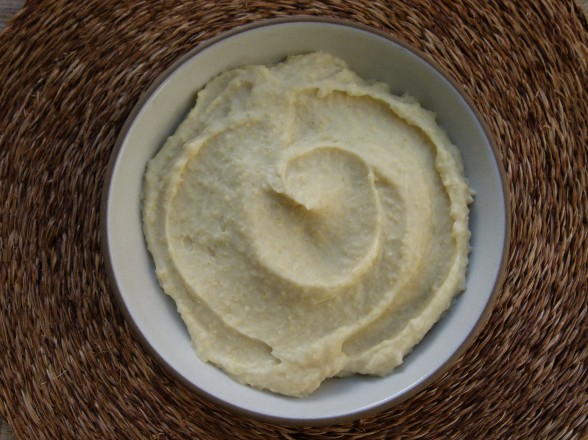 Millet-Cauliflower Mash
Ingredients
1 medium onion, chopped
1 Tablespoon unrefined olive oil, unsalted butter or unrefined coconut oil
1 cup millet, rinsed
3 cups water
3 cups cauliflower florets
3 garlic cloves
2 teaspoons sea salt
1 Tablespoon chopped chives, optional (I didn't have any the day I photographed this.)
unsalted butter, optional
Instructions
In a large saucepan, heat the olive oil. Add the onion and sauté over medium heat until tender and translucent, about 3-4 minutes.
Add the millet, water, cauliflower, garlic and salt. Bring to a boil over high heat, cover and simmer for 25-30 minutes, until the vegetables are soft and the millet is cooked.
Remove from the heat. Transfer to a food processor and blend until smooth or mash with a potato masher until desired consistency is achieved. The food processor will make this much smoother.
Transfer to a serving bowl and sprinkle with chives, if you like. You can also stir in a little unsalted butter for a creamy finish, but it's delicious without.