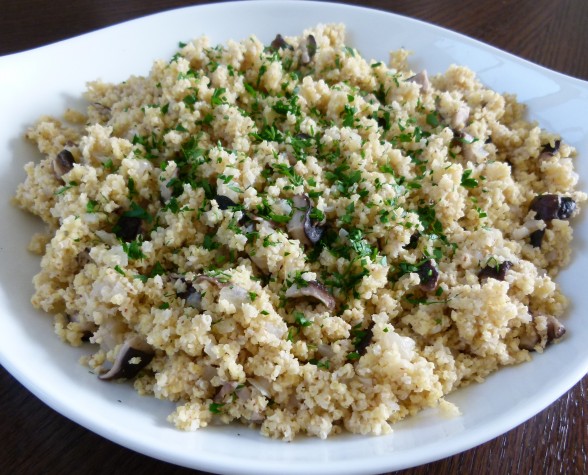 I waited several years before I taught a recipe with millet in my classes.  Why?  Because I was afraid.  Afraid my (adult) students wouldn't like it.  Afraid I would turn them off to millet forever.  Afraid I would lose credibility as someone who could offer them nutritious food that tasted great and that their families would probably eat.  And then I realized this is exactly the attitude I am trying to teach my students to avoid.  It's such a mistake to fear introducing new foods to your family because you're not sure if they're going to like them.  So it was really silly of me to be reluctant to teach Millet and Shiitake Pilaf, which I absolutely love, love, love.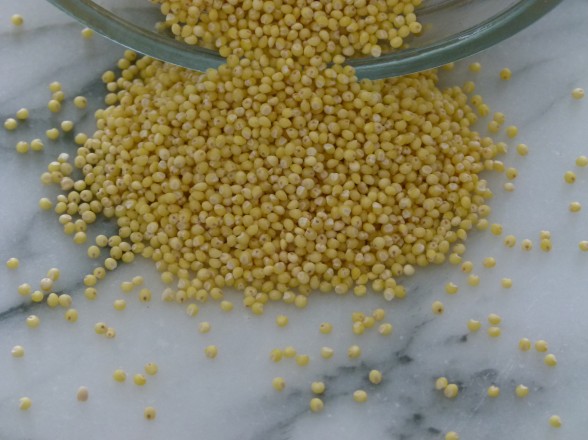 First off, let me introduce you to this fantastic seed.  Millet in this country is used more as bird feed than a nutritious and tasty side dish, which is nuts because it has been cultivated for many thousands of years.  I know millet looks like a grain, tastes like a grain, and cooks like a grain, but it is actually a seed.  Millet is gluten-free and kind of similar to quinoa, but a bit drier and it has a slightly nutty, corny flavor.    It is naturally alkaline, which is not easy to come by in a grain or seed, as most are slightly acid-forming.  Millet is also considered to be one of the least allergenic and most digestible grains/seeds.  It is nearly 15% protein and rich in B-complex vitamins, as well as iron, magnesium and potassium.  Wow!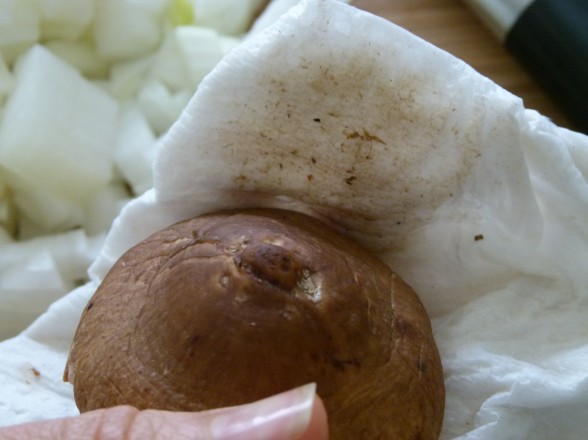 Are you wondering why you have never tried it, let alone heard of it before?  Crazy, I know.  I buy millet in the bulk section at my local natural foods supermarket, but there are several manufacturers including Eden, Bob's Red Mill, and Arrowhead Mills which sell it packaged.  I use it the way I would any other grain, in a pilaf, a salad, in soups, even pureed with cauliflower for an awesome mashed potato substitute.   One of my favorite breads is a millet bread by Food For Life.  I've seen many recipes for millet porridge which call for doubling the liquid and stirring the millet constantly to make a super creamy, hot breakfast cereal.  Personally, I prefer millet in a savory preparation, but many people love millet this way.  Besides the cauliflower mash which I'll show you how to make one day, a pilaf is my favorite way to eat millet.  I especially love the soft texture of the mushrooms and onions with the dry millet.  But if you aren't a fan of mushrooms or your kids won't just pick the mushrooms out like Mr. Picky, leave them out and use something else like peas or asparagus tossed into the pot with 5 minutes to go.  Just like my students last year, I think you'll be pleasantly surprised at how much you like millet and that it's not for the birds!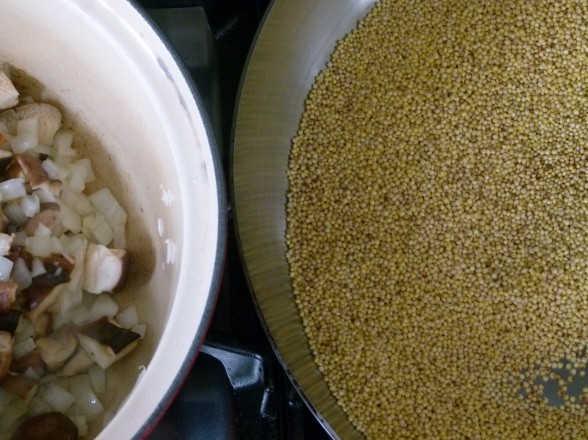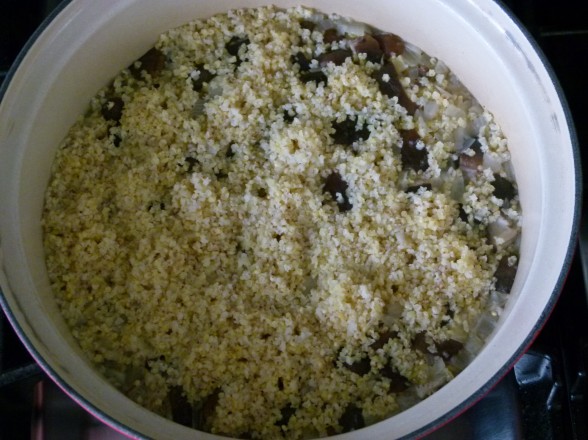 Have you tried millet before?  I'm always on the look-out for delicious ways to prepare it, so please share!

Millet and Shiitake Pilaf
Ingredients
1 ½ cups millet, rinsed and drained
1 ½ Tablespoons unrefined cold-pressed olive oil
1 large onion, diced
1 clove garlic, finely chopped
8 ounces shiitake mushrooms, stems removed, caps wiped clean with a damp paper towel and chopped into 1 –inch pieces (you can use any mushroom, but shiitakes are so much more nutritious!)
3⅓ cups water or homemade chicken stock (use 3½ cups liquid if you're NOT going to eat it right away since the millet will dry up as it sits)
1 ¼ teaspoon sea salt
a little chopped parsley or shaved parmesan cheese for garnish (optional)
Instructions
In a 2-3 quart saucepan, warm the olive oil over medium heat. Sauté the onion, garlic and mushrooms until softened.
In the meantime, place the millet in a heavy skillet over medium heat and roast until dry with a toasty aroma.
Transfer the millet to the saucepan with the onion mixture and stir to coat. Add the water and salt and bring to a boil. Cover, reduce heat to low and simmer for 25 minutes or until all the water is absorbed. Turn off heat and allow to sit for 10 minutes. Fluff with a fork before serving.
Notes
Millet dries up and gets fluffier as it sits. Leftovers will firm up considerably in the refrigerator, so add a little liquid when reheating.