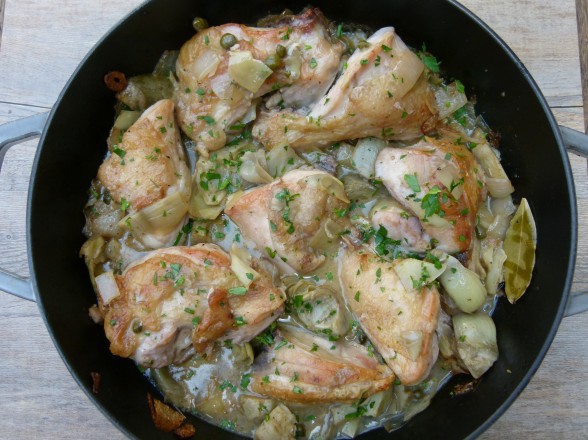 Something tells me that you organized cooks out there are in the midst of planning your Easter and Passover menus.  Am I right?  My mom had me on the phone the other day trying to get side dish suggestions for her traditional Easter leg of lamb.  After I spoke with her, I took a call from my mother-in-law to go over her Passover menu.  This year we'll be staying in California for the holidays and I'm on dessert duty.  I'll be making lots of coconut macaroons, my traditional lemon ice torte and a raw cashew cheesecake that I'm obsessed with.  But if I were hosting Easter or Passover at my home (not that there's anything wrong with lamb and brisket), I would make this Baked Chicken with Artichokes and Capers.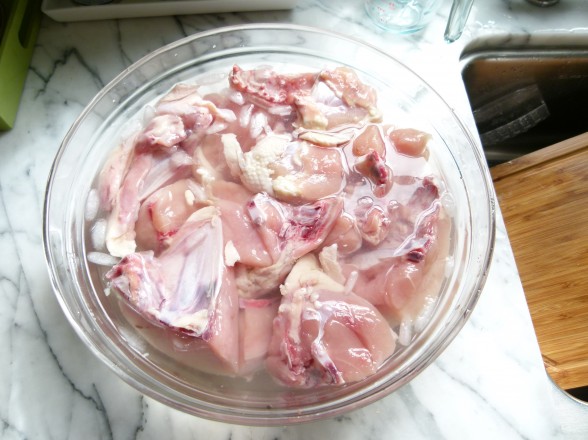 Normally, I don't post a recipe until after I have finished teaching it, but I am just so excited about this chicken I can't wait another day.  It might be my favorite chicken recipe to date, which says a lot since I prepare chicken quite often.  This dish has it all — great flavor, ease of preparation, healthfulness and seasonality.    But really chicken isn't even the star of this show.  I actually came up with this recipe to work around one of my favorite springtime vegetables, artichokes.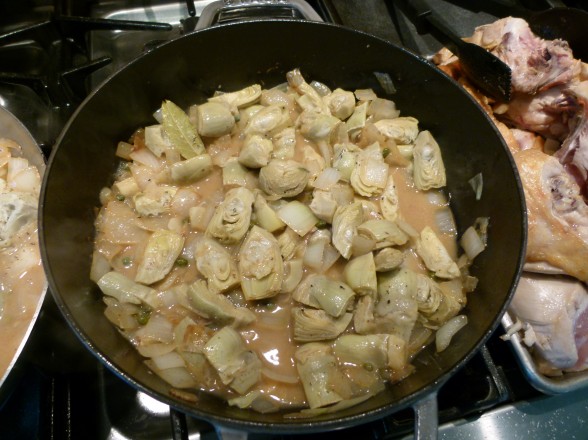 I am going to cheat a little here.  There are times when DIY is the way to go, as in chicken stock.  And there are times when there is not enough patience in the world that could get me through trimming the number of artichokes it would take to fill this saute pan.  (Although I am the same person that trimmed 10 pounds of Brussels sprout leaves for Christmas Eve dinner.)  What's different about this situation is that Trader Joe's has come to my rescue with frozen artichoke hearts, an absolute gift and an affordable one, too.   Not only do I always have a bag in my freezer at all times, but the other ingredients here are pantry staples, too — capers, white wine, bay leaves, mustard, which are all delicious with artichokes.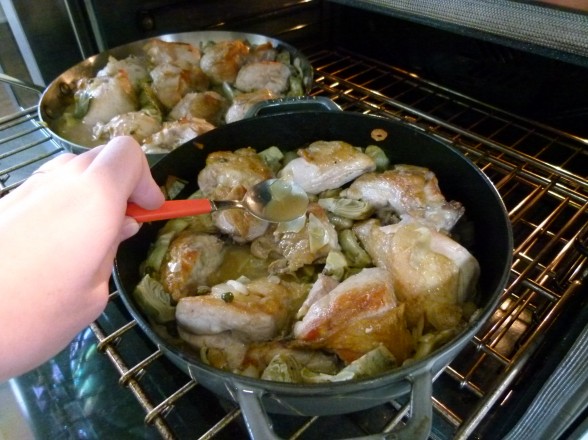 You may have followed similar recipes for chicken and dredged the chicken in flour first before browning it.  The flour does help to the thicken the sauce a bit, but we can avoid the dredging altogether by adding the mustard to the sauce, which gives great flavor, as well as some body.  Be sure to read my latest post on the secret to great-tasting chicken and you can decide if you want to salt the pieces or soak them in a wet brine.  Both ways are very easy and definitely worth doing.  Please note in that post that kosher chicken should not be salted or brined since it has already gone through a salting process.  To make this recipe with boneless, skinless pieces, check out my recipe for Lemon-Thyme Chicken and follow those steps.
For a winner spring holiday lunch or dinner, pair this chicken with this asparagus salad or minted sugar snap peas, and some roasted new potatoes.  I have a seriously fabulous vegan and gluten-free coconut tart coming your way soon!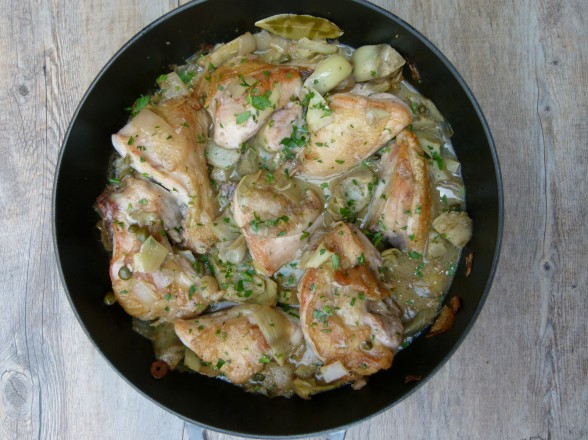 Baked Chicken with Artichokes and Capers
Ingredients
Brine: (do not brine kosher chicken)
1 cup hot water
¼ cup kosher salt
1 cup ice water
3 pounds bone-in, skin-on chicken pieces
2 Tablespoons unrefined olive oil or coconut oil
1 medium onion, diced or sliced (as you prefer)
3 cloves garlic cloves, sliced
a big pinch of sea salt (or more if using unsalted stock)
Freshly ground black pepper to taste
⅓ cup dry white wine
2 bay leaves (don't worry if you don't have them)
12 ounce bag frozen artichoke hearts or packed in water
2 Tablespoons capers
2 Tablespoons whole grain or stone ground mustard
¾ cup chicken stock, preferably homemade
Chopped fresh parsley for garnish (optional)
Instructions
In a large bowl, dissolve salt in hot water. Add ice water and check to make sure brine is cool. Add chicken to brine and allow to soak for 45 minutes, and up to an hour and a half. OR sprinkle ½ Tablespoon of kosher salt on the chicken when you get home from the market. Rewrap it and refrigerate it until ready to cook. (Do not brine kosher chicken.)
Preheat oven to 375 degrees. Remove chicken from brine and pat dry with paper towels.
In an ovenproof skillet or braising pan, over medium heat, add the oil. Brown chicken on both sides. Transfer to a plate and reserve.
Add onions to skillet and cook until tender, about 8 minutes. Add garlic, salt and pepper and sauté another minute or two. Carefully add wine to pan, and deglaze by scraping any brown bits on the bottom.
Add chicken, bay leaves, artichoke hearts, capers, mustard and stock to pan and bring to a boil. Place in oven for 30-35 minutes, until chicken is cooked through, basting after 15 minutes. Garnish with fresh chopped parsley, if available.