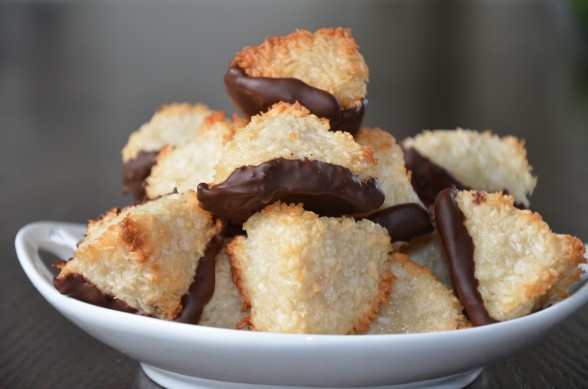 If I am going to eat dessert, it better be good.  It better be worth falling off the wagon for.  Usually Passover desserts do nothing to tempt me from my sugar abstinence and that's not necessarily a bad thing.  But I cannot in good conscience be the bringer of a sticky, heavy honey nut cake or one of those Maneschewitz Passover cakes from a mix.  I want to share a dessert that I would be happy to eat any time of the year, not just on this 8-day hiatus from flour and other ingredients crucial to baking.  Enter coconut macaroons!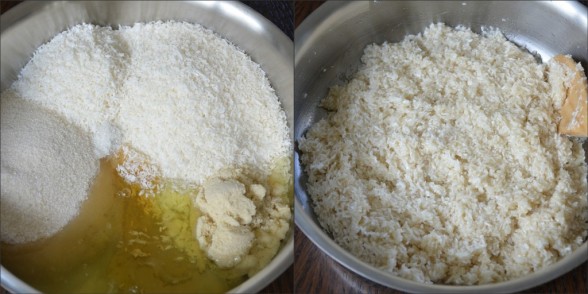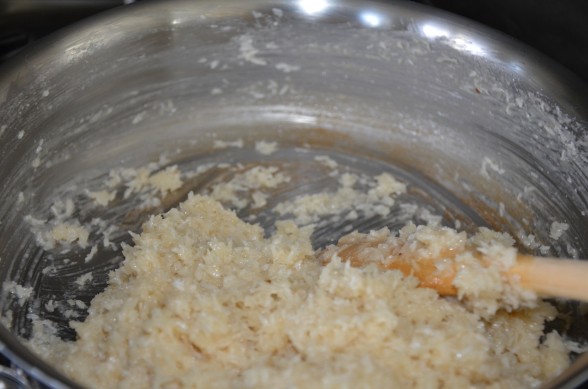 I have tried more coconut macaroon recipes than I care to admit (about 5 pounds worth on the hips and thighs), but this is truly the best.  This recipe is adapted slightly from pastry chef and cookbook author, David Lebovitz.  It is exactly what I want in a macaroon — toasted on the outside, dense and chewy on the inside, but not so sweet that it will make your teeth ache (probably because I cut the sugar a bit.)  I use almond meal instead of flour so that they are Passover-ready and gluten-free, because these days everyone knows someone who is not eating gluten.  I have a news flash — don't be put off by the use of almond meal.  It's nothing more than blanched almonds ground up (in the food processor, if you wish) to a fine meal.  My natural foods supermarket even sells almond meal in the bulk bins.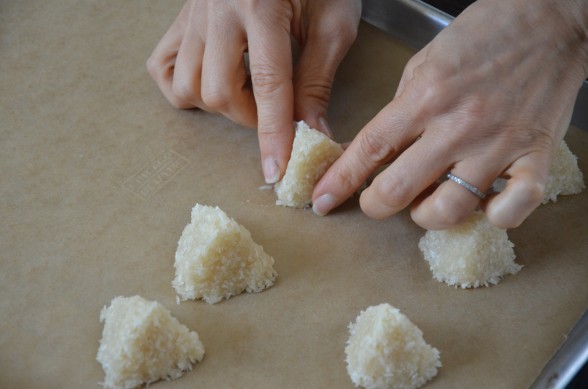 I happen to love coconut and I am a believer in all the health benefits that coconut has to offer.  It is rich in good fats, especially lauric acid which is an immune-boosting fat otherwise only found in breast milk.  The key is to start with unsweetened, shredded coconut which you can find in the bulk bins at the natural foods supermarket or in bags.  I try my hardest to use unrefined sweeteners whenever possible, but only if it makes for the best result.  In this case, granulated sugar is best here, so let's make these cookies small, ok?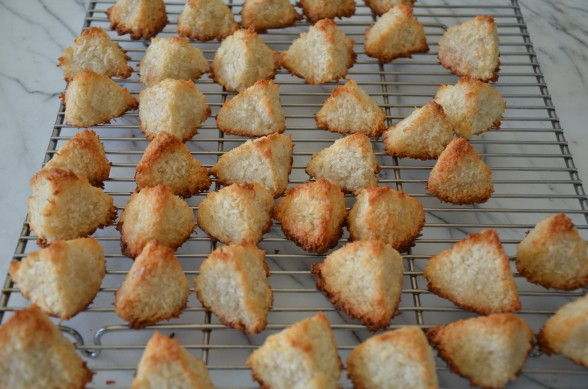 If you would like to bake these for Passover, or for your child's mock Seder in religious school this week, then you can start cooking lickety-split.  You all know how I love a do-ahead!  You can make the macaroon batter a week ahead and keep it covered in the refrigerator or even freeze it.  The cookies can be baked a few days in advance and kept in an airtight container far away from recovering sugar addicts, especially if they're dipped in dark chocolate.  Stay tuned for another fabulous Passover-appropriate or all-around yummy dessert later this week!

Chocolate Coconut Macaroons
Author:
Pamela, adapted from David Lebovitz
Ingredients
2 ½ cups unsweetened shredded coconut
1 cup granulated sugar
1 Tablespoon raw honey or Grade A maple syrup
¼ cup almond meal or flour
½ teaspoon fine grain sea salt
4 large egg whites
½ teaspoon vanilla extract
4 ounces, bittersweet or semi-sweet chocolate, chopped (optional)
Instructions
In a large skillet combine coconut, sugar, honey, almond meal, salt, and egg whites. Please do as I say and COMBINE everything BEFORE placing over heat, otherwise you will end up with a coconut frittata. I'll give you one guess how I know this. Place over medium-low heat on the stove, stirring constantly. When the mixture just begins to stick to the bottom of the pan, almost about to scorch, remove from the heat and stir in the vanilla. You are going for sticky, not dry and pasty.
Transfer to a bowl to cool to room temperature. You can refrigerate the dough for up to one week or freeze up to one month.
Preheat the oven to 350 degrees. Line 2 baking sheets with parchment paper or a silicone baking mat.
Using a small ice cream scoop, form the dough into little mounds and space them evenly on the prepared sheet pans. Shape them into little pyramids, if desired.
Bake for 18-20 minutes or until golden brown. Transfer to a cooling rack to cool completely.
If desired, melt chocolate in a heat -proof bowl set over a saucepan of simmering water, aka a double boiler. Dip cooled macaroons in chocolate (wherever you like -- tops, bottoms, sides) and allow to cool completely on cooling rack or on a parchment-lined baking sheet if you dipped the bottoms. If history repeats and you need to make like an Isrealite, stick the chocolate covered macaroons in the fridge to harden the chocolate quickety-quick.
Notes
You can also add some mini-chocolate chips to the cooled macaroon batter, then shape and bake.